Welcome
Hello Rhi, welcome to my application for Taka the UC Faerie Kougra.
In my application I will be going over my plans, character idea, customization, and a little about me and my other pets.
I would like to state now that I was no way forced into making this application.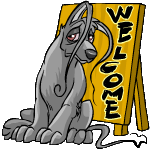 Character
I know you said no long stories so I am just going to go over the basics of his character/story.
Basics

LOL so yeah I drew this I really can't draw but I wanted to try it, I don't think it turned out THAT bad but still am kinda nervous to post it for all of Neopia to see. =•_•=


I am just going to use the name Taka for the story. This is a very short condensed version of his story
Taka was a guardian, he was bound to one living soul and it was his job to try too keep that soul safe. He was bored with it in the beginning but eventually came to love and care for this soul. He made the decision to fall to the Earth and find his beloved. But it was too late with out his constant watching she fell into a trap and is forever bound to the Haunted Woods. In his grief he turned away from his past he spent weeks in solitude lost in the woods until she found him. His eyes were bloodshot from the tears and his hair turned into a silver gray. She spoke to him and told him that she always knew of his presence in her life and this is not his fault she would have made the same decision. He promised her he would do anything to help her, she asked him to go back to her home town to her cottage in the meadow just past the forest there her adopted son waited alone. He promised to care for him and picked up a few other orphans on his way, he tells them stories of a guardian falling in love with the soul he was sworn to protect, forever keeping and eye on the orphans once again a guardian.
About Cass
To be completely honest I am not very good at talking about my self. but I will do my best with out boring or rambling on.
On Neo
Here in the wonderful world of Neopia, you are most likely to find me in the PC chat, mostly in my guild chat board. I am a member of ZYDP and have been since the original Zapping Your Dream Pets, its something that I truly enjoy doing and is one of the main reasons why I am still on this site.
I adore my little pixel Neopets, and often catch my self staring at them and contemplating on their characters and customization.
I can not restock to save my life I don't have the patience to sit there and refresh the page waiting for stuff to stock. I did on the other hand love trying to snag stuff at the Almost Abandoned Attic when it was working, I only hope that TNT starts it up again soon. I also used to play Turmac Roll and enter the world challenges, I would collect the 20 pieces of the maps and turn them in for 2k and a random Paint Brush, along with the AAA I really hope they start these up again as they were my way of making big Neopoints. Now I enter the Battle Dome with Ozzer fighting Jetsam Ace and earn Nerkimds I horde them until then end of the month and then sell everything I had won this is turning out to be a pretty big profit of me. Lastly something I used to do daily but haven't been doing is the Food Club, I won so many NPs on this but lately I haven't been fairing too well so I decided to take a break from it.
All my pets are currently a WIP as I never really had a desire to create characters for them but it is something I have decided to try, right now I am working on Valgerio.
Off Neo
Personally, I am not very girly I enjoy sports, jeans and tees, quads and other outdoorsy things. I am not into shopping, make up, dresses, I guess the most girly thing I do is paint my nails.
I am a mother to an amazingly smart one year old boy who is my everything. A fiancee to a wonderful man who sometimes I think is too good for me. I have two large dogs that are big babies and three little kittens that I just took in, due to the fact I almost ran them over with my car.
I have a sarcastically witty humor, and I love to laugh and make people smile. I don't like seeing anyone upset. I respect people regardless of my feelings towards them, I also have a deep respect for nature and all living things.
I love anime, Fruit Baskets, Ouran High School Host Club, Gravity, Knights of Sedionia and POKEMON!!! are some of my favorites.
I also enjoy video games Fantasy Life, Dragon Age (all three), Call of Duty and POKEMON!!!! are what I play the most.
I am not overly big on tv shows but I do enjoy The Walking Dead (excited for Fear the Walking Dead), Game of Thrones, Penny Dreadful and Once Upon a Time.
I LOVE frogs and dark/olive green is my favorite colors.
Thanks
I would like to thank you for giving me the change to adopt and trade Taka for on of my final goal pets on this site. I hope you enjoyed reading this application as writing it has been inspirational for me. As always I do wish you the best of luck finding someone to adopt Taka.
To my Neofriends for keeping me motivated to continue to work on this and giving me help and advice along the way.
My amazing Fiancee who let me spend more time on Neo than normal to work on this application.
P.S. Good luck on getting your puppy he is super cute!