Etienne's FC end of the month guide


**December 30th, 2009. Minor update: I thought I should bring everyone up to speed that FC hasn't been kind to me in the past 3 months or so. I've gone near bankrupt and had to sell some items to get "re-established". FC was and has been my sole source of NP for the past 18 months, but this isn't just a losing streak. It truly has become random despite the odds. Though I changed my bettings to the last 6 days of every month, I feel like I can't call it well enough to actually earn a profit, let alone a trophy. This page will stay dormant until further notice**



These bets should be placed before Thursday, December 31st at 1:00NST.
None yet. I'll place some for trophy seekers later in the day.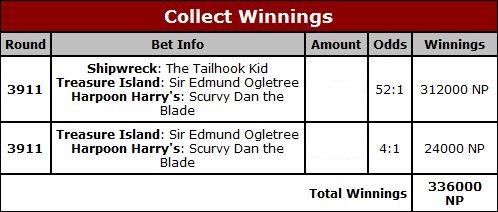 Tailhook, I knew you'd ruin everything. Thank you :)
General FC overview:
It is not for newbie players, (users under 13 years old or accounts that say so are blocked from luck/chance games anyway.) or people with newer main accounts, as it takes years to accumulate decent high-stakes winnings. Start looking into playing FC if your favorite games are luck/chance, you have at least 100,000 NP total in your bank account currently, and you're account is at least 3 years old.)
I have a slightly different FC strategy. On bad days, I only place 4-6 bets, rather than 10, and I never bet max. It's a really good idea that you shouldn't. I'm not crazy about placing 10 bets because the total profit is reduced no matter how you look at it, so if at all possible, I'll reduce the total number to about 8 or so between 2 or 3 arenas. I almost never place 4 and 5 arena bets because I've never once been able to guess them all correctly.
For the most part, I'll be placing bets at the end of the month for trophy seekers. After being gone for a long hiatus (partly due to bad odds) This seems like something I can commit to while going to work and school.