Click on the Top Banner to return to Neolinks.
Helpful Links
This is my small selection of the best petpages for each section out in the Neopian World. I hope it will help you in questions that are not answered on this page, or extend your Neopian knowledge.
Adoption Help
---
Avatar Guide
---
Coding Help
---
Cursors
---
Graphics
---
Neoboards Related
---
Pet Colors/Images
---
Petpets & Petpetpets
---
Premade Lookups
---
Pages to Pages
---
Safety in Neopets
---
Themes/ Sidebars Info

---
Wearable Guides
---
Other Guides
Fanmails
To send me a fanmail, look for the button on the right column of the page, under Neomail Corner.
We have 96 proper fanmails since September 28th.
The following are the most recent 10 fanmails received.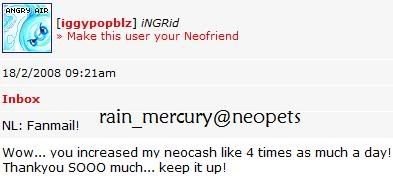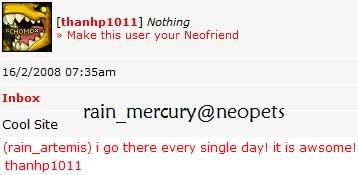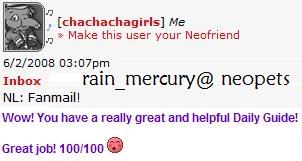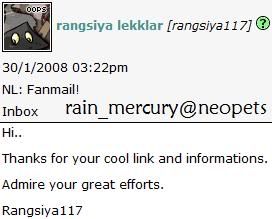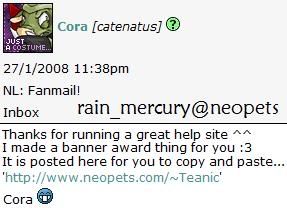 Awards
If you're interested to give me an award, feel free to neomail me :) The following are the awards I am given so far.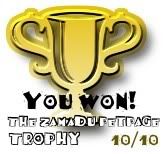 Something has happened!
Congratulations!! You have won Lulu's Tropical Island Breeze Award for best petpage of the month! Keep up the great work.

Daily Avatars
Well you never know that you can get soooo many avatars from usual daily events do you? If you haven't got them, most likely you can try them daily.
Snowager
Randomly awarded when your pet gets blasted.
Underwater Fishing
Catch a Titanic Giant Squid.
Wheel Of Excitement
Win 10K NP.
Wheel Of Mediocrity
Win 1K NP.
Wheel Of Misfortune
Have one of your items turned to sludge.
Wheel Of Monotony
Randomly awarded when landing on ?, 5K NP, Paint Brush. (Guide)
Winter Kiosk Scratchcards
Win any prize.
Spooky Kiosk Scratchcards
Win any prize.
Lever of DOOM
Randomly awarded when pulling the lever. Be prepared to to spend lots of money on this.
Soup Kitchen
Randomly awarded when feeding your pet
Island Mystic
Get a Fortune telling with a word Kyrii in it.
Neopian Haiku
Random. Unlike Island Mystic, you can refresh continuously until you get it on any day! Good luck xD
Grumpy Old King
You can try twice a day. He must throw you out of his kingdom to get it.
Wise King Hagan
Get an A+ (750 or higher) to get this Avatar.
Deadly Dice
Tie a roll then win a roll.
Deserted Tomb
Randomly awarded when visiting.
Gloomy
Visit the Weather Page on a "Gloomy" day.
Punchbag
Lose to Punchbag Sid. Sid replaces Punchbag Bob sometimes. If the difficulty for Punchbag Bob is not 0, it's Sid.
Yes Boy Ice-Cream
Attend a Yes Boy Ice-Cream concert at the Concert Hall. (Guide)
Jub Zambra and the Cobrall Charmers
Attend a Jub Zambra and the Cobrall Charmers concert at the Concert Hall. (Guide)
Jester
Randomly awarded when you include a word 'Peophin' in your question. King Skarl must 'laughs hysterically
Grarrl Keno
Randomly awarded when you hatch 4+ eggs.
Buried Treasure
Randomly awarded when winning a prize.
Turmaculus
Awarded when Turmaculus eats your petpet. (Guide)
Symol Hole
Randomly awarded when using the Symol Hole.
Secret Lab Ray
Awarded when the Lab Ray changes your pet's species
Academy Training
Complete any course.
Neomail Addict
Randomly awarded when sending/ receiving/ deleting a neomail.
Better than You
Beat a Better Than You Challenger.
Lenny Conundrum
Be one of the first 250 people to guess correctly.
Cheeseroller
Randomly awarded when completing Cheese Roller in 60 seconds or less.
Pick Your Own
Get 6 non dung items.
Brightvale Flag
Land on the Star prize spot.
Coconut Shy
Knock a coconut off during the Coconut Shy game. There may not be any random event, so check your pref. to make sure!
Game Graveyard
Refresh at the Game Graveyard. It could take some time.
Tarla
Tarla is the Ixi in charge of the Shop of Mystery on Terror Mountain. Randomly, she hold giveaways by alerting you with a flashing alert button on the Neopets Toolbar. In order to receive prizes from Tarla, you need the toolbar. Download it here. It's FREE!
The toolbar alert button looks like this:



And looks like this when Tarla holds a giveaway:




Clicking the Alert button will bring a popup window like so, click the link in the popup.




Clicking on the link takes you to a page where you will receive your item, well done!

Occasionally she will 'leave' and drop things behind her!
Below is the alert message and a preview of dropped items:






But these giveaways don't last long. They last 5 minutes at the most, so you need to be quick!



Tarla gives away a number of prizes, from books and plushies to 100 Dubloon Coins and Icy Snowflakes!
Download the toolbar today, you know you want to. ;)

Content from
www.kadoatie.net