GET AWAY FROM ME YOU STRANGER

Oh! I'm Dartenne. Did you say you're here to learn all about me? Well good for you! sit down and pay attention, 'cause I'm only going to tell you all about me ONCE. And don't let me catch you slacking off! I am a very cool, very important person, so you probably just got more popular by knowing who I am.
What do you mean, 'who am I'?? I TOLD YOU MY NAME IS DARTENNE, WEREN'T YOU LISTENING??
Statistics

Name: Dartenne (Dar-ten)
Species: Cybunny
Gender: Male
Age: 10
Color/fur: White with red collar. Grey spots on ears.
Eyes:Red
Clothes:Black and red top hat, Cybunny Tuxedo, black pants, black shoes.
Traits:Grey spots on ears? Black hair with red tips.
Petpet: Superdude the Greeble.
Owner: His parents are away a lot, so Suki is his babysitter and is home most of the time.
Friends: Fractalz, Aevelynne, Chaos
Personality: Selfish, Stubborn and Boastful.
Likes

Sports
Exploring, Playing pretend, etc
Candy, Icecream
Attention
Aevelynne
Dislikes

Broccoli, mushrooms, peppers
Doing chores
Losing
Girly stuff (they have cooties)

| | |
| --- | --- |
| HEY! ARE YOU PAYING ATTENTION?? THIS IS ABOUT ME, SO IT'S IMPORTANT! | |
| | |
| --- | --- |
| | This is Superdude. He's the fastest, best Greeble ever, and I caught him myself! He was down at the muddy river creek. Me and Fractalz went exploring down there one day. Fractalz didn't catch anything, 'cause I'm heaps better at catching frogs than Fractalz will ever be! |
This is Aevelynne.

...

SHUTUP SHE'S JUST A GIRL
| | |
| --- | --- |
| | Fractalz is my best friend. He's a big worrywart, he's always like "Dartenne I think that's dangerous" or "Dartenne, don't put knives in the toaster." He's pretty good at sports and catching frogs, but I'm so much better than him at pretty much everything. And Fractalz is always mopey as well, yeesh, would it hurt for him to lighten up a little? I think I've seen him smile like.. once? Lately he's been talking about some aisha girl, but I think he's just making up imaginary people. |
| | |
| --- | --- |
| Chaos is another cool guy, but of course, no-one could ever be cooler than me in the whole entire history of cool. But Chaos? he's pretty high up there. He's a year older than me. *srsface superglare* but he's really good at swordfighting and going on adventures and sports and he has this really big house down on the beach and me and Fractalz and Aevelynne go there in the summer sometimes. Okay, so he might be a better swimmer than me, but he's an Acara. They're natural swimmers! plus he lives next to the beach all year so technically it doesn't count and I still win somehow. Go and say hi! | |


Other People:

I drew these people myself! pretty impressive, isn't it?

I do NOT need a babysitter!!
I am old and manly enough to look after myself! Sure, I stuck a fork in the toaster once, but that was because there was a bit of poptart stuck right at the bottom. But then again, Suki makes my dinner, so she's okay. I just wish mom and dad would leave me more delicious things to eat than omelette!
Note: Do not stick forks in the toaster.
| | |
| --- | --- |
| This is the mean old lady who lives in the big house on the hill. Pfft, so I make the *simple* mistake of picking a really pretty flower from her garden, and she gets all grumpy because I stomp on a few daisies or something silly. AND she called me a hooligan! What's a hooligan? | |
| | |
| --- | --- |
| | Lately Fractalz has been talkling about seeing some sort of aisha girl. He says she has wings and a purple dress, but she's never around! She must be Fractalz's imaginary friend or something. Fractalz thinks she's real though. I think Fractalz is just trying to pretend to have more friends. |
Superheroes

One of the things I like to do in my treehouse is read comics! I'm going to be a superhero when I grow up, and join the defenders of Neopia! I'm so awesome, there's no way they're gunna say no, and I'll team up with Judge Hog and go around fighting crime! There are lots and lots of superhero comics to read about, but here are some of my favourites.
Korbatman

Awww yeah, Korbatman is like the coolest superhero ever! He doesn't have any superpowers, but he is mega rich and he lives in this big mansion with all these fancy gadgets. His real name is Johnny Guns, and he owns a big company in downton Motham city. He also keeps the town safe from all the evil villains like Poison Ixi, Kougrawoman, Mr Cheese and the biggest evil villain of them all, The Jiggler!
Luperman

Luperman was just a normal lupe until some aliens struck him with a cosmic bolt of lightning. Now he has Luper strength, Luper speed, Luper vision, Luper breath, and he beats up enemies with his Luper Fists and super Luper tail! his sidekick is Louis Lard, who becomes Boriboy and helps him fight crime! Usually when there isn't a natural disaster going on, Luperman and Boriboy are usually out rescuing Lana Lenny from the evil clutches of Rex Ruthless!
SpyderNimmo

Spydernimmo was a normal Nimmo called Skeeter Sparker, but then he fell into a vat of toxic waste in the sewer that was covered in spyders! He gained super ninja spyder powers and he can climb on walls and build webs and eat flies! He got separated from his three other brothers when he was little, and they also have ninja superpowers, but the only person who knows what happened to them is the evil ShadowFrost, who keeps trying to put all of New Neopia in a super-deep freeze! He's in the league of evil neovillains along with the Hoblin, Denim, and Doctor Octagonapus!
ShadowFrost

ShadowFrost is one mean dude! Half robot, half ice, he keeps trying to take over the world and make everything all icey. An enemy of both Korbatman and SpyderNimmo, he has a secret lair in an abandoned Brucicle factory!
FANARTS

...


HO HO HO I AM GETTING QUITE A PICTURE COLLECTION
KEEP THEM COMING

Please note: Do not send me items just to get me to make a screenie of it. Half the time I'll be too busy anyway ;(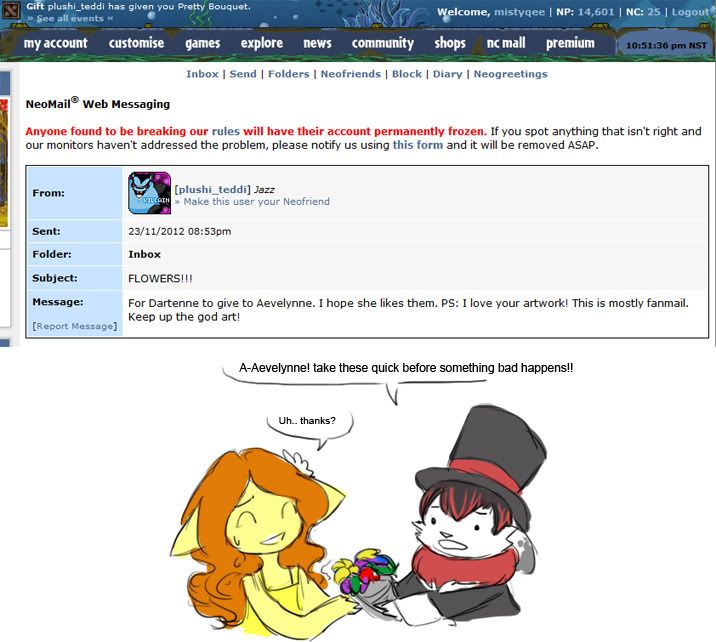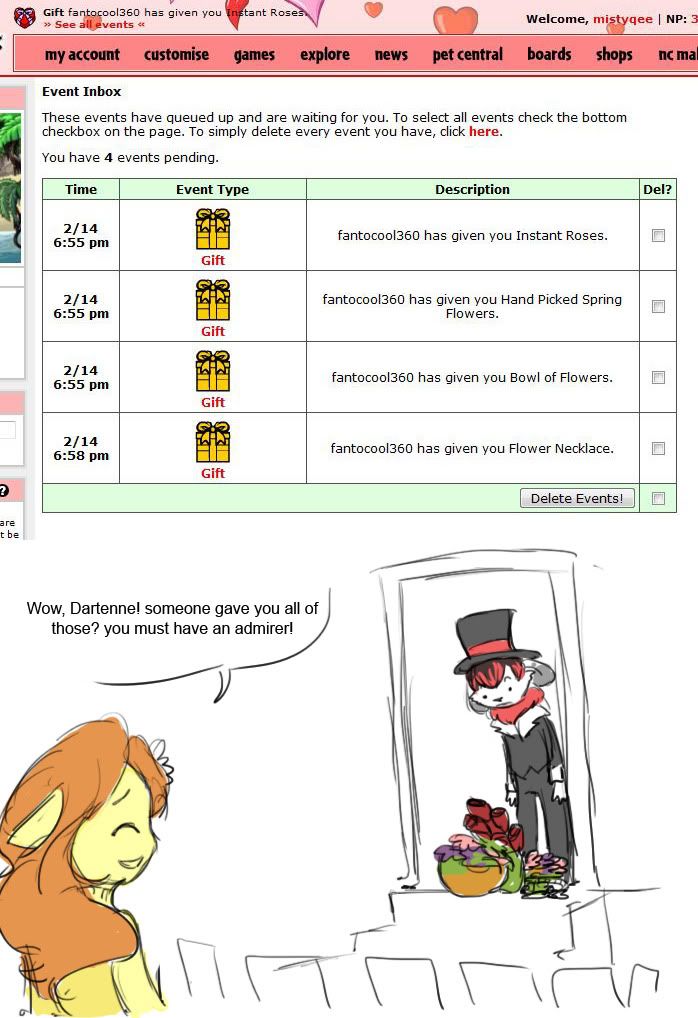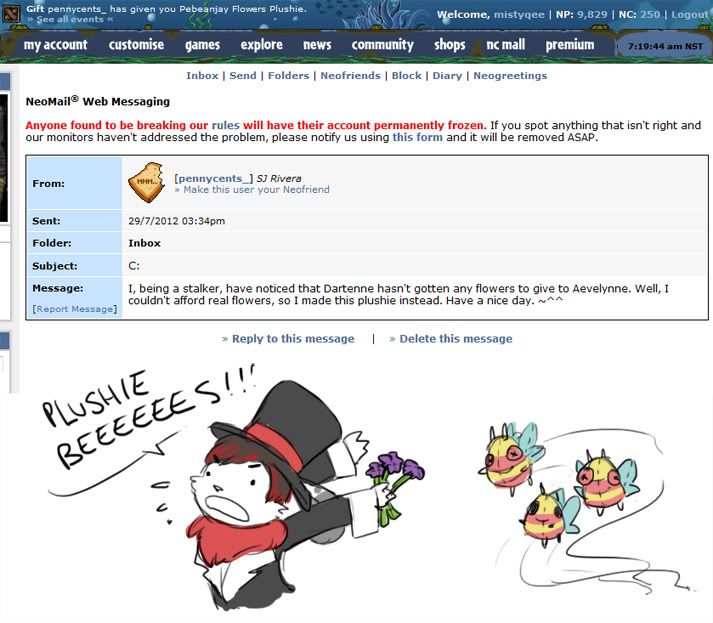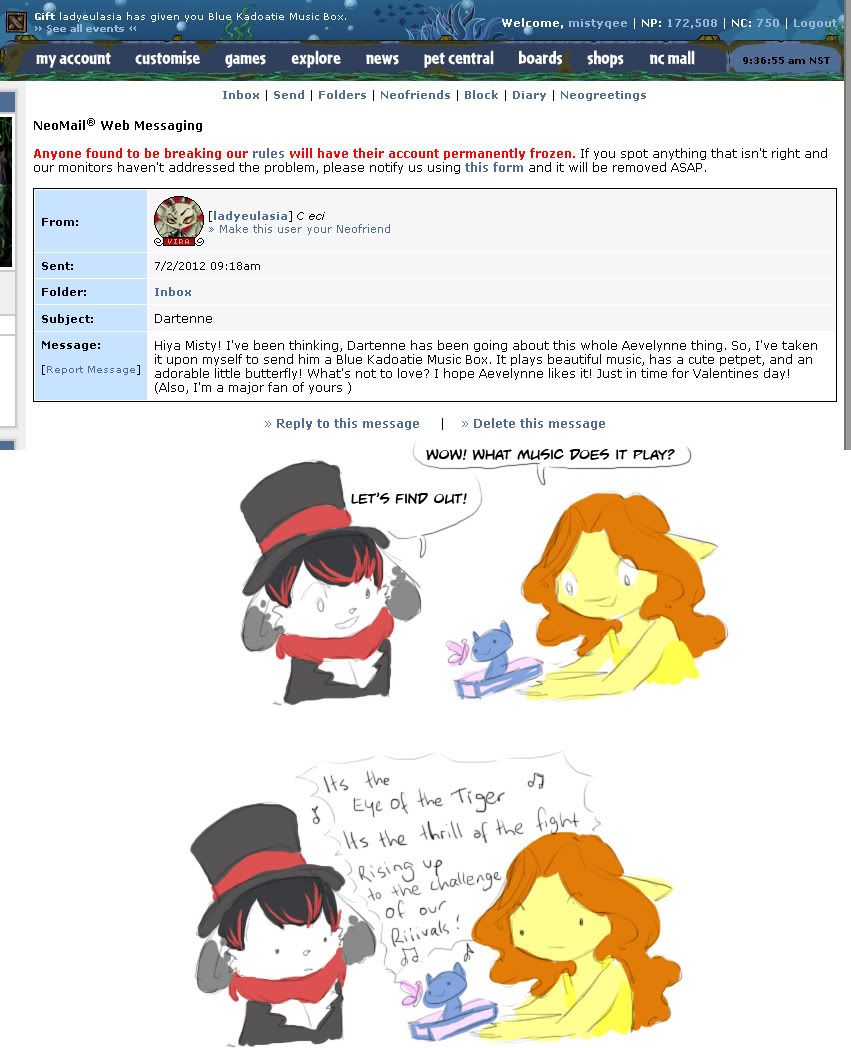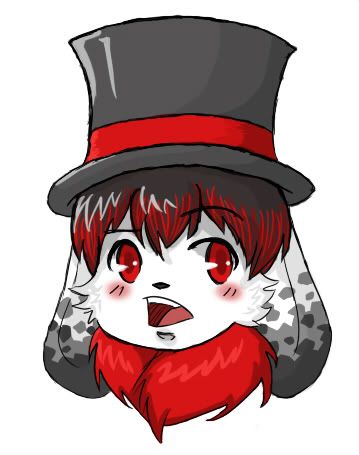 Awwww yeah man got me some requested art from justine!! aint it awesome brutha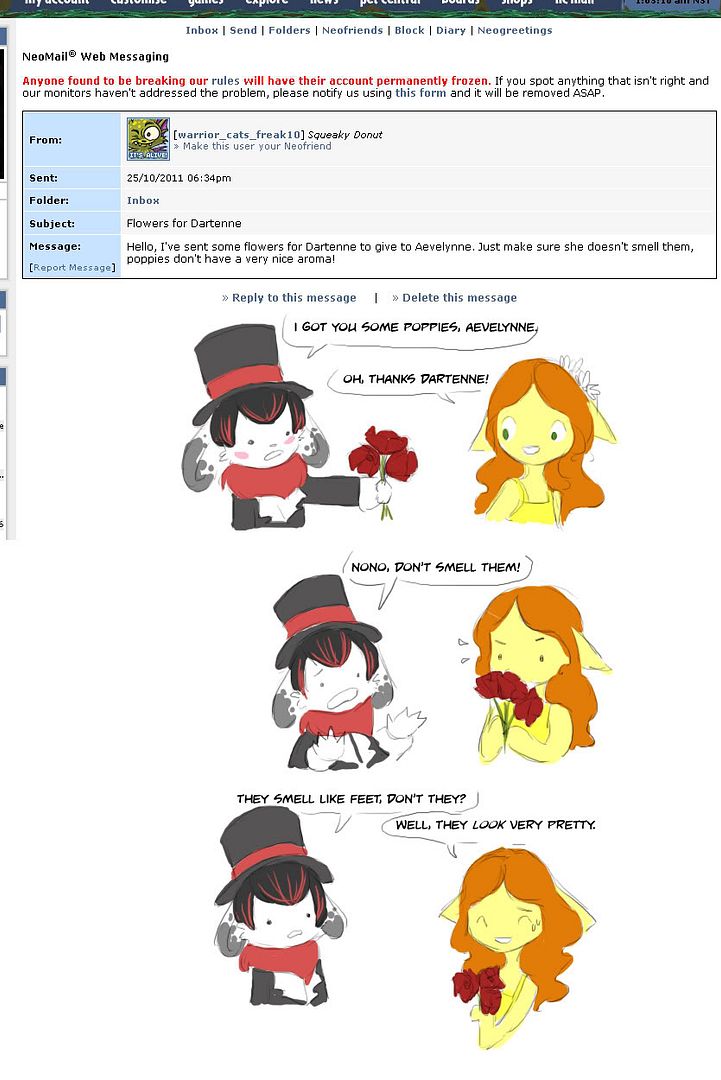 Thankyou, Aku!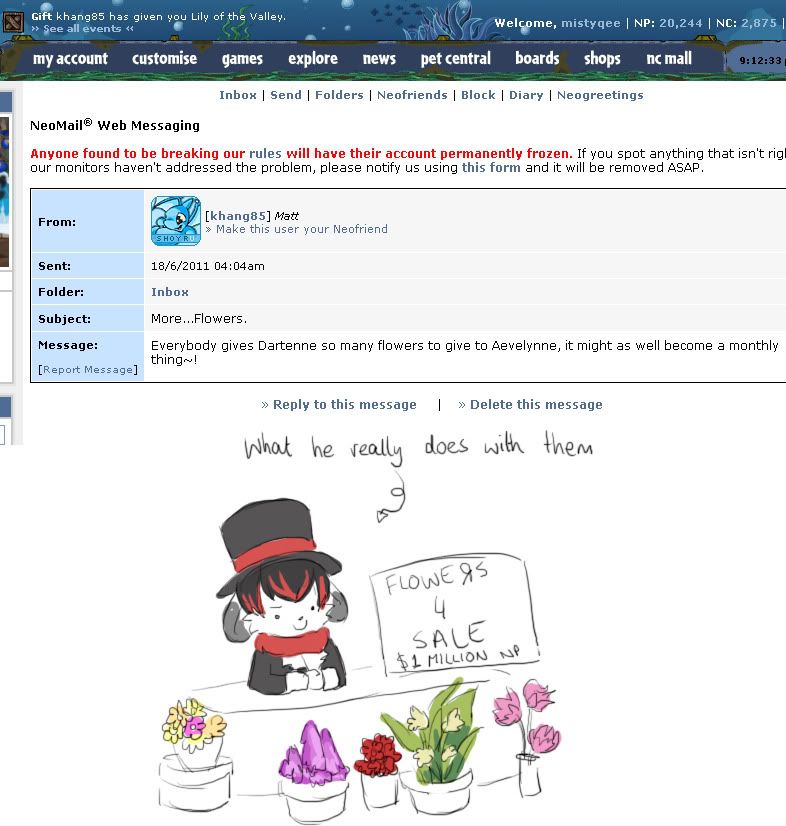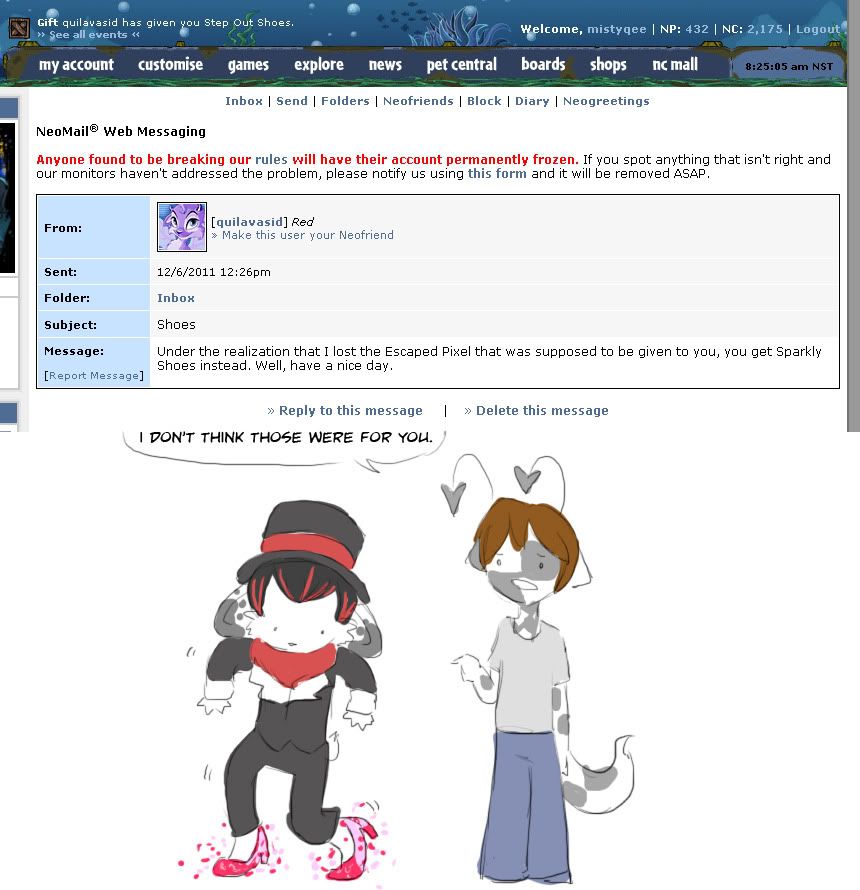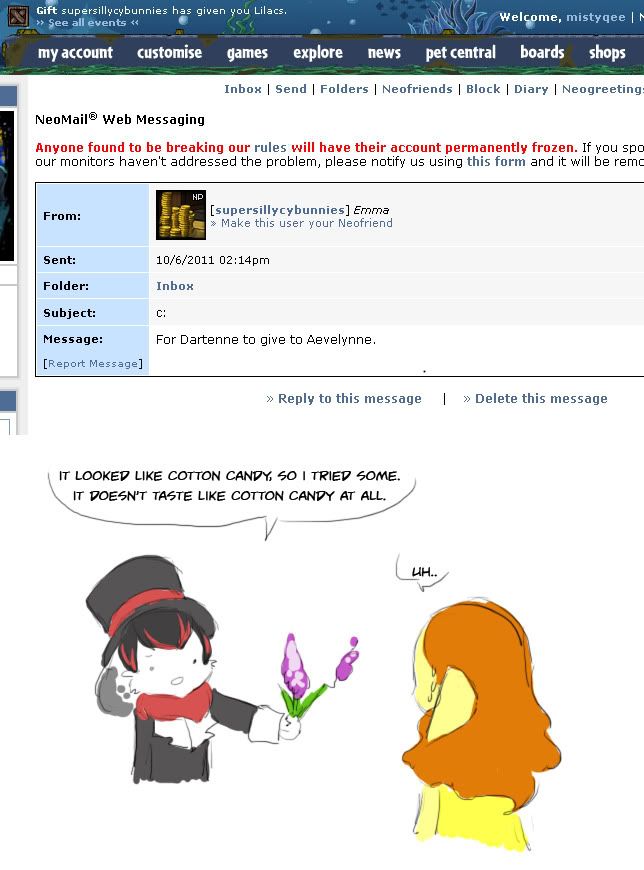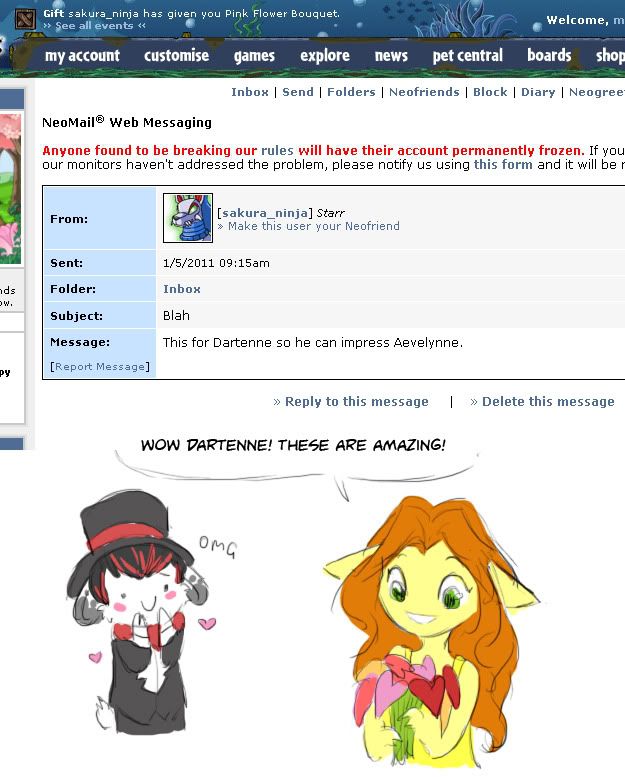 /hastily adds Starr to awesome people list



What?? No, that time didn't count, I was still practising!
Wasn't I, Penny?




This picture was made by a classmate of mine, Shin!



Ahaha, didn't I tell you I was incredibly handsome? Of course I did! And this here picture is proof! Good Job, Devonrex!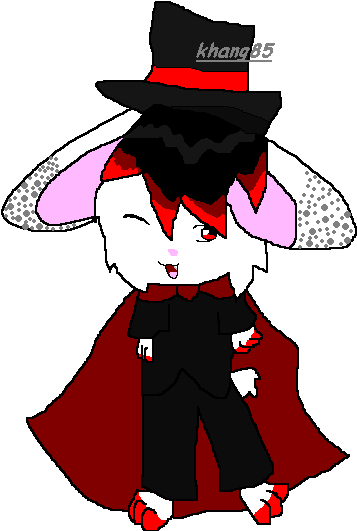 Do you see? Do you SEE? Matt understands how awesome I am. And how incredibly handsome I am. He just made my "awesome people" list.




DON'T WORRY AEVELYNNE I'LL LOOK AFTER YOU until your petpage is back up.
.... SHUTUP SHE'S JUST A GIRL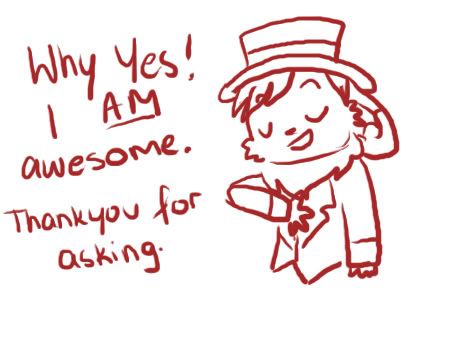 by mistyqee

Toybox

LOOKIT ALL MY ACTION FIGURES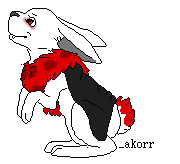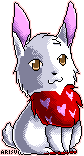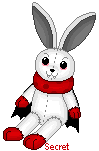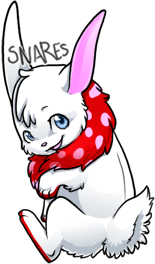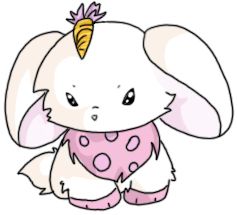 Links
THESE PEOPLE ARE COOL BUT NOT AS COOL AS ME
I think it's impossible to be cooler than me.
Unless maybe you were superman and batman combined. AND YOU WERE ON AN ELEPHANT.






YOU TOTALLY WANT TO LINK TO ME
don't deny it