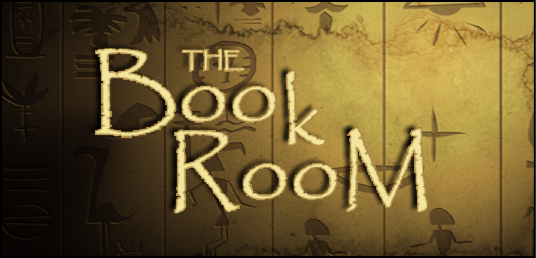 ((Recommended music: Myst: Unraveling the MYSTery from OCremix . org))
While wandering around the outskirts of Qasala, you happen upon an old ruined building barely protruding from the sands of the desert. One of the buildings not yet set to being repaired by the Qasalan Restoration Comittee yet, it's ancient, and the parts that are not buried in sand are beautifully detailed- lending the feeling of a vast structure. Your curiosity getting the better of you, you spy an old upper level window and use it to enter the building.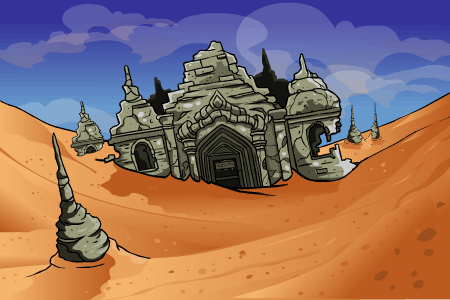 Surprisingly, it's not that dark as you walk down the hall. There actually appears to be a light source in the room ahead! Could there be someone down here? And if so, why? Reaching the doorway, you pause- hoping against hope that it's not some desert bandit or evil wizard in the room. Gathering your courage, you peer inside to see... Books? Mountains of books! There are probably hundreds just sitting in stacks and on shelves as you gaze around the room dumbfounded. That's when you notice her. Her long chestnut hair is drawn back in a braid, and she carefully studies the book in front of her, gently handling it as if it might disintigrate at any moment. The lamplight flickers, and in that moment she glances up and sees you, momentarily startled by the fact that you are there.
*O-oh my, a visitor!* she stammers *This is a rare occasion indeed. I suppose you must have lost your way, to have ended up in such a remote place as this. My name is Confita, and this is the Book Room, where I catalogue, repair, and explore the ancient books of my people. You're welcome to stay of course, perhaps you'd even like to know why I'm in here?*
You see, I'm a historian of a sort. Much of my peoples magic was lost when the curse first befell Qasala. Before then, my father had been in charge of the protection and maintenance of certain magical tomes. Works that could only be written by a few select sorcerers, and could link one to any time and place in all of Neopia if they were written just right! Naturally, someone had to make sure then that such powerful items did not fall into the wrong hands. Travelling through space and time by just touching the page of a book is a very dangerous power if used for evil.

The task of maintianing the various "linking" books had fallen to me shortly before the curse took us. And now that the city has been reawakened centuries later... It would seem the great library has fallen into ruin, and I must painstakingly check each and every book to be sure that the link to each time and place is still good, and that all are accounted for. It's tedious work, and not all of the books are yet accounted for. Yet I remain optimistic.

Already I have been given help by some friendly and interested Neopians, and I think with more of us working at it- the task will not be so great as I had originally feared.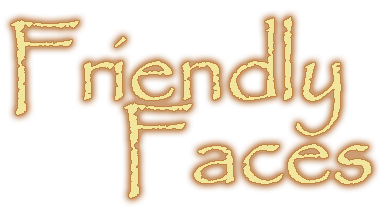 Juratu is another Qasalan native, and was one of the first to offer her help in restoring this vast library. It seems that in her life before the curse, she was a street dancer. It was a hard life though, and she's resolved to become more educated and take more real jobs to better her life. She can still dance beautifully though, and I think after this task is done, she should go to queen Nabile and see about becoming a court dancer.
Mina was the second to offer her services, though she is very flighty, and has a hard time sitting still. I think that might have something to do with the fact that she used to be a Shoyru, and they do have a lot of energy. But what help I do get from her is appreciated. I just wish she'd take care of her banana peels once she was through with them. We're starting to have a problem with Spyders...
Crush is the newest addition to our little family here, and with him- it would seem that we're a clan made entirely of Kyrii now! He's certainly the youngest among us, and is a bit naive- but he's very sweet natured and intelligent. The poor boy seems to have a problem with a pesky shadow wraith named Mephiles though- it seems the foul thing has something to do with the time he spent in the area of the pound where few neopets are ever heard from again... I hope he can find the answer to his problem soon.
This untrustworthy fellow turned up on our doorstep one day- and is only listed under "Friendly Faces" as we've gotten rather used to his constant presence. Really though- I wouldn't trust him any farther than I could throw him. Very self assured, he usually tries to lure one of us back with him to his home just inside the Haunted Woods. He says he's just trying to be hospitable, but that hungry look in his eyes and oversized canine teeth of his say otherwise.
rurounix87, or Ruro as she prefers to be called, is more or less our caretaker. We all live in the home she provides for us on the outskirts of the Haunted Woods. She likes to help me with my work occassionally, but she unfortunately usually gets in the way. Most of the time it's to drag one of us off to go shopping, or play games, or enter contests with her. She means well, but I wish she'd leave me to my work.
Rikka may not live around here anymore, but she was a constant part of our lives while she was. Always very helpful in my work and always had a smile on her face- even if she did get a far off lonely look once in a while. I hope she's doing well, she's gone to live in one of Ruro's other homes with a very old friend of hers whom she calls "uncle Mist".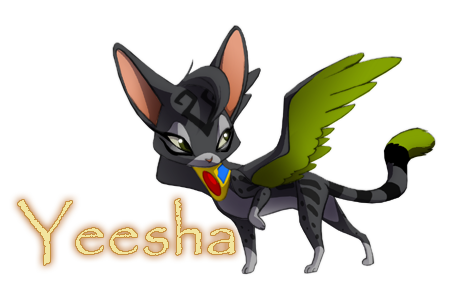 A sleek little Mauket appears from behind the nearlest pile of books, twitching her tail and looking back and fourth between you and Confita- as if demanding to be introduced. The Kyrii sees her and chuckles, scooping the petpet up into her arms. *I suppose a tour of this place wouldn't be complete without our beloved guardian Mauket eh?* she laughs. *Yeesha has been my constant companion since I discovered her curled up atop a pile of books here one day. She's actually got quite a talent for finding lost books and directing me towards them. The only problem is that I don't always know when she's trying to tell me about a book, or about her food dish being empty. She keeps me company though, and even if she does occassionally decide that I'm paying far too much attention on my work and not enough on HER- I wouldn't trade her for the world.*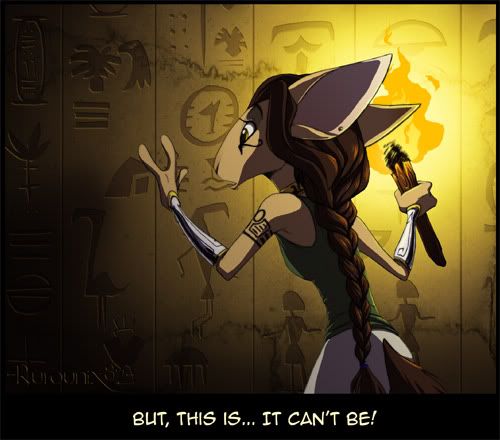 It would seem that Ruro's taken a photo of me working and decided to enter me in the Beauty Contest. Perhaps you should vote if you like it?
--UNDER CONSTRUCTION--
Link back?

((Note: Confita's character and background are HEAVILY based on my favorite old PC game series, Myst. So if the glowing book or concepts seem familiar, that's why. If you love puzzles, steampunk, history, archeology, and anthropology, I'd really reccomend the series.))