The start of the war and Hannah's forces are poisoned by the Flea Ridden Snow Beast once again....

...the Thieves allegiance faces poisoning too!!
---

The 2nd wave arrives...Snow Beasts without the fleas this time.

....and for the Thieves, Skeletal Soldiers are the foe.

A good solid blow!!
(*note: Some screenshots will be editted slightly to optimize space, only the 'Power' meter will be missing)
---

The start of the wave 3, Hannah's forces face the Angry Snow Beasts (Difficulty 150 then lowered to 75)....

...the Thieves face the Skeletal Knights (Difficulty 75)
---

The 4th wave (Hannah)
Quoth Gigantic Angry Snow Beast: Fighting will only bring you closer to losing...

Garmfry gets a few shots in too

The 4th wave (Thieves). Both sides face chain-freezing from a Freezing Potion and full-heal from an Ice Scorchstone
---

The Bringer brings it on!
---

Getting near the maxed out stage?
---

Hannahs Forces catch up to to Thieves , this round is against a Thief.....

....a Bandit....

...and a Pillager!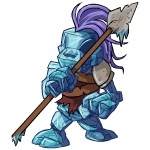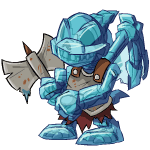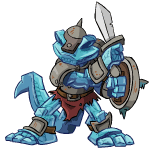 The Thieves run into more Skeletal Minions, Soldiers and Knights now worth double points and no poison
---

The forces of Hannah run head on into the Thief Brute....

....and the Thief Overseer.

The Thieves meanwhile are introduced to the Magic Caster Skeleton Warrior......

...and the Skeleton Warlord
---

The reason many people carry 2 'bombs' is to do as much damage as possible while opponent is frozen

Nothing spectacular with this shot but it shows how using weapons that deal various type icons make it more difficult for your opponent to block or reflect them all. Even though the light comes back to hurt me, 4 of the 5 icons get through to put the finishing blows on my challenger
---
---

The Thieves meet up with Bori Miners....

... and Bori Guards!
---

Team Hannah gets a shot at The Bringer.....

...and the Thieves face Kanrik
---
---


Werelupe Claw

Wand Of The Dark Faerie

Trithduril

Prismatic Mirror

Naralus

Lord Kass Battle Shield

Lord Kass Battle Armour

Evil Hubrid Statue
---
---
---

What a n00b using such a pathetic weapon
---
---
---
---
---
---
---

Round 1 :Here we play Ping Pong. Lord Kass attacks me with his Wand,
I reflect it back with my Orb and he then sends it back with his mirror
---

Round 2: Frozen, Lord Kass isn't so tough
---

Round 3: He sucks the wind outa me
---

Round 4: We both heal
---

Round 5: Overkill
---

Here we both manage 0 damage
---

I fight Blugthak for a breather
---

Lord Kass uses my 'break' to build up his strength and do some heavy damage?
---
---

Round 3 of another Fight
---

4th round he finishes me off
---

5000th Spyder squashed
---

Zombie PetPets (maxed?)
---

War Machines (maxed?)
---

Blugthak (maxed?)
---

Spyder #5500 (first day of the revamped Lupe pose)
---

---
Copy/Paste the code above if you wish to use the link displayed.
Thanks for visiting my page guest , please return soon.
back to top
This page was created by Neopet player
garmfay Many thanks to


kreativespirit for proofreading, colour schemes and hosting several pages.
Copying all or any portion of this page without express written permission violates Neopets Terms and Conditions and is strictly prohibitted.
Direct links to my pages are however allowed.