Introduction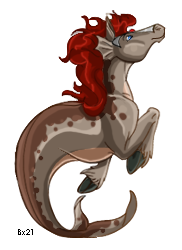 Oy! What do you think you are doing here? Oh. Here to be amazed by my glorious past, present and future? Yeah, I know I am amazing.
The steed galloped, hop on and
Get a handful of his mane.
Follow him and sing aloud,
And travel through streets and lanes.

So, You guys can hang around, and learn more of my past... I guess. /shies away
Moon: Do not mind Clyzon's big mouth, moon_90_0. It's as big as his ego. Welcome to his petpage, though. Please note that Clyzon, no matter what happens, is never going to be up for trade/adoption.

This Petpage looks best without using IE.
---
Character Profile
Name: Clyzon
Pronounced as: [C-Lie-Zawn]
Age as an Equine 11
Sire: Plax
Dam: Alboroto
Breed: Peophin
Siblings: None
Family: Equinisian is my home.
Close Friends: ♥ Riazuna, Moony

Clyzon's mane is long to reach below his neck. His eyes are chocolate brown, and
Likes
Carrots ♥
Swords
Books
Archery
Shenkuu
Dislikes
Flame
Dresses, Gowns, and other girly stuff
Kougras
Krawks
Tea
---
Figments of Past; Dreams of Future
Customisation
Items in FULL Bold are wished for, not worn or owned.
MME11-S1: Snow Covered Tree - Those trees. B) So Chilly and Pro. Love the way they look.
Snow Laden Tree Stump - Where'd the tree go? I just would love the snow awesomeness these stumps provide!
Cold Winter Night Background - Magnificent. That awesome night sky colors. Those magnificent trees. That snow. So SO wonderful to have them
Carnival Mask - This mask is everything of a customization item I have. It is a wonderful item that I am proud to wield.
Royal Boy Peophin Cloak - So fluffy and warm. I must have that. ;A;
Horizon the Plushie Peo

Other Future Plans
I was born before the war began. It was a full moon when I first looked into my mother's eyes. It was a calming feeling of safety. She looked at me with kind, endearing eyes. I knew I would not be alone at all. She was there. She raised me to be brave, to trust my instincts, to follow my heart. When she became the leader of my herd, Equinisian, it was then when she taught me archery and sword fighting.
The war ripped my family apart. My mother left me in Shenkuu's Queen to save me from our enemies. She hurriedly told the Queen of our need, and went back to the battlefield. And all I heard from the herd was that no one survived. Not one. And I was alone, unlike what I thought. A few days later, the Queen had decided to train me. Scholars, Head Knights, they all prepared me from the time my mother died. From the time I was six years old.
The first Human I saw? Moony, of course. When I was a yearling, Moon came to see the queen one day. When she saw me, she stepped closer and pulled out a plushie peophin plushie. Sewn this morning. She smiled, and gave it to me. I stared after her as she left, and then looked at the queen's smiling face. Perhaps I knew that the human and I were destined to be together someday.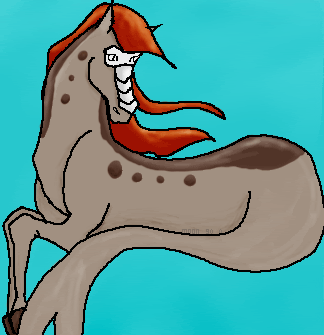 And until that time, I would be prepared.
---
Friends
Loyalty? It was the only I gain Sage's and Riazuna's trust. It all happened when I was in Altador. I can't forget when I got pushed to the ground, haha. She asked my to help Sage, her Yackito, who got very cranky because of the shopkeepers, whom it did not trust.

We tracked down Sage, and found his tracks leading to the woods, so I had no choice but follow Riazuna into the forest's deep shadows, under a dark, cloudy sky.
Thunder rumbled in the sky, and lightning cracked. Sage gave a terrified screech, so we followed the sound to find Sage cowered by a base of the tree, frightened. Riazuna picked him up, and we turned to leave to see a lightning ray cracking a tree and setting it on fire.

I advised Riazuna to remain under a hollow tree at the end of the fire circle.

I jumped over the tree, to float-gallop to Altador, where I had known of water peophins who lived on the way there. I cried out to the riverside:
Hear my call, Water Warriors.
I seek help and not war.
Save the woodlands from scorching flames,
Or else they will spread to wide and far.
The peophins answered, galloping through the flames, turning them into mist. I found Riazuna, almost fainted, and very exhausted. But she was very pleased.


We were friends from that moment on...
---
Poetry
You heard the voice of a gallop,

And singing across the land so sweet.

Equinisian drags you in the meadow,

For someone you'd like to meet.



Every day and every night,

You travel across the land?

But didn't you ever think of coming here,

And meet someone high in demand?



The steed galloped, hop on and

Get a handful of his mane.

Follow him and sing aloud,

And travel through streets and lanes.
---
Link Back?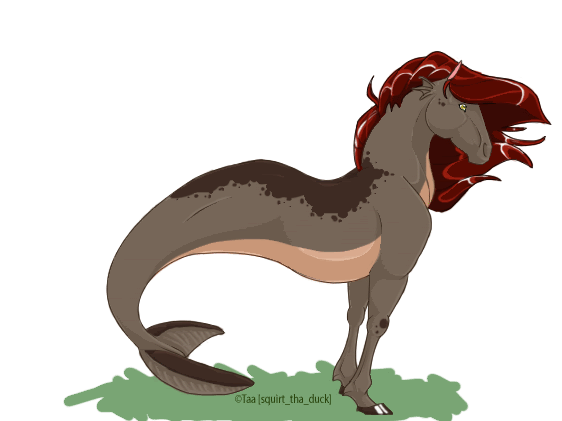 I hope you have enjoyed the visit,
And was interested in this page!
So why don't you link back?
If you don't, I'll rage!


Just joking about that last part.

---
Template from
That Kills Me
. Dividers and Bullets from
The Lunch Box
. Adoptables Linked to their respective artists. Banner is a .swf file from
Background Bonaza
and has been edited into a banner by
moon_90_0
.
NEOPETS, characters, logos, names and all related indicia are trademarks of
Neopets, Inc.
, © 1999-2012. ® denotes Reg. US Pat. & TM Office. All rights reserved.