The gates creak open...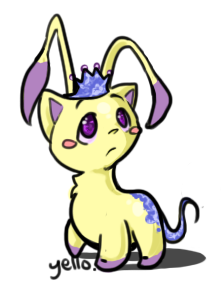 A visitor approaches the castle, head down, cloak on. Confident, but not cocky. People are upset in Irucien - food is often scarce, and most of the queen's interaction with her citizens comes only in recruiting them to serve her needs in this very castle. But she is not evil. She is only trying to reach her father's expectations, expectations that conflict with her own hatred of the title 'Her Majesty'. The visitor steps inside the elegantly crafted gates as they begin to close forebodingly. A challenge awaits, reconciling the queen with herself and then her kingdom.
Banner at the top by Brielle. Click on the custom adoptable for credit. Thank you so much, Sarah!
A tour of the halls
Walking through the winding halls of the castle provides a glimpse of Irucien to the select few who may pass. On the first floor lies the kitchen, staffed with many poorer, but very talented, members of Irucien. The kitchen encompasses the vast majority of the floor, for the queen's events require a large variety and quantity of food. Often Promise will sit at the kitchen table, informally offering her own cooking advice when asked and tending to her own duties (usually sewing dresses for the queen or sorting through the mail). Magus could be anywhere, but given his close bond with his sister, he is often nearby. And since it is mid-morning now, Selle is long gone, having handed over a large bag of mail and made her daily foray into the battlefield.

Climbing one of the many spiral staircases in the castle, one can discover the second floor. It contains several balconies, most adorned with silk drapery, that overlook the first floor and make the castle feel especially open. The walls are well-lit, even as you go deeper into the castle with its many corridors; this means that many shadows cast themselves on the floors and walls, sending the occasional shiver down one's spine. And who knows, maybe Mathieau cast one of those shadows himself, from the secret passageways behind those castle walls...

Stumbling down a corridor near a back corner of the castle, one could easily pass by Siaiu unnoticed. But something about that statue is a bit odd, lifelike, even, if one paused for a while and studied it. Of course, no one does - it would be impossible for a statue to be alive!

The third floor is much the same as the second, but with more books and large windows for the guards and advisors inside the castle to keep an eye on the kingdom and plan the next move. Yes, this castle has many stories, and most visitors lose track after the third floor until they reach the top floor, which solely contains the queen's chambers. Visitors are certainly not allowed to tour all those rooms - in fact, they are only allowed in the sitting area - but one can sense that there is a lot of activity on this floor, from advisors rushing in and out to controlling prisoners to who knows what. And usually, right as the visitors start to feel overwhelmed by the glimpses of activity behind tapestries swaying in the light breeze and doors left slightly ajar, Her Majesty emerges from behind them.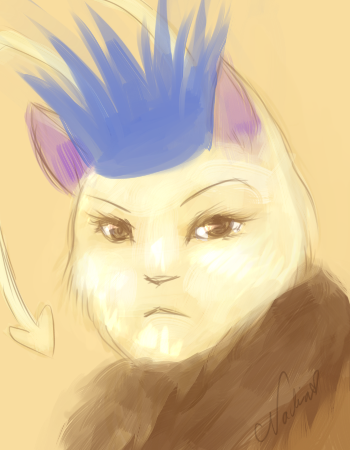 The lovely image above was done by Nadia.
Clemede's past: controlling the present
Grew up in a small town
And when the rain would fall down
I'd just stare out my window
Dreaming of what could be
And if I'd end up happy

Kelly Clarkson, "Breakaway".


Well, it wasn't quite a small town...more like a small town inside her father's castle. She grew up the only child in a happy family, an unremarkable story had she not been the heir to the kingdom of Irucien, a land resembling an Altador-Brightvale cross and surrounded on all sides by miles of dense forests. In royal tradition, one of Clemede's primary caretakers was Aure the Gold Mauket; one was bestowed on each royal heir at birth and graduated from caretaker to tutor to primary advisor upon coronation.

Irucien has historically been frequently invaded because of its small size and because of the coverage the forests provide. When Clemede was young, these wars were also frequent, but one battle proved particularly important. The Irucien army was able to push back into enemy territory, eventually defeating the invaders so thoroughly that they were both expelled from Irucien and forced to surrender their own land. This was a particularly bitter war, with much espionage on both sides, so the King had trouble deciding who would be the subordinate ruler over the conquered province. The Queen, Clemede's mother, eventually decided that she should do it herself, for the good of Irucien; rumors flew that she was simply power-hungry, but in the end the King realized the practicality of such a plan and the stage was set.

Clemede did not see her mother after that; there was the occasional letter between mother and daughter, but any queen is busy, particularly if rumors were true and she was plotting something on the side. Even when Clemede's father passed away a few years after her mother left, the widowed queen would not return and claim the throne of Irucien. Clemede didn't quite understand her reasoning - continuity in the province and not trusting her subordinates to rule in her stead, among others - but it at least seemed to disprove the accusations of being power-hungry. The throne was then Clemede's to take, which scared her, and she still harbors conflicting feelings toward her mother for leaving her and then putting her in an unwanted position to rule.
A father to a daughter
Standing in front of a gold-plated mirror, Clemede straightened a loose clump of fur, pulled her shoulders back, and felt ready to go to the banquet. She blinked once, and suddenly things began to feel strange. She saw two Clemedes. Three Clemedes. Things began moving. Daddy appeared in the mirror. As much as she didn't want to close her eyes, seeing her father, her eyes betrayed her, slipping shut...
Can I come in, Your Majesty?
Why do you insist on calling me that?" Clemede replied angrily, motioning to the guards to open the gold-plated doors and reveal her advisor standing impatiently in the hallway.
Madam, you are the queen, after all, but this is no time to have that debate again. It's time for your weekly medical evaluation. Sit.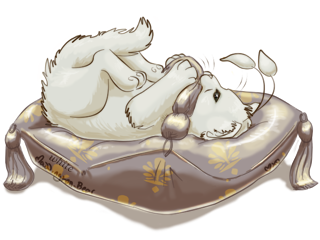 Clemede sighed audibly, an unanswered question coming to mind as it did every week: why does my advisor have to be my doctor too? Of course Aure, like all Maukets serving Irucien's royal family, had basic medical training, but was this really necessary? Clutching the base of the tasseled burgundy sofa, Clemede lowered herself onto the leather, emphatically kicking her feet up onto the silk foot pillow for the final touch of annoyance. She continued to fidget – adjusting her crown, her cloak, her scarf – until it was Aure who waited for her with his clipboard ready and his eyes glazing over.
How are we doing today?" The same question as last week, with the same annoying use of the word 'we'. 'We' both know that neither of us is especially thrilled to be here.
Clemede, please try. We're not going to talk today. I just want you to close your eyes, and try to remember, okay?" Clemede nodded, sensing the lesser of two evils standing before her. "All right. It's a snowy winter morning. You're twelve years old. Relax, Clemede. You're twelve years old. This was the first snowfall of that year. What do you remember?
It was foggy. But I could see some of the icicles on the castle towers.
Good. You woke up, looked around, and then?
My window was open, the big arched one on the balcony, and the cup of water on my nightstand was frozen. So I closed the window and then you came in with my cloak. It was the crimson one I had when I was younger, except it was about to wear through, because you put it on my shoulders and it wasn't nearly as warm as I expected.
I took you to your father.
Yes.
Was he in his bedroom?
Yes.
Clemede?
He…" Her breath caught. "No, I suppose not….he was on a sofa much like this one, except it was emerald-colored, in his office." She paused. "Everyone turned away when I walked in, and Daddy made this low, cautious noise, very unlike his normal booming, laughing greeting." Her face suddenly grew more flustered, her brows clustering in consternation and her jaw clenching.
What did he say?
Clemede replied in a subconscious imitation of her father's throaty speech. "I must leave you now, but I will always be around if you think hard enough. I trust you, and your mother, to do as much as you can for Irucien, and all will be well.
And?
Aure's prompting was met with a quick reaction from Clemede, her speech rate quickly increasing. "And he left, he walked out, and he will be back. He will. He left. He's coming.
When?
Clemede closed the silk curtain gently, careful not to make a sound. It was the same golden curtain that had hung in her bedroom when she was younger, and still in fairly good condition – terrible condition for a queen, to be sure, but no one dared replace it. Clemede swore she could still see marks on the fringe about head-high, from when her father would sit with her until she fell asleep and then peel back the curtain in almost-eerie silence. Often he'd told her stories of her ancestors, but still more frequently it was stories about the laypeople, people who'd come to see him that day or just people he saw on the street who looked like particularly wonderful members of society. Clemede always wondered how he plucked people out of thin air and was convinced of their valor. Perhaps he did it solely to create a story, or perhaps he just saw the good in people. Or perhaps, just perhaps, he had a stubborn streak like her, like the way she insisted on things others said weren't there. Maybe instead of invisible objects, it was invisible traits.
Clemede dismissed that notion. No, he always told her she was special. He never said anything about himself. Sometimes he never said anything at all, just listened to the air in the room move. And once in a while, he would just offer up a few words of advice, and every time Clemede would hope it would continue into a story, but every time after he'd given his wisdom he would be captured by the soft arms of silence.
If you really need something, and I mean really need it, not just want it," he'd said, "find the star on the curtain and press it and close your eyes and will it to happen." For there was always a little detail on well-embroidered fabrics such as this curtain, one that shouted, "Extra time was spent on me, because you're worth it." And on the curtain lay a little white star, nestled inconspicuously at the very bottom edge, so that not just anyone could use it.
Aure came in with some medicine and toffee, apparently feeling remorse over the previous conversation. Clemede was sure of it, and smiled slightly. That's right, she thought. Don't go down that path again. Ever. They exchanged the usual pleasantries, outlined the events of the following day, and quickly bid one another good night. Aure shuffled around the curtain, hearing it ruffle behind him as he departed.
Clemede settled halfway into bed before pausing. She stole over to the curtain and opened it noiselessly. No one. Closing it as quietly as she'd opened it, she relaxed with the sounds of nothing filling the room like a silent opera – with their presence. And before her feet shuffled into bed, she touched the star and closed her eyes. Aure's plans won't happen, she proclaimed, her words echoing off the caverns in her head, for Daddy's arriving tomorrow. He will.

---------------------

Clemede's eyes opened again, and the image of her father was gone. She hung her head. Just one more time. One more. And her head spun slightly. Two Clemedes. Three Clemedes. But not her father this time. A quick glimpse of Aure, and her eyes closed. He looked funny...
Did he look at me funny? He just glanced at me, nothing to fret about. But something in those beady eyes… That glance was so quick, so sly – it's like he didn't want me to see! And then he turned away! And he didn't say anything. He always says something. Maybe he was just pensive. How pensive can Maukets be? He wasn't being pensive! Maybe pensive's not the right word. Maybe stealthy. He's probably up to something. How could he not be? He looked at me funny! He's plotting! Relax, it's Aure. My most faithful servant. But he looked at me funny! But sometimes he just looks funny. He's looked funny to me other times. Maybe he's plotting something. Plotting what? Plotting something big, something that would explain all those other looks.
Too many thoughts. Too many thoughts. I went into the kitchen for some tea and toffee. Maybe they would go away, stop punching each other, stop fighting to the death and hitting the walls of my brain and making it all hurt and making me crazy and making me crazy crazy crazy
He looked at me funny. He looked kind of sad. Maybe he's sad too that Daddy didn't come today. I told him last night that Daddy was coming. He knew. Maybe he was sad. But why wouldn't he just say he was sad? Well, maybe he didn't want to make me think about it more. But it's always on my mind. Where's my daddy? He's out there somewhere. He's fine, but where is he? Does Aure know? Aure knows! Why won't he tell me? Where's Daddy? WHERE IS HE? He knows he knows he knows and he won't tell me! Why why why why
Aure looked sad. But he looked kind of pleased too. Why would be look pleased? Daddy isn't back! He's still gone! Or maybe he's back and Aure knows! Daddy daddy daddy…no he would've come to see me right away. Yes, yes he would. I know it. And we would go in my room and he would sit on my bed except I would never fall asleep again because I never want him to leave again and he knows it's okay to leave when my eyes close and don't open for a while and it's never okay again for him to leave. Yes, he would come see me. I'm sure of it.
So he's not here. Aure must be planning something. What is it? What could it be? He looked at me funny! It's a clue! Or maybe I just saw it wrong. It was just a second. I didn't see it wrong. He looked funny. Why did he look funny? Daddy looked funny sometimes when he was worried, like when that guy with the furry eyebrows tried to take over and Daddy had to get ready. Daddy was ready though. It was all okay. But maybe Aure had something like that. No, he doesn't have furry eyebrows…but maybe there's another similarity? No, I'm being silly.
What if Aure had big furry eyebrows?
He would look stupid. But maybe it would work for him. No, maybe not. Maybe I should try them out on him. Except that that would be too scary, like the real guy was in the room.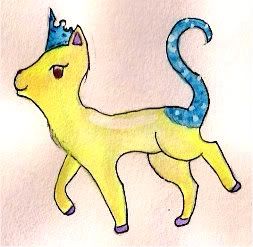 What if he is in the room?
What if Aure is trying to be that guy?
That's silly. Aure is my best friend. But he's always been a little distant. WHERE IS MY DADDY? Aure doesn't know, that's right, I've been through this. But maybe he knows. Maybe he's doing something he shouldn't.
Oh my goodness. What if he's trying to steal Irucien from me? And then when he gets it he'll tell me he knows where Daddy has been all this time! No, no, this is absurd. Aure is my doctor.
What if he's trying to POISON me??
No, no, he wouldn't. But he wouldn't look at me like that! Maybe he would! Oh no oh no oh no Daddy I need you now I thought I could rule well enough for you to come back but if my own confidante is trying to supplant me I need you…Daddy, I'm scared! Daddy, he looked at me funny! He's coming to take over! I can't do this alone. I can't do this. He's taking Irucien and there's nothing I can do about it. He looked at me funny, that's all the evidence I need!
Custom adoptable by Shade. Click on it to get your own, and drag to your address bar for full size. The last piece of art in this section is by Hannah.

Portraits of a queen
All art in this section is my own and is not to be used by anyone else. Please drag each piece to your address bar to see it full-size.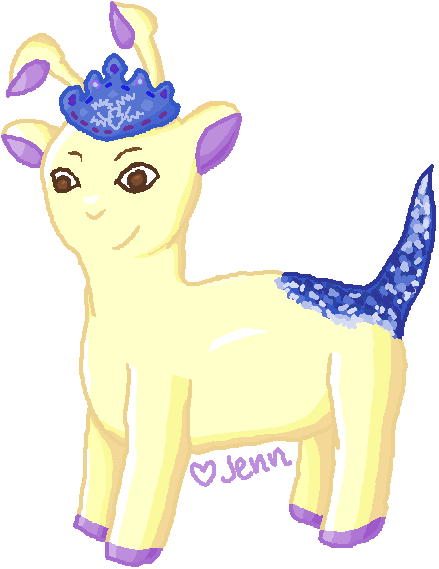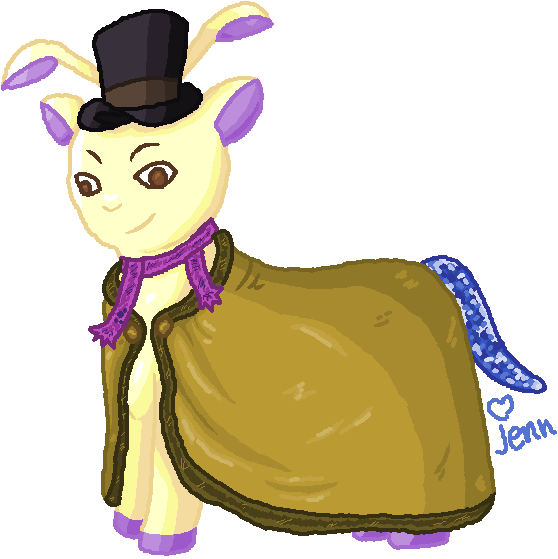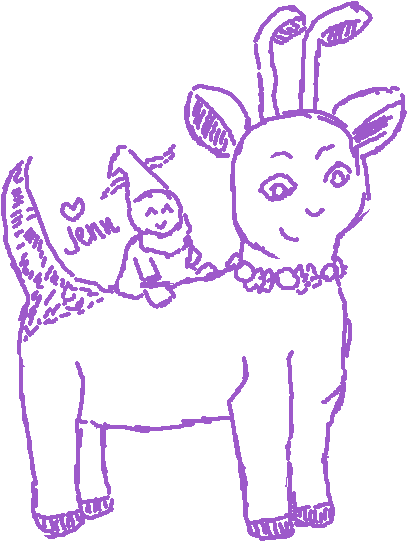 A royal meeting
This dialogue shows the first meeting between Clemede and Kimri, paving the way for a powerful alliance and friendship.
Aure: Queen Clemede, please meet a very esteemed guest, Kimri.
Kimri: Good morning, madame. How are you doing today?

Clemede: Fine.
Kimri: We all miss him, Your Majesty.
Clemede: What? Who? And don't call me that.
Kimri: Your father.
Clemede: Oh, he'll be back, don't worry. It's not as terrible as everyone is saying.
Aure: Clemede…
Kimri: He'll…be back?
Clemede: Yes, of course! What did you come here for, anyway?
Kimri: Do you know who I am, madame?
Clemede: No.
Kimri: Well, most everyone doesn't know. But now that you are queen –
Clemede: Not for long.
Kimri: While you're queen, then, I am under your full control, to be used as best you can. You see, madame, I am the preeminent spy that you could ever find.
Clemede: But you're a spy – no one should find you!
Kimri: Yes, exactly! And that, my dear, is why I have found you.
Clemede: Are you giving someone information about me or something?
Kimri: No, dear – I work for you now! I have found you because you are my new boss, now that you are the new queen of Irucien. I can tell that you're not fully comfortable with the title yet, but madame, you and I have enormous power. Together we can do great things. Indeed, we must do great things, for Irucien's sake.
Aure: What do you have in mind, Kimri?
Kimri: Well, obviously, we must snuff out any traitors, so that Clemede can have a long, uninterrupted rule.
Aure: Yes, that sounds very appropriate for a long – err.. Clemede, it sounds appropriate to maintain Irucien sovereignty until your father returns.
Kimri: Exactly when will that be? I worked for him before her, you know.
Clemede: Soon. Very soon. Very very very soon.
Aure: Nevermind the details.
Clemede: Very soon.
Aure: Yes, dear.
Clemede: When, Aure?
Aure: I don't know, madame. But Kimri worked with your father, and is very kind to be working with you. She will certainly be one of your most important allies.
Clemede: Can you tell me about my daddy?
Aure: Maybe another time she can.
Kimri: I can tell you, Your Majesty, that controlling the security of Irucien has been my job for centuries, and the job has been in my family for many millennia. I know your mental anguish – most of my family has been… quite unstable in their old age, and I surely won't be any different. But for now, of course, I'm healthy and ready to serve.
Clemede: How did Daddy use your skills?
Kimri: I spent most of the early part of your father's reign revamping the security system in the castle and the immediate vicinity – I'm sure you've seen the vaults and whatnot that I designed. But toward the end of your father's rule, as I'm sure you know, there was a bit more uncertainty in the kingdom and beyond, prompting me to settle into my primary role as a spy in the forests. Queen Clemede, I can draw the layout of the forests of Irucien by memory. I've advised the army – only in a limited capacity, as almost no one can know I exist, but still. Furthermore, I am born to be here, in the castle. I am a useless being without this particular service, and I will not resign myself to centuries of uselessness. You need me and I need you, and I will not have it any other way. I am a spy, after all – if you're not with me, then you'd best fear me.
Aure: Of course we're with you, Kimri.
Clemede: Daddy and I are with you!
Is there a doctor in the house?
Those closest to Clemede noticed that her behavior had begun to change soon after her father's death. Initially, it was attributed to grief, but she continued to show signs of instability separate from her sadness.
Her daily schedule
as planned by and as told by Aure
8:00: Clemede is always scheduled to rise at 9:00, but I consistently awaken her at 8, citing extra events that need attention today. I bring her hot tea with milk and honey when I wake her up, then leave her be until she is presentable.
8:15: It is usually around now that the real reason for my budgeting occurs. I frequently hear noises from her room, whimpers and muttered curses that to me are now entirely unremarkable, but to anyone else would arouse alarm. Clemede's grief manifests itself most prominently in the morning, and I allow her about half an hour to wallow before I intervene.
8:45: I half-heartedly chastise her for taking so long to get ready and provide the finishing touches on her outfit – a button here, a wayward strand of hair there – and move her along to breakfast. There I debrief her on the tasks of the day, usually insisting that they be done in a specific order so Clemede does not get distracted. Clemede finishes up breakfast by taking some medicine, and off we go into diplomatic or strategic meetings.
9:30: The first meeting is always with Kimri, to discuss the security situation. The meeting is only scheduled for an hour, but frequently lasts until lunch.
11:30: If Clemede is not still meeting with Kimri, she prefers a quick nap before lunch.
12:00: If the meeting drags on, lunch is a chaotic place, where the advisors who were scheduled in the morning try to make their cases.
1:00: After lunch, Promise enters to review yesterday's mail. Most letters are from commoners seeking aid or changes in the status quo. She does not read aloud, but summarizes the essential points and the common grievances expressed throughout the letters. Kimri always sits in on the meeting, taking note of the grievances as an indicator of possible trouble and collecting the letters afterward for further processing.
2:30: During this time, Clemede is supposed to have therapy with me; however, usually we don't get very far. Clemede is frequently exhausted and sometimes recuses herself for a nap; other times, her fatigue makes her less willing to reflect in the first place.
3:30: Usually time for afternoon tea, but when Clemede is upset, she takes tea in her room. This severely disrupts the meeting schedule with the afternoon advisors (a few of which are invited to tea), but the Queen is the Queen.
7:30: Dinnertime, unless Clemede takes tea in her room.
9:00 Dinnertime, if Clemede takes tea in her room. After dinner, Clemede vanishes. She usually exits down the hallway toward the prisoners' cells, a circuitous path at best to her chambers. From what I've gathered from the guards, she usually lingers for a few minutes, alternately murmuring to herself and questioning the guards on the prisoners. Her emotions tend to be especially labile in such a setting, however, and she retires to her room whenever a guard inevitably asks if she is all right.
2:00 am: Assorted whimpers, cries, shouts, thumps, and murmurs from her chambers usually cease around this time. When the Queen sleeps, so can I, though I know her sleep is often much less fitful than my own.
A rare interview with Her Majesty
This interview was done for one of Divinity's weekly challenges, like a few of the other components on this page.
Divinity Interviewer: Divinity is here today to interview Her Majesty, Queen Clemede. Madame, thank you for being here today. How are you this fine morning?
Clemede: I'm pleased to be here, to be able to speak to the dear citizens of Irucien directly instead of them relying on nasty rumors for information.
DI: Great! Shall we get started with the questions, then?
C: Of course!
DI: So when you walked into this room - or actually, when you walk into any room - what is the first thing you notice about others?
C: The look in their eyes. No one can manipulate their eyes to lie for them, because eyes see everything, experience everything. They give us our human experience, and that great of a gift must have a cost: eyes are both a gateway to truth in the outside world and in our inner selves.
DI: I see. And is that what you want others to first notice about you?
C: Well, custom dictates that people be too busy bowing to make eye contact. But I do think most people subconsciously note others' body language, including eye contact. It is the rare person who notes such things consciously, I've found, and those who can are extremely valuable servants to our wonderful land of Irucien.
DI: So for you, is one sense more highly developed than another? Are you more visual, or audial, or do you rely on some sort of sixth sense?
C: Visual. The eyes stabilize the mind because the mind can invent things, but the eyes only show what's there. When hallucinations begin, that is when you've lost the eyes, you've lost truth, because the mind is too powerful.
DI: Interesting. So you've probably heard this saying before: Love looks not with the eyes, but the heart. What are your thoughts on it?
C: This is an odd question to ask a queen, mind you. But I believe love looks with the eyes and feels with the heart.
DI: Then how do you fall in love? At first sight or over a long period? And how often?
C: I wouldn't really know.
DI: So would you consider yourself a romantic?
C: *sighs at line of questioning* Queens don't really have time to be romantics, now, do they?
DI: Okay, enough about that. *laughs* Let's move on to other things. Tell me about your ambitions! Any career goals you're working towards, right now?
C: Just trying to leave Irucien better than how I found it. So we have to ensure everyone's safety, which is why we have stepped up security and instituted a few other changes. For all our innovation, however, we do not want to sacrifice the rich Irucien tradition, which is one of the many reasons our generals are working so hard on the battlefield.
DI: And any personal goals? Well, let me ask you this. In short, what is it that you want out of life?
C: That's a little intrusive, don't you think? But I suppose I can speak on general terms. I just want to keep my memories – of what, I will not reveal to the whole Irucien population, thank you! – and I want them kept as strong as if they were real. Memories tell us of past truths, of life from a younger perspective, of a more innocent era in our development, of what has made us develop. It sounds almost scientific, but science is supposed to tell us why, and memories only tell us what. They may help us learn how, but never why. Why floats around like a hallucination: it hovers around your face, invisible to everyone else, but haunting you and you alone. You can't get rid of it, because it is in the mind. Without the mind thinking of it, it doesn't exist, but once it exists, it never ceases. Life, too, should be scientific – it starts and stops – but there are so many layers to life that everyone lives differently, that some people feel like they're only living halfway, that memory must remind us of alternate lives we once lived and for whatever reason don't currently live. Memories show reality, but a dead one, and I find that these dead realities can be as painful as the reality of pricking yourself with a needle or something.
DI: How close are you to accomplishing these goals?
C: Well, of course I remember some things and forget others. I just hope that I'm not forgetting what needs remembering in order for me to learn what I can from what came before. I can't say how close I am – memory is elusive and ever-changing – but I can say that I'm trying, at least.
As for my goals as queen, I can say that our generals have been providing us with details of some unexpected bad luck, but that we are still in a position of strength on the battlefield in terms of numbers and tactical position. We all feel confident, both in the castle and on the front lines, that we are on the brink of the breakthrough we need to potentially return home.
DI: What factors are preventing you from accomplishing these goals, in the outside world and in yourself?
C: As I said before, some bad luck factored into our weekly progress on the front lines. And, as you all know, the medicines I have been taking – as purely a research subject for the scientists, remember – have led to some nasty emotional swings. [The medicine is actually for her existing mental problems (which create the emotional swings), but publicly she has stated that, out of loyalty to her kingdom and its people, she would personally test trial medicines before they were released to the public to ensure their safety. This was an attempt to counter the negative perceptions of her floating around the kingdom, while reassuring herself that her problems would not be publicly revealed. It also accompanied her emphasis on the security of the kingdom, appearing to citizens as an extension of that aggressive agenda.]
*when pushed for additional personal weaknesses* Well, I can't say much lest someone use it against me! *chuckles* But people do tell me I tend to talk very quickly when I get agitated, and I really do love storybooks more than I should – my father used to read to me all the time.
DI: Well, you've got to have some strengths, too. Tell me about them!
C: Well, I come from a wonderful background – generations of benevolent rulers have preceded me, you know – so I was raised well and groomed for the position. Don't underestimate that royal influence from the beginning! Besides that, I do remember quite a bit of information, thanks to a lot of practice, and I can discern liars quite well. I'm not naïve – I have a few close confidants, and those are the only people who know much about me. To them I will share a lot (it's only healthy, you know!), but I like to think I do a good job of protecting the kingdom over which I'm so privileged to rule.
DI: So when you were a small child, did you ever dream of becoming who you are today? Did you turn out the way you expected?
C: That's a funny thing about life, that so much can be known and yet life can end up so different than what was expected. I knew from the beginning what I was and would be, but I never knew what would happen to get me here. Nothing is predictable, even though some days you feel you know everything.
DI: If things could have turned out differently, then what is one thing you would change about your life?
C: *softly* I think we would all wish that His Majesty my father was still alive to lead us.
DI: How about your physical attributes? If you could change just one, what would it be?
C: I don't look as much like either one of my parents as I would've thought, particularly my mother.
DI: And one physical attribute that you're proud of?
C: I have my father's eyes.
DI: Well, I have noticed that! So, what do you like to do when you're alone? Any hobbies?
C: I don't have much alone time, but I do keep a journal. It's locked away in the many mysteries of the castle, of course, so no one who sees this interview ever has a hope of reading it!
DI: What about when you're not alone? Company in general...how do you feel towards it? Are you a people person?
C: I'm pretty guarded, going back to that whole issue of security and my few confidants. I have been taught to socialize well, but sometimes big events both scare me (so much elegance and so many people – it's just overwhelming!) and bore me.
DI: What's your best friend like?
C: Oh, Aure? You all know a little about our family's tradition of having Maukets. *lying* They're all pretty much the same after a while, performing the same duties, offering similar advice, providing similar care.
DI: And what about your family?
C: I don't have much family around to talk about, and those who I would feel comfortable discussing are already known to you and your viewers.
DI: Oh, I see. Time for a random question! If you could be an animal, then which animal would you be and why?
C: What an odd question! I suppose I would like to be a bird, because they can be so independent and fly under the radar whenever they'd like, but still sing beautiful music. No pun intended, mind you.
DI: That's interesting! Let's keep these random questions coming. What are you most afraid of?
C: Death. *refuses to elaborate*
DI: Well, that does sound scary! What do you want to hold dear to you? What do you value most in your life?
C: If I can make a lasting contribution to Irucien, and keep it flourishing throughout my tenure and beyond, that will be enough for me. However, I have always thought it would be nice to have a large family, with maybe five or six children.
DI: Well, I've kept you here long enough, Your Majesty. It was a pleasure meeting with you, and thank you so much for allowing yourself to be interviewed!
C: Indeed. This is not the kind of interview I'm used to, but I'm sorry that national security prevents me from sharing more about myself.
A mother's perspective
Queen Sury, Clemede's mother, grew up in the kingdom of Irucien. She was the seventh child and only girl; her parents were so desperate for a daughter that they made a deal with a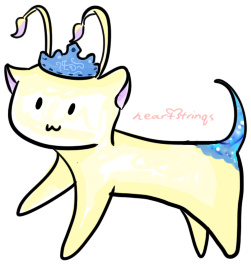 shady character from her father's childhood. (In Irucien, the throne is inherited by females.) The man gave the king and queen a daughter, but in return he retained the right to name the princess. He also got to determine parts of her personality: average intelligence, eidetic memory, sensitivity to light, early gray hair, propensity to speak in rhymes, ability to view others' dreams, preoccupation with dreams and their meaning, hardworking, aloofness, and a loner personality. Many of these factors influenced her decision to permanently leave Clemede, one which she writes about below.
Nowadays, following her self-imposed exile from Irucien, Sury lives in Perilor, haunted by memories of her daughter and the wish to reunite. Kimri, the royal scout, is still in Irucien with Clemede but often visits Sury in Perilor, dispensing advice and providing some information on Clemede's deteriorating mental state. Spurred by these words (and by the access to Clemede's dreams she gets while in the Irucien forest), Sury began trying to make homemade cures for Clemede, which she surreptitiously tests on patients in the Perilor hospital. The man also determined Sury's occupation as a bargainer, which compels her to return to the Irucien forest nightly, making deals with anyone determined enough to find her and make a wish. Of course, the visitors must surrender something of immense value to them, as determined by Sury's insight into their dreams, and each time Sury must take something from them, she feels a fresh sense of her own loss. Ironically, her occupation as a bargainer may give her the best opportunity to test the boundaries of the mold that the man has given her and attempt to reconnect with her daughter.
There comes a time in everyone's life when a decision has to be made. Oftentimes that decision has to be made quickly. But you do it because you have to, and you know that life goes on and everyone adjusts.
I'm not the smartest woman in the world - there are trade-offs that come with being born, you know. And even the smartest woman in the world can make a bad decision. Now, people disagree over whether anyone really makes decisions or if Fate makes them for us, or even if Fate makes us make a certain decision. But the fact of the matter is, things are decided all the time, and it's only natural that sometimes they go awry. And life goes on and everyone adjusts.
I am a queen, but my life isn't a fairy tale. Oh, if life were that simple...
I admit it, I left her. You would think that, with all my parents went through to have me, I'd never leave my own princess. And, while I regret it deeply, no one understands or appreciates the situational factors that forced me to fold. Now I fear that, if I try to reconnect with her, she will not be the Clemede of old... I mean, the Clemede I knew before. Stupid rhymes.
Clemede was my first and only child. I tried many times to have more children, but it was not to be. I had dreams that the evil man walked into my room and began to give me the same speech he gave my father. I always woke up, animated and yelling, but I knew eventually the dream would come true. Dreams are jumbled fortune tellers, a blend of colors and sounds and smells that may not be properly combined or ordered, but each of the individual elements remains honest. He entered my dreams, as he would later enter my daughter's. He knew I could not change my own dreams, and he knew what meaning I would ascribe to it.
Finally, he did indeed show up. My guards were on the alert, but he knew what was in store for him and vanished after his failed proposal to "help" me, slipping away like an eel into the abyss of darkness. My gifts will appear anyway, he whispered. You've already agreed to them. You're already following my plan for you.
Clemede was born just before my husband gave his approval for one of the larger wars in recent Irucien memory, against our neighbors from Perilor. He was old enough to be able to withdraw himself from service, so he wasn't in danger, but privately we both fretted about the consequences should we lose the war. The evil man's voice encircled my mind: bargaining, solitary activities, Fate... Would his evils still remain if Irucien was conquered? Perilor was wealthy, its elite class buoyed by strong trading partners providing both the exotic and the essential.
Clemede grew up healthy and beautiful, though her dreams betrayed a hint of...something strikingly not mundane. This was not a surprise to me, as much of my family had been a bit loopy, but it also made me worry about her future on the throne (and, even worse, her future should we lose). She would be fine, I told myself, even as I tried to fix her dreams for her, my voice invading her sleeping mind and trying to corral it towards normalcy. Maybe she just feels the stress of living during war, I mused. How should I expect her to grow up normally when she isn't normal - she's a princess! - and the outside world isn't normal? We grew close, establishing traditions that brought us together. Every morning and every evening, she would tell me a story. In the morning, she drew inspiration from her dreams, though she did not tell me that. In the evening, she expressed what was on her mind as she drifted off to sleep. I sat there until she fell sound asleep, our matching Maukets watching from the doorway, their shadows falling out of the room like giant statues.
Every war has to end sometime, and this one ended one night after I tiptoed out of Clemede's room, she now much older but still as attached to our traditions as I. Stories became our mode of conversation, our template for mutual understanding. They were a way for me to express my desire not to be confined to solitary activities, the way I chose to break out of that gift in one small area. This time, I tiptoed out of her room and went to my husband's office for our customary cup of hot chocolate, but the scene was not customary. Generals swarmed his room, shaking his hand vigorously, and I knew.
The decision to leave came soon after, a joint decision that we made for political reasons, but also an individual decision I made for Clemede. Maybe, just maybe, if I left Irucien, the evil man's conditions couldn't hold me. I could become anything. I could then bring Clemede to live with me in Perilor - my husband is a strong ruler, and, if anything, I'd probably need an heir before him anyway. I could bring Clemede to live somewhere peaceful, with her mother who adores her, and give her a fresh start. She was happy growing up in Irucien, but maybe a change of scenery would make all the difference in her dreams. The king agreed, and promised that he would come join us in Perilor in a few years, and visit as frequently as he could. I had to go to Perilor because there was no one we trusted to rule provincially; the war was rife with deception and espionage, and we needed to be careful. My husband would come to Perilor, but only once he had groomed a successor, one he trusted above all. Fate again intervened, though, wrenching apart the familial relationships I had struggled to cultivate, when the king died unexpectedly, elevating Clemede to the throne. It was decision time again: return for my daughter and rule myself, or remain in Perilor?
To be continued
Click on the picture of Clemede for credit. Thank you, Bev!
A souvenir
And the visitor's head spins, slightly overwhelmed from all of this new information. The mental challenge is still present, but now it is time for the visitor to withdraw, exit the castle and into his own mind. Is she crazy or is she not? The question nags. It is up to each and every visitor to decide that for himself or herself, and many find that they would like a souvenir of the castle and the mysterious queen, to jog the memory should the question persist far into the future.






A few other Iruciens have left their names in the guestbook, should you wish to visit.










And plenty of visitors from other lands have paid their respects as well.
Should you be wanting to sign the guestbook, please neomail michellejkittie.








CSS by Nene.
Background from squidfingers. All art by me. Do not use.