The factory was cold and the air hung in the halls like a thick layer of
stale breath
. An
uncomfortable
silence had consumed the space moments after a large metallic
grinding
sound sent chills down your spine and set your
hairs on end
. And now you stand motionless in the damp bowels of the plant wishing that you had never decided to be nosy in the first place.
The lights that lined the halls were so old they threatened to go out,
flickering
, humming, and
creaking
as they swayed ominously back and fourth - back and fourth in an breeze that was
undetectable
.
Just as you were about to admit defeat - fall to your knees and cry like a baby, something brushed up against your shoulder and caused you to
scream in terror
! So shaken by this touch you fall to the ground and back up against the wall thick with age old slime.
Oh wow... sorry about that...sheesh.
Rocking back and fourth with your eyes squeezed shut - you peek thru your fingers just enough to catch a
glimpse
of something purple
orange
and blue. Lowering your hands your eyes follow the figure in the
bad light
as it rounds the corner and disappears.
All of the sudden you jump to your feet and
follow
, figuring that if it had wanted to eat you it would have done so already and, judging by the fact that it
spoke
your language, you assumed it was
intelligent enough
to perhaps know a way out of this dank hole in the ground.
Catching up to it you soon discover many strange and interesting things. The purple beast that slightly resembles a big scary wolf has a name -
Cinder
- and as it turns out he is a
resident
of the factory. Also that while he is not supposed to help out the nosy
trespassers
, he was never one to follow the rules and instead prefers to share with you some of his music. After the strange introduction you end up following Cin to his claimed area, a cozy
ill-maintained
purple room. This room complete with pealing wall paper and filth covered windows that filter in - thankfully - pale moon light.
Late into the
night
you laugh and share stories of past times in a room you decide is much more comfortable than the scary hallways, till you find yourself
waking up
. The sun light burns your skin, a stale scent still lingers on your clothes - and you wonder if it were all simply a
hallucination
till you reach in your pocket and retrieve a CD titled
.".
Plastic Rabbit
.".
autographed by none other than
Cinderrin
the man himself.
And it was then that you recall Cinder grinning in the
candle light
, and the words he spoke send a chill into your soul as you begin to forget the night before. Thou forever burned into the back of your subconscious his pleasant voice rings in
harmonious
tones of
terror
...
Next time... you may not be so lucky.
When asked to describe his musical process to the readers, Plastic Rabbit's front man Cinderrin Hazard stated

The music we make can not be explained in simple terms... that or I just can't dumb it down.

Nothing but what should be expected from some one covered in so much dirt.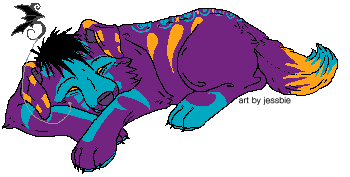 ---
THE F.AMILY adopted thank you
what doesn't kill you...
Really more like a best friend, who lives with you. Rue moved in just recently and already feels at home in her factory suite. Yeah living in a run down, ill-maintained, mostly dark, sort of musty, old factory work room isn't like having a presidential suite... But Rue says it sure beats sleeping under a bridge... when its storming... with no shoes...

The best part about Rue is she glows, literally. Having her around when the power fails is stellar. Bio I think finds her at least useful. I think they get along because shes so quit, how can she STAND it?! rite?!! AM I RITE?!!?
LOTS TO SAY about this charming personality! I think it's safe to say this guy is my most favorite person in the world EVER. Sure he pretends to loathe my constant presence. And yeah maybe the threatens to push me into the grinder when no one is around. And I'm pretty sure he replaced the sugar in the kitchen with arsenic... on more than one occasion. But under all the motor oil and black soot that just sort of falls from the ceiling around here... and behind those mucky eyes that sort of drip with hatred for everything that I say, I can tell he really just wants to be my friend. I know all this because sometimes, when he is feeling particularly friendly (if that's what you wana call it) he will push me off of my desk chair so that he can work on making digital music on my computer. And of course I could sit there and watch for hours. I learned just about everything I know about drafting sounds from him and I consider it a great honor that he lets me learn from him.


Crazy, insane, unethical, rude, whatever you call this dude DO NOT call him mad! I made that mistake once and got locked in the basement for like a week! Pretty much the creepiest place I have ever been. Just like upstairs only its drippy... drippy stuff weirds me out for some reason. I couldn't sleep for like weeks after that... OH! don't get me wrong, the Dr. is a good guy, he is just a little temperamental... Mostly sane, workaholic, doctor who much prefers to be left alone, always. Remind you of anyone? The Dr. is Bio's actual father. He used bits of his DNA or whatever to like craft him in a TUBE! Well I think it was a tube... they are sort of personal about it. Not like they chat much, in fact when I think about it they act just alike! Maybe that means the Dr. really just wants to be friends! How cool is that?!
ANYWAY he is the one who owns the factory and he seems to be OK with me living here or I'm certain I would have been like... used in one of his crazy experiments by now. Not sure if I'm not supposed to tell anyone... But I'm pretty sure he knows how to bring things back to life. Lots of people come by with animals who have been hurt and he always fixes them good as new. Mostly.
---
ART.GALLERY I feel pretty
By: Scorninc
By: Others
by:
under
by: ??? by: ???
---
A.DOPTABLES custom designs ONLY
custom count @ 31
Trades = NO
Requests are CLOSED
TEMPLATE IS LOST
AND I DON'T USE PAINT ANYMORE so -
I need to make new ones, who knows when that will ever happen D:




Custom designs only - mainly for trade
DO NOT take one that is NOT YOURS No Sticky Paws line art OR designs
We will NOT alter the line art meaning no wings or extra tails / deal with it
DO NOT enter in the BC/AC or claim then as your own EVER or we will hunt you down and eat your toes
Enjoy how cute and disgustingly adorable they are
When requesting a custom neomail Dr.Scorn with a link to your adoptables and a ref. image of the lupe you want.
ONE per customer unless you have multiple adoptable sets or we feel like having you make Solis a custom.
We are picky about who we trade with. Flat color is OK but we pay attention to line-art quality and anatomy etc... will not trade with everyone so don't be sad if you get denied.
✖ If your custom is not being used ( and we do check up every so often ) it will be deleted in order to make room for a custom that WILL be used.
No sense in wasting space.
As a precaution we advise you to save YOUR custom image so if in the event of a crash / what have you, your adopt will be safe and no longer a problem of Scorn Incorporealated or its affiliates. We do however require that you link back to this page.
Below we have provided the nessiscary html code. Simply replace the IMAGEURLHERE.PNG with the images new URL from your own image hosting site
OBVIOUSLY FROM HERE DOWN THE PAGE IS UNFINISHED
proceed at your own risk!
---
M.YSTERIES I've got a secret
that I'm not sharing