Hi guest!Welcome to my pet pages.I'm ChuanXi, you can call me Chanss or Xiaochuan(In Chinese).Wanna know more about me and my family?Continue to see...


A LONG TIME AGO IN A GALAXY FAR FAR AWAY...
Er NOPE...Just in Neopian, on a sunny day in July, the Month of Swimming, 2005.I was born and I was a red Hissi.
In fact, on July 25th 2005, Lisha found there would be some Hissies to adopt, she was really excited because she likes snakes and thinks Hissies, especilly red Hissies are really handsome.She thinks Hissies are like snakes and some snakes usually live in the mountains so she decide to call me Chuan(In Chinese, "Chuan" means Mountains and Rivers). After thinking carefully, Lisha decide to call me ChuanXi, and this is also a name of a plateau in China(But it seems that it isnt very famous).


Highland Chia?Maybe you can call me Highland Hissi
I've said before, I was a red Hissi when I was born.We all think red is beautiful but...
It's REALLY an EVIL day in 2006, Lisha took me to the Laboratory and zapped me...Something REALLY EVIL happened to me...
The ray is fired at ChuanXi

...and he changes into a Darigan Hissi!
*Sigh*It may be a good thing for some people, but...In my family, Lisha dislikes Darigan, and I dislike my new pose.Green Tongue?Guye laughed at me for days.*GLARING*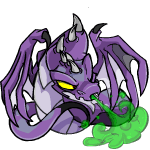 Cl2?!
Lisha promised that she would buy me a Red Brush...But in fact, I think her brain is a REAL STRAINER!she forgot that until...
In April 1st 2007, The Fountain Faerie appeared...She asked Lisha to find her Blue Meerca Yoyo, but to be honest, we suspected that it's a little joke at first...Of course, it isnt.
At last, of course, Lisha found the yoyo and on July 26th 2007, I changed into an island Hissi(Mmm..My birthday is on July 27th, it's a pretty good birthday present, I think).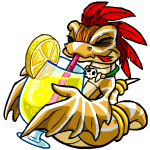 Better than red, huh?

»Likes
_All About Hissi_
Hissies are the GREATEST!



_Dice!_
I love playing dices, especailly play with Count Von Roo.



_Something Scary_
Mmm...Most boys love scary things and so do I...Von, guy...I wont forget you...




_Jazz_
I love Jazz music and Jazzmosis is FOREVER the BEST in my heart!


_Math_
A little difficult but fantastic, great math, huh?


_Sandwich_
My favorite food!*BURP*



»Dislikes
_Desserts_
I cant stand and I cant understand why Guye loves chocolates so much...



_Anything Gaudy_
Hey, Lisha, whatever you say, I WONT wear that silly coat!



_The Pink_
Really...How many boys will love pink?



_The Cries Of Babies_
I really dont know how to deal with...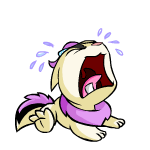 _The Walls In NeoQuest I&II_
You DO think I NEED a reason?!


Lisha

(Lisha:Channie, I think you'd BETTER be SENSIBLE, dont forget it is I that manage your food.)
Er...Wel, well...Lisha, is my owner, and Charon's ownerowner...Er...Double Owner?Er...Grandowner?Er...NEVER...Lisha is the owner of Charon's owner...Oh yeah it is...
Lisha is a S...Er, LITTLE forgetful(YOU KNOW)and a basket of rigmaroles...Er...She is a very ba good ghost...En yeah...In general, she's pretty good...AHHH...THAT'S ALL*ESCAPE*
Dede[Dededoo]

Dede is my elder brother.He is a CUTE sponge.*lol*(Dede:*GLARING*)Er, a sponge Lupe but not a sponge.Guye had made this mistake before*lol*(Dede&Guye:*GLARING Again*)
Er, *Cough*Sponge is Dede's pet, a Snarhook, he is ALSO very cute*ESCAPE*(Dede:I HATE this word CUTE..Wait Chanss, why did you say "also"?!)
Kuku[Kuzhuahu_haoren]

Kuku is my elder sister, she loves reading and is crazy with fishing.In her room, you can see many kinds of fish...so striking.
Evilie is Kuku's pet, he's a Jellyfish...Er, Maraquan Snarhook.In fact, on rainy days, Kuku usually stays at home and tryna fish Evilie in the fish tank.
Guye[Gui_er]

Guye is my sister, she is only 23 days older than me but I think we are opposite.For example, she likes chocolates but I hate desserts, she is foolish but I am not...Er, Guye, Be CALM!*BOMB*...*Sigh*Well and we often argue with each other...(Lisha:Channie, Put down my grass and Guye, put down my glasses...*Breaking* Lisha:*GLARING*)But we still get alone well.Maybe, in Chinese, there's a vulgarism:From an exchange of blows friendship grows.
Guye's pet is a Snow Sludgy named Chacha.Both him and Guye have a bad temper(Well, Guye, I know, you are going to glare at me!).
Scyphy[Scyphonse]

Scyphy is my younger sister, a shy, cute and beautiful Cybunny--If she doesnt wear that "bitten" hat.She is very interested in Desert Pottery and the third "Desert Explorer" in our family.
She seems doesnt have a perfect pet now, Lisha said she would buy Scyphy a Turtmid...But...Who knows?Lisha's STRAINER brain...
Wadu[Xwadu]

Wadu is a Maraquan Eyrie, the youngest in our family.He is very naughty, so we, Eyrie, Dede and I, often play practical jokes on someone...For example...Guye?We are planning a new project now...
Wadu's pet is a Dartail, we usually call him Amazing...Er...So amazing...
Charon

Charon(used to be named Caesar, but finally decided on Charon)is my Halloween Mazzew, the name Charon is from Greek mythology, the ferryman of the Styx River.But in fact, he's more like a Thinker.He likes staying along in an empty room and thinking, often with a pencil on his ear.We often work on math problems together and he's a really good helper of mine.

Doggie[Ilikedogz]

Doggie used to be a white lupe before he was chosen to be the lab rat.Nobody knows what he will be like tomorrow.(There's roaring far away)He likes all the games and ALWAYS wants a hasee, but...you know...
(Doggie:What...HASEE?!Where is it?)
Doggie has a soft plushie Polarchuck, Sunsunsun.Quite strange name huh.

Fuzzle[Maoqiuq]

Fuzzle, a dangerous boy, causes at least two accidents a day.He likes toys and throwing toys.*Elude a yoyo*Fuzzle is a student of mine, studying how to be a bad p...er, nothing
Fuzzle's pet is a Faerie Snowbunny, called Sleepy, because it's sleeping in the air most time of day.

Grassy[Setan_grass]

Grassy, a baby HISSI(!).She's almost a lovely kid if she isn't crying(OMG..).Grassy loves all kinds of plushies.(her owner:oh..my nps..nps..T_T)She's another student of mine.
Bamboo is Grassy's Sandan, only eat bamboo.
Rabbie[Cybunnyget]

Rabbie was a kind-hearted girl until she *Low voice* lost her hair and tiara——*YAAAHHH*.....*Sign*I think it's a wrong decision to give that head-eaten hat to Rabbie, Sparrow...Now she's *Low voice* a BIG bomb.Well, Rabbie loves to plant vegetables, she dreams to have an own vegetable farm.
Sand is Rabbie's Anubis, loves to eat vegetables.*Low voice*Well, I think Sand can only eat vegetables if it's with her——No Rabbie I didn't say anyting!

0.o It's real a mess.Each parents would be really angry at it
But it doesnt matter for me, at least I can fly, from the door to my chair, table(The Sledding Trophy, Ahh...I am so CREATIVE) and bed, so I never think what will happen if I tread on the Blechy squeeze toys...But Charon and guestS(If you want...)should really spend some time to think it over(In fact, the others hardly ever visit my room).
Oh well...I think every Adventure Games players would like my room.Really!If you wanna enter my room, you could climb the ladders or jump over the Decorated Prison Cell Henches(But be careful, keep away from the Blechy toy...Perhaps worm your way through it is okay...like through the tunnel?Mmm...)
Just like my floor, my walls is also...Er, you know, there's three windows and a poster of 2 Gallon Hatz on my walls...But, I prefer Jazzmosis...Lisha, you promised you would buy me the four posters of Jazzmosis members...The Jazzmosis Speaker...the...(Lisha:*GLARING*)Er...I say nothing...
Charon's bed is in the southwest of the room, and mine is in the southeast.I think, our beds are the cleanest places in my room...Pillow?What?My pillow?Er...I see, but the Meepit light havent fell down yet, have it?
Up to north, it's my table(Sledding Trophy...They're useful, really)chairs and some toys of Charon...Hey, havent seen?My dices!Ahh, so beautiful, so fascinating, so magical, so...Where was I?Oh, my dice collection...Wanna play with me?Maybe you should lie in the coffin of Von Roo and looking for some feels of playing dices at first.Enhuh.

I woke up suddenly, I found I was in somewhere strange, it's so dark, I feel unlucky and tryna recall what happened...
It was a warm, sunny afternoon, we decided to play hide-and-seek in the gardens, I said I was good at hide-and-seek and no one would find me out in at least half an hours.Lisha didnt believe in what I said at all and said she would buy me the posters of Jazzmosis if she couldnt find me in half an hour.Then after starting, I found a hold on a tree to hide...
Yeah, I was in the hold, I realized.I crawled out of the hold and found it didnt seem to be our gardens...
The darkness fell, I felt lonely.Where are they and where am I?I decided to shout.
Li-sha--Gu-ye--Where are you?!'I shouted several times, but there's no reply.
I didnt give up and shouted again.'Li--
Channie, what's up?'I heard a conversant sound.I opened my eyes and found Lisha stand in front of me.
The last.'She watched her watch, "Oh, only 29 minutes, you lose."She said with a smile.
I HATE.I realized I had a nightmare just now.

Oh thanks for visiting, maybe you have known a lot about me now.And something else about this page:
·I'm not a native English speaker,so my English is not good,feel sorry about it.
·It took me over ten hours to write these *rigmaroles* and make these images.
·This layout is creatived completely by ME and took me over 1 hour to design.No copying.
·I am very HOSPITABLE, welcome to visit me and MY ROOM.(Oh, so do the Blechy Toys*lol*) See you.
Thanks Sparrow[Sparrowrun], you encouraged, supported and helped me from beginning to end.Thanks for helping me make the part My Friends and correct some mistakes.I wont complete this page so quickly and perfectly without you.DEEPEST THANKS!