One bitter cold morning in the Ice Caves, Cherokae and I were trudging up the narrow incline that led to the Snowager's cave to gaze at the massive beast. We did this daily, sometime after 6 AM and before 7 AM, because Cherokae seemed to enjoy it so much. I assumed that Cherokae was simply enticed by the Snowager's ever-growing mountain of treasure, but she never attempted to steal anything from him. A complete calm overcame her as she meditated, and Cherokae became an extension of the ice that formed the cave.
Cherokae knew that she could not be the only Ice Hissi in Neopia. She decided to catalogue her closest relations and create a place for all Ice Hissi to meet and find comfort in knowing that they would always have a friend in her. And thus, Cherokae's Ice Hissi Directory was born! Remember that even the coldest and most jaggedly sharp of neopets can feel warm and fuzzy inside with a little help from their neofriends.
Cherokae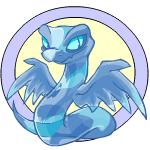 ~Born at 2 PM NST on May 4, 2009~


A book must be an ice-axe to break the seas
frozen inside our soul.
~KAFKA


Her story ~
When the Ice Hissi first graced the
News page
on October 6, 2005, I knew that I
had
to have one. I also knew that I could
only
get one from an extremely lucky zap by the Lab Ray, and I learned the hard way that Ice is not one of the colours included in the Rainbow Fountain. I thought the Ice Hissi was the coolest (pun intended!) neopet of all -- a little mini Snowager just for me! I soon discovered the Snowickle petpet, and I knew that my future Ice Hissi would have to have one. However, I never knew that my dreams would come true one day! My best friend Jax pieced together the Secret Lab Map and zapped a Desert Kacheek. Someone offered him a VWN Desert Hissi right away, and Jax gave him to me, in the hopes that I could trade for an Ice Hissi. I had already hand-painted a separate Hissi Royal Girl so that my Ice Hissi would have awesome paint brush clothing (now she has Lost Desert and Mystery Island also), and before I knew it, I found Cherokae! I fell in love with her name and happily traded for my new Ice Queen. I'm sorry, but Cherokae and her Snowickle are
NOT UFT
and
NEVER
will be.

RielCZ ~
I was visiting the Winter Starlight Celebration board over the holidays, reading through wish lists. I posted my greatest wish as an afterthought before I logged out and went to bed. The next morning, I woke up to find:
Gift rielcz has given you Snowickle.
What? This must be a dream. I click the link. Wh
aaa
t?! I wonder for a few minutes about what to do... Then I accept. It's in my SDB immediately, just because I'm so excited! I neomail RielCZ and thank him profusely for his incredibly generous gift, and then I safely attach the Snowickle to Cherokae. It turns out RielCZ won it from the Storytelling Competition
and decided to give it to me because it's what I've always wanted
! This super cool Neopian could not have made me any happier. Thank you so much, RielCZ! ♥♥
Merry Christmas ~ December 12, 2011
Fan Art