Welcome to the tea party!
WELCOME
to Paix's information page. Grab a piece of cake on your way in, and
make yourself comfortable
while I tell you our history.
We are a guild created in an attempt to unite citizens of the neo community.
This means that we're a
member-based
guild that places a strong emphasis on fostering close, long-lasting bonds between our members. We believe that you, the member makes up the guild, so everything is focused on
YOU
. We welcome everyone of all shape, size, color, and age. It doesn't matter whether you're blue, square, or triangle, there is always a place for you in Paix.
Paix (pronounced
peah
), which is french for
Peace
is what we hope to strive for within the guild. The name was originally suggested by Ashleigh, who wanted to have a short guild name that is in another language.
Although Paix is a fairly newish guild and we do not offer much right now, we're surely to grow into a
big family
. We are in need of as many people to help out as possible, so join up now and be a part of our family.
We do not boast being unique by adding a "twist" to the neo-related theme. As noticed by guild history, most of the guilds nowadays that claim this do not end up well. Instead, we aim to be a simplistic neo-related guild that strives to bring back the atmosphere of what guilds once were. Let's face it,
guilds are not what they used to be.
Paix's goal is to bring back the
family
environment and feel of the guilds that were around way back when guild chat was fun and it had at least 20 new "guildless" boards every minute. So in short, that is our theme :
simplistically neo-related
I'm new!
First and foremost, Paix would like to extend a warm
welcome to our family
. To further fit into the guild, we have created a to do list for you to complete.


1.To get started, please go introduce yourself at our message board . Everyone would really love to meet you.

2. Read our rules and regulations to make sure you don't break any rules. You don't want to get into trouble do you?

3. Explore the portal. Ermm, right now our portal is broken, so check back often to see what's going on!

4. Read the bulletin board to see if there's anything new.

5. Enable guild mailing. It's how we contact you and update you on things that are going on throughout the guild that month.

6. Participate because you're not going to have fun if you don't!
Frequently asked questions
Can I be on the council?
Yes and no. We will place you upon council when we feel the time is right and you're ready. If you ask us if you can be on council after 3 weeks of joining and posting 1 time, the answer will obviously be NO.
To be more specific, Guild councils are not elected, or have any requirement. I simply move up whomever I feel is ready. Of course, the spot is not given out for free, because if it was literally everyone would be on council.
So basically, to be council, you have to be helpful on your own account (I.e. without me having to tell you what to do every second because that would be annoying, and you wouldn't be helpful on your own free will), active (we don't want someone who's never ever ever on), and well liked by the guild members.
What is your member cap?
Our member cap will be 75, which is when we'll go private. Every interested joiner after that will have to fill out a form, which will need to be evaluated before they are accepted.
Do you accept side accounts?
Yes we do, however it must be your most active side accounts. There's no point in joining if you're not having fun.Remember guild sweeps will occur every month, so you will get removed if you're inactive.
What can I do to help??
There are a spectrum of things to help; ranging from making advertisements/graphics/banners/pages for the guild, to recruiting and coming up with new ideas. Whatever you think of, you can do.
What are your thoughts about members contributing new ideas to the guild? Does a member need to be apart of the guild for a specific amount of time, ranked so high, or anything like that?
We'd actually be glad to have people contribute ideas, as long as they follow the rules(NO DONATION SHOPS), prizes, ect.
A member does not have to be on a certain amount of time, ranked high or anything, as long as they seem like they are active, and able to update often.
For example we've had someone who's just joined two days ago and she was given permission to make a graphics page for the guild.
Rules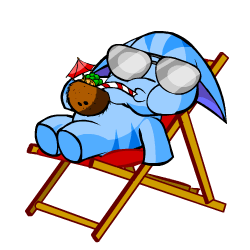 While we want our guild to be easy-going, there are a few rules that we ask you to follow so that our guild can flow as
efficiently and productively
as possible.


1.) Be literate. In order to communicate, we need to make sure we can all understand each other, and chat speak takes away from that. That being said, we aren't extremely strict to the point of freaking out when you make one spelling mistake or when you use smileys.

2.) Be active. We pride ourselves on having no life and posting 24/7-*Ahem* I mean while we understand that you have a life outside of Neopets, please don't forget to post every once in a while! Member sweeps will occur every month.

3.) Respect each other. We are all part of a family here, and there is absolutely no need for any disrespect or harassment. Any of this will NOT be tolerated in the guild, and will result in being removed or suspended depending on the severity of the incidence.

4.) Resolve thru neomail. If there is any conflict with someone please resolve it over neomail, and keep it off the guild boards. If it comes to the point where it doesn't seem you can solve the issue on your own, please consult any of the councils.

5.) No spamming. - This is a new rule added because it seems necessary. Do not post multiple times (3+) in a row with short pointless messages. Try to combine your messages into one longer one and wait before posting again.

Note: Although we don't see it being an issue in our guild, suspensions and expulsions from the guild will be used as the council sees fit. We will neomail you with reasons why if this applies to you.
How to Rank up!
Ranks are based on levels of inner peace.
You can move up a rank by meeting the requirements listed below. The higher rank you are, the more privileges you unlock. For example, to be able to access certain avatar items, you must be above a particular rank. It is beneficial for you to rank up because of how Our avatar lending program works. Guildies are more willing to lend people who they see are in the guild more. A slight advantage and more guild points are given to guildies with more posts. Please view our activities page for more information.
0. Secret rank- There is a secret rank available for you to uncover. Who knows...

1. Zen- To reach this rank, you need to have posted 1001+ messages and recruited at least 5 people.

2. Peaceful- Post 501-1000 messages and recruited at least 1 person

3. Content- Post at least 250-500 messages

4. Chaotic- when you first join.
Coming soon!
To get a feel of what the guild will be like since we're new, these are the features that we will feature!
Activities
Newspaper
Screenie album
Jobs- help your guild out!
As you may know, running a guild takes a whole community. That's why we are in need of many people for different jobs. Listed below are various jobs, their description, and people who currently have the jobs. You will not be paid in any way shape or form. However, what you will get is a sense of gratitude for contributing to your guild. If you are interested in a job, please mail Annie. Keep in mind that you do not have to apply for a job to help out. You may submit graphics, plan an event, or advertise whenever. Being hired for a job just means that these are the people who will be specifically neomailed when the guild is in need of something related to the field that they are in.

New rule in effect: You must now have at least 150 non-spam messages before you can apply for a job. This does not apply to people who are employed before the rule.
Graphic artist/page coders
These people are the main ones who will be making graphics, petpages, and coding for the guild.
Currently hired: dazzlingdreams
Board Monitors
These people are in charge of keeping the guild message board spam and drama free.
Currently hired: lostgods
Event Planners
They help plan the special events that occur on Holidays and various other special occasions.
Currently hired: None
Advertisers
These people help recruit more members to the guild by advertising on "guildless" boards, as well as help bump the guild's current advertising board. Please read the guild's
advertising guide
, which will help greatly with recruiting.
Currently hired: blue_glowing_star
Advertise us
Since we're new, it would be wonderful if you could help advertise the guild. Here are a few advice to follow, as well as some adverts you may use.
A word of advice:
be selective.
We want real people to talk to in the guild, not someone who is likely to appear once and never talk again. Most of the time, if they're still at their own board chatting then they're more likely to get on the guild and chat. We also don't want some one who t4lks 1yk d1z so please be sure to check their literacy level.
When to use premade advertisements and when to not:
Most people don't mind if you use a pre-made, but some will be very annoyed if you do. Be sure to read their post, as it's the polite thing to do. Usually their post will indicate whether they want you to use a pre-made or write your own message.
Stay and chat, unless told specifically not to. No one wants to feel like a number, and the person will feel more welcome if you chat with them.
Some adverts you may use.
Coming Soon