Top?
You shudder as you realise that you are lost in this cold,desolate forest.Lost and vulnerable to your worst fears,which seem to hide within the blackness of the night.The mist that surrounds you muffles the crunching snow that is your footsteps and its swirling veils seem to give shape to your horrors.You shiver as the cold starts to seep through your trembling body.You stumble,falling hard onto your knees.The cold snow rubs against your numb hands.You stagger to your feet,as reason and logic prepare to leave your terrified body.You turn around,your heart racing and your breath coming in gasps.Faster and faster,this way and that,you turn,hoping to find an escape,a gap of freedom from this confounded mist.The hair on the nape of your neck rises and the little hairs on your bare arms starts to prickle.You stop,as you feel a pair of eyes watching the back or your head.Slowly,you turn,fearing what creature you will meet.
A pair of golden yellow eyes stare at you with interest,almost hidden by a thick,black forelock.You feebly realise that it is a heavyset black mare staring at you intently.Her silver horn is intricately carved with odd runes and unfamiliar designs.Hello guest.", A voice rasps quietly and the mare smiles tightly.You stare at her a moment before processing your torn nerves.You let go of the pent up breath that you have been holding since you first layed eyes on hers and sigh as a wave of light-headedness washes over you.The world seems to darken and the snowy ground rushes up to meet your limp form...
You wake up to a throbbing behind your eyes,and you realise that you are staring up at tangled branches that are covered with a thin layer of glittering snow.Good.You are awake.I thought you were gonna have a heart attack,what with the way you looked at me. You turn and look into the golden yellow eyes that had stared at you not so long ago.The mare smiles and grunts as she rises to her feet.You can see that she is thin,though her ribs are barely visible underneath her thick, shaggy black coat and those strange ibbons that cirle her chest and girth.You notice that she is a tall,stout mare,her legs feathered heavily,despite her poor weight.She stares at you placidly as you look her over,from the odd ribbons that circle her girth and chest to the cream ribbon wrapped around her dock,from which two,long, bright-red feathers are tied."Who are you?", you ask shakily,rising up from the bed of packed snow that you had been placed upon.The mare looks at you intently,before lowering her head and finding an apparently interesting spot on the ground."Who are you?", you prompt,more confident this time.The black mare sighs,and continues staring at the ground.Who are you? You ask...Lost.I am lost and forsaken...I am called Celtira,the Fallen.Daughter of the night sky,and once guardian of the haunted woods...,she closes her eyes for a moment,before raising her head and staring at you full in the face when you ask,"What do you mean by once guardian?".She smiles and replies,I guess I should explain then....You nod and smile closing your eyes,listening intently to Celtiras tale.
Top?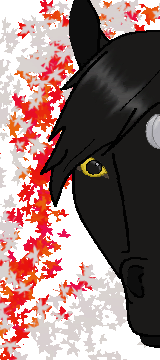 Name:
Celtira
Pronounced:
Kelt-aira
Known As:
Celt,The Fallen Gaurdian,The Fallen One,The Betrayer
Human:
paint13
Age:
Somewhere around 50586yrs old
Gender:
Female,Mare
Breed:
Forest Uni
Weight:
875lbs
Height:
17.3hh
PB Colour:
Blue
Soon to be painted:
Halloween
Coat:
Thick,black fur
Build:
Coldblooded,Heavy draft
Residence:
Haunted Woods
Born:
Clearing in the northern parts of the haunted Woods.
Parents:
Dunno...
Origins:
Forest
Likes:
Shard,Family,Privacy
Dislikes:
The Seventeen Guardians, darkness, nightmares...
Reference Picture:
Click and drag to adress bar to see.
Top?
Dark Beginnings
Rain pounded the sodden ground as thunder rolled across the roiling skies.Lightning lit up the damp forest, illuminating the pale white coat of a mare.She stood there, standing over a small filly whom dozed unhappily.The mare glanced at her child, her ragged mane swinging in the air, drops flying everywhere.Lightning cut through the screaming air, the whites of the mares eyes shone dangerously in the flare...

An Orphan among Foals
Next!",barked the large stallion,as a small,black foal stepped forward.He turned his scrutinizing eyes upon her,seeing all.She was a small foal for sure,her ebony coat gleamed with a dull light,like that of velvet.Her legs were thick,thick and strong,proving her to be of a seperate strain then the other,lightfooted colts.She stared at the ground,her shaggy forelock falling over her silver,transluscent horn."Lift yer head,so I can look at yer face", he growled,and the filly merely switched her tail before raising her small,pretty head.The stallion
gasped,for he was staring into the fillies golden yellow eyes.She stared at him with a pleading that was almost hidden by defiance and fear,but also determination.He stared at her for a moment longer before turning to his right, where a rosy pink mare stood, her pale blue horn chipped and scuffed.Her powder blue eyes smiled at him from under her thick, silky forelock.The grey stallion nodded grimly, and turning to the filly he rasped not unkindly,"Child.What is your name?", she looked at him, full in the face, anger and defiance glittering in her eyes."Celtira.

I was found in the northern reaches of the Haunted Woods, thin, weak and battered.All I remembered was a storm and a strange, white mare who told me to hide as thunder shook the plains...After that, I remember nothing of my past from before I was found.The shaman of our herd had found me, nursed me back to health and taught me the basics of my magics, my magics over mist and fire...She always told me I was special for that combination of powers, because the two contradicted themselves, for mist is destroyed by fire, just as fog suffocates the flames...Well, either way, I was raised and orphan in a strange herd, I was shunned by the other foals, the long legged, small hooves things that shone all the colours of the rainbow and seemed to have the extraordinary powers of light...Ha! They all controlled the same thing, they all shunned my differences, and if it wasn't that I looked different, it was I acted different, or that I had different magic...How amazing it was the day Shaiyne came to our small dwelling.

Shaiyne was a large,grey uni with the darkest blue eyes I have ever seen.He and his friend, Finny had come to the haunted woods from Altador, looking for the seventeenth uni to join their guardianship who protected all of the lands of neopia...They searched the Woods, looking for the next immortal, and stumbled upon my home.So, they asked that all the foals line up so they could inspect them, and take them to Altador for their full training.I was the last in the line...And when he saw me, the look on his face was not only surprise, but worry.Me, when he had asked my name, I looked at him with such hate, for I never mentioned my name, that I think that also startled him...Me, I was torn apart.I wanted so desperately to leave this place, to learn all I could...To fit in, yet if I was chosen, I would be even more different, it would be yet another reason for the foals to distance themselves from me, another reason to be forsaken...But, in the end, I was driven from the herd, with the cruel rants and shouts of the foals in my ears...I vowed never to look upon the faces of those colts and fillies again...At least, not without them suffering...

Training in the Night.

Rain cut through the dark night, only to burst and sizzle in the flames that now danced through the inky-blackness.Yellow eyes glowed disconcertingly as they tried to control the inferno. Red licked at blue, violet at green, silver at rose, the multicoloured flames leaped and danced, ignoring their owners attempts at controlling them. She gritted her teeth,
concentrating hard on breaking their bonds."Good, good, you are doing well, little black.", She gritted her teeth harder at that name. Her teacher was rude, and disliked her because she had powers beyond his own. So, he took every chance to annoy her, to make her fail. It was his spells who wrought her flames from her grasp, in an attempt to teach her how to stop others from controlling her elements. Celt put an extra burst of energy behind her will, expending the last of her reserves. the flames burst free from their bonds in an ear shattering explosion, iridescent embers floated up above her, as she stood there, her knees shaking.Her mentor had been blown ten feet away, anger flared in his brown eyes as he rose to his feet.He growled, and Celt sighed, knowing that he was about to yell at her for knocking him over. It wasn't her fault that he wasn't immune to her magic.
I trained hard for four years, fighting with disagreeable teachers and with the magics that filled my soul.Funny how arguing and losing make a mage hard and irratable.But, after all my hard work, I finally made it to the end, the cerimony that would make me immortal, the ceremon that would seal my unfortunate fate.
Bound Till Dusk
Many, glowing eyes stared at her from all sides. Some malicious, some kind. Some unreadable.Celt turned her head, her long,silky mane swaying in its mists. She could see the Nightsteed, the guardian of the desert, and she could see Finny, guardian of Faerieland, standing while watching her proudly.She turned her head back to the stand, where a massive white uni stallion stared at her arrogently. he was the leader of the guardians, known for his arrogence and rash behavior.celt was so excited she could hardly remember his name, or that of the other uni's present. The words of the cerimony fell to deaf ears, while Celt remembered to IDo, or I will every few sentences to keep up with the cerimony, she waited eagerly for the end, when she would receive her immortality and her post.The stallion lowered his head, motioning for her to touch her horn to his. celt obeyed, only for hot fires to burn through her system, filling her veins with molten pain, then drowning, icy water filled them, till they felt they would burst. The water exstinguished the fires which burned in her soul, fueling her magic and its reserves.And as soon as it had started, it was over, leaving her feeling as empty as a drained flask.Celt turned to the audience, barely conscience. She was nw Celtira, Guardian of the Haunted Woods.
I remember little of the ceremony, other than the intense pain of the immortality spell which now bound my soul and magic.I could not be killed, I could not die, and the spell could not be reversed.I was left weak and tired, but that only lasted a few days, for I was soon thrown into a much more painful affair.
Ribbons
She had no idea how she had ended up in the dark. Her magic drained and useless, her hope exstinguished. No, Celt wasn't even sure as to how she had been brought to this pit.All she could remember was stepping through a gateway, and seing an injured uni laying on the path...Her trying to heal him...Then, searing pain shooting up through her horn and then blackness...
Light.Bright,painful light invaded her dark blinded eyes. She struggled to her weak feet, her ribs clearly etched through her now ragged coat. She seemed to melt into the darkness, now so that even her once golden amber eyes which use to light the night, now faded into the black epitah that was her prison. A few words were muttered, and then a chain snaked up and around her neck, clipping its ends, and forming a crude leash that would serve as her restraint an guide.Celt fought against it, pulling towards the light which surely meant freedom...Only to find her dragged towards the figure that now stood in the doorway. She shuddered and fell as the chain tightened around her struggeling neck...
I was brought to a counsel of my Peers, or at least,thats what They called it. I was left there, standing,shamed under all the eyes of the powerful.None of those speculating eyes gave me second glance, none of them even cared.I knew I was doomed.I remember the great stallion, the one who had granted me my immortality, explaining my charges... Treason. Treason.I was charged for I crime that I did not commit, treason against the guardians. confused, I had asked him what exactly I had done that was treasonous, but was swiftly silenced by magic.I was charged to life out my life in exile, left powerless but for my natural gifts, though even those were diluted.I was left, with these wretched ribbons upon my back, ones spelled so I will never be able to take them off, left as a reminder of what I once was... I was left to live out my life an outcast, shunned by all, hated by all. And you know why I was charged? Because the head stallion from my village had framed me, saying how I had tried to kill him and tried to convince him to join with the dark forces that lurk through Neopia. He had lied because he was jealous that me, an outsider, had been chosen as guardian and he not.And they wondered why I was spiteful. They wondered why I had grown angry enough that I broke through the chains that bound me. I remember the fires at my hooves scortching the stone tiles and burning the fur and flesh as I struck out at him.I blinded that Rat, and ruined his leg.
He, however is the guardian in my place. And he vowed that should he meet me again he would kill me. Ironic, isn't it. An immortal killing another. That would be the day...*She looks a you for a moment, as if realizing you are here* What are you doing here human? Did I say you could be here? Hmm? Go! Get out of here! I want nothing to do with you! Go!
Top?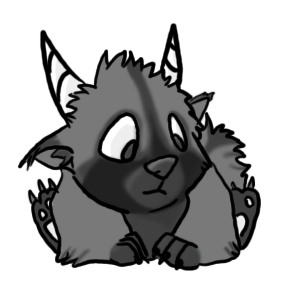 Shard
This altachuck follows me around, and has a tendancy to ride on my backwhen I am navigationg through marshes. She is a fickle little thing, and I have to say, I am rather fond of her...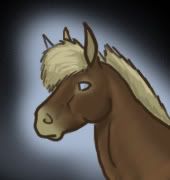 Tally
Prone to violent mood swings and random laughter, Tally is considered one of the most powerful Mages in Neopia. She was a shapeshifter before her...Accident, which left her trapped in foal form. Infact, I beleive she is messing around with various spells in which she has succeeded in changing her form a few times...Of course, these never last long, as she gets overly excited, tries to get into a normal form and ends up back where she started.A filly. She is very intellegent, and known for her shrewd and sarcastic attitude towards others.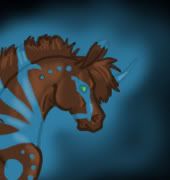 Skathach
An outcast among Outcasts, Skatty is a war mare, and top in her profession. She is half Uni, Half Karkadann, and because of her strange looks and Violent manner when she fights , many fear her unnecessarily. She is very bold and outspoken, and because of her exile, she spends her time in the Lost Desert, though sometimes during winter, she can be seen in my domain, The Haunted Woods. She also enjoys racing her petpet,Bastet through the dunes, but beware catching her unawares(This happens rarely) as she is also a trained battle mage, and will likely incinerate you,leaving your remains to mingle with the dunes...*smirk*
Czeranai
A wandering player, Czera spends her days traversing Neopia, dancing and leaping for neopoints. She is called the daughter of darkness, for she also walks through what is called a Shadow Realm, a product of her blindness and her strong mind, she can bring it to view, and leave you in the dark, till you find her. She is of a strange breed, unknown to Neopians, she is what is called a Mountain Summer Blossom Horse. She is actually a very happy mare, when she trusts you enough to grace you with her prescence and tell you a bit about yourself...
Top?
Look!!My first custom!Thanks
stumproo
!!!

Thank-you to the wonderful outkast_blingbling for this custom.

Gorgeous pic from Angie Though some of the colours are a bit off 0_o but, thats okay, cause she has been busy and such.Thanks Angie!

OMG! Look at this gorgeous pic from Janishtas owner, Salasmanstrom! Thank you!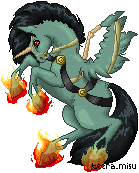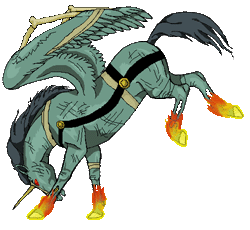 Top?
Soon to come....
Top?
RULES: