Hi! My name is Ceikh, and I'm a checkered gelert, as you can see in the picture to your right. This is my petpage, full of scribbles and thoughts, shared by me and Mixy. She will write in here occasionally, because, well, she's my owner and she can do stuff like that.
---
Hey, Mixy here! This section of Ceikh's page is for me to talk about myself. Coz I'm awesome. Will update this list every now and then. I started this in 2005 and last updated it in 2006, so I don't necessarily think this is the greatest idea anymore but it's part of Ceikh's page and I can't be bothered doing another one so... we'll all just have to put up with it.
Currently...
Eating: Nothing
Drinking: Peppermint tea
Watching: Daria, somewhere in season 5
Listening: City and Colour, just in general
Craving: Relief from this head ache
Loving: Killing it at Tafe
Hating: Sleep deprivation... it's your fault, Neo.
Dreaming: Forgot to visit my friends and the next day they were like "where were you" and I was like "did I miss it D:" and then I woke up and realised that it hadn't happened yet.
29/July/2012 Sooo... I tried to transfer Ceikh to a side account because I wanted to bring in Deiros. I'm having OCD about having too many gelerts on the one account. Is that bad? :P I'm too sentimentally attached to Ceikh to move him just yet so I'm contemplating premium so I can have the five neopets on one account. Thinking about it.
---

Alias Cei
Name Ceikh
Gender Male
Age hours
RP Age 17
Appearance Blue-dipped paws/ears/tail
Eye Color Blue
Siblings Life, Sun and Khor
Owner mixy_fuzzy
Status Dating
Mate Nova
Pet Cobalt the Blue Cobrall
---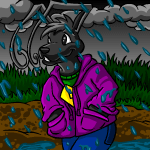 It was a dark and stormy night (that's what they all say, but it totally was :P) in Market Square, where Mixy's first Neohome was located. She hurried home quickly with her gelerts Life and Sun following her swiftly. Several times they paused, waiting for Life to catch up, but once they had arrived home everything seemed fine.
Turn on the light, Sun." Mixy said absentmindedly, thinking about the irony. While Sun was working how to turn the light on without fingers, Mixy headed to the kitchen, knowing her way by heart having lived in the house for three years.
The light suddenly clicked on and Mixy screamed. The shopping bags she was clutching fell to the floor. She was too shocked and confused to notice or care about the neocola spilling around her feet.
She stared, open mouthed, at the mess I had created. Of course, at this time Mixy has never seen me before in her life, so she was strangely alarmed when a mysterious checkered gelert appeared in her kitchen eating all of their supplies.
Hey--*hic*-!" I said, hiccupping bubbles of Neocola. "You must be Mixy! Sakhora told me --hic-- lots about you!"
She stared, as Life entered and looked as though she could strangle me, as she saw me clutching a can of Neocola clearly labelled 'Life' with pretty markers.
How do you know Sakhora?" Mixy said as Life began to whimper at the spillage on the floor and Sun swallowed her anguish at all the foil chocolate wrappers littering the ground.
I grinned. "I only just met her, you know, the house was blaring loudly, with an atrocious recording of someone playing the piano-" If it was possible, Sun's eyes grew rounder and more furious, "-so I just strolled in, and there was Sakhora! She told me she liked to run, and I told her she could get faster if she went to the Swashbuckling acad-"
YOU SAID WHAT?!"
Relax!" I said, licking my paws clean of the Neocola that soaked my fur, "She'll be back when she gradu--hic--ates! I hear she's pretty 'fast', so she might be able to run away-"
But I was sure that Mixy wasn't listening, so I simply watched her gawking at the empty kiwifruit skins littering the countertop.
I dunno how I convinced Mixy to keep me. But she did and she loves me now :D haha. Win.
---
My family is a complex thing, so I'll just tell you about my immediate family. I have three sisters. My adoptive sister, Life, used to be the alpha of the Blue Mountain Pack on Terror Mountain. That's where I made most of my friends over the years. Life is a rainbow gelert with simple gold-ish wings, and she has a cloud gruslen called Leo. I like him.
Life's twin is Sun, a brown gelert with pink markings. She's currently Mixy's lab pet so there may be a picture above that doesn't look like a brown gelert. Whoops :P Sun has an obscure liking for chocolate, which in my opinion is wonderful! She has a talent for playing the piano, so she has a sound-proof room to keep the rest of us from going more insane than we already are. I keep finding her petpet Jared the Juma chewing on my socks :/
My final sister is Sakhora. She likes to run, a lot. She mostly it's fruit and veggies which is fine by me, leaves the rest of us more candy and Neocola :3 Her petpet is Echo, a Nuk. She has the funniest sneeze hehe.
Now Life, Sun, Khor, the rest of us and I don't just live on our own, we have an owner named Mixy. Mixy lives in a place called 'Australia', which is where she goes when she's not in Neopia with us. She obsesses and exaggerates over things easily, such as the color of the sky or the size of one's forehead. She plays bass (among a plethora of other instruments), studies graphic design (thanks to neo) and drinks a lot of coffee.
---


Of everyone I've ever met in my life, even my parents and siblings (whom I've never met), I have never loved anything or anyone, like I have loved Nova. I met Nova in my sister's pack a long time ago, when at first I was attracted to her humor and quick-wit. Not long after that it became evident that she liked me too, and since then well, we haven't been the same recently, but she's still the only one I can relate to.
---

My petpet has been with me since early in my relationship with Nova, in fact, she gave him to me as a plain cobrall, whom I immediately enjoyed.
His name is Cobalt, my blue cobrall. He was painted blue when Mixy had some spare neopoints lying around, so she thought what the hey! If Life and Sun could have painted petpets, then so could her newest ickle snug--nevermind. Other than that, he's nothing interesting.
Oh yes, he hisses whenever someone says 'and', so having a conversation with him present is sorta difficult with all the interruptions.
---

Time to leave already D: Thankyou for visiting Mixy and I, and letting us share our ramblings with you. Be sure to visit back again!

Thanks Morggey for the image below :3 Miss you buddy.