*You emerge from the thick of a heavily wooded forest, pushing feathery branches of pine and young redwood from your face as you step in relief into a vast, gently rolling meadow. Thickets of grass flourish across the prairie like the fur on a wolf's back; closely spaced and generously grown. Chilled autumn breezes send silvery ripples through the undulating field, the stars above frozen and unfriendly. You shiver and goosepimples rise on your exposed arms and legs; it is late evening and already too cold for your blood, if you stay out much longer you'll be freeze-dried before midnight. Up ahead you spy, as you strain your eyes for signs of civilization, a handsome log cabin on the horizon, its windows blazing with the molten gold light from a roaring hearth. You stumble numbly through the reeds, sinking to your ankles in the soft mud, frost cracking underneath your boots and your mouth slack as you march blindly forward, lured like a moth to a lightbulb. The trek seems to take ages as you clamber gently uphill towards the base of the mountain, tripping and falling to the ice-kissed ground. Finally you reach the wraparound porch, gasping and spluttering, your calves aching and your swollen hands massaging a searing stitch in your side.

On the deck a rich chocolatey red Lupe watches you curiously, apparently oblivious to your trials, her head cocked playfully to one side. There is a woolen scarf around her neck, but otherwise she looks quite underdressed. Lucky her, to have a pelt to keep her warm.

*All you can do is shudder indignantly as her jovial smile turns to a contemplative frown and she says,*

Oh, my, aren't you cold without fur?

*Finally something seems to click in her mind and she lets out an audible gasp.*

Oh you poor thing! You must be freezing! Please, please, come inside, we'll fix you up nice with a steaming cup of coffee and a seat by the fire!

*You try without success to roll your iced eyeballs, but all you can manage is a wailing grunt as the Lupe wheels you around and nudges you inside.

*In a mere matter of minutes your contempt for her has quite evaporated as you sit beside an enormous hearth, sipping from a mug of the finest, richest coffee and vanilla blend you have possibly ever tasted. Your feet have been bundled in immensely fluffy slippers and you can hardly breathe for the heavy blankets now draped tightly around your shoulders. As you defrost, your gracious hostess curls up beside your overstuffed armchair and surveys you with piercing yellow eyes.*

Well, seeing as you'll probably want to spend the night, why don't I introduce myself? It's not customary for travelers to stay here at the Casa de Nieve without getting to meet the managers!

*Your lips, now being blessedly unfrozen, grope for the last drop of java before you reply, with a degree of incredulity,*

You're the manager?!

*She looks slightly offended as she returns,*

Well, co-manager, really, my mom's the one who owns the place. Well... that's not entirely true either; the manager of the inn portion sleeps permanently in the basement chamber, but my mother and I are in charge of all the eateries, including the coffee shop. I'm Cappucha, by the way, what do you call yourself?

*she asks, heartily extending a red-socked paw*

Erm... guest...,

Well, guest, get comfie, there's a lot to talk about! But first, I'll get you another cup of coffee!

Stats
Name: Cappucha (kah-poo-chah)
Nickname(s): Cappu
Occupation: Waitress and Co-manager of a coffee-house
Age: Young Adult
Offspring: none
Mate/Crush: none
Siblings: none
Mother: Pajaya
Father: I don't want to talk about him.
Markings/Patterns: mahogany pelt trimmed in deeper shade of red-brown, socks, tail tip, underbelly, and face a light tan, dark brown freckles/small spots speckled over tan parts
General Personality: clumsy, sweet, gracious, helpful, strong-minded, outspoken, fun-loving, friendly, athletic, loud, hyper, somewhat unintelligent
Special Abilities/Skills: none to speak of

Likes/Dislikes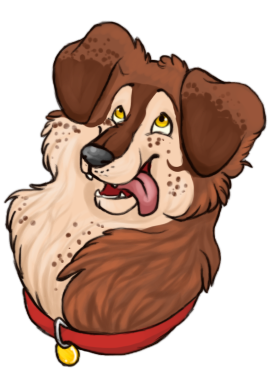 Likes
COFFEE AND ANYTHING TO DO WITH COFFEE
Pajaya (momma)
Being free
working
a rousing game of tag


Dislikes


chauvenistic pigs
feeling caged in
reading
soda, juice, alcohol of any sort
her father

Past




There isn't much to be said about my childhood, I was raised by my mother since my father up and left when I was just a pup. It doesn't matter though... lots of pets' parents are gone, and there's a lot of orphans in this world we live in. I was very lucky to have my mother at all. She's such a strong lady, she's my biggest role model and nothing and no one will ever change that. My mother's parents too were a big help, they babysat me when my mother had to work, which was often, and usually the graveyard shift.


But we made it through. By the time I could reach the kitchen table my mother and I had conceived a dream. There would be no more need to work endless hours at the fish markets by the harbor, we could make it a different way. We wanted to start up a cafe.


And we did. It took a few winters to finally get the place set up, sort out all the electricity and plumbing, but we did it. Our business boomed. Skiiers and hikers and trailblazers and hunters and any other variation of mountaineers flooded through here, stopping for warm pastries and a full thermos of fresh coffee before their adventures.


This inn, Casa de Nieve, was originally the Pajaro Java, JavaBird. The Inn's manager came to us a while ago, a poor urchin with a similar dream to ours, and asked to go into a partnership. We saw no harm in sharing the luck and fortune and so we obliged, and we've never regretted it. Palo is officially a family friend; he's asked me to call him Uncle Palo, believe it or not, and sometimes I do. It just rolls off the tongue wierd is the only reason I hesitate... I've grown to dislike father figures...

Friends







Silnania:

Sil is a recent friend of mine, I spied her flying over our valley a while back. I don't know much about her, other than she's an "angel in training." I hope we can grow closer... It's often very lonely at the Inn, even though it's almost always filled with new and exciting people, there's none whom you can truly befriend. They're there and gone like leaves in the wind.

Fellow Coffee Lovers




Koffycino: It's Koffy!


Family




Pajaya- Pajaya is my mother and closest friend, she's stood by me through the worst and I by her. There is no better cement in a relationship than mutual struggle through rough times. She is my greatest role model and nothing and no one will ever change that. We used to talk and goof off all the time, at least once every day, but now that the Casa's reputation has grown people are swarming in like never before. I don't mind the work, really, I love serving people coffee and breakfast rolls and cleaning up after dark, I just don't like how it restricts my time with Momma.


Jalahi: Jalahi is supposedly some sort of bad-dream beast; at least that's what Eo says. I don't know whether to believe that either; sure Jalahi is... well downright scary looking, but that doesn't mean she's a nightmare. The rumor is that Jala pries into your mind when your asleeps and spins dreams so foul you wake up half insane, so that you end up hallucinating and causing chaos. I've never had a bad dream from her, and I've been around her for a fair amount of time. I don't think it's true, but it might be....





Love?




I had a love once. I don't wish to talk about it.


Current Roleplay




Roleplay is: OPEN/Closed


RP Info: Cappu is very friendly, open to change, ready to learn, eager for adventure; basically there are no complications with Cappu :) The only thing I would mention though is she hates macho guys. But I don't think there'll be many of those out there xD

Adoptables!




RULES FOR ADOPTABLES.




1. I have only one main rule. DECENCY. Have the decency to leave in good grace if I decline a trade, to only take your own customs and only use it for page decoration, giving proper credit of course, y'know, common sense stuff.

Status


Requests: CLOSED


Trades: OPEN if I like you and your template








no template yet, bummer eh?


Mini-Me's!




Count: 24 (Giant thanks to all!)

-invalid_words-


Fanart







THANKS PIXIE :D


G'bye Now! Please Stop By Again!










Family Links




In due time my good friends.


Quilt