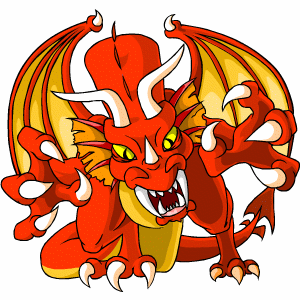 1. You start off this chapter in Faerie Land. Follow the one path you're on to the Northern Watchtower, and stock up on potions. Buy or sell whatever you don't need/need.
2. Exit the tower using the South exit, and follow the red line on the map to the Fallen Angel.
Fallen Angel tips:
- level 49+
- she can heal, mesmorize, and shock.
- relatively easy.
3. Continue past her into the Underclouds (map).
4. Walk through the Underclouds into Cumulonimbus, home of the oh-so-loved Angelpus.
NOTE: This chapter probably has the most walking, but don't fret! Walking through the Underclouds is only the beginning
5. Enter Cumulonimbus, and navigate your way through it ((map). I don't really suggest hunting, because the monsters are plentiful in normal mode, and tedious. Try to flee as little as possible just because the experience will, as always, push you closer to level 60, and make it easier to fight the devil pus located at the exit of Cumulonimbus. There is only one way to get through here.
6. Defeat the angelpus, who is a boss. NOT a monster just roaming around. When you defeat him, and return to the walking around page, you'll get the avatar!



Angelpus tips:
- be level 51+
- he has a critical hit, shockwave, heal, & slowing & stunning strikes.
- he isn't hard, or easy. just average.
- he can hit 100 hp.
- watch your health, attack like crazy.
once you beat him, continue walking. how fun.
7. Continue on in the underclouds (map) until you reach the Village of Cirrus. This next part is crucial, so listen to me. Trust me on this.
- REST HERE. if you die after this, YOU WILL END UP AT THE NORTHERN REST TOWER, OR IF YOU DIDN'T REST THERE, THE VERY BEGINNING. I LEARNED THIS THE HARD WAY. This is the 3rd last resting place, and you have a long way to go. I repeat. REST. HERE!
- This is the LAST weapons stop. There are no weapon venders after this.
- SECOND LAST stop for POTIONS, and the next potion vender is VERY FAR AWAY. stock up on
everything.
haste potions, slow potions, attack potions, res potions. every. thing.
-
map of cirrus.
; for good measure ;)
8. Follow the path out of the underclouds. When you exit, here are the Bionic Cybunnies. Just roam around on normal mode, you'll bump into one eventually. Or if you really want, switch to hunting for a moment. Beat one to obtain the avatar.
(It doesn't matter if it's 1 cybunny + 3 faeries, as long as there is a cybunny.)


9. Continue on the path (there is only one way) and travel to faerie city. This is where it gets incredibley complicated, so if you get lost of confused, don't worry.
10. I'm going to try and explain this as best as I can.
Use the map called 'faerie theif spots'.
See the little place on the map marked entrance? That's where you entered, obviously. Here is what you're going to do.
Step 1 - Go forward, and then right into that doorway. Navigate through all the rooms connected to that in this section of faerie city. See the place circled in red that says 'faerie theifs first hiding spot'? That is your first goal. When you reach those stairs, go up them. That will take you to faerie theif spot 1 level 1 (map here) Go through all those rooms to the stairs, then you're in faerie theif spot 1 level 2 (map here), walk through all those rooms to the Faerie Theif, whom is your next boss, and probably the most annoying.
Faerie thief tips:
- level 52+
- she has a stunning strike & critical hit. she's quite easy, because you only need to reduce her hp by 1/3 and she'll flee.
congrats so far, i hate this part of nq2.
Step 2 - Walk all the way back down to the faerie city entrance.
step 3 - Back at the entrance, walk to the left and through the doorway to the 2nd hiding spot of the faerie theif. (Map here). Navigate your way through those rooms, (it's quite simple, really.) and down the stairs. That will bring you to faerie theif spot 2 level 2 (basement, acutally.) Again, navigate your way through there, and into the room in the MIDDLE, where the stairs are. take those stairs up, which will bring you the the faerie thief, for a second time. Repeat what you did the first time you faced her, and when her hitpoints are down 2/3, she'll flee.
Step 4 - Use the map of faerie city to walk either through the city, or around it, and to the final battle with the faerie thief. She is located at the very back of the faerie city, and will be waiting for you.
step 5 - defeat her :D
- be level 54+
- she's quite easy, this'll be your third time fighting her, you should know what works and what doesn't.
if you got past that, congratulations! that is just the beginning of the worst part of nq2.
11. Go forward through the gate and into the faerie palace. (map) Follow the red line on the map to get to the stairs. Welcome to the fun place called the faerie palace, that involves an uncanny amount of walking/wandering around.
12. When you go up the stairs, you can get free rest from the faerie right there if needed. You can also hunt here.
13. Use the faerie palace level 2 map to the northeast tower. Use the maps. Go up the stairs and defeat the pant devil, who is easy.
- level 56+
- slow him if you want.
- um...attack.
14. Walk back to the starting point and get free rest, then continue to the northwest tower, map, and to the second pant devil. Use the same technique you did for the first one. Once you defeat the second pant devil, return to the healing faerie and give her the keys that you got after defeating the devils. she will combine them.
15. Next, walk to the east wing, to Terask 1. Go up the first set of stairs marked on the map. Once on level 2, go right then down to the next set of stairs. Map. Level 3, get to the stairs. (There is a little red line telling you where to go on the map. When you reach level 4, that is where Terask 1 is.
do not be underlevelled when fighting him, you will die. most definitly (:
be level 57 +
make sure you have spent all your skill points
make sure you have all potions needed.
if you still have fathers sword, use it, if not, that's fine. I beat him without it.
You can't flee. So make sure to use your potions wisely and well.
He doesn't heal as often as Terask 2, but he still heals.
I find he resisted a lot of my potions, and although Mipsy had obliterate it didn't do much damage. if Talinia stuns him, and then it is mipsy's turn, use Obliterate or a Damage Potion and it'll do more damage because he was stunned. If your characters are full health, use Velm's Group Shield to give you a boost, and if Mipsy isn't doing very much damage, use her to haste your group. Even if a character is only missing 50 health, when it is Velm's turn, group heal. Try to slow him before he casts his Shield of Chaos. Mipsy can cast a shield around her group too, which is helpful. Don't give up!
congratulations on beating him!! ♥
16. Orb out of the eastwing, and walk back to the healing faerie. Get free rest.
17. Walk to the westwing. map. Faerie palace level 2 map for level 1 of the westwing, then the west wing maps for level 3 and 4 of the westwing.
18. When you get to level 3, walk to the last potion trader, Lyra, and stock up on EVERYTHING. Make sure you have a full inventory of every potion.
19. If you aren't level 60, walk around in hunting mode (walk to the right of Lyra, not left) and hunt. Be careful not to die! Make sure you reach level 60 - the maximum level. Go back to Lyra and replenish your stock of potions.
20. Go through Lyra's room and out the north exit, along the path, and up the stairs leading to Terask 2.
20 and 1/2. Equip Father's Sword if you still have it, if not, use your best weapon.
21. When you go up the stairs, just walk. Terask2 will attack you at the end of the room.
the final boss guide!
- if you still have the fathers sword, use it, if not, doesn't matter. I, and many others beat it without the original sword.
- be level 60.
- go into the fight with full health.
- try to keep him slowed as much as possible!
- Velm is crucial to this fight. Group heal. Group shield. Heal. Heal. HEAL.
- Remember, you can heal with potions too. Don't always wait for Velm's turn.
- This is a long battle, so be careful and patient.
- If he puts up his chaos shield, no worries. Keep attacking and healing. After a few turns, test his shield by letting mipsy throw a LOW attack potion (one that does under 100 damage) to test it. if it does damage, you can use your damage potions again - if not, continue on.
- When he is stunned from a hit, try to always use a damage potion that does more than 100 damage! Or if you have run out, use mipsy's obliterate!
- Mipsy's attacks are basically useless against him. Try to use the potions on her turn, or haste the group. Hasting. is. good!
- Try to haste your characters as much as possible. It gives them more turns to attack Terask.
- good luck!
If you managed to get through all of that, you will have earned a trophy, 10,000 neopoints, and one of the following items!!
Rohane's armour polish (multiple use)


Mipsy's charm bracelet (multiple use)


Talinias Whittling Knife (multiple use)


Velm's healing potion (once/battle)


congratulations! You have beaten neoquest 2!!
back to top