Introduction
Hello legomaster376! Welcome to my app for the plushy, squishy, and cute Sapri~. My name is Bear, and I'm a 20 year old visual arts student from Canada. My hobbies are toy collecting, video games, sewing, painting, fashion design, and other assorted arts and crafts related things. I know you asked for a basic application, but as I started writing, I realized it was too long to put in Neomails... and when I put something on a petpage, I have to make it look pretty. Just dumping the text on the petpage makes it really sad :( So... then I did this! It lets me show you my customizations and post art, too, which is an added bonus. :D
About Me
Neopets started my love for virtual pet/forum games, and although I've joined quite a few other sites since I started playing Neopets ten years ago, I always make sure to look after my accounts. As you can probably tell, my current side accounts are not the ones I started with; this is not the fault of being chain iced or any nefarious deeds, but because they were purged during my 3 year hiatus. This is the last remaining of my original accounts, and is in fact the first Neopets account I created. :D I'm usually on my main every day, and I log into my side accounts at least once a week. I try to keep active in my guilds and post on the PC quite often.
Why I Want Sapri
Recently, I was able to acquire two of my dreamies almost back-to-back; Maeple and Liliere. Acquiring two of my dream pets so quickly made me think of an unfortunate instance from my Neopian past...
In 2010, I came back from a 3-year hiatus only to have a Plushie Paint Brush drop out of the sky!!! Wow, so lucky, right? Well... then I traded it for a Faerie Paint Brush... and promptly used it on a Pteri without realizing that the conversion had taken place....
Yeah. I was pretty devastated, lol. Ever since then, I've wanted a plushie of my own... but through a myriad of silly circumstances, I've never been able to get a cute living stuffie for my own. :( With this app, I hope this changes, and I can finally welcome a soft bundle of plush into my Neopian home. :)
Story
Sapri is the product of several curious Dark faeries whose spells involving plushies went awry. They were trying to create a curse to make Aishas attract extra petpetpets, but brought the Aisha plushie to life instead! The faeries didn't really pay much attention to their new creation, and mostly kept him as a pet for themselves. Over the years, they realized that Sapri held the potential for the same magics that created him, and thus instructed him in those dark arts... However, since he is only alive because of faerie magic, his abilities are severely limited because using them drains his magical soul. The only thing he's managed to bring to life is his Plushie Doglefox, Noot, but it's not a full living being like Sapri and can only do simple tasks. Sapri uses his talents to create small objects that run about as though they were on clockwork, which fund his higher learning. He is not as upset about creating such a large amount of these half-living beings as he should be, at least to everyone else, but they are the only way for him to make a living.
Future Plans
Sapri will find his future home on my "Cute" account, along with Maeple. I have a character ready for an Elderly Girl pet for that account as well, but there isn't an EG released yet that I want to give the character to. I will give him a proper petpage and lookup with the same standard layout I use for all my other pets. The lookup has been edited to show off customization, which is my favourite aspect of Neopets these days. The petpage will have the same structure as the rest of my pets' pages. I may also put adoptable animated creatures for people to adopt that Sapri has "created", depending on how much time I have to spare while at uni.
You may have noticed that the account he's headed to isn't my main. I would definitely put Sapri on my main if I had the money for premium. Sadly, adult life is hard, and I cannot afford premium at this time. My main account holds:
Pixi, the fourth pet I ever created
Mel, the first pet I ever adopted
Amma, a pet I created to replace another pet I applied for
and space for a lab rat.
As you can see, my main is pretty full, so there isn't really room for more :( However, once I organize my accounts (curse you transfer limit!!) Sapri will find his forever home on the account beruberukato.
Customization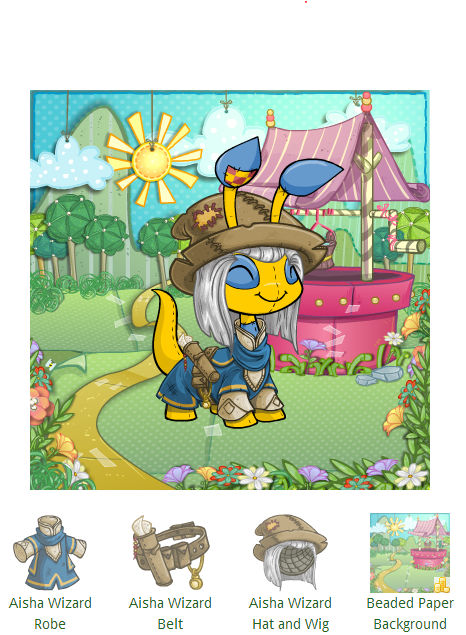 This customization shows Sapri in his training clothes. I haven't found a background that fits the scene, but I really really really like the Beaded Paper Background (as you can probably tell from the bg of this app, lol).
This customization shows Sapri in his shop wearing his work clothes. The Aisha Wizard set is super cute, so I decided for him to keep the hat from it in this outfit. The Aisha Wizard Belt apparently doesn't layer over the jumper, so I left it out, but if it didn't, I'd still use it in this outfit.
Art and Adoptables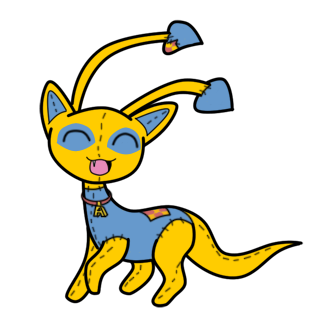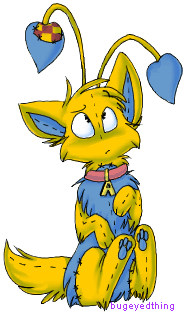 Conclusion
Thanks, legomaster376, for taking time out of your day to read my application :D I know it's a bit longer than you wanted, but I have problems keeping things concise... I hope that you decide that Sapri should find his forever home with me, and if not, I hope that the person chosen instead takes as good care of him as I would.
Credits
Layout (modified) from Sunnyneo
BG by Silent Serenity