Hello, and welcome to the Archives. I am the keeper of a number of stories which Sarahleeadvent has told me, and went on to share with the rest of Neopia. Feel free to take a look around and read a story or two. I have arranged them in chronological order.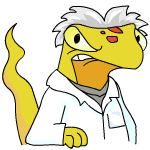 ~Tamiya~ Three days old, and already a homeless reject. Tamiya had been abandoned when the Lab Ray turned her Mutant, rendering her worthless in the eyes of her owner. But she found a friend in the unlikeliest of places, when her innocence and childlike love penetrated the iron heart of the pound receptionist, Dr_Death.
(Of all Sarah's Neopian Times stories, this one got the largest response. Which is ironic, because she tells me that she considers it the least well-written of her NT works. But maybe the readers know best. Personally, I never cease to be amazed at how her first NT story ever, a spur-of-the-moment just-for-the-sake-of-it literary whim, has established itself as the favorite of most readers even when contested by far more well-thought-out and carefully crafted stories of hers.)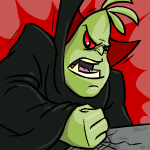 ~The Latest and Greatest Recruit of Dr. Frank Sloth~ All this slow-witted Grundo wanted was a Faerie Paint Brush. Hardly worth getting himself employed by Dr. Sloth. But when your brain is made of granite, such petty details are hardly worth considering.
(This was Sarah's first headliner, and at the time it was written it was the only story of hers that focused solely on comedy. Despite its headliner status, it was probably the least responded-to of all her Times publications. Either the readers or the Editor have strange taste in stories.)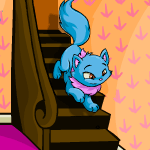 ~The Orphan and the Beast~ Leah was quiet, shy, almost completely lost in the background. But she was not the only misfit in the Haunted Woods. Someone else, a being of unknown species and origin, was even more out-of-place, and risked paying for it with his freedom and possibly his life. And the only person who was willing to protect him was someone who knew how it felt not to truly be a part of normal society.
(This story, like Tamiya, falls primarily under the category of Heart as opposed to Action, Suspense or Comedy, but it got less of a response than Sarah had hoped for, and its sequel, while already written, has not yet been published, although it still might someday.)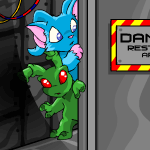 ~Behind the Forbidden Door~ Nobody likes a Sloth minion. In some cases, not even Sloth himself. When Flingon finds himself sentenced to death by his dissatisfied master, he sees no way out; but nobody counted on a pair of young siblings who were ready to lay it all on the line for an anonymous Virtupets staff member they barely even knew. And maybe save Neopia while they were at it. MAYBE.
(The first time this story got sent in, Sarah never heard what happened to it. She suspects an encounter with a singularity in cyberspace. The second time it was quickly snapped up, and got a comparatively good response from the readers. It is one of her more well-rounded stories, encompassing all four of the categories mentioned in the commentary on The Orphan and the Beast.)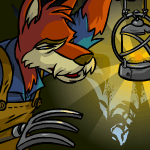 ~Whisper on the Wind~ Cursed. It was the most important word in Filora Evenlight's life. Cursed and alone. Rendered invisible and intangible by Jhudora, Filora was both invincible and helpless, left to wander in empty loneliness for the rest of her days. But then she discovered Lord Darigan, in the form of the Bat-thing, equally lost and alone. Maybe, for once in her life, she would be able to make a difference, however seemingly unimportant.
(This story is a prelude to the Saga of the Shapeshifter, which begins in Rising Shadow.)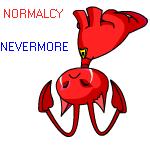 ~Normalcy Nevermore: Playing With Fire~ A match is fairly simple to operate. For some people more than others.
(Sarah's first comic! Or at least, the first that got published- quite a few were drawn before that one. Keep an eye out for them- they might make it yet.)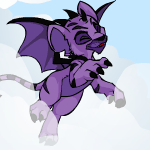 ~Rising Shadow~ For years, few or none knew that two shadows stalked the land: one a nameless, faceless fear, and the other no more than a passing thought in the minds of those inclined to ponder the unusual. No one knew of the war that was waged in the background of Neopia's day-to-day turnings, between powers that had been designed to conquer the world; and no one suspected the torment that haunted the younger of these beings as she fought against the other, her hideous past assailing her dark present unmercifully, a battle that was forced into secrecy as the rest of her life had been. And no one, Lord Darigan least of all, would have guessed that amid all her troubles she had long been guarding him from afar, keeping her self-inflicted duty as a defender raised as a shield between her turbulent heart and the longing whose fulfillment had long been denied to her.
But her enemy was moving, and as Miaglo Darkwind began his quest to take the most powerful beings in Neopia captive, a collision course was set between the shapeshifting warrioress Tenultra, her unknowing charge, Lord Darigan, and the secrets of Tenultra's past and the hidden torment that came with them.
And, when Tenultra and Darigan were forced to take refuge together, the things Tenultra had spent most of her life hiding were finally revealed: a tie to the thieves who had stolen the Orb, and a multitude of atrocities she had comitted against her will, under the power of the evil that Neopia knew as Sloth. And, even as she braced herself for the anger, revulsion and rejection that nearly always came in the wake of such a risk, the lonely warrioress found the friendship and acceptance she had thought she would never have.
As Miaglo, thirsty for vengeance against the planet that had once rejected him, against Tenultra, who had become his archnemesis, and against Darigan, who had escaped his clutches, continued on his hidden rampage, the unlikely pair of friends whom his actions had helped to bring together set out from their refuge to contest him in a conflict that would determine the fate of Neopia.
(This is one of Sarah's favorite stories, as well as being the first series in the Saga of the Shapeshifter. She considers Tenultra one of the best characters she's ever written, and intends to make more Tenultra-related stories. She has also confessed to me that she feels she has made a serious mistake in writing only one story featuring Filora Evenlight, and due to popular request she is planning on writing more Filora-related stories as soon as she has the inspiration to do so.)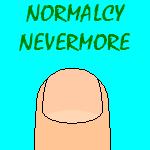 ~Normalcy Nevermore: Sophie's Goo~ Let's just say, there are certain things that should NOT go in a stew.
(Sarah's second comic! And it was placed right at the top of the comic list...:D And actually, its timing in relation to the Haunted Woods plot was complete coincidence; it was conceived and drawn before Sophie ever appeared in the HWP.)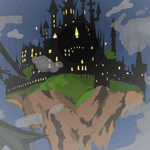 ~Are We Still Friends?~ Lord Darigan had been driven mad, turned upon by friends and foes alike, claimed by the Three, left to wander friendless and destitute, and then betrayed by one of his closest friends. And through it all, the one safe harbour had been a gentle little child named Sally. But how would she react to him if she knew who it was that she had hidden in her barn? The question plagued Darigan, until finally it drove him to take the risk and find out.
(Sarah was absolutely floored by the speed with which this one was snapped up. One day, she was sending it in. Literally the next, the Neomail came proclaiming that it was being published. And frankly, neither of us can believe that this is the first Darigan/Sally reunion story that has been written; one would think that such a touching and important epilogue to the Battle for Meridell would have been plagued with authors in the wake of the plot. Not that we're complaining!)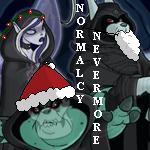 ~Normalcy Nevermore: The Fight Before Christmas~ Anybody wanna see Lord Darigan kick some demonic butt?
(Sarah still hasn't figured out why the Editor changed the description on her comic. The original was "Yet another JPGifier-massacred comic based on a horrendously overused Christmas poem. Enjoy!" and as far as she can tell, there's nothing wrong with that. Unless the Editor has a serious vendetta against the word 'Christmas'. But she hopes you enjoy the comic anyway.)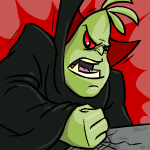 ~Love Will Find A Way~ Some people say that love never dies. And when one of his all but immortal genetic experiments decides that it adores him, Dr. Sloth can't help but wish those people were wrong.
(Before she had even finished writing this one, Sarah was sure that they were going to give it the same picture that they gave The Latest and Greatest Recruit of Dr. Sloth, and she was quite amused to find her suspicions confirmed. She'd also held hope that it would be a headliner, since her other humorous Sloth-related short story had been, and once again, she was right.)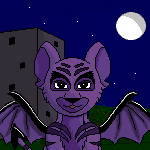 ~Sword of the Shapeshifter~ They came alone, in the darkest hour of the night: the lord of the Citadel and the quiet guardian of Neopia's underworld, slipping into the fortress while its master was abroad. None could withstand them, and the dungeons of the dark stronghold soon opened before them, new life cascading among the cold cells as the captives were freed.
But the master of the fortress returned, and with him came the darkest of the demons that had haunted Tenultra's and Lord Darigan's pasts. Bonds of friendship newly forged were tested near their limits; determination wavered but held- until it came to the final test, which Tenultra had no choice but to face alone.
(Thus ends the second chapter in the Saga of the Shapeshifter. Sarah was strongly dissatisfied with this one in its original state, and it underwent a great deal of editing before she was happy with it. It went over better than she'd expected, though, and Part Five (her favorite chapter) even got the Quote of the Week. The custom thumbnail was drawn by Sarah, and she feels it reflects Tenultra's personality far better than the pre-used TNT-drawn picture that was chosen for Rising Shadow. The next series in the saga was written before this one got published, but Sarah was on vacation when Sword of the Shapeshifter ended, and was thus unable to access the aforementioned sequel. She told me she's going to write some short stories in the interim, so hopefully those turn out well.)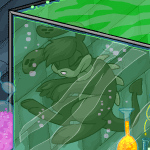 ~What Am I?~ Kelenria had never meant for the towering creature to become her responsibility. Lost inside an abandoned Sloth facility, the young Xweetok had worries of her own, without the added burden of the strange, dark Zafara she had found suspended, unconscious, in a cryogenic holding tank. The best option she could think of was to simply walk away, to place the problem in the hands of someone more experienced.
And then the Zafara woke up. Stripped of his memory by a computer malfunction, the powerful Sloth experiment was a brooding uncertainty whose fate became bound up with Kelenria's the moment the two of them met, an uninvited tie that would outlast the young pet's world as she once had known it.
(This story was written well before the Neopian Times' 300th issue, and had been saved specifically for that issue, but was rejected several times before finally being accepted. Despite the difficulty she had in getting it published, this was one of the best-received of Sarah's Times stories, both on Neopets and on a writer's forum she is a member of. It also marked the end of the longest run of ignored entries and rejections she had ever endured, making its publication a great relief.
What Am I? is considered by some to be the most emotional of Sarah's Times stories, and the character Kitron is one of Sarah's personal favorites. It should also be noted, in case of future related questions, that the character Kelenria was not modeled after the green Xweetok of that name who popped into existence soon after the series was published.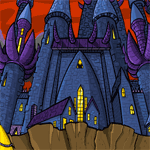 ~Different This Time~ Ever since she lost her family to war and her identity as a Neopian to the experiments of Dr. Sloth, Tenultra has sought a purpose in life on the battlefield, protecting others in order to ease her loneliness with one-way alliances that were never returned. But this time, things are different. This time, she is entering the lives of others not as a source of protection that they will never see again, but as a member of society who will forge connections with other people, either friendly or otherwise, that she will not be able to discard if they prove painful. Through this process, the former covert defender will be forced to accept either healing or new and deeper wounds, and the choice of which she gets is one that only the people around her can make.
(Sarah had already gotten the series after Sword of the Shapeshifter written before this story was ever conceived, but she was on vacation when SotS ended, and decided to write some short stories in the interim. She'd had high hopes for this one, and was disappointed when the TNT refused to publish it until almost a year after it had been written, in spite of frequent submissions. Despite the difficulty she had in publishing it, the reader responses were favorable, which was an encouraging counterbalance for the TNT's reluctance to publish it.)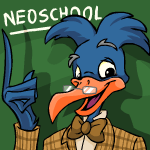 You've clicked on a link that will take you outside of
Neopets.com. We do not control your destination's website,
so its rules, regulations, and Meepit defense systems will be
different! Are you sure you'd like to continue?
It is a journey
I must face...alone.
*dramatic music*
I want to stay on Neopets,
where the dangers of
Meepit invasion
are taken seriously.

You've clicked on a link that will take you outside of
Neopets.com. We do not control your destination's website,
so its rules, regulations, and Meepit defense systems will be
different! Are you sure you'd like to continue?
It is a journey
I must face...alone.
*dramatic music*
I want to stay on Neopets,
where the dangers of
Meepit invasion
are taken seriously.

You've clicked on a link that will take you outside of
Neopets.com. We do not control your destination's website,
so its rules, regulations, and Meepit defense systems will be
different! Are you sure you'd like to continue?
It is a journey
I must face...alone.
*dramatic music*
I want to stay on Neopets,
where the dangers of
Meepit invasion
are taken seriously.

NEOPETS, characters, logos, names and all related indicia
are trademarks of Neopets, Inc., © 1999-2016.
® denotes Reg. US Pat. & TM Office. All rights reserved.
PRIVACY POLICY | Safety Tips | Contact Us | About Us | Press Kit
Use of this site signifies your acceptance of the Terms and Conditions