About Me
Name: Kristi
Gender: Female
Birthdate: June 1, 1978
Location: South Carolina
Employment: Auditor's office
On Neopets: About three years
Neopets Time: Usually sniping to make np
Likes: Zapping pets and adopting them out and of course CYBUNNIES!!!
Dislikes: Scammers
Friends: Cortney(my daughter), Gitta, Kali, Jude, Kris, Michi, Jenna, Juice, Jenni, Leo, Webil, Dung, Mimi, Poka, Aash, Patty
Accounts: Ardatia, Arrelie, Cieque, Terensi, Zimega
Sand Collection
Bottle of Red Sand: 138
Bottle of Green Sand: 209
Bottle of Blue Sand: 162
Bottle of Black Sand: 116
Bottle of Orange Sand: 212
Bottle of Purple Sand: 1
Rainbow Sand: 66
Glowing Sand: 123
Invisible Sand: 98
Reject Star Shaped Sand: 113
Reject Flower Shaped Sand: 134
Reject Ornate Rainbow Sand: 173
Reject Curly Shaped Sand: 166
Triangular Sand Sculpture: 14
Bottle Shaped Sand Sculpture: 15
Curvey Sand Sculpture: 9
Angular Sand Sculpture: 9
Swirly Sand Sculpture: 9
Heart Shaped Sand Sculpture: 13
Rainbow Sand Sculpture: 9
Modern Sand Sculpture: 1
Handful of Sand: 6
My FAQs
What's your name?
Most people call me Ardatia or Arrelie.

How old are you?
I'm 30...and no, I'm not too old for neopets.

Will you be my neofriend?
Sorry, my answer is no. I do not accept neofriend requests from people I do not know. I prefer to have a small list of friends that I actually know and speak with often rather than a large list of people I don't know at all.

Can I join your guild?
Sure, anyone may join The New Fearless. Just follow the link on my lookup and join up.:)

Will you lend me _____?
Sorry, but I don't have anything that anyone would want to borrow...and my pets will never leave my accounts.

Can I have _____?
No. I have worked very hard for everything I have. There are many np making guides out there. When I first started on neopets I read about every one that came up in my google search and learned to make np myself. I have never begged for anything and you shouldn't either.

Is ______ up for adoption?
I'm sorry, but my pets are not up for adoption. I do have one spot on each account reserved for labbings, but I normally adopt a pet from the pound and zap until I get a nice color or species change, then it's back off into the pound again to hopefully end up with someone that truly wants them.

Why do you adopt out so many pets?
For the same reason I decided to start Cieque's Directory of Adoption Agencies....to help people find their dream pets. It does not take me more than a few minutes each day to sign onto each of my accounts and zap the pets that I am currently labbing. Plus I have the satisfaction of knowing I help someone achieve their goal.

How come _______ was adopted out as soon as you had gotten the color change?
I keep a list of my guild members' dream pets. If I happen to get one of them through the lab ray, then they get first choice for the pet.

What is Cieque's page all about?
Cieque's petpage is a directory of adoption agencies. It has adoption agencies categorized by application requirements along with pet wishlists and even help with working on the applications themselves.

What made you decide to do your adoption agency directory?
I started the directory because I had saw tons of petpage directories out there, but there weren't any that really had a lot of adoption agencies. I had also seen several wishlist directories. Although all of this was available to those that were trying to find new homes for pets or those that were looking for their dream pet, there wasn't one single page that had everything in a single page. I started this page to bring the adopters and the adoptees together. The page can me used by neopians in hopes of finding their dream pet through wishlists or by looking through agencies trying to find their dream pet. It can also be used by neopians to find the perfect home for their pet through the wishlists or to maybe find the perfect agency in which they would like to regularly list their pets.

Haven't I seen your directory once before except for a different account/pet hosted it?
Yes. It was once located on Kokumunjii's petpage while on my old account naughtyweniwanab. The account was unfairly frozen.

Doesn't everyone say they were frozen unfairly?
Not everyone and I know for a fact that there are such things as unfair freezings. No one can be perfect, not even TNT.

What is premium?
Premium neopets is where you pay real money for extra features on neopets. I am a proud premium member since joining neopets. A great petpage to check out which will tell you more about premium including the cost is Leto's Premium FAQs. I love the extras you can get from it such as:
Super Shop Wiz (searches for the lowest prices in all the shops at once unlike the regular shop wiz)
Portal page (shows all the helpful links including all the dailies)
Ad-free browsing (helps the pages load a bit faster)
Email address @neomail.com
Access to the Premium only Neoboards
Free Space Faerie Scratchcard every Friday
Extra SHHs (Something Has Happened) in your webmail
Beta testing the new games and other features before they are released to the rest of neopets
Add your side account as an alias so that it also has the premium benefits
If you would like to know more or would like an invite, just neomail my friend, Dung to get an invite.

Is premium worth it?
I think it is, but you have to answer that question for yourself. That is why there is a 14 day free trial.
My Pets
Go here to see my entire cybunny family.
News
July 6,2008
I've been really busy lately. Between working on my petpages, playing AC, and finding stuck pets I don't have a whole lot of time. I have reached rank 6 in the AC so far. I hope to reach 10 by the time it is over, but I seem to have lost my motivation to play anymore. I have played hundreds of games of SS and MSN. I'm too terrible at YYB to do any good with it though. I wish I was good at it cause then I would be able to rank up faster.

June 20, 2008
That Altador Cup is going on right now. I am really bad at Yooyu Ball, but I am decent at Slushie Slinger and Make Some Noise. I'm playing for Krawk Island and we are doing well in the standings. Roo Island is in first so far, but we are second. Hopefully we win all the games for today and if we get luck then Roo Island will lose or draw against their current opponent. I'm playing as much as I can and will continue to do that til the end.

June 15, 2008
I finally got around to recoding this page. I haven't been able to do any updates on it since the coding problems started. Now at least I can start doing updates and see about getting this page looking better.

May 17, 2008
My Tribue To Cybunnies page is coming along nicely. I also think i may change the name to Wikibunny since it's basically going to be like a Wiki all about Cybunnies. I've spent so many hours looking through hundred and thousands of pages for anything and everything about Cybunnies. I stil haven't figured out how I'm going to design the petpage. I need to come up with a way to display everything in a nice, neat manner.

May 14, 2008
Nikki's owner has decided not to adopt her out because of the new no petpage application rule. So all that work I had put into the application was for nothing.

May 9, 2008
I now have my Chocolate Cybunny. :D I am so happy now. That's one pet closer to my overall Cybunny dreams. I need to sit down and figure out exactly which pets will be going to each account. I'm not sure I plan on keeping all my pets on the same sides that they are on now. I want ot try to match them up a bit. I think I may match them up based upon how I got the pets. That way the ones on my Arrlie account won't need to be moved since those are the ones I morphed and/or painted myself. Then maybe put Sparks, Leo, and chem on an account togethre since those are the ones that I have foud stuck in the pound.

May 8, 2008
Someone sent me a neomail today about a Chocolate Cybunny. She had seen my post on the Charter board about me wanting a Jelly, Faerie, and Chocolate Cybunny. I think she may allow me to adopt Wintarwood, her Chocolate Cybunny. :D

May 6, 2008
I had a few of my friends look over my application that I made for Nikki. They say that it is a great application. I'm not sure. I still think I can do something more to make it better. Maybe I will try to draw a picture of her tonight when I get home from work. I think the background and stuff I made for the petpage application turned out very nice. I think that will be the design I use for her lookup. I still haven't really learned how to code the new petlookups. The old ones I had done do not work right anymore. Maybe I can play around with the coding and figure it out. I think I will mainly just work on making sure the text and stuff matches the pet and his/her page.

May 4, 2008
I'm still working on the application for the Nikki, the Faerie Cybunny I am applying for. I am hoping to make an outstanding application so that the current owner will choose me. I have been working so hard on it. I am also making sure my account is in perfect condition. I think I may also forego the snowager and stuff once I send my application to the owner. That way I won't have to worry about my pet's HP being 0 from the dailies I do when she looks over my account. I know many people have their pets with less than full HP at times cause of the dailies, but I don't want there being anything questionable about my ability as an owner.

April 28, 2008
Well the pound is delayed. :( Plus TNT has been freezing all the pets in the pound. I have spent the last 2 weeks looking for every single painted and/or LE pet that is in the pound. I have found over 9,000 in all. I did the list to hopefully help my guildmates get their dream pets. There's a baby or two that my daughter was looking out for also. She's as disappointed as I am about it all.

April 25, 2008
I was right!! The pound is going to open Monday. I am so excited. There is a few cybunnies I came across that I would love to try for. One is a Chocolate Cybunny and the other is a Faerie Cybunny. They also came out with the new Jelly Cybunny. They are so adorable. I really want one of them also. Once I am lucky enough to get a Chocolate, Faerie, and Jelly Cybunny my family will be complete.

April 16, 2008
Tax season is finally over. I will have more time again to spend on neopets. Tax time tends to keep me so busy it's hard to find any time during the evening to get online_ But, then again, I spend the 8+ hours each day at work online also. So I have lots of time online it's just I can't do any graphics or anything unless I am on my home computer.

March 4, 2008
There are rumors going around that the pound may be open soon. Since it closed laster year around Cybunny Day I think it may open up around Cybunny Day this year. Kind of like opening on the one year anniversary of the closing. Cybunny Day is on a Sunday this year, so maybe the pound will open that Monday.

February 1, 2008
Now that everyone is getting their W-2s I am completely busy working on taxes. I barely have time to come on and feed and play with my pets. But it only takes me a few minutes to get on and lab all my labbers and feed and play with them all. The refresh butting helps a ton when feeding my pets omelettes and jellies. I think I may have to start feeding them something a little better since I'm sure they are tired of the same food every day. Even though they haven't complained to me about it yet. :P

January 14, 2008
I have been completely slack with updating my pages lately. There isn't much point in dealing with Cieque's petpage cause the pound still isn't open. Once it does I will end up having to do a lot of work in order to get it updared. I've sure half the adoption agencies on there have closed or the owners have disappeared from neopets altogether. I'll get it back up again though, so it's now just a waiting games for the pound.

December 25, 2007
It's Christmas Day. :) My daughter had a great Christmas. She is completely spoiled..lol This year she got herself a more updated computer. I end up buying a new computer for myself every two or three years and my old ones get passed down to my mother and daughter. That way we all have decent computer.

December 1, 2007
I had taken a bit of a hiatus from neopets. I still signed in a few times a week to take care of my pets, but I didn't bother posting or associating with anyone. It was really bothering me that the pound was closed and I couldn't do one of the things I love...giving people their dream pets. It really took a lot of joy from me. But I'm back now. I didn't want to miss the advents.

June 1, 2007
It's my birthday today. I turn 29. The pound is still closed so I can't really adopt out any pets right now. There will probably be thousands in the pound by the time it opens. I really hope it is soon.

May 5, 2007
I've adjusted to the new layout that neopets has done. I had to fight with my lookup for days to get it to even work right. It looked great in IE, but FF wouldn't do anything. Now it's ok in both of them, but it's not as good as the original one I did that worked so well in just IE. I now have 18 cybunnies between all my accounts. Cieque will be a Christmas Cybunny some day and one of the cybunnies I created ended up turning into a Moehog. Another one did turn ghost today. I don't like ghost too much though so I will probably keep zapping. I would love to get a chocolate zap with one of them. My daughter and I are both hoping for a faerie zap with two of them.

April 23,2007
I decided to recode the layout here to update it just a bit. I have learned a bit more about coding since this page was originally done and figured I would put it to use. I'm still learning new things all the time so in another few months I'll probably have to update this page again.:p

April 22,2007
The past three weeks have been extremely hectic. My friend was scammed out of everything the day before she was to leave for vacation. While she was on her vacation I ran her guild for her. A large 600 member guild can be hard to keep up with. We also pulled together to try to help her get a bit of her gallery restored. By the time she got back last week she was able to fill her gallery back up with most of the stuff she had lost. She still has a ways to go with some of the more expensive stuff, but at least a lot of it is there now.

March 30,2007
Fraynee got second place in species. She now has a beautiful silver trophy on her lookup. That you to everyone that had voted. :)

March 21,2007


Yes, I know this is shameless advertising for my BC entry, but it's worth a try.;) Feel free to vote for Fraynee in the upcoming Beauty Contest that starts at 4:15pm NST on Friday, March 23, 2007. All votes are very appreciated. Thank you. :)



February 19,2007
It's been a while since my last update. Tax time is here in full swing and I've been extremely busy. I finally decided to leave the guild that I had been running for a friend and just create my own. At least this way I can give others admin rights so that it's not just me running everything. I had came close to quitting guild altogether cause it was getting to be too much. Now I have one of the easiest jobs in the guild. :p I mainly just gather the doantions and give them out to the people running the activities. We voted on a new name also. I had basically just taken a bunch of scronyms and made up things to fit them. We ended up using FUN which stads for Friends United in Neopia. It fit great since the people that are in my guild are the ones from the guild I had ran before. Now they each have a spot on council and an activity to run.

January 27,2007
I've adopted out quite a few pets lately. Krannin is in his new home and seems to be doing great. legolyous the Striped Xweetok is in a new home and so is amigirow the Orange Chia. I just did the transfer of Eckther to his new home this evening. I was glad to finally be able to get him off my accounts after 3 months of him sitting there waiting for the Harris to age. A few guild members will be adoption Crabige the Disco Pteri and Sunanga the Disco Kau. I'm just waiting for their accounts to age. That's about all the pets I have other than the few i am labbing right now and my own permie pets.

January 20,2007
Krannin's owner has now been chosen. I'm waiting for the new owner to neomail me back. I was hoping to do the transfer tonight so that I can adopt another pet to zap.

January 15,2007
I've been kinda slack with my updating. It's finally gotten to where it seems that is all I ever do anymore. That's why I stepped down as leader in my guild. Neopets was getting to be more of a job to me. I'm still really busy, but that's mainly because I finally got the krawk trans and am adopting him out. I named him Krannin. I think it's a nice name. I have gotten 30 applications so far and it's only day 2 of the adoption process. Once he reaches 7 days old, that'll be when the applications will be closed. Then my sister can start narrowing down the applications.

January 10,2007
Sunanga finally change colors. She is now Brown. Clonka turned sketch. So now I have a Broan Kau and Sketch Uni to add to my adopion list.

January 9,2007
I have been so busy lately helping people with coding and graphics. I have a bunch more stuff to do tonight also. I haven't really had a lot of chance to do much updating of my own pages. Usually this page is updated as soon as a pet leaves and another one comes, but even this one has been a day behind. I did get an Orange zap today from a chia. This is the second Orange Chia I've gotten from the lab. They are kinda cute. :) The deadline for lnfinities' application is today. Hopefully I don't have to wait too much longer for the decision, but I know it'll probably take a few days to make the final decision.

January 4, 2007
Only 5 more days until the deadline for the applications for lnfinities. After a month and a half I am very ready to see how I have done. The wait is killing me. After visiting her lookup everyday for so long I have grown completely attached to her. Plus I now know that TNT is coming out with Electric petpets. Now if only they will come out with the colors I want with the Eizzil.

January 2, 2007
After spending hours upon hours on an application for an electric cybunny I actually found one stuck in the pound this morning. I still prefer lnfinities though and really hope I get her. If I do then I will put Sparks up for adoption.

December 31, 2006
Fuji was place yesterday and Stingeri was placed today. I think they have went to nice homes that will take care of them. I decided that at the end of January I will be buying a Krawk trans and morphing a stuck pet into a krawk. I will then place him or her up for adoption. I have came to the conclusion that I will disqualify anyone that tries to do a petpage application that is anything more than black text on a white background. I don't want a layout or anything to distract me from the important issue of who will take care of the krawk. I will be leaving the krawk as a mutant since if someone wants the pet to be painted a different color they can earn the paint brush themselves since they are getting a 2M np pet for whatever the cost to adopt is at the pound.

December 30, 2006
I got another Maraquan zap this morning. This time on Fujiitsei. I'm not sure about a Maraquan Kougra being anyone's dream pet. I really need to place some of these pets so that I can have more room for labbing. I was surprised that I didn't get a single neomail about Stingeri yesterday. Hopefully I get some later today and can adopt some of these pets out.

December 29, 2006
I got a Maraquan zap this morning on Stingeri the Hissi. :) I just hope I don't get a bunch of one-liner neomails for her. I know she is a dream pet of many people and I kinda dread dealing with the neomails that I know I'll be getting. Well, time to clean out my inbox and post on the pounding board. :p

December 26, 2006
As a Christmas gift to my pets, I have finally finished giving all of my permie pets a complete detailed personality. It took me most of the day to do that. On top of that I added a bunch of new agencies to Cieque's petpage. I also started working out the recommendation system where I recommend some of the adoption agancies that I think have either referred someone to or that I use myself.

December 23, 2006
Stinggi was adopted out within an hour of me putting her on the pounding board. I was so glad when I seen the application since it wasn't a one-liner. The person ended up webmailing me since it wouldn't fit into a neomail. She must have started working on it within minutes of me posting since it was very well thought out. The Zafara that I adopted yesterday to take Stingii's place turned Fire today. Hopefully she'll be adopted out quickly also. I'm running out of pets to zap since I have so many already up for adoption.

December 22, 2006
Stingii turned Faerie today. a lot of people like the Faerie Pteris so finding a new home won't be hard as long as I don't get a bunch of one line applications. It's not that hard to fill out a few answers to questions. It's not as though I ask for petpage applications or anything.

December 18, 2006
I'm not sure what's going on with all the robot petpet zaps I've been getting. I got a Robot Symol and Robot Faellie yeterday and today I got a Robot Gallion zap. Now if only the pets would zap to match. I didn't get any color changes today though, so I'm not sure when I'll get the change. The no color changes will probably last a few days and then I'm sure I'll get a nice color change or two. That seems to be the way it's working for me. No changes for a week or so and then I'll get a faerie or darigan change...something nice.

December 17, 2006
I have spent the last few days updating Cieque's petpage. I decided to do a complete makeover on it. I think it turned out nice. Now I just need to start advertising a bit more. My labs didn't really do anything today. I am hoping for a fruit or vege change on my chia, but it hasn't happened yet. I would also love a robot change on my pteri. The robot petpet was zapped today, so it'll be a nice match if it happens.

December 14, 2006
I found some painted stuck pets in the pound yesterday. I adopted the well named Rainbow and Biscuit Rukis to find new homes for. My labs didn't do a whole lot for me today, but I'm sure within a few days I will get another nice zap like I have been getting.

December 13, 2006
I'm pretty much out of adoptable painted pets. All my pets have found nice homes that I hope they remain in. Hopefully my labs help me out with getting some more pets to adopt out.

December 12, 2006
trunkoo and Believability found new homes yesterday evening. I also got another great zap this morning. Stopha the Red Xweetok turned Faerie. I just hope the neomails I get about him aren't like the ones that I got for Cevesit. It's quite annoying when the only thing people say in the neomail is "can i have it plz?

December 11, 2006
trunkoo turned Darigan. I was hoping for Faerie since someone wanted a Faerie Yurble. I'm sure trunkoo will be pretty easy to rehome. Many people love Darigan pets, I'm just not one of them. :p

December 10, 2006
Believability turned Tomato today. I think the fruit and vege chias are kinda cute. I also found a Robot Uni stuck in the pound. I adopted her and plan on finding her a new home. The owner of the cybunny I applied for hasn't been online in over 2 weeks. I hope she gets on soon and lets me know whether I am chosen as the new owner or not. I really hope I was chosen. After spending all that time on the application and checking in on her daily I have become quite attached to her.

December 6, 2006
I had another poogle change species. She is now a a Blue Ruki. My daughter is going to adopt Cevesit from me. I just got tired of reading the one lined neomails about him. It seems everyone was 'interested' in him, but none of them took the time to even bother readind the adoption rules. All I ask for is just a few questions answered. I'm not asking for anything major. I feel that if they cannot take the time to answer 6 questions then they will not take the time to care for the pet. My daughter gets online for an hour a day and she takes good care of her pets.

December 3, 2006
I got a few nice color changes today. Cevesit the Red Kiko is now a Faerie Kiko. Believability the Purple Chia is now a White Chia. Fayque the Blue Chia is now a Gooseberry Chia. Cieque also increased in defense. My daughter's Gnorbu turned Tyrannian today. I need to see what her plans are for him. If she does't want to keep him then I will move him over to my accounts and put him up for adoption. I also had the first of many paint brush giveaways in the guild today. Dbatura got a Christmas Paint Brush. I plan on doing this every Saturday in December. It's kind of like a random Christmas present for them.

December 1, 2006
It's the first day of December. :) Time for the Advent Calender. Believability turned purple this morning, Fayque went from a Poogle to a Chia, and Lypathia turned pink. I'll hold onto her until my daughter's account turns 4 months. That's only 2 weeks away. Then Lypathia will go to her. My daughter has a few other poogles, but they are basic colored...I'll just get another one from her to zap in hopes of faerie for a friend.

November 26, 2006
I ended up with a few nice changes today. I had a Bruce turn Disco and an Ixi turn Halloween. Rondesa the Ixi was adopted out in no time. I had 5 neomails about her. I chose the person that hadn't copied and pasted the name, and she even mentioned what her plans were as far as her petpet and stuff.

November 25, 2006
I got finally got the Cybunny Trans. Brazens is now Pirate. :D I bought myself a Plushie PB for Christmas and painted FuzzyPlushy. One by one I'm getting my dream pets. I still really hope I am able to adopt lnfinities. She is beautiful. I hope to hear something in the next week.

November 24, 2006
I got my very first FFQ. I about fell out of my chair when I see it. At first I thought it was the water faerie, but I thought it was strange that she was asking for a Tiered Fountain. Then I read the words 'Foutain Faerie'. I moved Brazens to my main account so that I can morph and paint her. Now to get a Cybunny Transmogrification Potion so that I can use it on Brazens.

November 23, 2006
I got a great color change today. Lyssan turned into a Darigan Peophin. She's beautiful. Now to find a fantastic owner for her. I adopted another of my dream pets today...a Fire Cybunny. I considered a Fire Alabriss as a petpet, but that just doesn't look right. I would love it if TNT would make a Fire Snowbunny. I think they'd go great together. Maybe I can make that suggestion and hope that they do it.

November 22, 2006
I really need to figure out a way to bribe the lab scientist. He's not doing anything for me at this point. I haven't had a decent change in a while now and with 5 lab rays you would think that I would get something at some point.

November 21, 2006
I really hope I hear something new about the Cybunny soon. I am excited to know that I might possibly be able to adopt her. At this point no new applications are being taken, so all I can do is wait and hope that I get a neomail this week saying that I am the new owner. :D

November 18, 2006
I drew a picture of the Cybunny that I'm trying to adopt that I can use as a BC entry if I'm lucky enough to adopt her. I added it to the top of her application and let the current owner know of the little changes I made to my application. I hope it doesn't hurt my chances by making changes like that, but I really wanted to go into a bit more detail about some of the things. I know I could always buy the paint brush and morphing potion and paint another pet just like her, but it still wouldn't be the same. I'm gotten a bit attached to her and her name. All I can do at this point is hope that I am the one that is chosen to be the lucky one to adopt her.

November 17, 2006
After spending most of the day on a petpage application I think it's finally good enough for me to have a chance. I've never done a petpage application before so it has been a learning experience for me. I read several guides on how to do them, what to include, etc. I'm very nervous about it. I just hope I have worked hard enough to be included in the finalists.

November 13, 2006
Now that all my accounts are finally 4 months I was able to adopt the disco and spotted cybunny that my friends have been holding for me for the past 2 months. I had found them stuck in the pound and fell in love right then. I love just about every color of cybunny. I was also able to adopt another beautiful cybunny this even Baebrii the Halloween Cybunny. Her previous owner, clumsystarr4, was kind enough to allow me to adopt her. I was so excited when I got the neomail back from her saying I was chosen. Now I know what the people that try to adopt my pets go through when it's a pet that they really want. Baebrii, I believe, means whiskers in latin. It has been a very long time since I have take latin, but I think I remember that.

November 6,2006
I finally got the Adam avvie. I have been saving n-blocked- since September. I was able to borrow 4M from a friend so that I could get the avvie now and start my Christmas shopping early. At least now I can rest a bit since I have been spending all my time on neopets doing nothing but earning more np. It'll be nice to have the time to chat on the boards a bit again. :)

October 29, 2006
Yesterday I got a grey jetsam zap. I moved him onto my main account so that I could get the avvie. Today his petpet turned into a harris. I think I may keep it that way since he would then be able to be lent to get 3 different avvies. I'm not sure what I will be doing with him yet. Until I decide he will stay right where he is. I adopted out Alcunuir, my blue jetsam, in order to make room for Eckther on my main. Hopefully the new owner will keep him as a permanent pet. They had told me that they were saving up for a paint brush for him. Of course, I have been told things like that before and then one day I find my pet back in the pound sick and without the petpet I had on them.

October 27, 2006
I've adopted out a few more pets and got a few color changes so that I have more pets up for adoption. I actually had someone neomail me about adopting Prioritizing. Obviously it is someone that didn't read this page since I clearly state Prior will never be up for adoption. I may not loike Halloween Usul, but I love the name and plan on morphing her one day.

October 16, 2006
I've been extremely busy lately trying to earn as much np as I can. I really want to get the adam avvie before the 1st of December. If I keep up at the rate I'm going I will be very close at that time. I haven't had any major lab changes. I had a bori turn speckled and the petpet on Stacho turned into a matching color combination.

October 6, 2006
One of my petpets turned into a palmplat. I've never heard of it before. That was about all the changes I had.

October 5, 2006
I got a striped jubjub today. I think my lab rays are stuck on striped since this is the third striped zap I have gotten in the past week.

October 4, 2006
Another day with no color or species changes. My lab rays are being stubborn again. Hopefully things will change soon. I'm really hoping for a MSP zap since MSP Poogles are many people's dream pets. I enjoy helping people get their dream pets just like I did with the Robot Poogle.

October 3, 2006
No good zaps the past 2 days. I did get an unusual petpet zap. It's a Flightning Bug on Stragher. I also created my first lookup last night. It's Halloween themed. :)

October 1, 2006
Suletiana, Pyerril, and Pangir are with their new owners now. Mulla's petpet finally turned into something other than a pile of soot. Too bad it didn't turn into something that actually matched her. Xierod turned silver today, so he'll be placed up for adoption now also.(Update: He is now with his new owner). Zierod turned Robot today. There was someone posting every day on the pounding board saying her dream pet was a robot poogle. I neomailed her first thing to give her first chance at adopting Zierod. The only downside is that now I will have to find another petpage to host my personal portal. Since it's now the first of the month I have to fix up freebie packs for my guild. That will keep me very busy over the next day or two.

September 30, 2006
No real lab changes today other than gender and/or stats. I did find a new owner for Pangir today though. Now she is just awaiting tranfer. I have a few people interested in Suletiana and Pyerril. I will end up choosing an owner today or tomorrow for them. I did update Cieque's petpage a bit. I added three new agencies. I'll be updating the guild's newspaper tonight too. Seems like I'm going to be very busy today. :p

September 29, 2006
Another striped zap today....this time on a scorchio.

September 28, 2006
I got a snot and striped zap today. So now I have a striped zafara and snot poogle added to my adoption list. I'm hoping that I can find nice homes for them.

September 27, 2006
I did some halloween shopping today even though I'm supposed to be saving for the adam avvie right now. Halloween is probably my favorite holiday. I created a new guild layout for my guild. It's not the best, but it was something simple that I was able to do in a short amount of time. I got a few nice petpet changes today, but no actual pet color changes.

September 26, 2006
One of my poogles turned Tyrannian today. I'm not sure if that is a wanted color of poogle or not. I guess I will find out when I decide to put my poogles up for adoption. I finally updated the Guild Information page. It is now complete. I also updated the collateral prices of the avvie items since many things have went down in value since I have purchased them for lending.

September 25, 2006
I have now added sections for pets that I have for adoption and pets that I have adopted out. I have also went a little more in depth on the About Me section. I also fed my first Kad today. I have been wanting to work on getting more trophies on my lookup and now I at least have the Bronze Kad trophie. The NDG Times has now also been updated. I have listed some more of the winners for this biweek.

September 24, 2006
I added more information about the pets I own...such as the account he/she is located on along with the current species and color of each. I looked up U, V, and W names on Names Unlimited. I searched for some stuck pets and came across a beautiful Spotted Cybunny. A friend is holding him for me until my account ages.

September 23, 2006
I went through the X, Y, and Z names on Named Unlimited to check for names that have been used.

September 22, 2006
I have spent the past week learning to code this portal page. I have finally gotten it to a point that I have most of it the way I want.
My Active Pet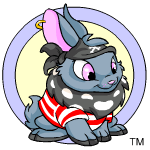 Brazens
Age: 57697 hours
Owner: arrelie
Gender: Male
Height: 58 cms.
Weight: 58 lbs.
Health: 81 / 11
Mood: Delighted!
Hunger: Bloated
Level: 7
Strength: 10
Defence: 8
Move: 7
Intelligence: 10
Goals
Goals *Get Adam Avvie on new main account.
*Design custom pet lookups for all of my permanent pets.
*Help my guild members reach their goals.
*Continue to zap stuck pets and help people get their dream pets.
*Design and build a neohome.
*Get matching petpets and petpetpets for all of my Cybunnies.
*Enter some of my petpages into the Site Spotlight.

Pets Adopted Out
Total # Of Pets=218
Blue Acara w/Disco Warf
Blue Acara
Cloud Acara w/Abominable Snowball
Purple Acara
Rainbow Acara
Blue Aisha w/Rainbow Erisim
Christmas Aisha
Green Aisha
Grey Aisha
Island Aisha
Rainbow Aisha
Blue Blumaroo w/Plushie Zebie
Camouflage Blumaroo
Spotted Blumaroo w/Strawberry Meepit
Christmas Bori
Ghost Bori
Skunk Bori w/Froiler
Speckled Bori w/Grey Anubis
Tyrannian Bori
White Bori
Disco Bruce w/Christmas Mazzew
Green Bruce
Checkered Buzz
Maraquan Buzz
Gooseberry Chia w/Ghost Wuzzle
Orange Chia w/Abominable Snowball
Orange Chia
Pea Chia
Snot Chia
Tomato Chia w/Spyder
Tomato Chia w/Sludgy
Tyrannian Chia w/Tyrannian Warf
Jelly Chomby
Red Chomby
Snow Chomby
Striped Chomby w/Striped Gruslen
Spotted Chomby
Checkered Cybunny
Fire Cybunny
Maraquan Cybunny w/Disco Anubis
Starry Cybunny
White Elephante
Green Eyrie w/Faerie Drackonack
Fire Eyrie
Rainbow Flotsam w/Maraquan Harris
Red Flotsam
Christmas Gelert
Green Gelert
Silver Gelert w/Abominable Snowball
Glowing Gnorbu w/Faerie Wheelie
Tyrannian Gnorbu
Tyrannian Gnorbu w/Abominable Snowball
Checkered Grarrl w/Grey Tenna
Christmas Grundo w/Brown Angelpuss
Fire Grundo
Mutant Grundo w/Snicklebeast
Orange Grundo w/Robot Noil
Purple Grundo
White Grundo
Blue Hissi w/Rainbow Boween
Orange Hissi w/Halloween Babaa
Striped Hissi w/Mutant Cobrall
Halloween Ixi w/Mutant Symol
Maraquan Hissi w/Sludgy
Mutant Hissi
Red Ixi w/Red Minitheus
Shadow Ixi w/Sludgy
Starry Ixi
Blue Jetsam w/Halloween Babaa
Blue Jetsam w/Pink Cobrall
Blue Jetsam
Brown Jetsam
Fire Jetsam
Grey Jetsam w/Halloween Harris
Island Jetsam w/Tootum
Red Jetsam w/Pirate Kookith
Red Jetsam
Yellow Jetsam w/Faerie Feepit
Coconut Jubjub
Red Jubjub
Striped Jubjub w/Kazeriu
Tyrannian Jubjub
Christmas Kacheek
Green Kacheek
Jelly Kacheek
Starry Kacheek
Blue Kau
Cloud Kau
Disco Kau
Disco Kau
Halloween Kau
Faerie Kiko w/White Slugawoo
Red Kiko
Striped Kiko w/Orange Pfish
Blue Koi
Blue Koi
Ghost Koi w/Mutant Miamouse
Spotted Koi
Checkered Kougra
Green Kougra w/Abominable Snowball
Jelly Kougra
Maraquan Kougra w/Sludgy
Pink Kougra w/Rainbow Turtum
Silver Kougra
Red Kougra w/Pink Kimbi
Mutant Korbat
Mutant Krawk
Mutant Krawk
Fire Kyrii
Ghost Kyrii w/Harris
Red Kyrii
Green Lenny w/Blue Zumagorn
Red Lenny
Spotted Lenny
Blue Lupe w/Robot Snowickle
Christmas Lupe
Electric Lupe
Faerie Lupe
Shadow Lupe w/Sludgy
Skunk Lupe
Skunk Lupe w/Cloud Walking Carpet
Yellow Lupe
Red Meerca
Tyrannian Meerca w/Blue Icklesaur
Christmas Moehog w/Red Dua
Christmas Moehog
Halloween Moehog
Speckled Moehog
Jelly Mynci w/Blue Mirgle
Blue Nimmo w/Black Moltenore
Blue Nimmo
Ice Nimmo
Rainbow Nimmo w/Christmas Trunkard
Green Ogrin
Darigan Peophin w/Ghost Anubis
Island Peophin w/Chocolate Mazzew
Faerie Poogle
Pink Poogle w/Robot Faellie
Robot Poogle w/Yellow Scarabug
Robot Poogle w/Red Drackobunny
Silver Poogle w/Blue Noilkeet
Snot Poogle w/Altalaphus
Spotted Poogle w/Grey Anubis
Spotted Poogle w/Flightning Bug
Snow Poogle
Tyrannian Poogle w/Mutant Walein
White Poogle w/Grey Whinny
Disco Pteri
Disco Pteriw/Purple Snowickle
Faerie Pteri w/Robot Symol
Faerie Pteri
Grey Pteri
Grey Pteri
Purple Pteri
White Pteri
Invisible Quiggle
Striped Quiggle
Biscuit Ruki w/Cloud Uniocto
Christmas Ruki
Fire Ruki
Pink Ruki
Rainbow Ruki w/Robot Gallion
White Ruki w/Fire Mazzew
Yellow Ruki
Desert Scorchio
Grey Scorchio
Island Scorchio
Spotted Scorchio
Striped Scorchio w/Zamillion
Darigan Shoyru
Red Shoyru w/Grey Whinny
Speckled Shoyru w/Mutant Symol
Blue Skeith
Christmas Techo w/Mutant Kadoatie
Jelly Techo
Blue Tonu
Blue Tonu
Blue Tonu
Rainbow Tonu
Red Tonu
Shadow Tonu
Striped Tonu
Blue Uni w/Rainbow Noil
Christmas Uni
Electric Uni
Electric Uni
Faerie Uni
Green Uni
Rainbow Uni
Robot Uni w/Sludgy
Sketch Uni w/Faerie Anubis
Sketch Uni w/Black Bearog
Speckled Uni
White Uni w/Plushie Harris
Ice Usul
Mutant Pteri
Purple Usul w/Moltenna
Shadow Wocky
White Wocky
Baby Xweetok
Blue Xweetok w/Brown Ganuthor
Faerie Xweetok w/Sludgy
Green Xweetok
Green Xweetok w/Brown Puppyblew
Red Xweetok w/Cloud Anubis
Purple Xweetok w/Plushie Kadoatie
Sketch Xweetok
Sketch Xweetok
Striped Xweetok
Darigan Yurble w/Sludgy
Skunk Yurble w/Snow Ghostkerchief
Blue Zafara w/Faerie Doglefox
Electric Zafara
Fire Zafara w/Fire Gallion
Mutant Zafara
Purple Zafara
Striped Zafara
Striped Zafara w/Fire Puppyblew

These are some of the names of pets that I have adopted out. I cannot remember many of them at all, but I do plan on keeping track of them in the future.
tonurey sennawa xhez Lhinoa Niqhtmares Krannin nova_rdy__aa believability Zyndal Lunnyx Tjarus Cevesit Lypathia Seldoris Sunanga Amigirow Eckther Crabige Clonka Stingeri Fujiitsei Stingii Trunkoo Stopha Fayque Rondesa Lyssan Alcunuir Stacho Stragher Suletiana Pyerril Pangir Mulla Xierod Zierod BlissfulHeavens Ronher Tynkey Boiling_ Trikim BClassyCandy _x_Lie_x_ Onecia Biaria Niashzi Zodous Homelessly Miiyscha Ashlynns Sonsina Ashikawa Hyundiix