The First Meeting
Walking down the street at midnight was maybe not the best idea. Although, you had to catch another sight of him. He was so beautiful. You would chase him for eternity just to get another look at those eyes. What he must have gone through to have all that pain and emotion to hide behind those two blue saphire pools. You stand looking down at the cement pavement. The street lamp shines down over you, revealing a teddy bear. You bend down to catch a closer look, realizing that this bear was familiar. It was
his
. Picking it up, you notice the sense of fear. A feeling that everything was hidden within this bear. But those eyes, two big, empty, lifeless eyes stared back at you, encouraging you to find
him
. To keep looking and maybe you can help him.
You continue your search, moving out from under the street lamp and deeper into the darkness. You notice some movement up ahead and throw yourself behind a tree. He can't know your here. You carefully slide around the tree and look around. Across the street you see him. He effortlessly walks out from the darkness, stopping under the street lamp you had been under just moments ago. He's so close, you can almost hear him breathe.
Bo, standing under the street lamp, engulfed in it's light that shines down on him like a spot light, becomes motionless. The wind howls around you, sending a chill up your spine, but it is hardly noticeable. You are mesmorized by the performance being held before your eyes. Bo slowly lifts his leg and starts his majestic dance. He thrusts himself into the air, landing carefully with a light thud. The light is his boundary, but it seemed to grow closer and closer to you. You gasp when you notice where your standing, coming to an abrupt stop, right outside the light's boundaries.
Bo jumps back and his eyes lock onto the thing in your arms, his teddy bear. You gently hold out the bear for him, but he never moves. His eyes remained locked on the bear as you give up your attempt at communication and gently set the bear on the ground. You stagger to turn around and begin your way home. Half way up the street, you hear a soft call from behind. "Thank you." the voice says. You pause for a moment, wanting so badly to turn around and see a smile on his face, but you already had your hopes crushed once. No need for further rejection.
Leo
Leo is Bo's adorable Yorkshire Terrier. Leo is Bo's best friend and loving companion. Leo is extremely special from his rare ability to pick up on Bo's emotions and situations. Bo went to an elementary school and met a girl named Layla. She loved Bo, but good things can't last forever. Layla unfortunately moved away, but while she knew about Bo's situation, couldn't leave him alone. Her Yorkshire Terrier named Kiwi had puppies and she left Leo with Bo. Leo is about 2 years old and is the cutest dog you ever met. I have a photograph of a Yorkshire Terrier to show off his cuteness and how special a dog he can be. Bo really loves Leo and I'm not sure he could survive with out him.
Ku
Ku (pronounced koo), is Bo's teddy bear. Why is he named Ku you ask? Well Ku Uaki means "guardian" in Hawaiian, and while Ku isn't fully Bo's guardian, he does have that affect, so I used part of the true word. As we all grow up, we hold on to what little childhood memories we have. I always clung tightly to my floppy, auburn teddy bear named Cinnamon, original, right? My childhood wasn't perfect, and neither was Bo's, but this teddy bear holds memories of the very few times he was happy and at ease in his life. He holds Ku close, squeezing him tighter and tighter in hopes that he can grasp some of that happiness and make everything else go away. Ku is the foundation of Bo. One of the very few things holding him together and allowing him to act normal for those who want him to be. Ku has been ripped to shreds several times, but Bo has carefully sewn him back together after each tragic night.
The Full Character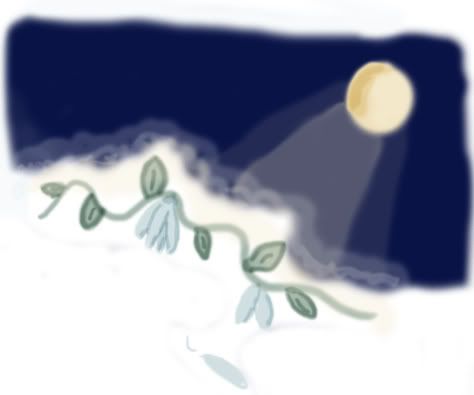 Have you ever had your dreams crushed? I mean, they were right in front of you, and someone just stomped on them? And if that wasn't enough, they had to take everything they could from you, only to leave you broken and dreamless. No hope for reality is left, but then again, every dark night has it's shimmer of moonlight.
At First Glance
Meeting Bo, you would see a beautifully pale, strongly built boy. He is young, maybe around the age of 15. Long silvery blue hair that shines like moonlight is his barrier. It droops in his face, hiding him from the world. If by chance you do catch a glimpse of his face, you would be startled by his beauty. Past flushed cheeks and running mascara that he wears, hoping to enhance his appearance, is the face of an angel that would make anyone stop to catch their breathe. When he walks, he glides along the ground, keeping his eyes focused on the ground. As far as his clothes go, he wears a cream colored, baggy blouse with black tights and black dance shoes.
Personality
|Sensitive|Cowardly|Elegant|Shy|Broken|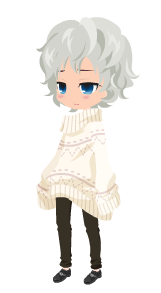 Likes
*Dancing
*His Teddy Bear
*Leo
*The Wooden Swing on his Big Oak Tree
*Dream Catchers
Dislikes
*His Differences
*Rejection
*Being Used
*Being Alone
*The People his Parents want him to be
I would say I got a lot of inspiration to create Bo after reading the book "The Thirteen Reasons Why" by Jay Asher. This book is so emotional. It brings me to tears every time I read it. It's basically how a few little things can all create bigger things to happen, and these few things can really break someone down until the point where they don't want to go on anymore.
1 Year in the Future
Since Bo is an extremely quiet character, I thought I'd share pieces of his journal to give a deeper aspect of the true Bo. This can be found in bold.
A tiny grey dog runs through the halls of the dance theater, barking and sliding across the wooden floors. Finding who he was looking for, he barks louder and jumps onto a young man, hoping to get his attention. The man looks down, tired from sleepless nights, and gestures towards a door across the hall. The door is slightly ajar and as the dog approaches the door, he can hear muffled sobs coming from inside the room. Pressing his head against the door, he slowly pushes it open. The light from the hall slices through the darkness that consumes the room. The light barely touches the feet of a young boy crumpled in the corner. The boy presses himself farther against the wall, moving away from the light and burying his face in his hands. The dog stands motionless in the light, trying to adjust his eyes to the darkness to unmask this mysterious boy.
The room is soundless. Nothing can be heard but the scratch of the little dogs nails on the hardwood floor as he cautiously approaches the boy. The muffled sobs grow louder and more distinct as time passes within this room. A women peeks her head in the door and seeing the boy, mumbles something to herself and closes the door, leaving the inhabitants of the room in darkness. The boy shudders and continues to sob silently. He holds his knees close to his chin, hiding his face from the world, wanting nothing more then to forget everything that has ever happened.
A tiny teddy bear lies beside him. The bear had managed to survive so many nights of terror, providing the little boy with comfort when the dog was not there. Sadly, it looked like the bear's comforting days were over. It now lay on the wooden floor, ripped apart, surrounded by it's own stuffing. The cause of death was clearly a wave of panic and terror. The little dog knew this routine too well and finally concluding who the boy was, he made his way over to him. He knew this boy to be his master, Bo. The dog nuzzles his master. Bo lifts his head from his knees and pulls the hair out of his face. Through the dripping mascara, he forces a smile and pulls the dog towards him.
He knew this dog to be Leo. He was the only reason he was alive. Knowing that he got to be with him made it all better. He set him on the floor next to him and slipped slowly to the ground, lying on his side and resting his face on the cold, wooden floors. He peeked down at his once cream colored blouse to find it was now spotted and stained with the mascara he had hoped would make him a new person.
The music from the dance recital seeped into the room, adding to his pain and discomfort. The boy slowly slid down to the floor, pressing his face against the cold wood. His tears built up in his eyes and ran sideways down his face, making new lines and landing in a puddle on the floor. He slowly slipped away into a better world, where anything he wanted could happen, in his dreams. He had cried himself to sleep every night that week. Leo, knowing many more nights like this would come, he pushed himself up against Bo's stomach, curling himself into a ball and sighed. If only Bo wasn't taken advantage of so much, maybe he could have a normal life, just like everyone else.
Chapter 1 (Present)
Dear Journal,
People have always said I was a gifted since the day I was born. Dancing came easier to me than to most people. I was able to kick higher and spin faster than anyone in my class and when they promoted me to the top dance class at the age of 10, I was scoffed at and ridiculed for being younger than everyone else. They would torture me and trick me by stealing my things and locking me in the custodian's closet in the studio. They didn't respect me. To them, dancing was a joke. I was a joke. But to me, when I dance, everything seems to make sense. When I'm leaping across the stage I can feel every emotion there is to feel all in one moment. I can relate to every single person in the world in that one movement.
But it's quite strange because even feeling all of those emotions, I feel as though none of them are my own. I get a sense of numbness after walking off the stage, as if I left myself laying out there in the spotlight. I forget about everything that would have tormented me that day, no matter how great the pain, and I wouldn't feel it anymore. But as soon as the adrenaline wore off and the spotlight was turned off, I would start to become myself again, feel myself again. It's hard to leave the stage sometimes because I would just become myself again. I don't want that. I want to stay that graceful dancer, leaping-no flying across the stage.
So they can torture me for as long as they'd like to, but as long as dancing continues to make me someone else I will continue to do it. I will never let that go.
Forever your's,

Poetry
When you are scared, the world will keep turning
When you are mad, the world will keep turning
The world stops for no one, no one single man
And when something is wrong, alone you may stand
People can crush us, can bend us, can break the strongest of bonds
But by the end of the day, the world is still turning, still pulling us on and on
Fan Art
Gorgeous by emptyandamazing

Thanks so much Kat! He's adorable!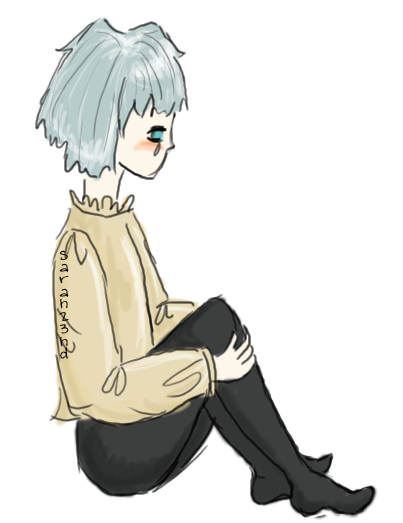 Thanks so much dear Marie! Gorgeous!

Gorgeous! Thanks so much!

Aww Crow! He's so cute! Thanks so much luff!
Feel Good Moments!
These were all comments about the application and this page. Enjoy!


Fan Club Shout Outs!
Awards
Link Back?