Link Back Buttons






Click on the button to view the creator :)




Banners




How to use

Right click, select "copy image url," or "copy image location."

Paste it in the textarea where the other image url is (or change the number 1-64).

Copy and paste where ever you want it to link back!





Other Doodads



Resources




- texture auroria
- texture swimchick
- brush swimchick
- brush big-rock-show
- pattern 77words
- patterns sprinklesparkle
- patterns wingsdesired-psp.deviantart
- images scrapbook factory
- silk textures websoulz
- images neopets
- swf Background Bonanza
- search Jellyneo Item Database
- swf Dress to Impress
- program Corel PSP X

* Layout Designs Simple and Fly


FAQ


Can I mail you?
Yes you can! Especially if you have a question!

Will you make me a custom layout?
Sometimes we will do this, but most of the time we don't have the time. We will ALWAYS take ideas on what you think we should try and add next, but we may not always be able to make you anything specificly "custom."

Broken Coding
If you ever encounter anything of ours that is broken please let us know!

Will you code / fix someone elses layout for me?
Im sorry but we don't code anyone elses lookups or fix anyone elses coding unless something of ours broke it! Its too hard to try and understand everyone elses methods. :)

Can I use your stuff with other peoples stuff?
Yup! So long as you give us and them the proper credit we don't care where you use it or how you use it!



Rules


Credit:
Credit is required with a link back to Silent Serenity homemage (www.neopets.com/~tines) when using ANY of our premade content.

You may not:
- Use any of our content to make premades or customs for other people.
- Take the coding from other people who have edited something of ours to their own tastes.
- If you have to view source to get content its not ment for you.

These rules have not changed, they have been the same rules that we've always had.

Summary:
Credit with a link back is required. If you have to view source to get content its not ment for you.



Your Spotlight Wins
If you have won or been featured in a Silent Serenity spotlight you can grab a thank you trophy/badge from here!
(We will work on many different styles in the future as well)




Our Spotlight Wins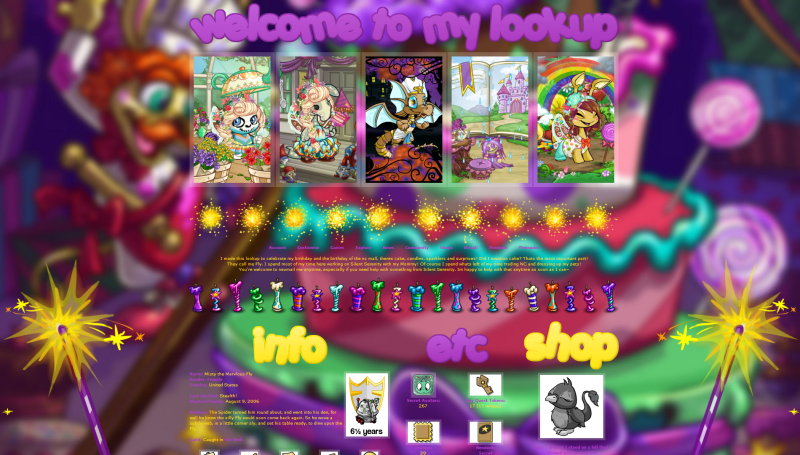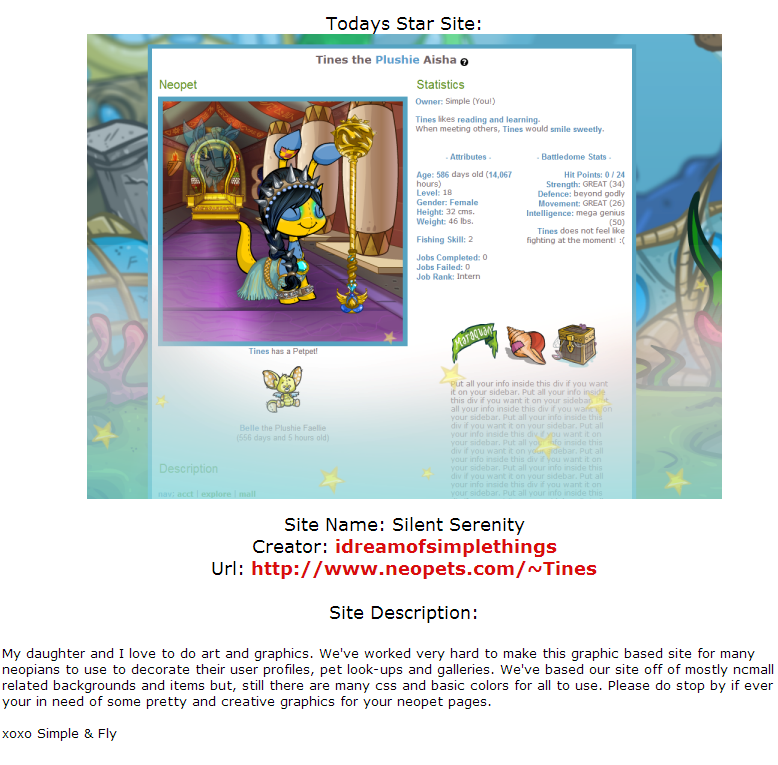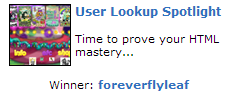 Previous Layouts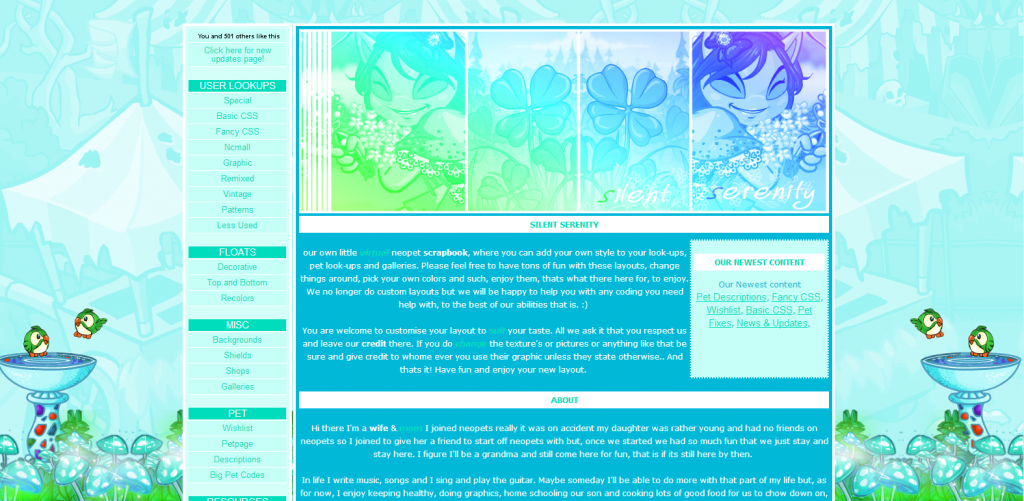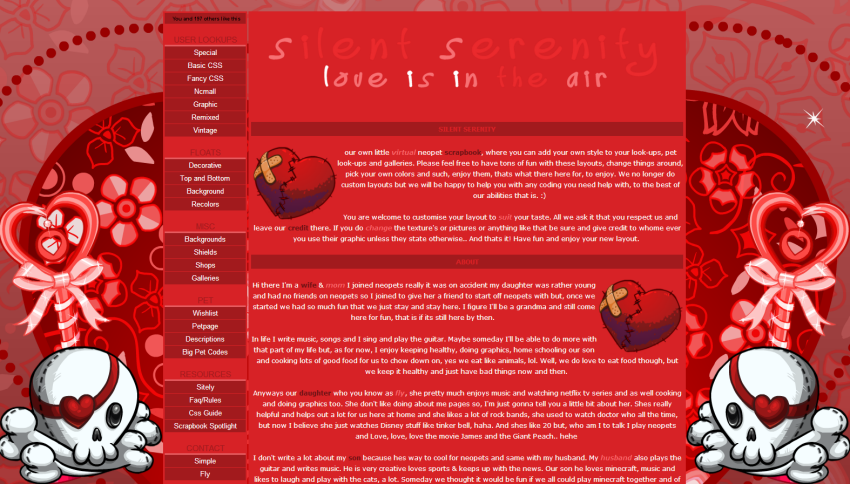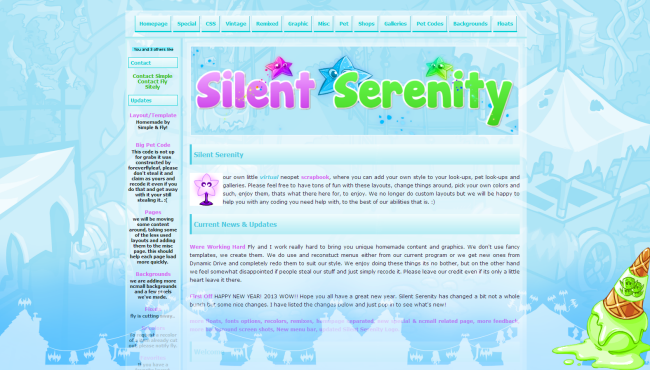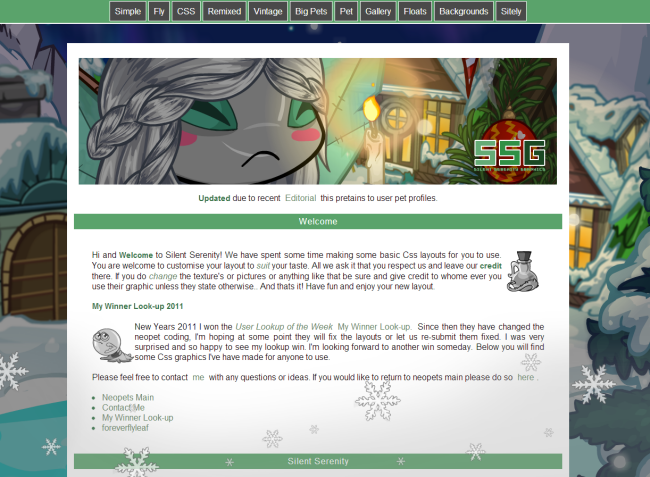 Page Credits
Credit:
idreamofsimplethings and foreverflyleaf

Contact: Simple, Fly

All content made by us unless stated otherwise Silent Serenity.

Resources:
- Texture Swimchick
- Background by Bonanza
- Envelopes and bullets by Roo
- Divider, buttons, textures and closed sign by Bedazzled
Rules:
Please do not remove credit, it is required when using any of Silent Serenity content. If you mix multiple things from Silent Serenity only one link back is required. If you use other peoples content with Silent Serenity please credit them. If you edit Silent Serenity content we still require a link back, you may say "base css," or something similar. Please link to the homepage, as we may trade pets from other links at anytime.

EDIT TO YOUR HEARTS CONTENT! ♥ HAVE FUN AND ENJOY! ♥