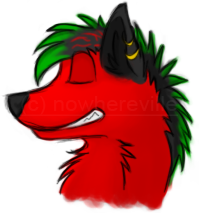 Stats
Name:
Benjamin Xavier Rudel
Nickname:
Bex
Gender:
Male
Pelt:
Red with black tipped tail, ears, and toes
Hair:
Black with green outline and red streaks mane/mohawk that goes to about his shoulder blades.
Eyes:
Green with red flecks
Clothing:
Plain, black shirt and camo cargo pants
Accessories:
Two gold earrings in left ear, studded(not spiked)green collar and wristbands
Love:
Ryt :3
Other:
Colorblind, Loves coffee.
Story

~*~

Love
I'm not one for lovey speeches or anything so lemme just say this: I love this guy x3 He's the peanut butter to my jelly.

~*~

Friends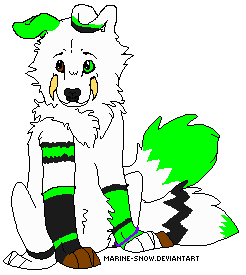 Sirytae- Nyaah. Rytty nit wit. What to say, what to say... Heheheheh. It's alot of fun bein' around him. We're so.. evenly matched in complete spazzy obnoxiousness. It's great... Though I say I'm more hyper than he is. *smirk*
~*~

Customs

Toys x3

Link?
NEOPETS, characters, logos, names and all related indicia
are trademarks of Neopets, Inc., © 1999-2013.
® denotes Reg. US Pat. & TM Office. All rights reserved.
PRIVACY POLICY | Safety Tips | Contact Us | About Us | Press Kit
Use of this site signifies your acceptance of the Terms and Conditions