A plump baby Aisha scampers up to you in a frenzy of
excitement, kneading his paws into the ground with joy at
your arrival.
ʺHi, I'm
Beinx
! Welcome to my playroom!ʺ


I like pink stuff. Oh, like my pink blankie! And my pink soap for
bath time! Everyone laughs at me, I don't know why. Sometimes
people pinch my cheeks and ask me if I'm a girl. Well I'm
not
!
| | |
| --- | --- |
| | Oh! That's where my pacifier went to! I was lookin' for that. Mama says it's my... prized posie-shin? Somethin' like that. I take it everywhere. ′Specially during naptime. Mama says I have to give it up sometime, 'cause big boys don't need pacifiers, but maybe she'll let me keep it just a little longer. |
| | |
| --- | --- |
| I see you've met Blankie! He's my Hopso. He always goes on adventures with me if I get too scared. I know what you're thinking, his name is kind of silly. When I got him, the only word I could say was "blankie", so that's what I started calling him. He doesn't talk much, but he's my best friend. | |




I love to eat. …Hey! What do you mean you can tell? My teeth are still coming in, so I can't eat that many solid foods - yet! I will eventually! But until then, there's still plenty of goodies for me to eat. I don't always just eat mushed peas and carrots, y'know. Those are good, but I get kinda tired of 'em. Here, let me show you some of my favorite foods!
| | |
| --- | --- |
| | Popsicles are a great mushy snack! It's even blueberry flavored, too. They melt sorta quickly, so you have to eat 'em a little fast. Sometimes that makes my head hurt, though. But look! The little gummy candies make a face! |
| | |
| --- | --- |
| | Plusher's a great baker. She makes all sorts of stuff. If I ask real nice, she'll make me something to snack on. Usually it's healthy stuff, but sometimes she'll sneak me an uneaten piece of pie. She makes my lunches a lot, and even arranges the food like a face! |
| | |
| --- | --- |
| | Uh oh! Um, this one fell on the floor… There's always the five-second rule, right? Ten-second rule? I'm sure it's fine. |
Of course, every baby likes to play. And this
is
my playroom, after all. All these toys are mine! Well, it's not like I don't like to share, but sometimes I just get so excited. Do you want to play with some of them with me?
| | |
| --- | --- |
| Maybe you can help me solve this puzzle. I'm having trouble finding the last piece. The cool thing about puzzles is seeing what they turn out to be. This one's a Negg! At least I think it is. That just gets me every time. | |
| | |
| --- | --- |
| Oh! Oh! If you wind this one up, it zips around the room! It even makes this cool "whirrr" noise and plays music. But uh, what's a bus? | |
| | |
| --- | --- |
| Hahaha! I love makin' this guy do funny stuff. See, you put your paw inside here and wiggle it around! Oh, but uh, don't tell my mama how puppets work. I don't think she knows that. | |
A lot 'a people ask me why my cheeks are so rosy. I don't
know, but it's not because I put on any blush, so stop asking!

This stuff makes me sneeze.
Mama says I'm shy, but I think I'm tough! One time,
I even got into one of the fights at daycare.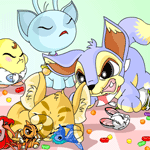 ...But I didn't do so well because I'm still small.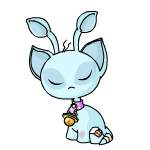 Maybe mama needs to train me...
Look, here are some pictures of me with my friends!
(Drag to your address bar to see full view!)


This is me with one of my friends, Twigs. He can do magic an' stuff! I think that's pretty neat. Mama says we were causing a ruckus. I don't know what that means.




Mama drew this one of me! I love all creatures big and small.




Look, it's me with my friends Overindulge, Twigs and Mewmew having a party! We're wearing our fance tops.


I'm also part of the
Baby Aisha Party
! Huh? You don't know what that is?
It's a secret club with all my friends! Oh, I guess it's not so secret anymore...
Bea
is one of my best friends. Her mama is friends with mine, so we see
each other all the time! Sometimes she even lets me play with her Snuffly.
---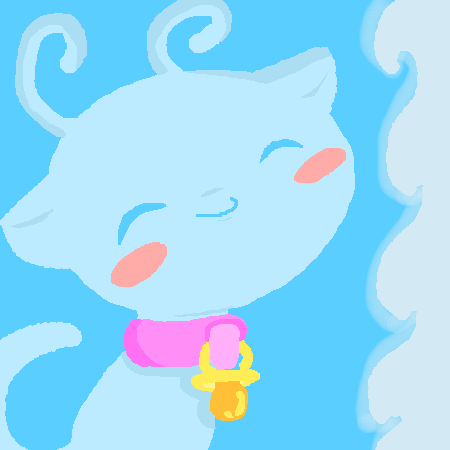 Look what some people drew just for me!
(Drag to address bar for full view! Hover for name!)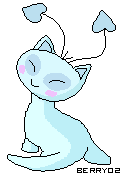 I snagged some mini versions of me!

I won the
site spotlight
on
May 9th, 2013. I'm a celebrity!

I'm a star! I made my first appearance
in the
Neopian Times
in issue 597!
Thanks for coming to play with me! Sorry to say bye so soon,
but it's just about nap time. I want to be rested for when I go
and play later. I'm starting to feel a little sleepy, anyway.
Maybe tomorrow we can play again.