Should I say welcome? Is that appropriate? Oh man, you're like, not going to feel welcome unless I do. I mean unless I say something.
Oh my gosh what am I saying like you don't need me to feel anything!! You are a capable human being! Oh man what am I saying, like, I'm just like assuming you identify as a human oh man I'm so sorry like so sorry.
......
So like...hey I guess. I'm Baylorr. This is my page. I guess like you can click wherever you want to like go wherever you want. There's not much here. I mean. It's ok. Most of it is like from 2006. Too lazy to change stuff.
...............
Ok well uh bye have fun and stuff.



Name// William Baylorr
Nickname// Baylorr, Bay, that guy
Gender// Male
Age// (Quad) 3 (anthro) 17
Species// Kougra/Zombie
Love// :/
Siblings// Kevrane, Daull, Yilth
Friends// Emma, uh.......that's it.
Pack// None

Chillin
Emma
Sleeping under beds
Palz
Not getting punched in the face
black
Easter (yo i love chocolate so)
Sending chain messages

Battledoming
Getting punched in the face
Getting really dirty
fighting video games
sleeping on beds
people who like, stare at you
fibbers
weird stale smells
Ok. These are like, people I know. Some are cool, like, some kind of not. But like, they're all here. Here is where you'll find them. Yeah. Cool.
| | |
| --- | --- |
| | Okamish adopted me in like 2006? (2005?) no one knows really. I think it was 2006. My memory is like whoah. UH she's cool...I guess...not really...I mean...she's in college. And still here. On neopets. Like I think we'd be ok with out her but like she won't go. She's 21!! She could be in a [milk] bar getting her drink on. But here she is. Ok. |
| | |
| --- | --- |
| Daull is well, not my sister, but she lives with me. What can I say about her. Sssheeee's...uh, clingy. VERY clingy. Like, sometimes-i-want-to-strangle-her-but-i-can't kind of clingy. At least I know she cares about me. | |
| | |
| --- | --- |
| | Kevrane is My other older brother. He's...nice...I guess...he's pretty nice to me and doesn't bring up anything. Yeah! He's a great guy. He has told me he gets a little peeved when I send him chain mails. That hurt my feelings a little bit. I just don't want to die tomorrow at 11pm by a girl in the closet or whatever. |
| | |
| --- | --- |
| Yilth is actually kind of horrible to me. Like he's really mean. LIKE this one time I was having a LEGIT panic attack (like a LEGIT one) and like he told me to grow up. THAT is INSENSITIVE. And it HURT me. So. Yeah. Not cool. | |
My story.
If you didn't figure it out yet, I'm dead. Yup. "No longer with the living" Or whatever. But I'm not a ghost. I'm a zombie! That's never been done before, right? Zombie? It was totally original in 2006!!!!!! Like the text on this page!!!!!!!! I'm going to keep it the same because I am so lazy!!!!!!!!!!!!!!!!!!!
| | |
| --- | --- |
| | Oka only recently found out, and as soon as she did, she researched my old name on Google, and I was born in 1845. I was a carriage driver for a very rich neopian, or so it said. I lived a fairly normal life until one day, October 24, 1862, I was driving My master to an old friend. It was about 7:00 p.m, so it was pretty dark, being in in late fall. I sat on my uni named Barbarro, but I was getting a little nervous. The wind howled through the tree branches which stretched past the eerie, red-tinted moon. Suddenly, my Barbarro flinched. He stopped short with fear. |
| | |
| --- | --- |
| What's wrong, Barb? Is something wrong?" My sir peered out of the carrage. "Why have we stopped, boy?" "Sir, my Uni seems to have stopped. He seems frightened...I'll try to get him back on track, sir." As he sighed with annoyance and pulled back to his seat, I pulled out a carrot. I jumped off of Barbarro and went to his front. He was a large, brave uni, and fear was rare to him. "Heere boy. Steaaady boy." He wouldn't budge. His eyes were dilated in shock. "Barbaro? What is it?" I looked behind me, and a tall, lanky figure shadowed over me. I tried to run, but he grabbed my shoulder. "SIR! HELP! PLEASE!" But my master was already gone somewhere in the woods. I didn't want to look at the thing behind me, And Barb was still looking behind me. I was shaking and sweating with fear. I felt the grip tighten, and soon, my feet weren't on the floor, but floating. I was being carried, but in mid air! The figure was flying! It's long, sharp claws dug into my arm as we went. Soon, we stopped, still suspended in air. And I was let go. I dropped, 30, no 50 feet to the floor. And it went black. | |

It was rumored in the town near that I had been kicked in the head by Barbarro. Some children daring each other farther and farther into the woods found Barbarro, whinnying and my body on the wet ground. I was buried in the town graveyard.

Also, some people said my spirit wandered the town, looking for a new job or something. That's all lies. I would have known that! Like, about one hundred years later, some crazy guy came and uncovered my coffin cause my spirit was "bothering" Him. Whatever. So I had to do something about it. I don't know how it happened, but I got up. The man went out cold, but I dunno why. I shook myself off, took a bath at a local inn, and went on my way. The police or something caught me and put me in the pound. Ugh. But Oka got me. And that's why I'm here today. But I still don't know who that figure was....

E M M A
Warning. This is another ancient story (2006 is ancient I don't care what anyone says). SO yeah. Doesn't make much sense. Because 2006 was a confusing time.
We live in this long house. And there's a corridor. My room is on the right side, but there was this door directly across from me, and Oka forbade me to open it. It was always locked. I got a little nervous every night to pass it.

Then, one night, I was woken by this bell ringing. I was /really/ freaked out, but when I heard it was coming from the locked room, I got even more freaked out. But then I heard Oka calling me. I gathered up my courage and opened the door to my room. I was frozen in fright when I saw the locked door open. I didn't move and my fur stood on end. There, in the doorway, something was floating there. I didn't utter a noise. It saw me and disappeared. I ran back into my room, locked the door, and hid under the bed. I was shivering like a crazy thing. But the bell kept on ringing. Night after night.


Until one evening, I crawled under my bed (I had been getting into a habit of doing so) When I heard a knock at the door. 'THE GHOST!! THE GHOST!! IT'S COMING TO GET ME!?' I thought to myself in horror. Then, I heard a ringing of the bell. I put my paws over my face and winced. "Baylorr? You in there? I gotta surprise for ya!" Said Sora's voice. I breathed a deep heavy sigh and came for the door.
There was Sora, and to my complete horror, the ghost next to him, bell ringing and all. 'SHOULD I WARN HIM!?' I thought, almost out loud. "S-s-sora...look next to y--" "Baylorr, I brought you a new buddy! She was wandering outside a few nights ago, and I felt bad for her, so I let her in. Can she stay with you?" I was dumbstruck. "With ME!?!?" I said to him. He looked a little offended. "well, she can't stay with Kevvie, 'cause he's got Shia, and Me an' Honey would forget to feed her all the time!" Ghosts don't need to be fed I said in my brain, and then I exhaled a large sigh. "Ohkay...give her to me."
So I decided to name her Emma, after some famous ghost story I once read. She sometimes keeps me up ringing her stupid bell, and I still sleep under my bed. That is the story of how I found my petpet, Emma.
ART
Art by Okamish. Some of this stuff is older than time itself (2006) (click and drag to url to see whole pic) Art is sorted from oldest to newest, so all the really awful stuff is the first stuff you'll see.

Art by others. YOu are all the best in the world. (click and drag to url to see whole pic and hover to see the artist) I'll love you forever if you draw me fanart. (that was written in 2006, I promise. Ancient.)

Okamish's Kougra Adoptables


While you all are waiting for the actual petpage, I just have some adoptables for you. READ THE RULES. I know if you've read the rules, so follow. Okay? Okay. Lots more coming soon.

1. DO NOT REMOVE MY NAME/LINK AND CLAIM THEM AS YOUR OWN AND/OR CHANGE ANYTHING. If you do that, you're just dumb. And stupid. So don't. I'll find out.
2. DO NOT ENTER THESE IN THE BEAUTY CONTEST. I look at the beauty contest to vote all the time, so I suggest you don't.
3. If you want a custom, neomail me politely with this form. (Title the name of your neomail KOUGRA ADOPTS.
NAME OF KOUGRA- _______
REFRANCE _________
RULES CODE- _____________
The rules code is this. "Adopties, Real Horror Show :k"


That's it! Enjoy! NO REFRANCE, NO CUSTOM.

STATUS
requests-O P E N
trades-O P E N!

Normal Colours. C: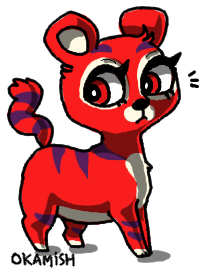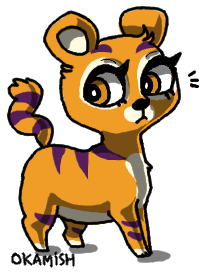 Customs~!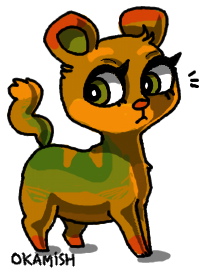 Riykou
Mini me's

Most of 'um are makeables. D: If you have any custom kougra adopts open, feel free to neomail Oka! Please? xD
So I guess this is the end of this petpage. Short and sweet, right? Right? I am sorry. This didn't meet your expectations at all. I am sorry. I'm so sorry. I feel terrible. Like really terrible. Oh man. Oh man. I can't breathe. I can't breathe. Ok. Breathe. Ok. Whew. Oh man. I'm a failure. I'm a fai-HUFF- failure. I'm sorry. Don't...hate...me...