N00bs vs. Newbies
By Bunun224
(aka middle_rose)
It has been brought to my attention that there is a bit of confusion as to the difference between the terms "n00b" and "newbie". Hopefully, this quick guide will help you to understand just that.
I believe (somwhere) in the Neopets FAQ (I'm looking for the link to it), it says that "noob" is another term for "newbie". While some people do use the two interchangably, that is not always the case.
Quick Links
What will get you called a n00b?
Spamming
Begging
Stalking
Other Stuff
Link Back
More Help
Affiliates
Awards
newbie (noun): Someone who is new to Neopets and maybe still doesn't understand certain aspects of the game.
Example: The newbie didn't understand how to feed his pets yet.
(Also see "new", "newbies" and "newb".)
n00b (noun): Someone who purposly defies the Neopets Terms and Conditions for the sake of "entertainment" and annoying others.
Example: The n00b wouldn't stop begging for Neopoints.
(Note: "N00b" is spelled with zeros (0) not O's.)
(Also see "n00bs", "n00b-ish", and "noob")
---
What Will Get You Called A N00b?
Sadly, quite a lot, but the things that will get you called a n00b are things you shouldn't be doing anyway.
spam (noun): 1) Litterally stands for Stupid Pointless Annoying Message. Off-topic boards with little to no purpose or reason other than to attract attention and annoy people.
Example: The topic the girl made about what to feed her cat for dinner was spam.
(Also see "spammer" and "spamming")
Sadly, not enough people stay on topic on the Neoboards. Please note that only Neopets-related topics are alowed on the Neoboards. Any other topic is against the rules and is reportable.
Example(s)
The folowing are examples of spamming: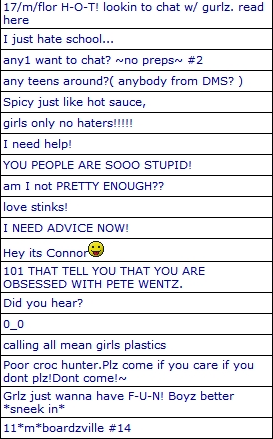 I really wish I had better examples, but this will have to do for now.
---
begging (verb): Asking people to give you items, pets, or Neopoints.
Example: The begger wouldn't stop asking him to abandon his pet.
(Also see "beg" and "beggar")
Begging is, of, course, easy to spot. Anyone asking "Can I have--?" or "Will you give--?"... But also, this like "Is anyone pounding--?" or "Are you willing to pound--?" is begging too. And flat out saying "Give me--!" is begging as well (not to mention just plain rude). Pretty much asking for anything is really considered "begging". And, no, smart one, asking for help isn't begging, but there's a fine line between the two at times. For example, if you're on a Faerie Quest and can't use the Shop Wizard, asking for people to post the names of shops that have a certain item is not begging, but asking people to just give you the item you need is begging.
Example(s)
I couldn't seem to find anyone begging for items, so here's people begging for pets instead...



(Their title is ironic, no? (Bring me the n00bs) And it wasn't edited either...)
(Please note that their siggy is also against Neopets rules as it suggests trying to start a relationship.)
This is a Neomail I recieved, I just blocked out the pet name for reasons even I don't understand.



Maybe I should unblock the name..? Oh, what difference does it make?
And here's someone begging for Neopoints



There's a magical button between "Explore" and "Neomail", it's called "Games". That's where everyone else gets their Neopoints. Well, that and restocking...
---
stalking (verb): Sending annoying Neomails, random Friend requests, and countless Guid Invites to and making boards about someone on Neopets, especially someone you don't know. (This may also include sending tons of random, worthless items and Guild invitations to the pereson as well.)
Example: The n00b wouldn't stop stalking the other player because she thought he was "cool".
(See also: "stalk", "stalked", and "stalker".)
Stalkers aren't as common as they used to be, but their out there. Of course, they really don't pose any threat to you as a real stalker would, but they are annoying. They may send annoying Neomails to someone such as "OMG l1k3 ur 50 c00l! l37 m3 b3 ur n30fr13nd!!!" and for those of you who can't read that (I barely can), it says "OMG, you're so cool! Let me be your Neofriend!!!". Stalkers will also send random Neofriends Requests over and over until you block them. But then they usually make a new account and come back anyway. The same goes for Guild Invites. This is especially annoying when you are already in a Guild, or have somewhere on your lookup that you specifically do not want to join a Guild. Stalker's boards will consist of titles stating "-insert person's username here- PLEASE COME HERE!!". Quite annoying, not to mention pointless as they clog up the boards for people who are really there to use them. Sometimes they'll also send "cool" people tons of worthless items such as Pile of Dung or Soggy Old Box.
Example(s)


Thank you so much madzybella for letting my use your excellent screen shot!
(Name left with permission.)
Check out her awesome screenies here.
Conclusion
Well, that's about it! Neomail me if you have any more information. And be sure to link back!


Extra N00b-be-Gone
Because we all know we need it...


N00b -b- Gone
Tons at hand
Cost: N00bish behavior

N00b-BeGone Super Spray
Not Enough in Stock
Cost: Free
Go here for more help about Help Chat etiquette!

For more help (specifically about guilds) click here:

For newbies that would like help with their sick pets, check out this page!:

Affiliates
I am linked in these amazing Petpage Directories.