When you discovered the cottage, you weren't entirely sure what to make of it.
It appeared empty and abandoned from the outside, but from the inside there were noises that sounded like someone was clumsily crashing around in a kitchen. Lots of metal banging noises and small explosions, as well as a feminine screech accompanying every clatter of pots and pans.
You lurked around the outside of the cottage until one of the explosion made the door burst open. An open invitation, wasn't it? You silently crept forward, sure that you wouldn't be noticed in the constant clatter of noise going on in the cottage.
You were right, if it wasn't already plainly obvious. The cottage was not as empty as you'd thought. With the door open, you peak in and see a small kougra girl with wild, multi-colored hair. Her skin was multi-colored as well, striking you as quite odd. Who was this girl, and what was she--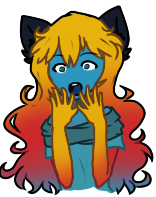 EEEEEKK!!
A shriek and another, much larger explosion interupt your thoughts about her odd coloring. This explosion is so massive that it completely knocks you off your feet, crashing you to the ground.
When the dust clears and you manage to open your eyes, you see a yellow hand in your face, holding it out as if to help you stand back up. Your eyes focus and you see the brightly colored girl standing above you, smiling somewhat nervously down at you.
Sorry! I didn't expect anyone else today.
She says, and you hesitantly take her hand and let her help you to your feet. She's rather short and thin, but manages to pull you to your feet without tripping over herself. She looks at you with another innocent smile.
I might not look like much, but I'm the best witch in the area. So if you're looking for some magic, you're in the right place! Welcome to Azulieya's Magical Emporium of Baubles, Spells and Potions!
If she's the best, you'd hate to see the worst.
Name
: Azulieya
Nickname
: Az
Gender
: Female
Species
: Kougra
Color
: Eventide
Occupation
: Witch, Shopkeeper
Abilities
: Can mix potions as well as do simple spells and general magic. An obvious amateur, her potions are not all that potent and are generally one-time-uses. She is prone to accidently causing explosions while trying to cast her spells.
Personality: Naive, trusting and clumsy, Azulieya is a child that never quiet grew up. Living her life off in an abandoned cottage in the woods wasn't a great one for life experience, leaving Az too trusting and far too gullible. She tries her hardest to be independent, but she's too absent-minded and clumsy to really do much on her own. She is capable of running her rather run-down "shop", but her ambitious idea of a grand Emporium is out of her reach. For now, anyway.
Azulieya is adept at magic, but she's careless with it and often messes up due to her own inattention. There is a lot of power within her, but she's unable to really tap into her full potential. She isn't unintelligent, but Azulieya has difficulty focusing and actually putting her mind to work. She's a bit of an airhead. She's used to her simplistic life and isn't good at adapting to other situations.
Curious about everything, she has a constant amount of questions on her tongue, asking them to whoever she thinks might answer her. Despite her naivety she has a desire to know what's going on around her, and will ask question after question until she understands. She's tactless and doesn't understand when she's being annoying, and she can't read the atmosphere of a situation very well.
ADOPTABLES
These are what you're really here for, aren't you? Sorry for the mess, I'm still renovating! You're going to want to go here instead.