F11 for full view | Firefox, Chrome, Safari | 1366 x 768 or larger

The House of Dust by Conrad Aiken

And we recall, with a gleaming stab of sadness,
Vaguely and incoherently, some dream
Of a world we came from, a world of sun-blue hills...
Once upon a time, there was a mountain range far, far away. Cold and silent, it sat as it had for many thousands of years. The god of the granite mountains slept as well, underneath the perpetual snow blanketing the craggy peaks. And for many, many thousands of years, the earth was silent as she slept. Even when time marched forward and the rise of man and technology came about, it was yet far away, and so while black smoke filled faraway skies, she still slept.
With the rise of man came the death of many gods, their land and power stripped by steel and fire. Their bodies became part of the earth, and only an echo remained of them, small spirits scurrying like common animals. But even with this, her cold mountains were still strong and solid, and she had no reason to wake.
One hundred years passed. The rest of the world was full of iron and smoke, and eventually it even reached the high pure air of the mountains, making the white snow bitter and gray.
And so Avnitia awoke to a dark and dirty world, completely alone.

Name: Avnitia
Nickname: Ava
Title: The Sleeping God
Territory: Northern mountains
Age: Several thousand years, at least
Animal species: Snow Leopard
Height: Two and a half feet
Length: Six feet (including tail)
Markings: Four white "eyebrows"
Irises: Pale purple-blue
Hair: Gray-blue
Skin: Tan
Human height: 5'7"
Companion: Ana the Snowbunny
Friends: Aldena and Embarrass
In the past, many hundreds of years ago, powerful gods walked the earth. The gods of the sea, of the sky, of the deep earth, of the forest, of the mountains. The mere humans' lives revolved around the gods, their prayers and their everyday lives. But with the rise of man's metal and fire came the god's deaths as their homelands, the source of their power, were destroyed by axes and poison and fire. Before then, the gods were so powerful they could walk as both humans and animals, but with their homelands destroyed, their power was reduced to that of animals, only the mere spirits of the deities they had once been. The spirit deities fled to areas yet untouched by humans, which grew smaller and smaller in the years following.
Avnitia, the god of the mountains, slept in the snow-covered peaks, unaware of all this in her innocent slumber. Until it came to the time that man's progress even reached the other side of her mountain; then she awoke, the last remaining god.
Because her power is still full and pure and untainted, Avnitia is able to take both the form of a human and a snow leopard and interchange between them. She rarely appears as a human however, since all her friends are spirit deities. She has four white spots above her eyes, another indication of power; the spirit deities only have two "eyebrows".
The villagers in the valley below call her "the sleeping god". This is because in their folklore, there have been those few sleeping gods who sleep for centuries at a time. Then, seemingly randomly, they would awake and walk the earth once more as full gods. But equally randomly, they would fall into slumber again, sometimes only days after they had awoken. This strange behavior akin to narcolepsy is rare even among the gods, and is thought to be a kind of survival mechanism, since gods in this deep slumber cannot be harmed, even if their land is destroyed.
Most interestingly, Avnitia does not sleep normally as living beings and gods do. She may doze, certainly, but unless she is in one of her coma-like slumbers, she does not fall into a true sleep.
Her time in the world of mortals is limited, however; sooner or later, she will fall into slumber again, unable to be woken. It could happen anytime; tomorrow, next week, in a year, in four centuries.
Avnitia is quiet and slightly eccentric, shy although not afraid of new things, since she has no prior experience to make her afraid of anything. Because she's always slept in her own world, she's unsure of how to relate to others and because of this can find it difficult to understand even her closest friends. Even so, Avnitia is very observant and sensitive to changes in others' feelings, even if she lacks the experience to understand them.
While Avnitia enjoys the company of others, she tends to naturally keep things to herself, to listen rather than speak. She's a bit stubborn and likes to do things her own way and does what she must to get things done. She's extremely honest and sincere, however, and she does what she believes right.
Avnitia's personality has slight nuances based on the season, as well. She's slightly more shy and reserved in the winter, cuddled against her beloved mountains — in fact, it is nearly impossible to talk to her during the winter between this shyness and the frequent snowstorms. However, during the summer the warm sun and flowers bring her out into the open. Other than summer and winter, though, Avnitia doesn't differentiate much between seasons. To her, it's either one or the other, like a change of summer or winter coats.
She regards the mountains very seriously as her home, protecting and loving like a child to her mother. And in many ways she is the child of the mountains, for she could not exist without them.



Likes

Snow
Solitude
Silence
The mountains




Dislikes

Pollution
Loud noises
Surprises and tricks
The color red
sleeping spring
She slept. It seemed that there was never a time when she wasn't slumbering, when the slow rise and fall of the land was nothing more than a lullaby to her. She was far from dead to the world, though. Every movement of the earth touched her in its own small way. She trembled when the first craggy sharp mountains arose, and yet felt powerful at the same time as they burst from deep within, red hot and passionate. In a heartbeat, she met the air, and cooled, settling into the sky. For a while, she was still.
When the implacable moving ice ground down the edges of the cruel peaks, she felt her ferocity wane as well, and become something a little gentler. She felt the sheets of ice marching southward still, trembling all the while, and when they settled for a time, she felt relieved. But in just a moment, it seemed that the ice was on the move again, and once more her mountains were crushed beneath as the behemoth returned to the north. Then spring came, and meltwater rushed down canyons left by the glaciers, filling lakes and rivers with cold, vibrant life.
That was the best time. She felt the snow, softly falling down on her back, and felt at peace. And something quickening too. A tingle of spring footsteps made her stir; then all at once, she awoke.
Aldena, the spirit deity of the spring forest, was the first of the spirit deities to realize Avnitia's existence. Aldena originated from a forest slightly to the south, but when her forest was burned to the ground as a result of human agriculture, she was forced to flee from her native home. On her way up to the wintry northern mountains, she felt a stirring underneath her feet, and the unmistakeable tingle which accompanies the feeling of a fellow deity. However, because Aldena could not find any hide nor hair of this mysterious deity, she went on her way, not being of the adventurous sort. What she felt at the time was Avnitia's sleeping spirit, far beneath the snow.
Years later, when Avnitia awoke, she immediately sensed the dense population of spirit deities in the valley below. Once again, Aldena was the first deity she met, since Aldena's territory was the forest bordering Avnitia's mountains.
It took many weeks for Avnitia to even approach the rabbit deity, let alone speak to her, because Aldena was so painfully shy. Once they did speak to each other, however, they became very attached, and spent all their time together. This was how Avnitia met Embarrass.


Embarrass, the spirit deity of the village and also a close friend to Aldena, lives near the human village, so he did not meet Avnitia for some time. It was only in one of his walks with Aldena through the forest that they by chance came upon Avnitia together. Embarrass, being naturally open and loving, immediately took a shine to Avnitia.
The three deities are as close as any friends can be; Aldena and Emb's inability to speak as spirit deities seems to pose no problem to their friendship. The three are outcasts from the other deities for various reasons: Embarrass has a close relationship with the villagers, whom the spirit deities fear; Aldena is extremely shy, and avoids the fiercely traditional spirit deities; and Avnitia, being a sleeping god, is an outcast by her very nature.
Avnitia's mountains keep the valley isolated and safe from the bitterly cold weather, pollution, and dangerous people. The mountains are riddled with caves, in which Avnitia likes to curl up during blizzards. The caves are caused by ice melting into small fissures during the summer and freezing during the winter, the volume of the water as it freezes expanding and cracking the rock open.
The forest stands between the mountains and the plains, and in a way acts as insulation against the cold mountains. The trees that make up the forest are mostly conifers and evergreens, trees that can handle cold climates, heavy snow drifts, and strong winds. There is little underbrush in the forest; most of it is eaten by the villagers' oxen and various wild animals, such as rabbits, mice, and deer. Regardless of the season, the forest is very quiet and peaceful. This is where Aldena lives.
The plains are much warmer than the surrounding mountains, since they are lower in elevation. Although in the winter the plains are an icy tundra, in the summer it is transformed into a beautiful landscape of colorful grasses and flowers. Emb spends quite a bit of his time here, alongside the villagers' oxen.
The pass is the only conceivable means of entering or leaving the valley; the high, cold mountains pose an impassable barrier to the outside world.
The village is in the southeast part of the valley, huddled up against the mountains. It is surrounded by a low stone wall, built centuries ago by the villagers when they first migrated to this area.
The village is in the southeast corner of the valley, nestled against the mountains. A tundra-like plain separates the village from the thick evergreen forest, and just as well; the villagers are highly fearful of anything outside their village wall. At the same time, they have a certain love of all things natural; their traditional folklore is full of spirits and deities of nature and perhaps because of this belief, the villagers possess the sight to see both spirit deities and sleeping gods. They have long known about Avnitia 's sleeping form in the northeastern mountains, and have been careful to stay away from that area, lest they disturb her slumber. Not that staying away was difficult; the villagers rarely emerge outside the village's wall, being as xenophobic as they are.
Nevertheless, the villagers revere and fear Avnitia even more as an awakened god, as in their culture all gods demand a certain measure of both fear and respect. Every month the villagers slaughter an ox as a sacrificial feast for Avnitia, which she usually eats a bit of to be polite; but being a god with full powers and a great healthy land, eating food is not a necessity for survival as it is for spirit deities, whose power is weak and not land-based. Emb, on the other hand, eats their sacrifices of stew and meat every few days with great gusto, as he is too compassionate to survive on his own by hunting other creatures. Aldena feeds herself while she wanders the forest, digging under snow for thin grass and nipping the buds off shrubs and trees.
Ana is an arctic rabbit spirit deity Avnitia met shortly upon her awakening. When she met the little rabbit, she was a very quiet, shy spirit deity. She was rarely seen and even more rarely spoken to; her shyness rivaled Aldena's. Every day that passed and her homelands far away were destroyed Ana's markings that distinguished her as a god became fainter and fainter. Eventually, the last remnants of the god spirit within her died away, and she became a common arctic rabbit. Avnitia suspects her native land was killed so completely that even after she fled, she was unable to remain being a god. She feels great sympathy for Ana, and although she is a god no longer, spirit or otherwise, she makes it a point to keep her company.
Drag images to address bar for full view.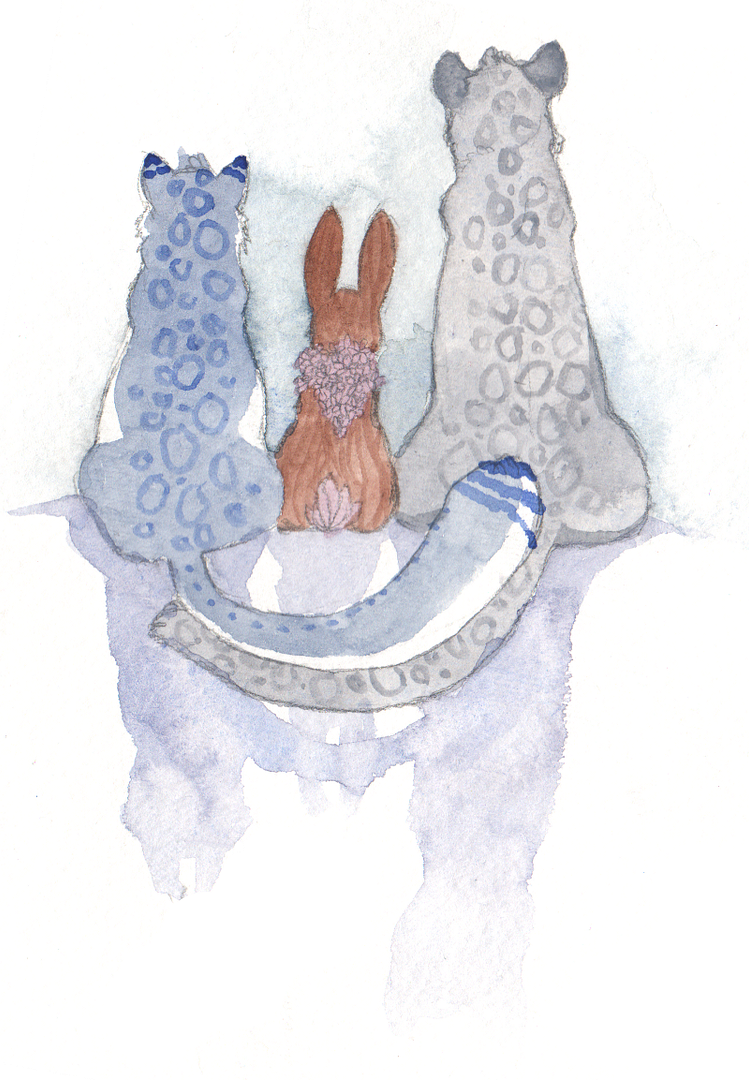 fanart

Teach me your ways, kawaii sensei.
Once upon a time, there was a cold and distant mountain range. It was quiet, and ancient, and ever so dimly aware of the snow falling on its peaks, of the trees stirring against its slopes, of the whispering wind through the valley. It felt all these things and more, and so when the mountains fell into slumber once more, it was one only filled with soft, white dreams.
Feel free to link back or mail Solo for a link trade!

Others:



☸
 Coding, art and writing by
Solo
; please do not use without permission.
☸
 Thank you
Kerry
for making me the lovely map ♥
☸
 "Quid Pro Quo" font by David Kerkhoff
☸
 Mountain watercolor texture by Enchantedgal-Stock on dA