ABOUT

-----Hey there fellow neopian and welcome to my portfolio page! My name is Claire and I have been playing neo for over ten years. I like to use this page as a way of keeping track of everything neo related all in one place. Feel free to look around and send me a neomail if you want to chat.

-----As I have stated before, I'm Claire and I am a recent biology graduate. I worked in a lab field for almost two years when I decided I wanted to work in a more medical setting. I have recently returned to school in order to for fill the requirements that all hospitals need in order to allow someone to work for them.

-----In my free time, I enjoy a large range of hobbies. Gardening has always been a great passion of mine and it is something that has brought my family and several friends closer throughout the years. I have recently taken up making pottery as well, although I'm honestly not all that good at it. :P

-----Reading has also been a huge passion of mine. Science Fiction and Fantasy are my favorite genre of novels.

-----I'm rather obsessed with sushi as well as any type of seafood. I would eat it everyday if I could afford it!

-----On neo, I tend to focus my attention more so on the creative side than I do worrying about avies and neopoints. (Although I do enjoy watching my back account grow!) Over the years, I have learned to code and create graphics which I attempt to improve on a daily.
GOALS

1.) Finish Petlookups/Petpages: This is one of my top priorities at the moment. I feel like my pets are my number one priority and they are what make the site the most fun. Therefore, I'd like to show off how much I enjoy them by giving everyone a character and story. I know my art isn't the best, but I really love drawing and making layouts so I will really have fun with this goal.

2.) Get Every Pet a BC Trophy: Again, I really love doing things for my pets. I was never the best at art so it is always a big deal to me when I can enter and win something from the beauty contest. Luckily, most of the pets that I adore aren't exactly popular for the BC. But once I begin to BC the more popular species, It's going to be a spam-a-thon!

3.) Have 15K a Day for Bank Interest: The main reason I wish to have this is mainly for stock market purposes. When it comes to making neopoints, I'm honestly kind of lazy. :P So, I figured if I can just collect bank interest everyday and then invest it in the stock market, I'll be on my way to making lots of profit!

4.) Win the Userlookup Contest Three Times: I've already won it twice, which was an awesome surprise both times! I love making lookups so this had always been a goal that I have enjoyed working towards also.


5.) Finish Gallery and Win Gallery Spotlight: I've always wanted to get in the spirit of creative item collecting. I have a feeling that this goal will take a while with all of my other goals taking first priority.

WISHLIST
Here are just some things I would like to own someday. Sometimes I forget the name of things so I list them here to remind myself.
Neopoint












Neocash












FAQ
I not normally a big fan of making this section as most days I don't have a lot of people neomailing me anyway. But, there are a few questions that I do seem to get quite often. This might save me some time responding to mail. But, even if you ask these questions I honestly don't mind too much. I'm not a mean person. :P

Did you make your lookup yourself? Yes, I almost always make my own lookup and as I have said before I really enjoy doing so.

Can you teach me to code? As much as I would love to, I can't. Most of what I've learned has been through trial and error and messing with codes over the years. I'm not a very good teacher, plus my coding skills are not up to professional standards.

Could you make me a lookup/graphic? I seem to get this one quite a bit surprisingly. I am honored that someone would like my graphics enough to request something, but I simply do not have the time to make something for everyone. I always feel bad telling people no. :(

Is Vurenia up for trade? I am afraid she will never ever ever be up for trade. If you ask, I won't get upset though. Vurenia appreciates the interest but I'm afraid that she is stuck with me!

Can I neomail you? Of course! I'm usually slow at responding but I would love to hear from you! I'd love to hear about your adventures on neo or in real life! c:


RAVUNA
Ravuna was the first pet on neo that I knew I was going to own one way or another. I love her coloring and her pose. It reminds me of a kind of fairy tale coloration. Plus I love fantasy creatures anyway.
Her form reminded me of a lioness, so I decided to make her character some sort of jungle themed big cat. Overall, I am happy with how she turned out, although I wish my poor art skills could do her better justice.
Ravuna was created the 5th of July in neo year 10. I couldn't afford a faerie paint brush at the time, but my luck had granted me a FFQ. With some hesitation I used the FFQ to paint her the lovely coloration that she is today. Some people may see this color as a 'waste' but I was and still am thrilled that I was able to paint her for cheap.
I bought her a Kimbi later despite the fact that there were prettier faerie-like petpets available. This ended up working out better in the long run because of her character.
Visit Petlookup | Visit Petpage | Mail Owner
MASIRA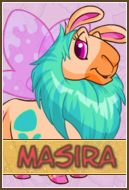 I've noticed that I seem to have a certain affinity to faerie pets. Like Ravuna, when faerie gnobrus were released I knew I had to own one. Several times I had considered adopting one since a few went up for adoption several times, but none had any sort of name I could really get attached to. So I patiently waited.
Once the Faerie Ruins prize shop opened up, the cost of the faerie paint brush dropped drastically. I hopped into action and bought one. Then, I had traded for a name that I liked. Later, I had bought a faerie mazzew to match and I was completely and utterly thrilled.
For some reason, I see her character more deer-like than llama-like. It might be a little weird, but I feel like she is more graceful like a fawn and so I decided to draw her like one. Plus, I added antlers just because I wanted too. xD
Her petpet was also the result of the Faerie's Ruin prize shop, and the combination could not be more perfect.
Visit Petlookup | Visit Petpage | Mail Owner
KELMONA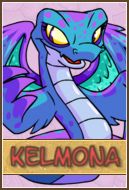 Again, here is another faerie pet that I really adore! You're noticing a trend aren't ya? Like Ravuna, the colors of this faerie pet really won me over. I knew that as soon as the faerie hissi was released in the news, I had to own one.
She was created on Hissi day with the intent of being painted faerie in the future. But, that did not happen for about another year because I was attempting to spend most of my time on neo saving up neopoints.
I was sad the day that I decided to move her to a side. Most of the outfits that suited her best were on my main account, but I can only keep four here.
Visit Petlookup | Visit Petpage | Mail Owner
VURENIA
With regards to rarity, Vurenia is probably my most popular pet for most people out of my neo family. She is unconverted, but I love her the same as I do with the rest of my converted pack.
She was created way before the conversion when I wanted a limited edition pet. At the time, it was cybunny day and cybunnies were being released in batches.
She was a blue cybunny when I created her. I was young, and I did not have a lot of neopoints at the time. I had always wanted a faerie cybunny and I was determined to paint her.
Unfortunately, faerie paint brushes were very expensive for me at the time and I was getting impatient on saving.
I did have enough neopoints for a royal paint brush, however. And, for whatever reason, I decided to go ahead and paint her royal. To this day, I am grateful that I painted her royal instead of faerie.
Visit Petlookup | Visit Petpage | Mail Owner
SAKIANO
Don't be fooled by the appearance of this little guy. He is old. Well, old as in I created him a long time ago. Not only hat, but he is hand painted.
I went through a phase where I loved baby pets. In particular, I loved the baby kougra as they reminded me of kittens. And of course, I was a crazy cat lady(and I still am) so I had to own one.
I liked the stereotypical ornery kitten character, so I decided to do just that for his character. But, I also wanted to mix things up a bit. So I decided to make him an overly small kitty who never grew in size as a character. Who wouldn't want to own a kitten forever?
But before that when the conversion happened, the baby pets looked super tiny compared to other pets. I was slightly disappointed by this, so I thought about trading him. Not finding any other pet that clicked for me, I decided to keep him. And to this day, I am glad that he is a part of my neo family.
Visit Petlookup | Visit Petpage | Mail Owner
TALUTA
I've always wanted a royal girl peophin as soon as they were released. I didn't want to create a new pet, however.
I wanted a pet with a little bit of neo history, so I searched the Pound Chat to see if there were any peophins up for trade or up for adoption that I liked. She needed to be perfect.
Luckily, a kind user on the boards had a quick adoption and I adored the name. So, I sent a quick neomail saying I was interested. And before I knew it, She was transferred to her new home with me.
Although her white color was lovely, I really wanted to paint her royal. I hope to collect most of the peophin paint brush sets in order to give her some cute customization variations.
Taluta's character is an old carousal horse from an amusement park that was abandoned and eventually sank into the ocean via a hurricane. She is discovered by a mermaid and then later freed from her predicament.
Visit Petlookup | Visit Petpage | Mail Owner