Introduction
Welcome to the Dimenzhian Book of Dragons. We're just getting started here, so bear with us.
IF ANYTHING FROM THIS BOOK IS STOLEN, YOU'LL GET A FIRST CLASS TICKET TO ECHO'S WALL OF SHAME, AND TNT'S FROZEN WASTELAND.
The Story of Dimenzhia
Long ago, when the planet of Dimenzhia was only dust, Sun and Moon explored the skies and barren lands alone. When they finally met, after centuries of loneliness that not even the envious stars could quell, their love was quick. Soon after, they brought their four children into the world: The Elements. Fire and Stone, who took after Sun, and Water and Air, who took after Moon.
But over time, Sun and Moon began to fall apart. Sun cared much for his children, while Moon only seemed to care about how brightly she glowed or what the stars thought of her pale facade. She was greatly jealous of Sun, for without his light she would be invisible. Her resentment became rage, and a final battle raged between the two that caused the stars themselves to fall to the ground, ripping holes in Dimenzhia's flesh that caused her to weep. After it was finally over, Sun and Moon went their separate ways; Sun took the Day, and Moon took the Night. Every so often, Moon can be witnessed rising a little early to catch the last glimpse of Sun as he disappears beyond the horizon.
With their parents separated, the Elements quickly grew bored with the barren landscape. So each of them took their tools and began their work:
Fire and Stone worked together, laying the land and building mountains, hills, and valleys, and sowing the seeds for Water and Air to nourish.
As trees and all other plant life grew, Air and Water cut the rivers, lakes, and oceans for Water to fill, and painted the sky.
After all this was done, Stone felt that the land was still to empty and quiet. So, she used some of her clay to create the Beasts that roam the planet by land, air, and sea.
The Moon, still resentful of the Sun, became angry about the Beasts. She felt it was unfair that one of the children who took after Sun was able to create such a masterpiece. She whispered to Air and Water, who turned and rallied against Fire and Stone. Their battles were felt for centuries - Mountains burst with lava and poisonous gases, pools boiled and deadly geysers steamed, heavy clouds threw torrents of rain and wind against burning forests and fields, and tidal waves and roaring rivers tore through walls of rock. Blinding lightning and deafening thunder announced each blow, shattering the populations of plants and animals alike. The land was reshaped, and only the strongest species survived.
Sun, who loved all his children, pleaded with them to stop fighting before everything they'd created was destroyed. Finally, he convinced them to come to an agreement: They all had to work together to create a superior species, to rule over all the Beasts.
Stone gave them strong scales, long life, and patience.
Air gave them wings, intelligence, and secondary lungs to keep even the heaviest aloft.
Water gave them strength, adaptability, and beauty.
And Fire, who only knows how to destroy, gave them teeth, claws, and rage. But he wasn't done there. He felt he had a better idea of a superior ruler than the hulking monsters the others were building. So, he stole the rest of Stone's clay and modeled his own - a two-legged creature bare of skin but quick of mind. They could learn to make use of anything, from Stone to Air to Water and even Fire. But their impulsive rage and steady multiplication wasn't enough for Fire. He gave them Magic, a direct link to the Elements themselves.
Furious of his cheat, the other Elements gave their creation one last touch: their breath weapon.
They took some of Fire's energy in return for the stolen clay, and gifted their creation with Fire breath.
Air, always generous, gave them Lightning and the Sonic Boom.
Stone, always patient, gave them Poison.
And Water, creative and different, gave them Telepathy. But when coaxed by the others, she also gave them Ice.
To give them a way to use these abilities, Air and Stone added the firebladder. Which, after filling with oils from food, could be squeezed and spat from. This oil would react with gases from the secondary lungs, and would charge with whichever breath ability the dragon had. The only real exception would be Telepathy, which relied entirely on the mind. These weapons would surely compete with Magic, giving them a way to combat it.
The first of these two races became known as the Grandragons and Firstfathers.
Dragons and Man lived peacefully on their own lands for a time. But as populations grew, and Human generations passed, the sons and grandsons of Man began to turn on the Dragons. Already, they had forgotten the peaceful agreements their ancestors made.
But the first Dragons, with their long lives, still lived and remembered. They tried to remind Man of their agreements, but they only responded with anger and blades. The men blamed Dragons' size and long life to the shortage of food, while the Dragons claimed it was overpopulation of greedy Humans. War began, and it was a war that would last for thousands of years.
The numbers of men always replenished themselves, but Dragons weren't so quick. Many eggs and young were lost to nest raids. A large number of Dragons took to hiding, which led to the discovery of the massive underground cave that eventually housed Drekhalla, the dragon city. They resolved to live out their lives away from war, cradled by miles of rock and well-guarded passages.
Eventually, only a few dragons remained on the surface. One could travel a lifetime without ever seeing another of its kind. But still the Humans multiplied, covering every territory - even those believed to be inhospitable.
Bits and pieces of news of the outside world trickled down the tunnels and into Drekhalla, where it met the ears of some young drakes. These young males vowed that when they could fly, they would seek out a refuge for themselves and the Beasts - one even greater than Drekhalla. As soon as their wings were large enough to carry them, the males left their cradle of stone and headed north. They knew no one had ever passed the Tundra, but if refuge was to be found it had to be there. They flew across wind-whipped deserts of ice until only four of them remained, their comrades frozen solid in the hills.
A female returned weeks later, eyes crazed and voice wild. She told tales of a mirror land - a whole other continent nearly the same as their own, connected to it only by the northern ice cap. Many believed her mad, and those who did believe made it their end to find a way across without testing the Tundra. Driven by hope, they flew to the sea, willing to try anything to reach this Human-less paradise. Whether they fell at sea or found an island, their families never knew.
Too afraid to leave their birthland, the Dragons rallied for an assault. They would force the Humans to move to the other side, and leave this one to the Dragons.
The Humans went surprisingly willingly, just as ready to end the bloodshed and greedy to explore these untouched lands. Beasts of all types celebrated the passing, even the Anthro halfbreeeds.
Though dragon numbers have risen to considerable heights, it was a slow rebuild. And bad news travels to their coasts in the form of washed-up garbage. Trade with other worlds led the Humans to industrialization, which killed their land. Overpopulation led to overhunting, and their technology had to supply them with artificial food created from recycled material. The grass, trees, and mountains were replaced by concrete, metal, and glass. The laziness of Fire had spread to his creation in full.
A mass of Ice dragons now guard the Tundra day and night, descended from the first group to travel there and evolved to better survive in the frozen wasteland. Otherwise the Dragons, the true rulers of all creatures on Dimenzhia, keep to themselves. It is their hope that it will be many dragon-generations before the next war, if there is ever to be one again.
Dimenzhia
The planet of Dimenzhia is sentient, capable of her own thought and feeling. She is the source of all Magic; those capable of tapping in to her energy can shape it into their spells.
As rulers of the land, Dragons are responsible for keeping the peace. More importantly, they are also charged with helping to keep the Balance, the order at which the Elements are used to keep Dimenzhia healthy. If they fail, lush areas could become riddled with disease or drought, or dry areas could flood, or storms could rip entire landscapes and populations to shreds.
To help spread their influence, the Dragons have roamed over every inch of their side of the planet, settling in and evolving to suit the different habitats. Here, we will cover each of these lands and aspects about them.
Sensuri
Ampuli
Valignat
Katzyne (The Basin), and Sanctuary
Rafale
Zareti (the Plains)
Jezero (Great Cut)
Zymbola
Vutha (The Caves)
Cyrin (The Coast)
The Crystal Curtain
IMAGE SOON
...the ocean. more soon...
Braebuck Peninsula
IMAGE SOON
A Europe-sized peninsula separated from the mainland by a row of vicious-looking mountains. This area is populated heavily by Anthros, who have adopted a Medieval-esque technology and set up many kingdoms throughout the area. ... more soon.
MORE SOON
Images (c) of Blizzard and World of Warcraft, pre-Cataclysm.
The Grandragons
The Grandragons were the very first of the species, born directly of the Elements and sharing their immortality.
They were made genderless, and shared all the aspects that were passed down to all the various species known today. This included their sizes, shapes, wings, horns, breath abilities, scale types, and their shade of color.
They were able to mix freely between one another, and so the rest of the Dragon species was born.
The Grandragons were each a solid color, one of each of the colors a dragon can be:
Red, Bronze, Gold, Green, Blue, Purple, Black, Silver, and White
They were also named after their color, though later their descendants and other Beasts of Dimenzhia gave them names:
Hel the Red, Brak the Bronze, Aur the Gold, Garr the Green, Drek the Blue, Kel the Purple, Tzar the Black, Fel the Silver, and Alt the White.
These names eventually became the last names of several lines of dragons, and others made their last names out of those of Ancients they believe to have descended from.
MORE SOON
The Breeds
As generations passed, the Dragons spread throughout the world, their bodies changing to adapt to the land. Eventually they became so varied it was hard to imagine they all descended from a small group of Grandragons.
And so, they became the different Breeds. Some are similar, having only recently descended from one another. Some are so different the idea that they all came from the same origin seems far fetched. And some are new enough that they'd only been discovered within the last decade. But no matter how unusual they seem, they all share the role as rulers of their lands.
In a short list, the breeds are: Air, Desert, Forest, Island, Mountain, Plains, Stone, Swamp, Tundra, Water, and the recently discovered Aerial from Sun Mountain.
We will be breaking each of these breeds down by their unique attributes, or Identifiers: Size, Shape, Wings, Abilities, Scale Shade, Habitat, Life Cycle, Nest Location, Young, and Death.
The sizes of the Dragons will be labled using Earthen creatures and objects as reference:
Lizard (less than a foot), Cat (1ft), Dog (2-3ft), Pony (4ft), Horse (6-7ft), Bus (9ft), Elephant (13ft)
These sizes are based on SHOULDER height, if the dragon is standing normally with all four talons on the ground. These sizes are not set in stone, but are an average for each breed; every dragon is unique in its own way. Hybridization with other breeds can also affect the size, shape, lifespan, and color of a dragon.
Air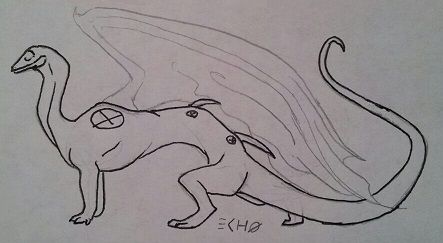 Size and Shape
Air Dragons can range from the size of a large dog or pony up to a full-sized horse. The length of the body can vary, but it is always much longer in proportion to their legs, which are half proportionate length at the most.
This is because, like their Water dragon cousins, they hardly use the appendages. So they have evolved to be considerably smaller.
The necks and tails of Air dragons can grow to be longer than the length of their bodies, and are always proportionately long compared to other breeds. Their wings are also often very large in proportion, being the largest in proportion to other breeds. This makes them unique, having the largest necks, wings, and tails of Dragonkind.
They have the second longest bodies, with Island as the first and Water being a close third. Only massive dragons such as Mountains can compete, and only because of their huge girth.
Wings and Scales
Air dragons have the largest wing proportions to their bodies. They gained this by living nearly every day of their lives in the air as soon as they can take flight. It is believed they eat, sleep, and even breed while in flight. They also are able to take flight sooner than any other breed, at five years of age.
The wings are always webbed or finned, or in rare cases even feathered. They are the only breed to have feathered wings, an aspect that descended only to them by one of the Ancients.
The size and type of their wings, accompanied with their long, streamlined bodies makes them the fastest and most graceful fliers of all the breeds. Unfortunately, this also makes them unable to carry heavy loads while in flight. Their legs and bodies are too weak to hold them.
Air dragons have small scales, if any, to help keep them aerodynamic and light. Their leathery skin, or scales, tend to be lighter shades, with the most common colors being Silver, White, Blue, Gold, and Purple. These colors blend into the sky around them easier than darker colors.
Unfortunately the lack of armor makes them easily susceptible to injury by blade, arrow, or any sharp objects. Their bones are also fairly light, except in the and skull. They can be easily broken in a crash or fall.
Abilities
Aside from being quick and agile fliers, Air dragons are also equipped with a few useful weapons and abilities.
As with all breeds, they can have nearly any breath ability. But they are the only breed to have the Sonic Boom (described under Abilities tab). The most common breath ability for Air dragons to have is Lightning. For centuries they were the only breed to have Lightning breath, until they started mingling with other breeds. It is unknown why the Sonic Boom breath ability or the feathered wings haven't been carried into other hybrids - perhaps there is a certain link in the genetics that require a pure Air dragon for these aspects.
Just like their Water cousins, Air dragons have extraordinary powers of Telepathy. This aids in communication over the roar of the wind, so Dragons have no need to fly too closely to speak. This Telepathy can also be strong enough that they may create visions or hallucinations in others of weaker mind, and therefore use it as a weapon.
Their ability to fly so quickly and gracefully is an excellent defense against attacks in the air, whether it be a projectile or a flying enemy. They can also outfly the attacker, unless of course it is another Air dragon. If they are somehow cornered on the ground, they must rely on their legs and hard skull to defend them - though it isn't much of a defense.
Life Cycle
After hatching, the young Air dragon is already capable of surviving on its own. They'll spend the first five years of their lives learning to hunt ground creatures, from slugs to rodents to small reptiles. Once they reach their fifth year of age, their wings are large enough to support their bodies in flight. Instincts will take over, and the youngling will spend the next several days mastering the takeoff. Once their feet are fully off the ground and the wind strong beneath their wings, they'll likely never touch ground again.
Air dragons don't mature until their 15th year, before which they'll pass the time exploring and improving their flying. As with most dragons of all types, this is the period of Wanderlust, where the young dragon has a drive to travel n-blocked-, exploring lands far from their birthlands.
After they mature, the Wanderlust fades in most dragons.
Habitat
Nests and Young
Death
Desert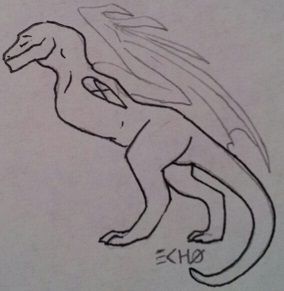 Size and Shape
Wings and Scales
Abilities
Life Cycle
Habitat
Nests and Young
Death
Forest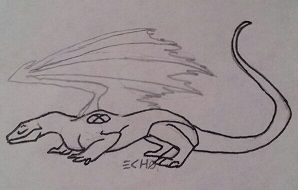 Size and Shape
Wings and Scales
Abilities
Life Cycle
Habitat
Nests and Young
Death
Island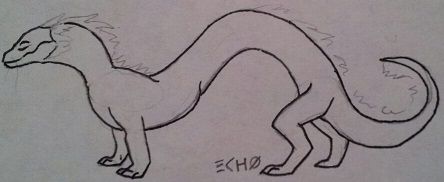 Size and Shape
The longest of all breeds, Islanders are also the most varied in size. They can range from the size of a lizard all the way up to elephant height at the shoulder (13ft). The trunks of their bodies are the longest in proportion to any other breed, almost serpentine in flexibility. Some Islanders can wrap themselves in loops or knots, or wrap themselves around trees multiple times.
Unlike their bodies, however, their necks and tails commonly only reach midlength if they aren't short. This trend is mirrored by their legs, which are midlength and often squat like that of a lizard.
Their serpentine appearance is emphasized by the fact that Islanders never grow wings. In fact, they are the only breed able to fly without wings. The only bulges on their backs are those of their secondary lungs.
Wings and Scales
Having no wings at all, the Islanders are quite unique. But not all are left grounded. Most Islanders are born with the ability to displace the gravity around their bodies, the only spell they can use. This enables them to snake through the skies, given they can keep concentration. The skill varies from dragon to dragon, and the ability can be honed with practice. Those that are unable to tap into this selective magic remain grounded throughout their lives.
A scaleless Islander isn't common, but aren't unheard of. They commonly are the brightest of the pure colors, with Copper, Black, and Silver being the rarest. Their manes, a significant identifier of the breed, are also commonly brilliant in shade.
Abilities
As with most breeds, Islanders can use almost any breath ability with the exception of the Sonic Boom. However, their secondary lungs tend to be stunted, giving them a short firing span.
Life Cycle
Islanders are raised by their community, learning different skills from each of their elders and eventually are placed in the profession they're best at. While the young are being raised into maturity, the other adults of the entire community won't breed. This keeps their full focus on the youth, and keeps the numbers in check.
When they mature at their twelfth year, they are already functioning members of society. And most often, they won't take a partner until they reach their second decade of age. And the entire community goes through the same circle again, welcoming new hatchlings into the world and raising them together.
Habitat
The breed is only found on the islands located miles and miles out on the Crystal Curtain. The islands vary little in landscape, mountainous in the center and covered in tropical plant life and exotic animals. Large temples and extensive caves are carved into the mountains, often decorated with fierce or elegant carvings of Islander rulers or Elders in the rock.
Nests and Young
When it is time for young to be brought into the community, there is a huge celebration throughout the islands. The entire population gathers on the main island, where they feast and the King and Queen announce the couples that will be laying that night.
After the festivities, the couples disappear into their home caves. There, they will lay a clutch of one to two eggs, each white and glossy with the slightest sheen of the hatchling's scale color. One to two months later, the young will hatch and the cycle continues.
Death
The death of any Islander is mourned by the entire population, as each one of them becomes very loved by the community over their 900 year lifespan.
After a memorial ceremony, the Islander is placed on a beautiful raft adorned with their favorite possessions and many complimenting fruits and flowers, then is sent out to sea. It is actually one of these rafts that led to their discovery on the Mainland.
Mountain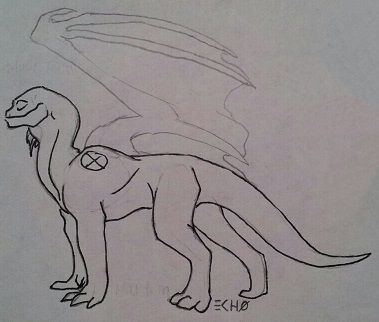 Size and Shape
Wings and Scales
Abilities
Life Cycle
Habitat
Nests and Young
Death
Plains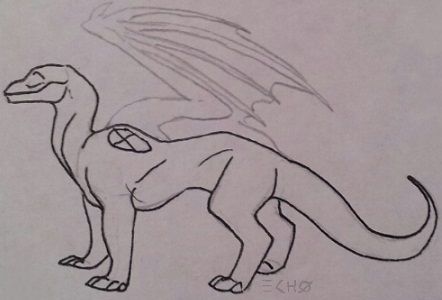 Size and Shape
Wings and Scales
Abilities
Life Cycle
Habitat
Nests and Young
Death
Stone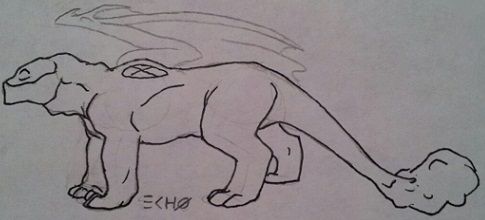 Size and Shape
Wings and Scales
Abilities
Life Cycle
Habitat
Nests and Young
Death
Swamp
Size and Shape
Wings and Scales
Abilities
Life Cycle
Habitat
Nests and Young
Death
Tundra
Size and Shape
Wings and Scales
Abilities
Life Cycle
Habitat
Nests and Young
Death
Water

Size and Shape
Water dragons can range greatly in length, but are always short due to their small limbs. Their full adult length can range from 3' to 30' nose to tailtip. They are the third longest breed, with Island at first and Air at second.
Since they never walk on land, their talons are very rarely used to support their weight. Instead, they are used to propel them through the water with the aid of their long tails.
In sections, Water dragons tend not to have very long necks. Their bodies and tails are often quite lengthy, however. This allows them to snake through the water with precision. Their limbs are always fairly small because of their minimal use. It is believed they could evolve to be without limbs someday.
Because they are the only breed to be unable to breathe air, which lead to their lack of wings, their backs are smooth and lack the common wing-muscle and secondary lung bulges. This makes them appear quite small compared to other breeds, regardless of their length.
Wings and Scales
Water dragons are one of the few breeds to be without wings. Instead, they often have frill or fins, occasionally resembling the shape of a wing but hardly functioning as such.
Like their Air cousins, Water dragons tend not to have scales. If they do, they are small and smooth to keep from slowing them down in the water. They can be any color, with no real common patterns or shades.
Abilities
The most unique trait of the Water dragons is the lack of a breath ability. It is believed this happened because of their uselessness beneath the surface. To replace it, Water dragons became the most skilled breed with Telepathy. They were the first to be able to create illusions and literally control the minds of those weaker than them, far beyond the normal pictures and sensations of Mindspeak.
Because of their telepathic abilities, Water dragons have also all but become silent dragons. They prefer to communicate purely through a more personal form of Mindspeak, purely sharing every thought and feeling between those they are close to. This creates immense bonds, and highly intelligent young, making them powerful dragons indeed.
Because of their lack of a breath ability, their secondary lungs and firebladders have shrank to near nonexistence. The only real function of the secondary lungs is to help keep them afloat and upright in the water.
Life Cycle
Just as the Island dragons, Water dragons can live to be about 900 years of age. Because of this, they tend to only breed once a century. This lessens the numbers of dragons filling the oceans and overhunting.
Once they are ready to lay, a mother Water dragonelle will find a deep trench and burrow out her cave. There, she will lay up to five eggs, each opalescent and smooth. The pressure, combined with a diligent mother that will guard the nest without eating or sleeping, will ensure all five eggs hatch after a three month incubation.
After they hatch, the young Water dragons will already be prepared for life on their own thanks to their mother's non-stop Mindspeak during incubation. But, they won't leave her side until their fifteenth year, when they mature. Until then, they will be taught colors, shapes, the names of animals, and pretty much everything they will need to know to be elegant rules of the seas.
On their fifteenth year, the young Water dragons will part ways with their mother and swim wherever their wanderlust takes them, more than equipped to survive. They are likely never to settle in a cave except to incubate their eggs, and won't take a partner until near their first century of age.
Habitat
The entire Crystal Curtain is their world, much as the whole sky is the world of the Air dragons. And just like the Air breed, Water dragons hardly stop swimming a moment in their lives.
Nests and Young
Water dragons nest in deep trenches, where their nests are protected by walls of crushing pressure all about them. How the eggs aren't smashed by the force is still widely argued.
The clutch, normally consisting of three to five eggs, can begin comprehending their mother's Mindspeak by their third week, and will continue to communicate with her non-stop until the day they leave her on their fifteenth year.
When they hatch, they will look just as they will as adults - except perhaps a bit more adorable, with shorter jaws, larger eyes, and insatiable curiosity. Their personalities are akin to that of kittens, romping, wrestling, and exploring with vigor.
Death
When they reach the end of their 900 year lifespan, if nothing else brought about their end beforehand, Water dragons tend to return to the trenches they hatched in and drift to the floor. There, they will feed scavenging creatures and return their bodies to the habitat.
Rarely, a perished Water dragon will be washed up on the shores of the Mainland.
Aerial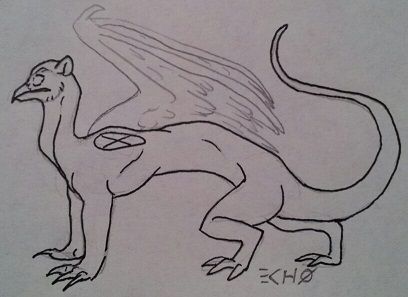 Size and Shape
Wings and Scales
Abilities
Life Cycle
Habitat
Nests and Young
Death
The Legendary Breeds
The first descendants of the Grandragons were also immortal, and had control over some elements that are no longer existent today. They are known as the Ancients, often large and powerful. They and their immediate offspring make up the Legendary Breeds, those hardly seen and even less heard of.
The elements lost to the rest of the species, except perhaps for a very rare and lucky few, are: Light, Dark, Life, Death, Metal, Lava, and Time.
They will be described in the same format as the common breeds, with the exception of their Death. These dragons are immortal, and therefore unable to die unless they will it. As these dragons are also extremely rare, it is unknown whether any of them have actually perished.
Light
IMAGE SOON
Size and Shape
Wings and Scales
Abilities
Life Cycle
Habitat
Nests and Young
Dark
IMAGE SOON
Size and Shape
Wings and Scales
Abilities
Life Cycle
Habitat
Nests and Young
Life
IMAGE SOON
Size and Shape
Wings and Scales
Abilities
Life Cycle
Habitat
Nests and Young
Death
IMAGE SOON
Size and Shape
Wings and Scales
Abilities
Life Cycle
Habitat
Nests and Young
Metal
IMAGE SOON
Size and Shape
Wings and Scales
Abilities
Life Cycle
Habitat
Nests and Young
Lava
IMAGE SOON
Size and Shape
Wings and Scales
Abilities
Life Cycle
Habitat
Nests and Young
Time
IMAGE SOON
Size and Shape
Wings and Scales
Abilities
Life Cycle
Habitat
Nests and Young
MORE SOON
Dragons Inside and Out
The Elements and their appointed Council often claim Dragons as 'their greatest achievement,' and rightfully so. They are a magnificent breed, no matter their size or strength, capable of persevering in any situation if they put their minds to it.
The original Grandragons and their immediate descendants contained unique attributes that faded out as the rest of the Breeds evolved. But there are some basic attributes that remained between the breeds, including skull shape, horn type, and wing type: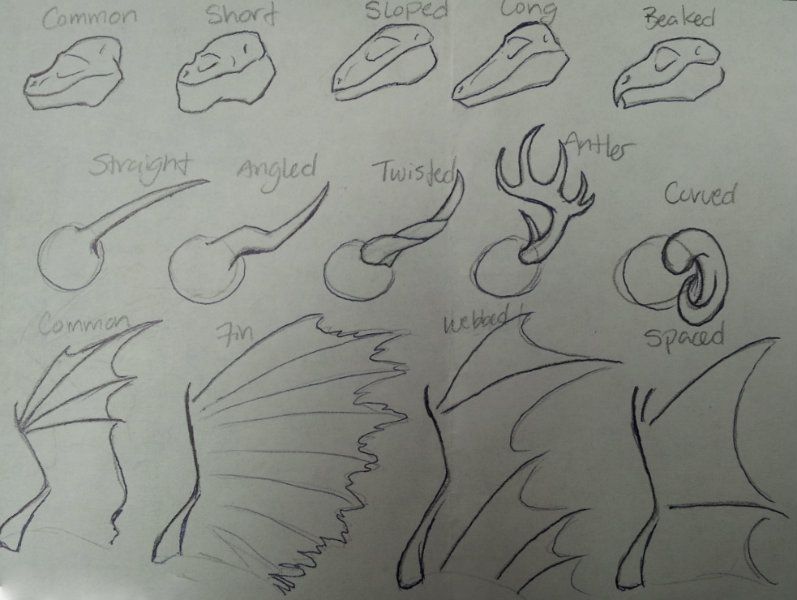 drag to address bar to see full view
Though some aspects of the anatomy can vary between breeds, they are all based on the same general layout, which we will cover here.
General Anatomy
Skeletal Structure
Muscular Structure
The Brain
The Eyes
Skin and Scales
Horns, Membranes, Tendrils and Frill
MORE SOON
Dragon Weaponry
When the Elements built the Dragons, they only meant to equip them with beauty, patience, long life, intelligence, adaptability, and flight. But lazy and destructive Fire could never leave it at such a boring point.
He began by equipping them with razor claws, sharp teeth, and a short fuse to a burning rage. Then after he took matters into his own hands in creating Magic-bearing Humans, the other Elements know their ultimate rulers needed a true weapon of their own. And so, the Dragons were gifted with their Breath Abilities:
Fire, Lightning, Sonic Boom, Ice, and Poison.
They were also given the ability of Telepathy, which is shared between all breeds as a weapon, and a means of efficient communication.
Breath & Telepathy
Fire
A stream or ball of oils from the firebladder, ignited when the mixture of gases from the secondary lungs and oxygen from the open air meets it.
Can be varied in size and strength, from a small torf to light a small room up to a barrage capable of burning a building to the ground. The size of the firebladder and secondary lungs determine how much fire can be made.
Lightning
Condensed electricity that can be fired either from a gob of oils or in the form of a bolt.
The only breath ability that requires magic rather than gasses.
If only magic is used, the dragon can fire a bolt of lightning from a small spark, to a ribbon of bolts capable of blowing apart an enemy. Only those capable of controlling large amounts of magic can use such a massive attack.
If oils from the firebladder are used along with bits of magic, the gob can be shot and stuck to an enemy, causing painful jolts much like that of a taser. Depending on the magic used, the enemy could be stunned or worse. The magic abilities of the dragon determine the strength of the attack.
There is a downside to Lightning breath, in that electricity is very hard to control. If the dragon has strong magical abilities, they may be able to control where the bolts go. Otherwise, the bolts will fly freely to whichever objects or creatures are within range of the charge.
Sonic Boom
A condensed explosion of sound and energy, usually only visible as a rippling orb in the air, similar to a heat wave if shaped like a ball.
Can be varied in size and strength, from an ear-splitting screech to being capable of blasting down a full-size tree.
Ice
A blast of either freezing air or piercing ice crystals, depending on if mixed with oils from the firebladder.
Can be varied in size, strength, and type. If the gases are used alone, the foggy breath can be capable of covering things with a layer of frost or freezing something enough that it bursts. Size of secondary lungs determine the amount and strength.
If the gases are mixed with oils from the firebladder, the drops of oil are frozen solid and are ejected as razor sharp missiles. Depending on the amount and strength of the shot, they can be capable of ripping paper, or ripping through chainmail before shattering.
Poison
A spray of either noxious fumes or acidic liquid, depending on if mixed with oils from the firebladder.
Can be varied in strength and type. If the gases are used alone, the fumes can cause small creatures to perish, large creatures to fall unconscious, or potentially cause a large dragon to perish if used in a poorly-ventilated space.
If the gases are mixed with oils from the firebladder, the mixture creates an acidic goo that can remove thin layers of flesh, or potentially chew through metal, depending on the amount of gas used.
Telepathy
Depending on the abilities of the individual dragon, Telepathy can be nothing more than a means of simple communication, or it can be used to create illusions or hallucinations.
The basic usage of Telepathy is simple speech or images. This doesn't take too much concentration and helps get the point across. Most dragons use this in place of whispering - a whisper from a dragon is no quiet thing. They also use it with approaching strangers if they are unsure of their intentions.
The most common usage of Telepathy is what Dragons call Mindspeak. It is the ability to share sights, sounds, smells, tastes, physical sensations, and even emotions. They can literally SHOW you a story rather than just tell it to you. Mother dragonelles that guard their eggs use Mindspeak to teach their developing hatchlings survival skills and values before they hatch. This gives them a better chance to survive on their own, in case something were to happen to the parents. Only dragons that know each other well will use Mindspeak, so if they use it with a stranger or acquaintance it is seen as a great honor.
If the dragon's mind is strong enough, most often seen in Air, Island, and Water dragons, they can hone the Telepathy into weaponry. Rather than sharing simple images or sensations, they can make someone believe what they are seeing or feeling is actually real. This can be a hefty distraction, or they can use it to lead their enemy into danger. Rarely these illusions can be used to soothe, normally only seen between a mother and a hatchling.
Scales
Thick scales can be a very efficient armor against puncturing, acid, fire, or cold. However, strong scales don't grow themselves. They need the proper nourishment.
Bones, horns, and hooves are good sources of nutrients, but not enough to keep their scales from flaking under a blade. There is only one source a dragon must feed from to keep their armor lustrous and effective: metal. Hoards are kept for more than the fact that they are pretty to look at.
Dragons have a special organ called the gold-gizzard, able to process whatever metals the dragon ingests. To eat the metal, the dragon only has to bend and fold it until it can be easily swallowed. Then gravity carries it into the gold-gizzard where it eventually nourishes and hardens the scale. Recently a study from Drekhalla has also shown dragons with a healthier metal diet have better horn symmetry and length than those who do not.
Dragons without scales still enjoy coin, though it does much less for them except improving the appearance and health of their hide and horns.
It is well known among Dragonkind that a full gold-gizzard makes a happy dragon, and so a common practice of courtesy is to offer a coin or two to your guests. This quells a dragon's tendency for rage and makes for much easier conversation.
The majority of breeds have no real set color or markings for their scales. Some breeds have colors that are more commonly seen than others, and most colors are only certain shades. But any combination is possible since they are descended from dragons of the purest values of the colors.
Only the Aerial breed has a set appearance, varying only in the marking style.
Horns, Claws, & Teeth
Tail
Wings
MORE SOON
Other Worlds
As the population of Dragons grew and they sought to spread to each territory on the continent, they accidentally stumbled upon hidden portals leading to the three closest dimensions. These dimensions each contained a huge jungle planet: Carnasius, Ayvius, and Netheria.
Some of the dragons passed through the portals and never returned, deciding to remain on these planets forever. They mingled with the intelligent creatures on these planets, and eventually descended down to become their current inhabitants: Carnasians, Ayvians, and Netherians. These people are all humanoid, but still retained much of their Draconic appearance and abilities, albeit watered down. They all share the same respect and honor for Dragons, some to a point of praise and even obsession.
Carnasius
...
Ayvius
...
Netheria
...
MORE SOON
Dragon Art
Here are pieces of dragon art I've gathered over the centuries. Please, keep your hands off.
Makeables
♦ Do
NOT
use these in the BC, Art Gallery, or ANY ART COMPETITION. EVER.
♦ Do NOT edit the lineart beyond recognition. I.E. using only the head or legs on your own body drawing
♦ Do NOT alter or remove my signature. EVER. You may relocate it, if it gets in your way. BUT IT MUST ALWAYS. ALWAYS. ALWAYS. BE VISIBLE.
♦ Do NOT redistribute these makeables, unless you give me FULL CREDIT either by linking my userlookup, stating that Echo (Athaere) made the original lineart, or linking the petpage that they came from (www.neopets.com/~Artergon).
♦ Do NOT use this lineart in ANY other way than as a TEMPLATE. Do NOT use this lineart as a base for your own adoptables set, or as a base for you to distribute fanart/trades for others.
♦ Please send Athaere a NM if you use one! She loves to see what people come up with! And if you'd like, she'll even post your design here in the Dragon Book.
Don't know how to link back? Here:

Just put your image's code where it states when you put your picture up.
Drag to search bar to see full size.
Completed
These are colored makeables! To see them full size, drag them to your search bar.

By Dark_Cat128

By Fuzzballjesse

By Fuzzballjesse

By Gorubeza

By Aishaaddict12
Full Art
Here will be full pieces of dragon work made by Echo or other artists.
Echo's Work
...
Other Artists
...
Miniatures
I have also acquired some nicnacs, it seems.
Credit
Thanks to all the support, advice, and criticism through this project!
Images under Dimenzhia tab (c) Blizzard Ent. and World of Warcraft, pre-Cataclysm.
Aerial breed belongs to Arielle, Echo's sister.
All art and designs belong to Echo (athaere), unless stated otherwise. DO NOT STEAL CHARACTERS, IDEAS, STORIES, OR ART
All characters, planets, and stories belong to Echo (athaere), unless stated otherwise. DO NOT STEAL CHARACTERS, IDEAS, STORIES, OR ART
Background was found via search engine.
Dragons of Dimenzhia" header made by Zrcalo (gothed).
Layout was made by Echo (athaere), using pieces of her other pages and help from a CSS help page.
Some vocabulary and anatomical aspects are inspired by E. E. Knight's "Age of Fire" series.
Some names and words from the Draconic language are inspired by Dungeons and Dragons "Draconomicon" Draconic vocabulary list.