Kyle Dunamis
(First picture is his current appearance in the DOME)
From:
Tales of Destiny 2 (the Japan only game, not Tales of Destiny II released in the US)
Age:
15
Gender:
male
Likes:
doing good things, helping people, mabo curry
Dislikes:
helpless people being victimized, sheep, people thinking he's 'cute
Personality:
hot headed, brave, rash, slightly thickheaded
Weapons:
Swordian Dymlos (present in the second picture above; see more below) + magic
Abilities:
Able to use wind and fire magic proficiently, struggling with light, earth, and healing magic; fairly competent with a sword
Friends in DOME:
None yet.
Enemies in DOME:
None yet.
NOTE:
Because of Kyle's back story and characterization being highly dependent on the fact that his father is dead, nobody is allowed to claim Stahn Aileron from Tales of Destiny 1 as a character.
~*~*~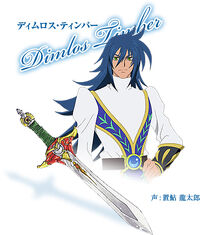 Swordian Dymlos (Timber)
(Swordian and human form pictured)
From:
Tales of Destiny 1 and 2
Age:
over 1000 years old, but died 18 years ago, only being revived very recently; personality is that of a 25 year old man
Gender:
male
Likes:
making fun of Kyle, helping Kyle out whenever possible
Dislikes:
when Kyle is acting stupid (which is fairly often, in his opinion)
Personality:
wise, argumentative, hot blooded
Weapons:
n/a (he IS the weapon)
Abilities:
Gives Kyle the ability to use fire magic more easily
Note:
He is Kyle's weapon and does not function as his own character for the most part. He also used to belong to Kyle's late father and, a long time ago, the real Dymlos Timber.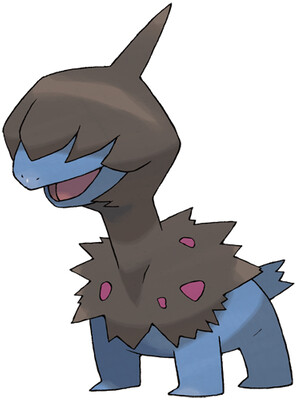 (Derpy) Deino
From:
Pokemon Black and White
Age:
approximately 1
Gender:
male
Likes:
derping, eating, exploring
Dislikes:
people taking advantage of his blindness, blindly running into walls, icky tasting food
Personality:
derpy, jolly, happy-go-lucky
Weapon:
his teeth
Abilities:
biting, derping, transforming into Hydreigon when his life is seriously in danger thanks to a crystal his late mother gave him.
Friends in DOME:
None yet.
Enemies in DOME:
None yet.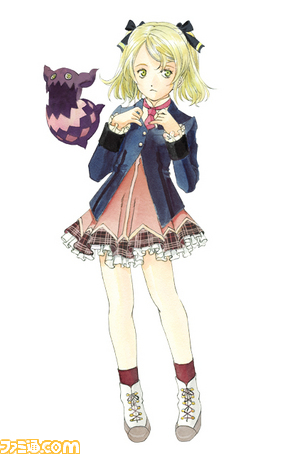 Elize Lutus
(First picture is her current appearance in the DOME)
From:
Tales of Xillia (first picture) and Tales of Xillia 2 (second picture)
Age:
13 (age adjusting for ToX2)
Gender:
female
Likes:
playing with Teepo, singing, spending time with friends
Dislikes:
talking to new people, unnecessary fighting, Teepo getting out of hand
Personality:
shy, nervous, sweet
Weapons:
staff + Teepo + magic
Abilities:
capable of using dark and healing magic as well as commanding Teepo in battle
Friends in DOME:
Teepo
Enemies in DOME:
None yet.
~*~*~
Teepo
(pictured next to Elize in both pictures)
From:
Tales of Xillia/2
Age:
unknown (but younger than Elize)
Gender:
male
Likes:
nomming people's faces, making new friends, having fun
Dislikes:
terrible tasting food, people who try to hurt Elize, being separated from Elize for too long, anything that could be considered cuter than him
Personality:
outgoing, loud, slightly obnoxious
Weapon:
his mouth
Abilities:
can bite or squish enemies after enlarging himself when commanded to by Elize
Note:
Unlike Dymlos, Teepo can act as a stand-alone character because he's a living doll rather than a sword. He would much rather be with Elize, though.
Credit
css © mellie | umbreon133
get yours
here
.