Out in the forest, where the wild plants grow,
lives a strange child with a body of old.
The leaves turn orange wherever he goes,
and the flowers wither under his coat of cold.
His golden eyes in the night glow,
an innocence of those new to this whole world,
and his smile is that of a bubble in the wind:
happy, honest, as long as it can be.
No one has acknowledged Antole's true existence,
as he is, in the words of gods, just a mere vision.
You shouldn't be back" He has been told
for there is now another god".
But then", he thinks, "where should I go?
If I'm already here, then I guess I should stay so.
He dances through the woods, guitar in hand,
painting the greenery forth and back.
Green, then yellow, then orange, then black:
Who can be the author of this scenery attack?
But who can blame the little boy?
he's but a vision who knows nothing of the world.

Antole is a curious boy who lives in the forest. It hasn't been long since he's been there, but he is certianly already a matter of talk amongst the gods. It isn't because of his peculiar power of changing the seasons into autumn, or because of his bubbly, almost annoying, personality. It is because of his resemblance to the old god of autumn. But... wasn't he dead? So who is this boy who's stealing his name and appereance...?
About Antole
Autumn fist comes, then autumn goes.
Gone is the god who's uniqueness he stole.
Dead, dead, that he has been told.
So you go back from where you have come.
But who was dead? It wasn't him.
Why should he leave when he was still brim?
No, no, I think I'll stay"
he whispers in whimpers, prey to dismay.
He doesn't remember who he once was,
but he remembers that there is still a chance...


Name:

Antole.

Species:

Bori.

Birthday:

Too young to remember.

Age:

3 years.

Gender:

Male.

Duty:

Ex/Deity of autumn.

Companions and family:

Kellie and Yoghurt.

Personality:

Bubbly and innocent. Honest to a fault. At times he can get to the annoying side of personalities, although it's easy to tell him off: He'll do anything if he's asked to. He gets easily confused and is known for being pretty dumb.
He loves company and will usually feel very happy if someone comes around to talk to him. He's a good diary, as he'll never tell away your secrets-- Probably because he forgets about them.



Appearance:

Antole is a tall, brown-haired boy. He has innocent, hazel eyes and a permanent smile, which often put him on the dumber side of looks. His tail is long and it often seems to have it's own mind. His ears come by as expressive.
Although his clothes might not seem the most comfortable thing to wear in the forest, Antole finds it important to keep them, as they were a gift from Besna and Neqese to his "newborn" self. He is often found smiling.

Tastes:
Antole loves kelsais! He follows him around all day and can found spying on him more than once a day. He considers Kelsais to be his very best friend (and maybe something else!) and enjoys his company. While he knows that he annoys Kelsais most of the time, it's important for him to spend time with the demi-god.

Antole has a huge fond for grapes. He doesn't find them often in the forest (probably because they don't grow there), but Kelsais is always nice enough to give him some when he's not being "annoying".

Yoghurt, Antole's little plushie, is a best friend to the child. The deity often plays with him in order to make the little fella happy.




While there aren't many things Antole dislikes, there is one thing he just can't stand: Fire.
Whenever the boy sees fire, he becomes paralyzed and full of fear. Some people have even called him a pyrophobic.
Seeing fire might bring him trouble, as, in his fear, he's unable to move, thus incapable of escaping. However, he can always count on Kelsais to move him out of the way, and calm him afterwards.

Another thing he dislikes are those damned birds that steal his food. Why do they do that, don't they know how share?The boy gets really irritated and furious after getting his food stolen by the little brats. But what can he do about them...?



Heart
Winter and autumn are getting old,
who will give the first step up front?
Everyone is waiting, ready to see,
The two good old friends smile at ease.
I love you, I do. I love you, me too.

Friends
They all have a place in our soul,
they have seen us exist in the world,
their mutual existence is whole,
their twirled destinies in hold.

Kelsais:
Kellie...? I... really like Kellie! I love spending time with him and playing with him and spying on him and... I... I really care about him! I'm not sure if he feels the same way about me, but I like to think he's my best friend-- a-and my guide, of course!
I might like him more than just a friend, actually...
Yoghurt:
My plushie? No no, of course he's alive! Look!--- w-well! He might not talk much... or move much... Or blink-- But he's alive anyway! I'll show you one day. I have to look after him with my life, because, in a very strange way, he is my life!
Besna:
I'm not sure if Besna likes me much... It doesn't matter, anyway, since he's my brother! Brothers are not supposed to like each other very much, are they? They just sorta help each other out and just give each other clothes and... uh...
His eye is pretty gross. :c
Neqese:
Kelsais' twin? or brother? I have no idea! He's something among those lines! I like him a little bit, although we haven't talked in quite a long time. I think he's not as social as the rest of us seasons are.
Triunfar:
I've seen him from afar! He looks strange. I'm not quite sure if he's sick or just annoyed-- or maybe just sad? I-I wish I knew! That way I would be able to help him!
Daikiri:
Oh! The chocolate prince! My my, am I jealous of him! (What does jealous mean again...? uhhh....) He invited me to play some tunes with him! I hope we do one day, because his kingdom's orchest--orchestrrr--- orchestra sounds fantastic.
Story
Chapter I.
Of when the third god of seasons is born from the blue ashes of a star and how Besna and Neqese teach him of the divine plane.
Not yet here, whoops!
Chapter II.
Of when Antole meets his best friend Kelsais and how the winter god becomes his best friend and apprentice.
Not yet here, whoops!
Chapter III.
Of when Antole and Kelsais meet the humans and decide to show the other gods that the mortals deserve to keep their existence.
Not yet here, whoops!
Chapter IV.
Of when Antole decides to go to earth as a mortal and show the rest of the gods he's equally as good as a human with Kelsais' help.
Not yet here, whoops!
Chapter V.
Of when Antole is accused of being a witch and burned alive.
Not yet here, whoops!
Chapter VI.
Of when Antole soul wanders in the plane of dreams and how his soul find it's way back.
Not yet here, whoops!
Chapter VII.
Of when Antole revives and meets Besna and Neqese and how they take care of him.
Not yet here, whoops!
Chapter VIII.
Of when Antole meets Kelsais and becomes his "tourist" and apprentice.
Not yet here, whoops!
Chapter IX.
Of when Antole remembers.
Not yet here, whoops!
Reference
-Hazel eyes.

-Brown hair/tail/ears.

-3 earrings on his left ear.

-Green coat with patches on the elbows.

-Light Brown sweater with creamy borders.

-Grey/black trousers.

-Cowboy boots.

-Purple scarf with a flower pattern.

-A string around his tail.

-Vegetation turns autumn-ey temporarily wherever he goes.

-Freckles!
Art
I still can't quite believe,
how beautiful these drawings are.
To think that someone would draw me,
I would have to be really crazy!
Thank you so much!

Pssst! You can scroll down a little bit to make the next div fit in this one ´¬u¬', that'll certainly enhance your experience. You can also hover over the images to see which magnificent artist drew them!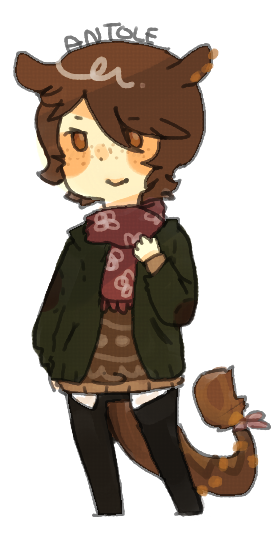 World
In all around our strange terrene,
dimensions apart, countries afar,
live the owners of hearts so special,
it's worth giving them a sight.
Antole would be more than happy to see you come back to the forest! Perhaps you could have this little badge to find your way back.
But who knows if the boy will still be here when your arrival comes-- he may be spreading the autumn, you know!
There are some places where he could be-- perhaps lost in a world as strange and beautiful as the ones you can hereby see: