Introduction
Greetings guest and welcome to my application for Veneoum. In this petpage application, you will see my plans for Veneoum, a little information about me and my pets and how much I want him and lastly, the character and story I made for him. I'm also excited applying for Veneoum because he has been a dreamie ever since I joined neopets. I hope you enjoy reading my application as much I enjoyed making it.
I will also use a nickname I created for Veneoum. He will be known as Ven. Oh, before I forget. Here are your carrots *searches for carrots* I can't find any carrots but here's an ice cream cone instead.
About Me
Off-neo

My name is Nathaniel but you could call me Nat. I live in a quaint town here in the Philippines. I love it here in my country, the tropical weather and the delicacies that is served like the Halo-halo, Adobo, Balut , and many more. I am currently 14 years old. I am a fan of the Hunger Games, the movie and the book itself. I'm also reading the 3rd book, Mockingjay. It is so addicting that I can't stop reading it! I am also a fan of Nancy Drew and Sherlock Holmes. I also collecting all 56 of the original Nancy Drew Mysteries but it will take some time before I collect them all.

As you can see, I'm quite of a bookworm but I like reading books except for my textbooks xD I don't know why but I can't seem to understand history. I get confused because there are so many dates, people, and events to memorise. I also dislike Algebra. My favourite subject is Literature, Biology, and ofcourse PE. Also, I am taking painting lessons this summer. I just finished my 1st painting ever and I'm painting another one soon.
On-Neo
On neopets, I am called Nat. Not much of a difference, though. My goals are:

Buying a 3rd Laboratory Map
Get a meepit (I'm addicted with them! *stares at their eyes*)
Reach 5 Million NP
Get a krawk or a draik

I also own The DReam Project, a guild about saving the abandoned and stuck pets in the pound by zapping or fostering them. I also have a site called The Silver Book, a review site which reviews sites, guilds, apps, and even pets! I also have another new site which I created a few days ago. It is The Costumery. I have some customization plans and you can request for your own! I will also add some stories for my other pets when I'm not busy with the site, the guild, or with real life. Which means now is the perfect time to do them.
I am also planning to zap my buzz so he can get tons of changes but I have a Faerie Buzz MP so I can paint him anytime when I'm happy with his stats. I am also zapping my BN pets so they will change to something magnificent and put them UFA. I don't like them staying in the pound, its horrible there! My main account is aniel123. I have 4 side account which is burger1_2345, aniel1234567, ypan45, and mrclumsyside.

My Pets
Aniel_aniel_3_3
This is my cute, little baby aisha. He was my first labrat but in the end, I decided to hand-paint him into a baby. He was also my first permanent pet that I have on neopets. His nickname is Nan.
Nathaneill
This is the lutari I made on lutari day but unfortunately, he was turned into a buzz but I'm zapping him for the stats and morph him to my dreamie, a faerie buzz. His name is based on my real name so he is very special to me.
Onkelzzz
He was given to me by a wonderful neopian. I can't remember her username but I promised to take care of his jubjub even though she looks sad. I'm also creating a story for him but it is still under-maintenance.
Aniel_aniel_4_4
I created this pet so little aniel wouldn't be lonely. I zapped him and got a lucky desert zap. I created him when I was young so both their names are not pretty but I still like them both. His nickname is Lien.
Aniel_aniel_5_5
I made this pet when Nan and Lien were created. I was young back then so I named them both the same but I still love all three of them. His nickname is Anil.
septembre_ember
I found this little critter in the pound when someone in my guild neomailed stating that he was in the pound so I quickly adopt. He's going to be in a story with my little baby ashia but I'm still working on it.
Scritty
I found this pet in the pound by using the Neopound website. It was actually 2AM when I was browsing for pets when he came up. I love the name and her colour is great to. I'm planning to paint him soon and make a story for him.
_Cootie__
I applied for him by sending an neomail application and the owner was impressed of my plans for him. He will be included in a story with Kuro.
Mahakia
This cool girl was all alone and waiting for somebody to adopt her and make an application. It seems like I'm the only person who applied hence, I was chosen. I love her name and her colour and everything else about her.
Techingui
My little lemon buddy! I love him and I was excited that I was given the chance to adopt him. I have no current story ideas for him and I'm still thinking of one.
Tyiua
I found this guy UFQA and he looks so cool so I applied for him. The previous owner said yes because my accounts looks great and he said that I will be a suitable owner for him.
Auven
This is the pet that I applied for. I have written a wonderful story about being a plushie. I'm still making the layout for his story but it won't take long.
Cloudlets
I found this pet in the pound and sadly no one wants to adopt her. I was surprised no one wants to adopt her because her name is so wonderful and the colour is not bad either. She will also be included in Kuro's story.
Some of the pets are on my friends sides until I have some room. I will be transfering all my pets in my accounts in June or July.
Character and Story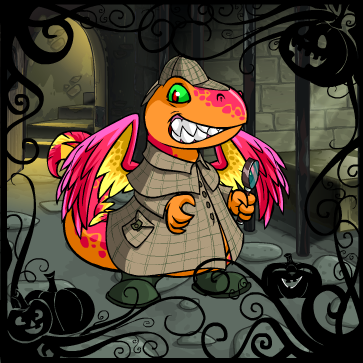 Name
: Veneoum (Ven)
Gender
: Male
Species
: Grarrl
Colour
: Faerie
Petpet
:

Beep the Ghost Droolik
This is Ven's petpet, Beep. Ven found him when he has solving a case right after he was framed for the thing he didn't do. He decided to keep him because Beep is the only thing he has right now since Ven has no family and left on the streets at a young age.
Clothes






Description
: Ven is a faerie grarrl is an amatuer detective who had been framed for something he didn't do. He was solving a case and went to a place where he suspects the culprit is but he was framed for the crime he was trying to solve. He has no family and barely has friends. Ven is now on the quest to find out who had framed him and clear his name.