Shop Tips
* Be sure to check seasonal/holiday items as prices rise before holidays and fall afterwards.
~Eeukqicmaj
---
* Price about 1/3 to 1/2 of the items on page 1 and 2 close to wiz price to increase sales.
~Amsmani
---
* Petpet Shops - Basic petpets seem to increase in price when new colors are released.
~ Angel_shortcake
---
* Petpet Shops - Avatar Petpets are good sellers and good advertising tool.
~ Angel_shortcake
---
* Wearable Shop - You may want to increase price of items the week before a Pets Speacial Day.
~ Eeukqicmaj
---
* If you are selling out of an item every two days then double the number in stock, until it no longer sells out that quickly.
~ Amsmani
---
* Unstocked items are lost sales.
~ Bsmith97
---
*If you are in a stand-alone shop, make sure it at least has the(next 80 items) link at the top, it makes the store seem MUCH bigger.
~chessoo
---
Submit your own shop tip.
TML Graphics
Coming Soon!!!!
Contact Me
Please neomail me if you find any errors or misinformation on this page.

Sitely
Affiliates are open for good Shopkeeping, Malling, or NP Making Sites.
Affiliates

Listed At
Reviewed By
Link Us


If you are good at making buttons. I would love to have a few more options. Please neomail me of course you will recieve credit on this page for your work.


Helpful Guides
These are other guides that I think could be helpful.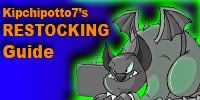 Neomail to add your guide.

Hit Counter
News and Updates
22 July 2010
Site has been listed at
1 June 2010
Now listed at
and
25 March 2010
Petpage is given a new look.
15 March 2010
New Shop tip was added from chessoo.
4 March 2010
We are now listed at
2 March 2010
We are now listed at
1 March 2010
We are now listed at
18 February 2010
Host site has changed so link back button codes may need changed.
30 January 2010
Now listed at
29 January 2010
Fixed spelling and grammar errors. Thanks for the editing Rachel!!!
28 January 2010
Listed at
27 January 2010
Updated Shop Description Section
Added Listed At Area
Fixed three spelling errors....I am sure there are more on here though.
24 January 2010
Guide is finished, well mostly still editing, spelling and grammar errors to be fixed.
Five new shop tips were added.
Leaving a Mall section was added.
23 January 2010
Thank you to dmitri and TKDJ for their helpful suggestions.
Guide Navigation was spruced up and more links added for easier page browsing.
Worked on the Malling 101 section. Should be completed soon.
18 January 2010
The Stocking and Restocking section of the guide has been finished.
17 January 2010
Faerie Crew Graphics are finished. Getting back to working on the guide for a bit before starting Desert Crew Graphics.
9 January 2010
Added our very first Affilate to the site. First of many I hope.
5 January 2010
Have not had time to work on guide because Faerie Crew Mall is getting a graphic make-over. New information will be added soon.
1 January 2010
Happy New Year Everyone
29 December 2009
Guide is not finished but has been linked to other TML pages.
Two helpful guides were added.
28 December 2009
The Getting Started Section was reviewed, edited, and added to.
25 December 2009
Merry Christmas Everyone! Not working on the guide today.
21 December 2009
Vocab areas were all put into blogs to save length space.
14 December 2009
I decide I am going to write easy to understand guide that covers everything from first starting your shop to all the fine little details to make your shop more profitable.
General Information
Welcome to The Mallers League Guide to Shopkeeping and Malling.
In this guide we will cover many different areas of shopkeeping and malling. By the time we are done you should have a greater understanding of how to run a profitable shop. Please keep in mind the things in this guide have all been tested and used by TML mallers and shopkeepers, they are not full proof. Shops of any size take hard work, time, and neopoints to be successful. This guide is just meant to share the experience of the TML with others.

I know this guide is very long, and it contains a ton of information, I did my best to make is simple and easy to understand. The guide is broken up into sections that cover different areas of shop keeping and malling. As I was writing the guide and it grew and grew, and then grew some more I came to the conclusion that it may be best read a section or two at a time.
General Shop/Mall Vocabulary
Mall
A Mall is a group of shops linked by a common banner.
Maller
A Maller is a member of a mall.
Mall Hopper
A Mall Hopper is a person who joins a mall for a short period of time.
You do not want to be known as a hopper it can make finding new malls difficult.
Restocker/RSer
A Restocker is someone who buys items from main Neopain Shops, like the ones found in Neopain Central or Bazzar, and resells them for a profit.
Bulk Stocker
A Bulk Stocker stocks a large quantity of all items in their shop, normally for a little bit above wiz price.
Independant/Stand Alone Shop
An Independant or Stand Alone Shop is not a member of a mall and can be of any shop size.
Stocking
Stocking your shop is when new items are added to your shop.
Restocking/RSing
Restocking your shop is when you replace sold items.
Also used to refer to items bought from Neopian Shops.
SSW
The SSW is the Super Shop Wizard, and is only available to premium members. SSW is an upgraded verision of the Shop Wiz, it searches every shop instead of a select group.
Wiz Price
When you price your items with the wiz, you are pricing them so your shop will be the cheapest in your group.
Snipe
A Snipe is an item found in a user-shop that is way under wiz price.
Tarla'd
When Tarla gives out free items via the toolbar, the prices drop dramaticly.
NB
NB is the Notice Board, a place where neopians can advertise their shops, guilds, or whatever for a fee.
NB Ad
A NB Ad is a graphic or paragraph you pay to post on the NB, for others to see.
MP Shop
An MP (Marketplace) Shop is one who is large enough to be seen in at least one marketplace (currently size 275+).
Non-MP Shop
A Non-MP Shop is to small to be seen in a marketplace (currently under size 274).
Shop Banner
A Shop Banner is a graphic placed on your shop front, that clearly states what catagory of items you sell.
Mall Banner
A Mall Banner is the graphic that links your shop to the other members of your mall.
UB/Unbuyable
This refers to items that cost over 99,999nps and can not be found in user shops. UBs are found in the Auctions and on the TP/Trading Post.
On Hand
Refers to the amount of neopoints you have that are not in the bank.
Yellow Box
Refers to yellow box where you make changes to your shop.
Text Tool Bar
Refers to all the text links that appear on the top of many of your pages.
TNT
The Neopets Team.
| | | |
| --- | --- | --- |
| Shop Size Costs and Inventory Space | | Running a profitable shop, takes time, consistency, and work no matter what your current shop size is; shops do not run themselves. There is no magic shop size, that lets you sit back and watch the neopoints roll in. Bigger shops have more potential for profits because they are more visible and can hold a bigger inventory. Shops of any size can be a great and fun way to earn neopoints, but like everything else on Neopets you get out of them what you put in. |
| Size 100 | 1 Million Nps | 500 Items |
| Size 275 | 7.6 Million Nps | 1375 Items |
| Size 340 | 11.6 Million Nps | 1700 Items |
| Size 610 | 37.3 Million Nps | 3050 Items |
| Size 1000 | 100 Million Nps | 5000 Items |
Getting Started
If you are a shopkeeper who's shop is already up and running then you
can most likely skip this section of the guide. This section covers all the very
basic information about creating and placing items in your shop for the first time.

Usul - Gothic

Something Has Happened!

You are now eligible to useEmo Usuki as an avatar on the NeoBoards!

To get this avie you must view your Shop Front with the Usul - Gothic Shopkeeper. However if you change shopkeepers and view your shop front again you will lose the avie.
Opening Your Shop
To create your shop, first be sure you have 150nps on hand, then go to Create/Edit Your Shop enter a shop name in the top box, type something in the description box and click on the "Create Shop" button located at the bottom of the yellow box. It is that easy to get started. Once you have done that you can now select a shop keeper image from the link in the yellow box, there are hundreds to choose from.
Note: After you have created your shop, the "Create Shop" button will become an "Update Shop" button. Remember to always click on this button whenever you make any changes in the yellow box.
Now that you have created your shop lets take a minute and go over the all important yellow box.
Shop Editing Vocabulary

Shop Name

Your shop name appears on your shop front, userlookup, and next to your username in the marketplace huts. You can name your shop pretty much anything you like, as long as it is not against TNT rules.
However since your shop name shows up three different places, it can be a good advertising tool. So I would suggest naming your shop something that reflects what you sell in your shop.

World

This drop down menu lets you select one of three marketplaces your shop can be located in. (Marketplaces are explained later in the guide.)

Shop Description

This is the most important tool on the page. Whatever text you type into this box will appear on your shop front. You can also use coding to apply shop layouts, mall banners, shop banners, and other graphics and effects.

Shopkeeper Image

The shopkeeper image is found on the top of your shop front and userlookup. It can also be a good advertising tool for you shop.

Shopkeeper Name

The shopkeepers name appears on your shop font under the image.

Shopkeeper Greeting

The shopkeeper greeting appears on your shop front under the image, next to the shopkeepers name.
More on Shop Descriptions
Now that we have gone through the yellow box basics, we need to talk a bit more about the shop description box. I know I said this before, but the description box is very important to running a profitable shop because it controls the look and the content of your shop front.
You are only allowed 4000 characters in your description, so it is important to make sure the codes you are using are clean and simple as they can be, so that you can maximize your allotted space. Now I know everyone on neo does not have a greater understanding of HTML or CSS, but there are some very simple things you can look for to help you get the most space.
Simple things you can remove from coding.
1. If you have a shop, mall, or any other kind of banner that links a Neopets page. You can remove: http://www.neopets.com from the links to save space. In the lower example I was able to removed 23 characters without effecting the function of the banner.

Example: http://www.neopets.com/browseshop.phtml?owner=eeukqicmaj
Can be shortened to:
/browseshop.phtml?owner=eeukqicmaj

2. Quotes surrounding things can also be removed. They will not save you as much space as the first suggestion but sometimes every little bit counts.

3. Make sure you do not have several lines of spaces separating parts of you coding.

SUGGESTION: If you are not that familiar with HTML, before you try to condense your shop description coding, copy and paste your current codes into notebook or ms word before you make and save any changes. This way if you delete too much or get an error from TNT you will have a copy of your original coding that works.

Here are some good guides about basic HTML:


Shop Layouts
Layouts can be a nice way to really customize the look of your shop front. There is a lot of things you can change on your shop front like, background, headers, footers, and the sidebar. Most commonly you see these the more complete layouts used by small independent shop owners, as larger shops use their coding room for shop and mall banners. You used to almost never see a shop layout being used in a large mall shop mainly because the CSS coding shows as text in the huts. A solution to this problem has recently been found. I am not sure who came up with it originally but I know I learned of it from Neomallers.

Solution : You need to put CSS CODING HERE the color hides the text and the size makes it the smallest it can be so the gap on the hut is smaller.

Few things to be aware of with these layouts:
If you use a premade or make one yourself you want to be sure that you check and make sure it works in as many different browsers as you can. Not everyone uses Internet Explorer, Fire Fox, Safari, Google Chrome, etc are popular browsers. Recently there have been some changes made by TNT on how codes affect our shop fronts. Many older shop layouts are blocking shoppers from buying your items, browsing beyond page one, being linked from the wiz to the correct item in your shop. All of these things are reportable to TNT, and can get you a warning and your shop description cleared by TNT. It is possible a non working shop layout could get your account frozen as well.

Other things that are against TNT rules for your shop front:
Prices and items in your shop must be visible, if you want a black background then you must change your font color. All images and text must be appropriate, no outside links, no removal of important page links and navigation.

Also if you use premades, DO NOT remove any creator credits, if you do then this is considered theif, and is a freezable offense. Basically you need to follow the same guidelines on your shop front that you do for your userlookup.

Text Toolbar Explained

Neopia Central

Neopian Central is what started it all. Today it is home to some very important places; The Auction House, Neopian Bank, Rainbow Pool, Money Tree, Art Centre Neolodge, and NC Mall all have a permanent home in the heart of Neopia. You will also find some of the first Neopian Shops are still selling items to Neopians from all over the world. Shops located on this map are; Food Shop, Book Shop, General Store, Petpet Shop, Magic Shop, Pharmacy, and the Post Office.

Bazaar

The Neopian Bazaar is really an extension or expansion of Neopian Central. The Bazaar is home to many Neopian shops including; Petpet Supplies, Neohome Superstore, Health Food, Toy Shop, Wizards Shop Grooming Parlour, Chocolate Factory, Defence Magic, Usuki Land, Huberts Hotdogs, Fresh Smoothies, Unis Clothing, Gifts Galore, Gardening Supplies, The Bakery, Battle Magic, Fine Furniture, Collectable Card Shop.

Plaza

The Neopian Plaza, much like Neopian Central and Bazaar is home to Neopian Shops; Plushie Shop, Pizzaroo, Music Shop, and School Supplies. In addition to these shops the Plaza is also home to a few other important Neopian Places; Kadoatery, Wishing Well, Alien Vending Machine, Hospital, Defenders HQ, Welcome Center, Second-Hand Shoppe, and The Pound.

Marketplace

The Marketplace is located in Neopian Central and is the largest of the three.

Shop Wizard

The Shop Wizard can be used to find items in users shops that are priced under 99,999nps.

Auctions

The Auction House is used to sell a huge variety of items in all price ranges.

Trading Post

The Trading Post is used to purchase items with neopoints or other items.

Inventory

Your Inventory shows all the items you have on hand. You can not recieve or buy items if you have 50+ items in your inventory.

Closet

Your closet holds all your wearable items you have available to customize your pet with.

Safety Deposit Box

Your SDB is a place to store items, that no one else can see.

Bank

The Bank is a safe place to put your Neopoints/NP, you can also collect a small interest on your deposited np daily.

Your Shop

Your Shop page, lets you price and remove items as well as view your sales history, and collect your shop till.

Battledome

The Battledome is a place where your pets can fight against each other in 1-player fights.

Guild Headquarters

The Guild Headquaters page is a list of all the neighborhoods

Notice Board

The Notice Board/NB is a board where you can post ads to advertise your shop, or other things.

Neohomes

This is a link to your Neohome customization page.

Storage Shed

The Storage Shed holds neohome 2.0 items that you can customize your Nehome with. This is also that page you use to remove nehome items.
You shop page has a few functions, pricing, removing items, sorting items, as well as the links to your other shop tools. Using your shop page is pretty simple, there is a second text toolbar that is linked to your other shops tools. Below is a screen shot of the top of your shop page.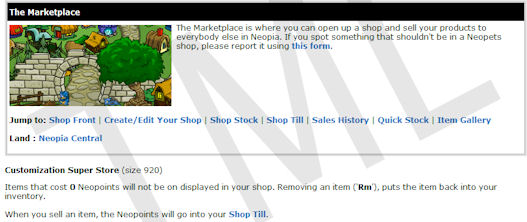 Shop Tools Explained

Shop Front

Your Shop Front is really your shop. It is where customers can browse through and purchase your for sale items.

Create/Edit Your Shop

The Create/Edit Your Shop page is where all coding changes are made to your shop.

Shop Stock

The Shop Stock page is the most used. From this page you can price items, remove items from your shop, sort items by cost and id, and search for items in your shop.

Shop Till

Your Shop Till page is where you collect the neopoints earned in your shop.

Sales History

Your Sales History lists all items sold for over 1000nps, if not cleared your sales history drops off after two weeks.

Quick Stock

This is your quick stock inventory page, that allows you to place up to 70 items from your inventory into your shop, SDB, gallery, closet, or storage shed at one time.

Item Gallery

Your Gallery is a place to show off your favorite items.
How to Stock and Price Items

Later in the guide we will get into what to items to stock and how to buy items. This section is a bit more of the basic.

Alright, so you have created your shop, now you have need to put items in there to sell. There are two ways you can place items in your shop, one by clicking on an item in your inventory and using the drop down menu (image on the left), two by using the quickstock feature (image below). Personally quickstock wins hands down on being the simplest way to move items from your inventory to your shop stock.

Now that we have moved items from your inventory to your shop stock we need to price them. Later in the guide we will go over setting the prices for your items. Once your items are in your shop stock they will need to be priced before they shop up on your shop front to be sold. All items have an id # assigned to them when they are created by TNT, by default when you place items in your shop stock they go in ascending order by these id #s. So once you have more than 30 items in your
shop (amount shown per page in your shop stock) to find the unpriced items you will need to click on "Order By Cost" link. Once you do this will order all items in your stock by their set price. The only other thing you need to know about how to price an item is you can only use numbers. So if you want to price an item at 69,369nps you would type it like this: 69369 with no commas. Also if you do not wish to price all your items you need to be sure the unpriced ones have a 0 in their box or you will get an error message. Then just scroll down to the bottom of the screen, type in your PIN (if you have it activated) and hit the "Update Shop" button.

Upgrading Shop Size

It costs 150nps to create your shop. To upgrade to size 2 will cost you 200nps, size 3 400nps, size 4 600nps and so on. The easiest way to calculate how many neopoints you will need to get to a certain size, is to take your target size x200. So if you target is 34 you would do this: 34*200=6800nps.
To upgrade you shop size you need to go to Create/Edit Your Shop and scroll to the bottom of the screen and click on the 'Cost to Upgrade: $$$$ NP' button. Above the button you will see your current shop size, amount of floor space, and how many items your shop can currently hold, the cost to upgrade your shop to the next size is on the button.

Setting Shop Goals

Now that you know how to the basics of your shop, you should really take a minute and think about what you want out of your shop. It is fine and good to say I want the biggest shop in Neopia and be done with it, however I find that setting smaller reachable goals lets you keep more on track to getting the bigger ones. Just something to think about is all.
Using the Shop Wizards
The shop wizards are a very important tool to every shop owner regardless of shop size. At first most new users find the shop wiz a bit hard to understand and use, but with a little pratice and understanding it becomes second nature. There are several uses for the shop wizard, finding the cheapest price for an item you are buying, setting the price of items in your shop, and finding mispriced items or snipes. Neopets descripes the shop wiz like this: Alakazam!!! It's the Shop Wizard! The Shop Wizard is your friendly guide to online comparison shopping. Type in what you want to buy and he will search through all the shops in the market to find you the best prices. (He searches a different section of the market each time to get more results!)

Shop Wizard Explained



Learning to use the Shop Wizard to its fullest can be a bit frustrating for some users, but it like riding a bike, once you know how you won't ever forget. To get to the Shop Wizard, you have a few options; the simplest is to use the 'Shop Wizard' link on your text toolbar, you can also get there through any of the marketplace maps. Once you are on the wiz screen you have a few options that will let you narrow your search results.

In the 'Search Text' box: you will need to use a minimum of three characters to do a search, however the more specific your search the more likely you will find what you are looking for. Example: say you are looking for a "Bri Codestone" if you only type in 'codestone' and click search, the wiz may bring up any one of the 46 different codestone items, and can bring up a different one each time you refresh your search. However if you had typed in the full name of the item you are seeking and selected 'identical to my phrase' from the 'Search Items' box the wiz will only search for the item you are looking for.

The 'Area': this section gives you the option to looking in user shops or user galleries for an item. Of course if you are looking to purchase an item you want to search shops not galleries.

Search Items: You have 2 options here, either Identical to my phrase, or Containing my phrase. If you choose Identical to my phrase, you need to make sure you have the full name of the item you are looking for, and it needs to be spelled correctly. If you select Containing my phrase, you can type in anything, and just keep refreshing until you see an item that you want.

Min Price: This is the minimum price of an item. This should always be kept at 0. It doesn't do any good to put the Min Price any higher.

Max Price: The highest the Maximum Price can go is 99,999np. This is because anything priced over 99,999np is considered UB or Unbuyable. If you are searching for an item, and you think that there might be some cheaper than the ones you see, you can type the price into the Max Price space, and hit search shops. You can keep doing this until you think you have found the cheapest price out there.
How to Use the Shop Wizard



Now that we have gone through the shop wizard options, let get into how it works. The shop wizard breaks up all the user shops in Neopia into 13 groups. When you search for an item, the wiz searches one group of shops and displays the 20 cheapest shops in that group (cheapest shop will be on top). Once you do the initial search all you need to do is refresh your page to search another group. Now refreshing several times per search is very important, because that is the only way you will see multiple groups and find the cheapest prices.

So to review, you want purchase a "Bri Codestone", you type in your search, making sure you select 'identical to my phrase', take note of the cheapest price, then you refresh. Now once you find what you think is going to be the cheapest item (after 4 to 6 refreshes), right click and open that shop in a new tab or -blocked- Then be sure to refresh your search page another 4 to 5 times, to be sure you have the cheapest item.

Shop Wizard Groupings

a | n | 0

h | u | 7

b | o | 1

i | v | 8

c | p | 2

j | w | 9

d | q | 3

k | x | _

e | r | 4

l | y

f | s | 5

m | z

g | t | 6

The last thing you need to learn how to do with the wiz is pricing your items. When you price items in your shop 'with the wiz' this means you are setting your price to be the cheapest or near the cheapest in your group. To find your group look at the table above, find the letter, number, or symbol that your username begins with. Lets say for example your username begins with an 'a' then your group also includes username who begin with an 'n' and '0'. To price your items you need to search for the item you are pricing on the wiz, and keep refreshing until you find your group of shops. Once you find your group you will be able to see what other shops are selling that item for. If several shops in the group all have the item at the same price then they are placed in alphabetical order with numbers coming last.
The Super Shop Wizard

The second type of shop wizard is called the Super Shop Wizard (SSW), because unlike the normal wiz it will search every shop in Neopia for the 20 cheapest prices. The SSW is only available to premium neopets users, these users pay for this service either yearly or monthly. To get premium service you can either be referred by someone who has it or by going HERE, you must have a valid credit card to get this service. This means you must be over 18 or have your parents' permission to be a premium user.

The SSW is accessed through your premium portal page, and can be used one of two ways. The first way to use your SSW is right on your portal page. Type in your desired item and set any search parameters and click search. This will find you the 20 cheapest shops in Neopia. The second way to use your SSW is in the Sniperspace mode, from the portal page under the SSW you will see a button that say 'launch'; this will open a new window for your SSW. Sniperspace mode will only give you
the 10 cheapest shops selling your target item. There is one major draw back to the SSW, on average you can do about 20 to 25 searches per hour, however unlike the normal wiz you can buy and price items with one search. Another unique feature of the SSW, is that it can search for an items low price average.
Stocking and Restocking Your Shop
Regardless of a shop's size, it has to be well stocked to turn a profit. When you think about it in simple terms, you can't sell items you don't have. A well stocked shop is one that uses its available space to the fullest. Of course larger shops have more space to stock a greater variety and quantity of items. Since they have all this room, they do not have to be as careful as a smaller shop, who will need to stock a lower quantity of items so they can increase the variety.

Like most things in life it is not good to put all your eggs in one basket. By that I mean the most effective and profitable shopkeepers use not just one but all of these method to stock and restock their shops. I urge you to try and retry all these methods see what works the best for you, and makes you the most neopoints.
Methods Used to Stock and Restock a Shop
Just a quick break down of the three stocking/restocking methodes we are going to cover in this section.

Restocking - is when you buy items from a Neopian shop to resell.

Time:Rsing requires a lot of time, patience, and practice.
Profit:Varies depending on amount of time spent and rarity of the rsd items.
Difficulty:Once you get the hang of it, it is rather simple, as long as you have good to fast internet connection.

Sniping - is when you buy an item from the Wiz or SSW that has been underpriced.

Time:If you only stock your shop with sniped items it can be very time consuming to keep your shop full.
Profit:Depends on the size of the snipe, but generally very good.
Difficulty:Easy to do with any internet connection.

Shop Wizard Restocking
Also Called Sales History Restocking

Time:Not too bad, quicker if using SSW.
Profit:Decent profits.
Difficulty:Easy Easy Easy
Restocking or Rsing

This method of buying stock can make you large profits, but it is a time consuming way to buy items. Users with faster internet connections also have an advantage with this type of restocking. To restock from a neopian shop, you must refresh in the shop until it restocks at random, and then you need to haggle out a price quickly before someone else purchases the target item. There are some really great guides out there about restocking so I am not going to go into all the fine details in this guide.

Sniping Items in Shops, Auction, and Trading Post

Using the Sniping method to stock your shop can be very profitable, though if it is the only method used it can be really time consuming. Internet speed is not as big of issue with this method as rsing, but dial up users may get beat out on a few snipes. There are ways to make the sniping process a bit easier.


I find it very helpful to make a sniping list in notepad , word, or excel.
The list should contain some commonly mispriced items. Like codestone, bottled faeries, dubloons, map pieces, etc.
If you have any coding skills make a petpage of a clickable sniping list is a wonderful way to say time.


A clickable text list like the one below saves you a bit of time with the coping and pasting
My Sisters Frilly Skirt
Mau Codestone
Bottled Earth Faerie
White Paint Brush

Or to make it just a little bit easier you can make use the item images as the link instead of the text.


So we all know that a snipe is a mispriced item you find in another users shop. What we haven't talked about yet is how to find a snipe. It is really simple, you find snipes using the Wiz or SSW. The only difference is that you are looking for snipes instead of stumbling upon them. Now I won't lie to you, sniping with the SSW is much faster and normally produces more results. It does were out quickly though. So really all you need to get sniping is an idea of what you are looking for, time to sit down and refresh on the wiz and then quick fingers to buy the item first.


Another common form of sniping is Auction Sniping. This is just like a normal snipe but you are looking for mispriced items in the auctions. Now it is possible to find mispriced UBs in the auctions and this is what most people tend to focus on, but there are tons of mispriced buyables in the auctions you can resell in your shop and who knows maybe you will get lucky and find a mispriced Draik Egg. We can all dream.

There is already a nice auction sniping page you may want to check out.


Just like user shops and the auction house, you can find tons of great deals on the trading post. Now looking for deals on the trading post can be a nice way to break up your stocking day, or good to do while you are wiz banned. There is a line you should never cross when offering on TP lots. The line between buyer and scammer. A TP scammer is someone who for example offers 10,000 np on a item that is worth and the owner has marked at 100,000np. Yes this is a scam because you are trying to trick the owner into accepting an offer that looks like the price they have set. Anyone who has sold their share of items on the TP have seen these offers. There is a big difference between offering a resell price and a scam price. Don't be a scammer.

Buying with the Shop Wizard

The Shop Wizard was explained in more detail above, so I am not going to repeat myself here. Using the Wiz or the SSW to stock your shop is the most time efficient of all the methods, though maybe not the most profitable. This method is more generally used by larger malling shops, who sell large quantities of items daily. These shops use a restocking method called Sale History Restocking. Your Sales History keeps a record of everything your shop sells for over 1000nps. Your sales history is only stored for two weeks, after that it is removed by tnt. You then take your sales history and copy and paste it into an excel sheet, sort the item column alphabetically and replace everything that was sold in your shop. Now for large shops this works so well because they are visible in a marketplace and are linked to other shops via their mall banner. Since they have all this going for them they are able to price items above the wiz and they will still sell. This method is not a great profit maker for smaller shops who are not seen in any marketplace or sell items for under 1000nps.
Variety vs. Quantity
There is some debate among shop owners over which is better; A large variety of items or fewer items of larger quantities. Both variety and quantity stocking methods have good points. A shop with a wide selection of items can sell several items at a time to one customer. On the down side, shops that carry only one or two of every item may need to be restocked daily or even twice daily. Shops that carry five of every item won't need to be restocked as often, but maybe losing sales from their lack of choices.

So which is better for you?
One type of shop that focuses on item quantities is called a Bulk Stock Shop. Now these shops are generally smaller in size and focus on 50 to 80 common items. Most to all items are stocked in large quantities (25+), and are priced a bit above wiz price. These shops work because even though prices are a bit above the wiz many larger shops who need 3 or more of a single item will pay higher prices to save time restocking their shops.

Important: It is against TNT rules to make agreements with other shops. This means you are not allowed to make a deal with another shop owner to stock a certain item(s) in a set quantity for a specific price.
Shop No Nos
In this section we are going to cover many common things that shopkeepers do wrong in their shops. These are things that can cost you sales and repeat customers. In general you want to stay away from putting anything on your shop front that, takes a long time to load, is too bright, or anything else that may turn costumers away.
Music
Music is not a good thing to have on your shop front for a couple of reasons. First being not every shares your taste in music, you are not going to want to spend time browsing a shop when there is loud unplesant music blasting from the speakers. Music files can also slow loading, and most people will not want to wait on your shop page to load, when the next one on the list will pop right up.

Overdone Graphics
Multiple banners and graphics causes slow loading, and tons of scrolling to get to the items. People like to visit a shop where they find the item they need quickly and with little fuss.

Overpriced Junk
Many users who see a shop full of only junked priced at 99,999np will leave and never come back. If you have reasonably priced items, people are more likely stay longer and search your whole shop.

Bad Graphics/Coding
Bad graphics and coding can block images, text, or links. Not only can your shop lose sales from this, it could also get you reported and your shop description cleared or your account frozen. It is very important to always check your shop front after you make changes to your shop description.

Broken Links
Broken links are not a good thing to have, especially if they are linking to other shops in a mall, or to another page of your shop. Be sure to always check and double-check that your links work.
Begging
Begging or Asking for Donations is not only rude, but also demeaning to those who work hard for their np and pets.

Selling Off Category
(This really only applies to mall shops)
Users in malls are generally allowed a few spaces to sell off-category items, but when you go into a shop that is supposed to have for example Neohome items, and all they see is battledome, people won't even go look at the rest of the shops in that mall.
Malling 101
A Mall is a group of shopkeepers who have linked their shops through a graphic banner in their shops. Most often shops in a mall are around the same shop size or are all in the same market place. Each member of the mall sells different categories of items. Malls are so effective because your shop is linked and advertised in the shops of all your fellow mall members.
Pros and Cons of Malling
Just like with everything else in life and Neo there are Pros and Cons to anything we do. Malling is no exception to this rule.

Pros
Able to price above the Shop Wiz.

Shop is advertised and linked to several other shops.

Shop earns Neopoints while you sleep.

Bigger Shops = Better Malls = Higher Profits

Being able to restock from other user shops. (Time Saver)

Shops look more organized when you stock one or two categories of items.

You are part of a team working together for better sales.

Meeting New People and Life-Long Neofriends.
Cons
Large shop = Huge Upgrading Costs.

Being limited to stocking one or two categories of items.

Following Mall Rules. (Some malls have stricter rules than others)

Requires you be an active Neopets player.

Beggers come out of the woodwork. (You can end up with a huge "Blocked List")

N00B Mails, the things random people feel the need to ask.

Shoppers clicking out of your shop before looking through your items; via mall banner.
Mall Etiquette
Mall Etiquette is really no different than normal day to day courtesy. I will lay out out a few specific things you should always be mindful of as a mall member.
Be sure you have read and follow all your mall rules.

Stay on your category/categories. Your fellow mall members will not be happy to find you stocking a ton of paint brushes in your shop when you should be stocking Toys and Plushies.

Always respond to your Manager/ Supervisor's neomails quickly and thoroughly. If they are asking for your opinion or goals, take a few minutes and think your answers over, after all they are just trying to make your mall better for you and for everyone else.

Update banners as soon as you are asked. I understand it can be a hassle to update your mall banners, but it is rude to delay banner updates and can cost your new mall members sales as well.

If you are having an issue with your shop, another member, or a mall rule then you need to talk to your mall manager/supervisor about it. There is no need for a small issue to get so out of hand that you feel you have no option but to leave your mall.

If you do need to leave your mall for any reason, be sure you give the proper notice to your mall manager/supervisor. Most malls will have this time frame laid out in their mall rules.

I can not stress enough how important communication is within a mall. You need to talk to your Managers and Supervisors as well as your fellow mallers. Compare notes, share tips, find out what works and doesn't work for them. A Mall is a Team, and will only be successful if they act like it.
Finding a Mall
So finally you feel you are ready to join a mall. Now the big question is not how to find one but how to find a good one. There are tons of failing malls in Neopia. A successful mall needs a strong, organized leader with time on their hands and good mallers to lead.

Places to look for a mall.
SAC or Shop Boards - Mall leaders will run ads on the SAC boards looking for members.

Battle Chat Boards - Mall leaders will run ads on the battle boards looking for members. (I know these are the battle boards but you would be surprised what all you can find on this board.)

Premium Boards(If you are a premium user) - Try the Charter Restock and Chat boards. Odds are someone on there will be able to recommend a good mall with openings.

Post on your shop front you are looking for a mall. You may get lucky and a mall will contact you.

Most established malls will have a petpage that list any openings they may have.
TML Mall Page
If you have an established mall or mall group please neomail if you would like your mall page listed here.

Several malls have a link to their mall pages on their mall banners, so searching through the huts to find these pages can be time consuming but may turn up the perfect mall for you.
Once you have found a mall you would like to join you need to be sure you collect all the information you can about the mall and its members.

Things You Need to Know Before Joining a Mall
Do they do any NB ads, if so what are the fees. Make sure you are willing to pay these fees?

Be sure to read all their mall rules carefully and be sure you are willing to follow them to be a part of the mall.

Look at the Mall Banner graphic, is it eye catching? Easy to Read? Not to large or to small?

Looking at the other member's shops can tell you a lot of things about the mall you are considering. Do their shops follow the rules? Are their shops well stocked?
Once you have the answers to all these questions, and any others you thought of, you will need to neomail the mall manager/supervisor. There should be guide lines on how to apply on the malls petpage. When you send the neomail be sure you are courteous, provide them will all the asked for information, and verify the spot you are seeking is still open.

If you are applying for a category that you do not currently stock in your shop, you will need to let them know that in your neomail. DO NOT apply for a spot that you do not have the funds to stock.

Example: You have a shop size of 410, currently you have no mall and are stocking a bit of everything and would like to apply for a Wearables spot in a mall and you meet their size requirements, but you have less than 60 wearable items and no neopoints on hand.

This is not going to get you the spot you are seeking. It is a good thing to leave your category options open a bit when seeking a mall if you can, HOWEVER you need to have the funds to stock at least 4 pages of the category you are applying for.
Leaving a Mall
There are many reasons to leave a mall. Real Life is just too crazy and you can no longer keep up on your restocks. You have outgrown your current mall and you have found another with similar shop sizes. Or any other reason that comes up. What I am getting at, there is a right way and a wrong way to leave a mall.

First off you DO NOT want to get the reputation as a mall hopper. People talk, mallers love to talk and compare notes. Mall hopping is not something you want to be known for. Just to be clear, A Mall Hopper is someone who joins a mall for a short time and then leaves, then later often want to come back to malls they have been in previously. "The grass is always greener" kind of attitude I guess. Anyway the point is, this is not good malling and really I am unsure how this benefits the hopper. Keep in mind a mall manager can refuse your request to join their mall for any reason even if that reason is a rumor.

Most malls, more than likely have it included in the rules about how to leave a mall. It is so simple to do it the right way. Send your mall manager/supervisor a neomail and be honest in your reasons. What good does it really do to burn bridges? Most mall managers I know will gladly have you back in their malls if you give your required notice and didn't cause a bunch of drama while you are leaving. Yes even malling in Neopia can cause drama, sad I know.

If you are thinking of leaving your mall because of an issue that can be fixed, then I suggest letting your mall manager/supervisor know how you feel and what your complaints are before you just up and leave. Many times a solution can be worked out.
Running a Mall Shop
Running a Mall shop is pretty simple.

As part of a mall you have a set category or categories of items you are suppose to stock. I say suppose to stock because if you are not keeping your shop full with a nice variety of items then you are not only costing yourself sales but the rest of your mall as well.

Think of it this way, a shopper enters your shop and sees very few items for sale and all of them off category, do you really think they are likely to continue browsing the shops of your fellow mall members? No, they are going to go looking for another better stocked shop.

Shop Banners are important. They tell your shoppers what kind of items they will find in your shop. Remember everything on your shop front is seen in the huts.

Just because you are in a mall does not mean you should be pricing everything 10k over cost. Outrageous prices will send your shoppers running for the hills.

I know it can be tough in large shops to keep track of all your items, but once in awhile you need to go through non selling items and reprice them. Item values can drop just as fast as some sky rocket.

If you sell a few non category items, price them with the wiz so they sell quickly.

Be mindful of your hut position. If you can upgrade for that top spot got for it. Your shop till will thank you.

One other note on hut position, members in the same mall should try to avoid being in the same huts if possible. You don't want to be fighting with a team mate for top spot. Your mall will get more exposure if your mall members are spread out through as many huts as possible.

That is pretty much all there is too it, see like I said simple.
Running an Independant/Stand Alone Shop
If malling is not for you or you just prefer not to sink millions of neopoints into your shop size, then you are considered an independent shop owner. In my experience running an independent shop takes a bit more time to be profitable than a large mall shop. This doesn't mean they are not worth the time. I know I have said this before, but you get out what you put into any shop of any size.
Tips for making an independent shop profitable
The best way to have an extremely profitable independent shop is to use the Restocking Method. (See Stocking and Restocking Section) Restocking, while time consuming has huge potential for big profits.

The 2nd best way to stock an independent shop is to use the Sniping Method. (See Stocking and Restocking Section)

When running an independent shop you should sell everything you get your hands on. The items you collect from your dailies are not going to make you a fortune, but the np do ad up quicker than you think.

Don't limit yourself to one type of item in your shop. When you limit the type of items sold then you are limiting your profits.

Small shops need to keep their prices in line with the Shop Wiz. If you are a premium member you can price with the SSW for faster sales, but you will see a higher profit by pricing with the normal wiz. Though they may take a little longer to sell.

Bulk stocking (explained in Stocking/Restocking Section) is also another option when running a small independent shop.
Neopian Marketplace: What you need to know
Welcome!


Many times I have been asked the question, What is the Marketplace?", well the answer is pretty simple. A Marketplace is an area a where shoppers can browse ten shop fronts on one page. This is why banners on your shop front are so important. Every shop in Neopia is located in one of the three marketplaces, however not every shop can be seen. This guide is meant to help you better understand how the marketplace works.

Marketplace Vocabulary

Hut
hut is a link from the marketplace to a list of shops. Huts look different in each marketplace, Spooky has Tombstones, Island has Huts, and Main has Houses/Shops. They may look a bit different but they work the same.
Seen in Marketplace
What this means is your shop is linked from one of the marketplace huts.
Hut Position
This refers to where your shop position in your hut, example are you on Top, Middle, or Bottom.
Hut Movement
Is when shops move in or out of huts by upgrading size, changing marketplaces, or getting frozen. This is important because what others do effects your hut position.
Hits
Referrs to the number of people who have entered your shop.

The Marketplaces Explained

Marketplaces only benifit shops who are large enough to be seen in them. When used to the fullest, they will help increase your shop traffic and sales because they promote and link to your shop. Some marketplaces are better than others - the larger the better. Also some huts are better to. Huts that are slow to load because of oversized shop graphics or music are not the best places to be and I suggest you upgrade out of those ASAP. Also take note of where your current hut is on the map, some feel buried or just don't catch the eye quite so much. Pay attention when moving into a new hut because if sales slow, your hut could be the issue.
As I said earlier there are three different marketplaces, Spooky Marketplace, Mystery Island Marketplace, and Main Marketplace. Each marketplace has a different minuim shop size requirement.

Spooky Marketplace

The Haunted Marketplace which is more often called the Spooky Marketplace, is located in the Haunted Woods and accessed from a text link on the upper left of the main map screen.
Spooky is often referred to as the smallest Marketplace since it requires the smallest shop size to be seen in a hut. Currently you will need a shop size of 275+ to be in a Spooky Hut.

Note: Some Neopians can not access the Spooky Huts from the Marketplace screen. If you have this problem then make sure you have clicked on the HTML option located on the image under the Marketplace. The HTML has the added feature of letting you view hut numbers. When you hover over a tombstone you will see a set of numbers like 380-390. If you are located in Spooky, take note of your hut number so you can find your current hut position easier.

Being in Spooky is a Referrs step up from no marketplace at all, but it does not seem to be well accessed or advertised so traffic in your shop may not increase in leaps and bounds.

Island Marketplace is located on Mystery Island and is accessed by clicking on the Island Marketplace Hut on the mid-left side of the map.

Island is the middle sized marketplace, with a minium shop size of 340+ to be seen. Since this marketplace has a image link instead of text, shop hits do seem to be higher than Spooky Marketplace.

Island Marketplace

Main Marketplace

The Main Marketplace is located in the Neopian Central Bazzar. It can be accessed three ways; by clicking on the Main Marketplace sign post on the mid-left side of the map, from the image on your shop stock page, and most recently by the 'Back to Shops' button located at the bottom of all shop fronts.

The Main Marketplace holds 770 shops, 270 more than the smaller two. It requires the largest shop size to be seen, currently 607+ to be in the Main Market.

Joining a Marketplace

Moving into a marketplace is really simple once you meet the minium size requirements. Please keep in mind, the needed shop size changes time to time, because shops move around, upgrade, and are frozen, you will need to keep an eye on your target location. You can check for the needed sizes, by viewing the hut in each of the marketplaces. These huts is indicated on images above with a red star or you can also click on the links below. Once there, scroll to the bottom of the screen to see the smallest shop size. Your shop must be larger than this one to be seen in that marketplace.

Check Main
Check Island
Check Spooky
Now that you have double checked the size requirements of your target, go to your edit shop' page and select the desired shop location from the drop down menu and then click 'Update Shop'.


Once you have joined your target market, go and double check your shop is being seen.

Your Hut Position

Now that your shop is being seen in a hut, lets talk a bit about its position or placement. By this I mean is your shop on the TOP, in the MIDDLE, or at the BOTTOM of your current hut?
So the main goal for hut position is always the top spot. This is the first shop customers see when entering the hut, so it gets the most hits. Now it is not always possible to get the top spot and you will find it can be hard and pricey to stay on top. Being on the bottom (last two spots) of a hut is not terriable because you have a good chance of being bumped down to the top of the hut below you. So of course that leaves the middle spot, worse place to be by far, hits and being moved by others are just not great from this spot.
I need to take just a second and explain how the huts are sorted. First they are are sorted by shop size, but how the same size shops are sorted is a bit harder to understand. Put simply, shops of the same size go in this order: Usernames that start with a symbol ( '_' ) are first or on top. Then they go in reverse alphabetical order ( Z to A ). Lastly usernames that start with numbers ( 9 to 0 ). Example: on the left below is a list of usernames, lets pretend all the names have the same shop size and are in the same hut. I am ready to upgrade shop to match theirs, but I want to make sure you will have a good hut placement if I do. So were will I land?

eeukqicmaj (me)
bsmith97
amsmani
vaspeh
xenabee_28

so the hut
order would be:

xenabee_28
vaspeh
eeukqicmaj (me)
bsmith97
amsmani


Alright now here is where you need to pay attention. Let says that all the shops are still the same size but they are not all in the same hut. Xenabee_28 is at the bottom of the next hut and vaspeh is at the top of the current hut. So when I look at upgrading my shop I want to be were she is, but if I upgrade to her size I will be in 2nd place. Now if I upgrade one size larger than she is I will move to the next hut and xenabee_28 will move down to top spot in the current hut.
Remember when used properly marketplaces can be a great way to increase traffic and sales in your shop.
Importance of Advertising
Advertising your shop is a very important part of shop keeping. Though all shop sizes can benifit from advertising, it is more essential for smaller shops,(under main market size), to bring in more traffic. There are several ways to advertise: Shop Ads Board, Notice Board, & Shop Directories are just a few we will cover in this section.

Shop Ads Board or the SAC

Advertising on the SAC is free, but can be time consuming and repetitive. You can get to the SAC from theBoards link on the main toolbar, then selectShop Ads from the list of neoboards. Now you will see a list of current topics that have been started, you can read through the list and pick one or several to post your own ad on (explained later). You can also start your own topic by selectingNew Topic from the upper right side.
The first box is the 'Board' box, double check this box to make sure you are posting your topic to the correct neoboard. The next box is 'Topic Title', this box is very important because if you don't have a eye-catching title no-one will vist your board or your shop. Your title should be descriptive and easy to understand. Example: "Check out Rachel's Training Emporium". Emoticons can also draw attention to your title, but don't overuse them.


Tip: instead of re-typing your shop ad every time, copy and paste it into a word pad and
save it. That way you can always have it on hand when you want to advertise your shop.

When advertise on the SAC, be sure to check out related topics, it can be a good way to compare your shop to others. As a general rule, you don't want to be pasting your shop ad into every single board you see, it is considered spamming the boards.

The goal of advertising is to draw attention to your shop. So how do you make an ad that will draw customers in? You do this by following a few simple guidelines; Keep it simple, to the point, costumers don't want a 10 line sales pitch. NO chat speak, Neopets has users young and old from all over the world, not everyone will understand what you are saying. Always be sure you are following TNT Chat Rules, your shop is no good to you, if your account is frozen.

Example Ad
*swagbag* Rachel's Training Emporium *swagbag*
We have all your training needs here! Codestones, dubloons, and more!
*star* Can't find something? Check back later! *star*
http://www.neopets.com/browseshop.phtml?owner=racheladoptionagency

Keep in mind that you can only use 400 characters in your message, and you don't want to be too wordy. Also be sure you include your shop link in your message, or signature. This will ensure that they can access your shop easier.

Check out Sabrina's Ultimate Shop Promotion Guide for more great tips on using the SAC.

Notice Board Ads



The Notice Board or NB, can be a very effective way to advertise your shop. The people who use the NB to its fullest extent are in malls (since several shops are linked together), or have the neopoints to spend to get the top spot on page one. The NB is not free, but it is a proven advertising tool. The most you can spend on a single ad is 4 million np. These larger ads are mostly done with several shops being linked in one ad.

Example Mall NB Ad.

The cost of this ad is split between 12 mall members, to make it more affordable.
This is a very common pratice in malls with larger shop sizes, but before joining a
mall that advertises or an independant NB ad but sure the poster is trust worthy since
you will be giving them your hard earned neopoints.

The NB is sorted by price, so the more you pay for your ad the closer to page one it will be. All ads run for a total of 7 days. If several ads are posted for the same amount, the ones posted first will be on top of the others.
If you are a small shop, and can afford a few thousand np to advertise it, then by all means, go for it! If you decide to post an ad on there, the first thing to do is to check what the lowest price is. You do not want to pay any lower for your ad, as it will not be added then. Say the lowest on there is 1200np. This will be on pg. 50. What you want to do is go to pg. 49, and check the prices on there. It is somewhat like the marketplace, finding where your ad would be placed. If you are on the top, that is great, and that is what you want to aim for. The next step would be to place your ad. The best thing to do is to have shop graphic that explains what you sell in your shop. Most people are not drawn to just a bunch of text, but if you have a banner that catches their eye, you will get the customers then.

To place your ad, you need to click on "Add your notice" at the top of the page. You have three boxes to fill in. The first is your title box. This is where you put the name of your shop, mall, or whatever you think might draw in customers. The next box is your message box. Here you can add your coding for your banner, or text or anything that will also draw in customers. The last box is how much you are paying for the ad. Remember not to go lower than the lowest on there. Then hit preview notice. It will bring you to a page where you can take a look at it before it goes up. If there is anything to change, click on I want to change something!. If it is what you want, click on Looks Good! Publish it!. There is usually about a 10-15 minute wait until your ad is seen.

Shop Directories

A Shop Directory is a petpage that lists user shop by categories, based on type of items sold. These directories most commonly display a linked username and shop size, under a category header. Generally category lists are sorted by shop size the largest being first. To be listed, in most directories, you must display a banner on your shop that links back to the petpage. Directories may not generate you a ton of business everyday, but having your shop linked from one or more of these pages, can not hurt.

Here are a few Directories you can check out:



Other Ways to Advertise

Some other ways to promote your shop is by chatting it up on the Neobards. As long as you have your shop linked in your siggy line, everytime you post on any board, you are promoting your shop. Battle, Quests, or Help boards are a great place to answer questions, or just chat with your fellow Neopians, get involved in chats that interest you. Building yourself a positive reputation is a great thing.

For more information on NeoHTML and Siggies please check out these guides:


Auctions and Trades are also a good way to increase traffic in your shop. By placing items that you generaly sell in your shop up for Auction or Trade, you are telling people what kind of items to sell. Popular sellers and UBs seem to do the best to promote your shop.

Example: If you run a petpet shop, then you should always have 4 to 6 trades/auctions that contain your best sellers and some UB petpets.
Creating an auction is simple; from your Inventory page select the item you want to auction, then from the drop down menu (image on right) click on 'Put up for Auction', and hit 'Submit'. In the next window(below) set the minium price you will accept for this item (can not be over 10 million nps). I suggested putting this a little below wiz price, just so long as you make a profit. Then in the next box you determine how much each bid will increase by (1 to 9,999,999nps, as long as it is less than the starting price).


---

To create a trade, you will need to go to the Mystery Island Trading Post and click on 'Create a New Trade' button. Then select the item(s); (you have have up to 10 items per trade, and a total of 10 trades at one time) you want to trade. Next type in price, items, or any other message you want people to see.

The Trading Post is for trades only. It is not for guild ads, shop ads, showing off presents, galleries, chain letters, or anything other than trading your items. Thanks!
~TNT

Using these methods of advertising your shop will bring in more traffic to your shop. Some may work better than others, but that is why you experiment with them all.
Thanks for Stopping By
Just wanted to take one more minute of your time and thank you all for stopping by. I hope that you were able to learn something from the TML Guide to Shop Keeping and Malling. I know I sure learned a lot of new and forgotten lessons while writing this guide.

If you have any comments about the guide please feel free to neomail me.