Oh, my bad. Ok well let me introduce you to some sponsor games. Sponsor games are limited time games, and can be found on the games main page. Usually they are trivia games, or personality quizzes. These are easy and don't require much work at all. You get awarded points for doing almost nothing!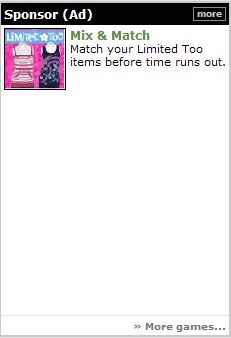 Restocking:
You've probably heard about restocking before, but what is it really? Well I will explain it in steps. It's a bit confusing, but very simple once you get the hang of it.
What is restocking?:
Restocking is when you buy the rare items from the main shops and sell them for wizard price in your shop. The main shops sell them for less, and neopians tend to sell certain items for more. You just have to know which items to buy.
What items should I buy?:



It always depends on where your restocking at. Some good places are The Bakery, Chocolate Factory, Toy Shop, and Magic Shop. Lets say your restocking at the bakery. Pretend there is a Pink Doughnut, a Cherry Pie, and a Milk Chocolate JubJub Cake. If that was me restocking, I would go for the JubJub cake. The rare items stand out more and they look much better than the standard items sold.
Bakery: You want any cakes or cookies you can get your hands on.
Chocolate Factory: Any orange or mint chocolates. Sometimes they have other things that will catch your eye.
Magic Shop: Morphing potions. NO FAERIES!
Toy Shop: Painted pet plushies, or Baby Plushies.
I can't get any items! Am I too slow?:
There are millions of other people trying to restock at the same time as you are. You're going to have to be fast. Yes, it is hard at first but there are tips to help you get the item in under 3 seconds. (Sometimes 3 seconds is too long) First, you want to keep refreshing until you see something that catches your eye. Lets say your going for a Chocolate Kougra Cake. These cost around 7000nps, but in the bakery you see it for 876 nps. Now, you click on the item and the shop keeper asks you to haggle. You have to get to know where the numbers on your keyboard are. If he is asking for 876 nps, you want to type in a repetative number to save time. I would probably haggle for 888nps. (Yes, it is over the price asking for, but it's still worth it) Your offer is accepted, and they as you to click on the image in the box. If you're quick enough, you will get the item. REMEMBER: The repeatative number ALWAYS helps Another good technique is keeping your left hand to type in numbers/letters, and your right hand for clicking "enter". If it's easier on you, use the "enter" button on your keyboard instead of your mouse.
I always miss the restock! What do I do?:
I'm sorry to say that TNT has changed the way the shops restock. They have made it so that the shops restock RANDOMLY instead of a timed restock. There is no exact time for any shops, all you can do is sit there and refresh until the shops randomly restock. Sorry to anyone who used the times on this page, but they are useless because of this change. Check out bringbacktheoldrses's petpage for more details on this change.
Your restocking tips really helped! I got the item..now what?:
Great! Glad I could help. Well now that you've gotten your item, your going to have to sell it! Now, say you got that Chocolate Kougra Cake. If you look on the shop wiz, a Chocolate Kougra Cake costs about 7,800 nps. You want it to sell fast, so your probably going to price it for a bit less than 7,800nps. I'd sell it at 7,400nps. If it doesn't sell, then i'd go down to 6,999nps. Remember: Always use the shop wizard to price items in your shop! (If you don't know how to use the shop wizard, scroll down)
My computer is too slow for this! Any other ways of restocking?:
Of course there are! This way, you need to be fast. Sometimes people make mistakes and price their items for less than it's suppose to be. If they have a codestone worth 4,800 nps , they may price it for 480 See the extra zero is missing? Well, this is a good thing for you! If you are lucky enough to find this on the shop wizard, just click on their shop and go buy it! This is a great way of making neopoints, but you must be patient :)
Chia Garage Sale?:
So you've discovered the
Igloo Garage Sale! This is where you can get some great items for much less than what they are worth! It's much easier because you don't have to haggle. Just click on the item you want and you get it. You have to be fast though because you won't always get the item you want. The catch is that you can only buy one item per restock.

The Stock Market: