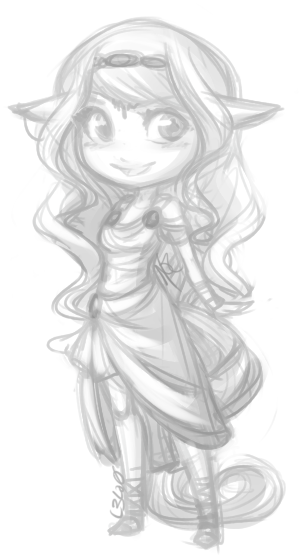 missed submission deadline i didn't know about (srsly by an hour, ugggh why didn't i wake up earlier) even though i had stuff completed, hoorah, this week is going great. desire to complete event gone, will update when i feel like it i guess, no reason to participate with task timeline anymore. :U all or nuffin!
removed forced sections T_T;;

Altalena grew up within the heart of Altador. Sheltered within the walls of the main palace, she saw very little of the world beyond. She was obedient and well-mannered as a child, as was expected of her, of course. She was bright and doted upon, but she was sheltered and naive. This changed with her first glimpses of the outside world. It was new, and exciting, and positively wonderful. A treasure in plain sight, kept hidden all those years. It was only natural that she rebelled once she got a taste of what she had been missing.
It was only when Reni entered her world that Altalena returned to a quieter lifestyle. Teenage years behind her, and a new castle in the forest to call her own. There she raised Reni, away from the prying and judgmental eyes of the world she had grown to know and understand far too well. Now favoring experience and caution, Altalena had grown out of her naivety. The world was wondrous yes, but also perilous and cruel.
Alta has always been a kind person. Genuinely interested in the company she keeps, despite how difficult it is to join this inner circle of friends and family. While she tries to keep an open mind in regards to most things, experience tells her to be wary of most people - the first impression is often the only impression that will matter to her, as second chances have bitten her in the past. But pleasantries will always be exchanged, regardless of how she judges you; just remember: she never forgets.

Name:
Altalena
Age:
26
ish
Gender:
Female
Height & Build:
5'10 & Slender hourglass. c;
Eye color:
Bright turquoise (not shown, woops)
| | | | | | |
| --- | --- | --- | --- | --- | --- |
| #5ED2C4 | #C7CFCF | #5CB1B1 | #E3CC69 | #6D50C9 | #F8F9FA |
Features:
No visible distinguishing markings. She does have some scarring along her torso but she is very careful about covering them and will never show them to anyone. Her tail should technically be longer than her legs, but it
always
curls before touching the ground.
Clothing:
Varies depending on the situation and location; she dresses according to her audience, especially during travels. Generally speaking she wears light, nearly white colors. Often trimmed with gold or silver but never both. She favors longer, flowing dresses, but often with very form fitting tops. Occasional elven-esque design influence. The exception to this being her casual wear which is made up of drapey toga-like dresses.

Accessories:
She honestly has a never ending collection of jewelry so this section is hardly worth mentioning. However she always wears her guardian signet, and never removes it. It contains two dark purple gems and is cast of a black metal of unknown origin. But all other accessories are either all gold or all silver, she doesn't mix metals. She also generally prefers circlets to crowns.
Gemstones:
By default her gems are indigo or royal blue in color. They glow pink or aqua when in use.
Job description:
Though she is a princess of Altador, her involvement with the state is relatively limited. She mainly keeps relations with the other kingdoms, rarely dealing with matters within the kingdom itself. She is an emissary of Altador as well as...
another realm
. She of course isn't the only guardian on this realm, but she is an important one.
Hobbies & Interests:
When she finds herself without much to do, she's perfectly content sitting out in the garden meditating. She's not a busy body in the slightest, and is at peace with doing absolutely nothing. She enjoys her afternoon teas and time to herself. Because her job involves so much interaction, she very much values her alone time. But of course she also enjoys being out in the bustle of the markets and strolling along the streets of her home.
Name:
Venra
Gender:
Female
Species:
Vaeolus
Status:
Passed on (Ghost)
Personality:
Venra was, and is, extremely loyal to Altalena. So much so that her loyalty persisted through her own death.
History:
Altalena found Venra whilst wandering through the Altadorian Woods when she was a child. Though in reality, it was Venra that found her. The small Vaeolus followed Alta in the treetops while she explored the forest's secrets. When Alta stopped to rest, Venra perched on her shoulder and that was that.
Altalena will not talk about how Venra died. Many speculate that Venra sacrificed herself for Alta; a twinge of guilt crosses Altalena's face whenever Venra is mentioned...


Art by other people:
from
mary
Old art by me
Gonna get all this together later... Gotta dig up stuff.