Hello guest and welcome to Le Grenier! This is your one-stop shop for all things relating to Neopia's latest shopping craze: the Almost Abandoned Attic! If you're looking to purchase that item you always wanted, or how to make a healthy profit, or even simply to understand what the Attic is all about, you've come to the right place. Any questions you have about the Attic, you should find the answers to them right here.
Any problems while viewing the site? Neomail me to report any errors.
**UPDATE: As of March 28th 2011, I have introduced a new layout to Le Grenier. This layout should be more compatible with Internet Explorer than the previous. Also, each section of the guide has been seperated onto its own page, so it should now be easier to find and focus on the section of the guide you're looking for. Enjoy!
Visitors since 07/19/2010.

The Almost Abandoned Attic first opened its doors on the 12th Day of Hunting, Y12 (May 12th 2010). The shop is run by a friendly Ghost Aisha, who is looking to sell the various items she has collected over the years in her Attic. Being a Ghost, she cannot make much use of the items, and therefore they are only cluttering her Attic. It is unknown exactly how long she has been collecting these items for, but she does say she is the last of the residents of the house left, and that it has been a long time since she last had visitors who were not ghosts themselves.


I wish someone who wasn't a ghost would help me clean up a bit but I guess that is too much to ask...
The Attic is located in the city of Neovia, deep within the Haunted Woods (the city that was held under a curse until it was lifted by a certain brave Usul, Gelert and Ixi in Y8). However, if you were to visit Neovia to look for this shop, you would be forgiven for having a hard time finding it. This is because, much like Queen Fyora's Hidden Tower in Faerieland, the shop is not openly displayed on Neovia's map. Luckily, this is where I can help you! The shop takes the form of the small house with the brown wooden front door south of the Crumpetmonger and west-south-west of City Hall. The map below shows the exact location of the shop.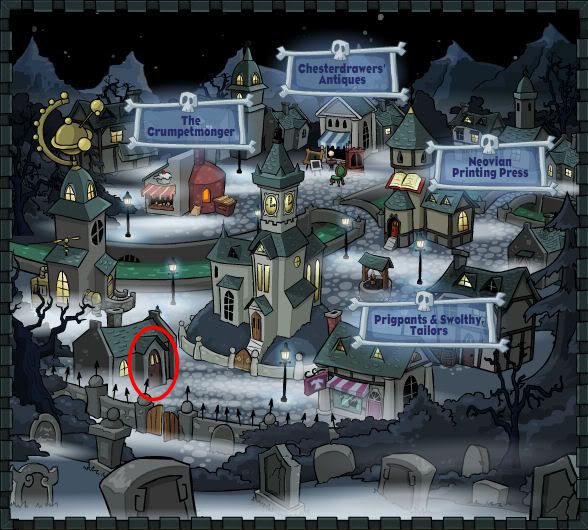 The area you should click is circled in red.
The Attic has one more special property that may hinder you from entering. The Ghost Aisha only trusts to sell her items to users who have been residents of Neopia for a long time. So as such, in order to gain access, your account must be at least 3 years (36 months) old. This special shop property is only shared with the Hidden Tower in Faerieland and the Elite Boutique in the NC Mall, and as such makes the Attic part of the 'Loyal User perks'.
The Attic's inventory is made up from a whole variety of different items, much like the Igloo Garage Sale on Terror Mountain's peak. However, unlike the IGS, the Attic's inventory only consists of items with a rarity of 80-99. As such, this makes the Attic a prime location to pick up rare and often unbuyable items, such as Battledome equipment, morphing potions and gourmet foods. Even items as elusive as Draik Eggs have been spotted on sale in the Attic.


I could be yours if my Ghost Aisha owner can ever find me amongst all her other 'junk'!
The prices of the items sold in the Attic are all based on the Estimated Values that have been assigned to each item. This value can be found by either looking up the item in your inventory (if you already have one of the item) or by searching for the item in the search box on the Neopets sidebar. However, items with a rarity of 99 will not appear when you search for them. This means that finding the price of items of this rarity can be tricky.
Do note though that, although all items sold are r80-99, not all of them will make a profit. Therefore, be careful with what you choose to buy if you're intending to profit from your purchases!
Now comes the main portion of this guide. I will explain how the Attic's restocking works, both the purchasing process and the timing of the restocks.

Purchasing items from the Attic is not too much different from that of other shops in Neopia: when you see an item you want, you click on it and confirm. However, when you make your attempt to purchase, much like with the Igloo Garage Sale, there is no haggle screen. All that appears is the pop-up asking for you to confirm your purchase. As soon as you click 'OK', the shop refreshes. While this does make purchasing faster, this can make it difficult to tell whether or not you have succeeded at purchasing an item without leaving the shop. However, there is one way to check: pay careful attention to your Neopoints total at the top-right, as this will adjust accordingly if you have succeeded at your purchase.

This is the only screen that stands between you and potential profit.
Much like Neopia's other stores, there are intervals between each restock of the Attic which can vary in length each time. One key point about the Attic's restocks however, is that they can only potentially occur every seven minutes. What this means is that when a restock occurs at the Attic, the next restock will not occur any sooner than seven minutes after the first. If the restock does not occur at this point, the next chance will be in another seven minutes time (14 minutes from the first restock). Again, if it does not occur, then a further seven minutes must pass before the next chance arises (21 minutes from the first). This continues until the restock finally occurs, then begins again from seven minutes after the restock. The restocks always take place at 53 seconds past the minute.

Confused? Here is a numerical answer to make things clearer:
Restock A occurs at 12:00:53pm NST (53 seconds past 12:00).
Restock B's first chance of occurring is at 12:07:53pm NST.
No restock occurs at 12:07:53pm, so the next chance is at 12:14:53pm NST
No restock occurs again at 12:14:53pm, so the next chance is at 12:21:53pm NST.
At this point, the restock takes place at 12:21:53pm.
As a result, Restock C's first chance of occurring is 12:28:53pm NST, and so on...
This pattern will occur with every restock, however as said earlier, the gaps can still vary between each restock. For example, a gap of 28-minutes between restocks can be followed by a seven-minute gap. Likewise, a seven-minute gap could be followed be a 56-minute gap. It is still possible for the gap to remain the same, like for instance, three restocks being seperated by seven-minute gaps. The upper limit to how long the gap can be between restocks is unknown, but gaps as high as around 98 minutes (1 hour 38 mins) have been confirmed.
A convenient guide has been created which lists the exact times each day when the Attic can potentially restock. This guide is very useful for timekeepers on the boards, to keep track of the day's restock timing pattern, or if you simply want a refresher on the possible times and patterns. You can find this guide here:
Along with this, a new timing tool has been released recently, provided by user Delinquentkitty and SunnyNeo. This tool tells you exactly how much time is left at the moment you load the page before the next potential restock time. Very nifty, eh? You can find this tool by visiting the following petpage:
One other thing to note about the restocks is that you are only allowed to purchase a maximum of 5 items per day from the attic. Once you reach this limit, you will not be able to enter the shop for the rest of the day. This limit is in place for similar reason to the 10-item limit on the Money Tree: to give users a fairer chance at purchasing items, rather than having the same small number of users purchasing all the items every restock. We all like things to be fair now, don't we?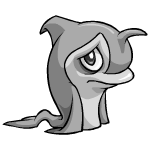 Good thing you can't make others sad by being too greedy!
Some users may be in a position where they can't use their main account to access the Attic for it not being old enough, but their side account qualifies to access. Up until May 14th 2010, TNT have always said you cannot use side accounts to purchase from shops, which also included 'Loyal User Perks' like the Attic and Hidden Tower's discount day. However, in the Neopian Times Editoral #443, TNT changed their stance on the matter and have henceforth allowed for side accounts to access 'Loyal User Perk shops'. With this though come some guidelines that must be followed, otherwise you run the risk of your account being frozen. To quote directly from the Editorial: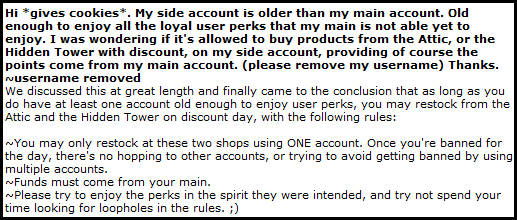 Be sure to read these guidelines thoroughly!
So, as long as you make sure you keep to these guidelines, there should be no problems with using your side account in place of your main account to access the Attic. A link to the editoral can be found here: Neopian Times Editoral #443



Keeping track of the restock times on your own can be a rather daunting task, especially if you've just come online and don't know when the last restock was, or you have forgotten when the last restock took place. Sure, you can refresh every minute until the next restock occurs, but this can get rather tedious. Therefore, the best way to keep track of restock times is using the Neoboards! Groups of users on the Battledome Chat boards, the Help boards and the Games boards have gathered together and created special threads to note down the times of each restock, the time pending between restocks, and lists of the items that appeared at that restock. In this guide, I will cover how the Help boards and Games boards handle these threads, as I mainly use the Help boards myself. If you prefer to use the Battledome Chat, check out their board for their approach to monitoring the restocks.
The Help boards Time-Keeping board is where the times for the restocks and the restock lists are posted. One user at a time is allocated as Time Keeper, to keep track of the times and post them in the thread. The Time Keeper can also post a list of the items from the latest restock, but this responsibility can be passed on to another user (making them the Restock Scribe) if the Time Keeper, for some reason, cannot make the list themselves. No more than one user at a time acts as the Time Keeper or Restock Scribe. When the Time Keeper and/or Restock Scribe can no longer continue tracking the times, another user can volunteer to take over. On this board, chatting is strictly forbidden, as this can cause the time listings to be jumbled among off-topic posts, and so potentially cause users to miss when a restock occurs for not being able to see the time.

This is an example of the Help boards' Time-Keeping board.
For this reason, the Games boards' Time-Keeping board is used for chatting, be it about the restocks or anything else the user feels they want to discuss. As such, the rules on this board are much more relaxed than those of the time-keeping board. Often, users discuss what items they did or didn't manage to pick up from a restock, as well as find out the values of their items. Several guides to the Attic, including this guide, are listed on this page to help new users to the Attic. Any questions that a user may have about the Attic can be asked here, and the users on the board will be happy to answer them (though with this page, you may not have many questions to ask ;) ). The times for the restocks are also posted here, so those who are chatting can still keep track without having to change boards.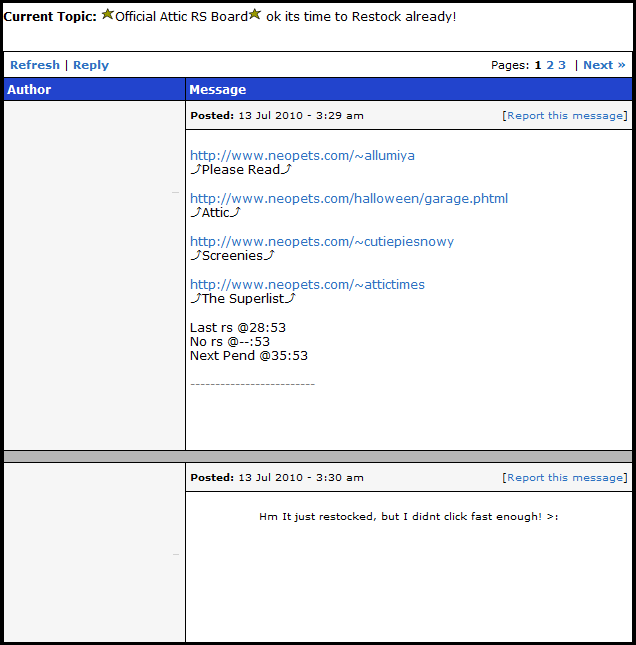 This is an example of the Games boards' Attic Chat board
If you volunteer or are chosen to create/monitor either of these boards, here is some usefulcode to help you with this.
For the Games boards' Attic Chat board, copy the following code from these text boxes to make the board/opening post:
Board Title:

(Change the text inside the brackets to that of your choice, then delete the brackets before posting.)
Opening Post:

(Simply copy and paste this section as the first post to the thread.)

As all of us are well aware, the Neopets website suffers from its fair share of glitches. The Attic will be no exception to this unfortunate truth. Here is a list of glitches that have been encountered thus far.
Glitches Last Updated: July 13th 2010
1. Uncaught Items Glitch
Normally, items which you fail to purchase do not count towards your five item allocation for the day. However, some users are finding that these uncaught items are in fact counting towards the allocation, and therefore greatly restricting their ability to purchase from the Attic. There is no known work-around for this glitch
Reported by: _kate_e_did_
2. Restock Ban Timing Glitch
Some users are finding that when they undertake the purchase of the last of their five item allocation during a restock that occurs at 11:59:53pm NST, instead of it resetting at 12:00am, their restock ban continues through to 12:00 the following day, therefore lasting a full 24 hours. To avoid this, it is best to try to purchase your last item at a restock before 11:59:53pm NST.
Reported by: _kate_e_did_
3. Restock Refresh Glitch
Occasionally, when a purchase of an item fails, the Attic does not refresh correctly, and instead of displaying the remaining items in stock, the shop appears as empty. Even when leaving and re-entering the Attic, the stock does not display. This only affects the active restock, as the shop works as normal in subsequent restocks. There is no known work-around to this glitch.
Reported by: _kate_e_did_
For the first two glitches, I cannot say for certain if they are still ongoing or not, as I have yet to encounter them myself, and TNT has not posted anything in regards to them. If anything does arise to confirm these glitches have been fixed, I will change these listings to reflect this.
However, for the Restock Refresh glitch, I've only had it take effect on me after I had already purchased an item. As such, I believe it could be an intentional function by TNT to limit users to one item per restock. Until this is officially confirmed as an intended feature, it will remain listed here as a glitch.
If you happen to come across any glitches while using the Attic, please send me a neomail, detailing exactly when you first encountered it and the glitch's effect. I will then list the information on this page, and credit you for reporting the glitch. If you do not wish to be named, just add this to your neomail, and I will list you as annonymous. You can send me a neomail by clicking this link here.

Here, I will answer any questions you may have about the Attic that haven't already been covered or need further clarification.
Q: How long will the Attic be around for?
A: As it stands, the Attic will be around permanently, as TNT have not stated it would only be around temporarily. However, this can change if TNT decide that the shop is causing more harm than good to the economy.
Q: I seem to be having trouble clicking the location on Neovia's map to enter the shop.
A: The place to click is right on the wooden front door of the house marked in the map above. If you still have trouble entering the shop, try using the link at the end of this guide to enter the shop.
Q: Is it true that you can use your side account for the Attic if your main is not old enough but your side is?
A: Yes, you may use your side account for this. As long as you follow the guidelines TNT issued in Neopian Tiles Editorial #443, you are free to use your side account to access the Attic.
Q: Some items seem to cost more in the shop than I can resell them for. Why is this, and why does the Attic stock them?
A: Since the items in the shop are all priced at their Estimated Value, which is a static value, not all items will be worth profit, as they are already common in the market. The Attic stocks these items to balance out the number of high rarity items appearing, and therefore slow down the speed the deflation of the prices of these items.
Q: But the Attic stocked lots of high rarity items (Draik Eggs/Morphing Potions/etc) on the first day it was opened!
A: Yes, that is true. However, TNT noticed this and changed the rates of these items' appearances in the shop. Even though their ultimate goal is to reduce inflation, they didn't want to deflate these items as quickly as was happening.
Q: The confirmation pop-up doesn't appear when I click to purchase an item. Why does this happen?
A: This normally happens when you click on an item to try to purchase it after it has already sold. The pop-up window should appear if you click on the item at the right time, but the item can still be bought by someone else while the pop-up is on screen, so this doesn't guarantee you have the item.
Q: I refresh at the time the restock takes place, but I only see a few items rather than the full set. Am I doing something wrong?
A: It is possible that your connection may cause your refreshes to be slower than that of other users. Try refreshing from 50 seconds past the minute rather than on 53 seconds to catch the restock.
Q: I see the full list of items for a restock, but I can't seem to be able to buy any items!
A: Unfortunately, with several hundred people trying to purchase items from the Attic, it is often the case that you will miss out on items, especially with the rarer items like Draik Eggs and Morphing Potions, which most users target first. This happens to all of us, including myself. Luck is key to nabbing items from here. The only advice I can give is, if you can, to try visiting the shop when fewer users are online_
Q: I manage to get the pop-up confirmation for purchasing an item and press 'OK', but I don't get the item, even though the same number are still there as before. Why did this happen?
A: It is likely you have reached your 5-item limit already. You will have to wait until the next day before purchasing any more.
Here are some links that you should find useful pertaining to the Attic:
Direct Link to Almost Abandoned Attic
Anilly's Official Attic Times Guide
Delinquentkitty's Attic Timer Tool

I hope you found my guide useful. If you have any questions you would like to ask about the Attic which hasn't been covered here, or would like clarification on any part of the guide, send me a neomail and I will happily answer as best as I can.
If you wish to link back to my guide, feel free to use the following code:

Le Grenier is currently listed on the following directories:

Page layout designed and coded with assistance from guides provided by:

Banner and button design created using guides provided by:

Thank you for reading, and good luck with your restocking!
The content on Le Grenier was created, coded and written by johncena1267, with assistance from sources as credited.
Please do not steal any content on this page.
All Neopets characters, logos, names and all related indicia used on this page are trademarks of Neopets, Inc., © 1999-2011