Complete and Unabridged!


---
Welcome to Aerial9's Guide to Whack-A-Kass!
---


Hello, guest. If you're here to get some tips and hints
about the Neopets game of Whack-A-Kass, you've come to
the right place. There's no doubt in my mind that
you're here because this little beauty caught your eye :





Now we come to a bit of a forked road:

If you are an experienced (and by experienced, I
mean with a high score of over 1,000 or so) Whack-A-Kass
player who came onto this site to find out how I got such
an unusually high score, I would recommend for you to skip
all the hints inbetween (as you probably already know them
already) and head for the bottom to a section called "The
Winning Factor", where I give an explanation as to how
I really got that trophy.

However, if you do not fall into that category and are
struggling with passing the levels, my advice would be to
read on.

Let's get going with the hints and tips, then. (I'm not
explaining the rules of the game because a.) Neopets
already does a great job of that and b.) Neopets already
does a great job of that. Get my drift?)

~*~

Tip #1: Always wait until windspeed is at 9.
ALWAYS. I don't care if it takes a few minutes. I
don't care if it takes thirty minutes - just
wait for that windspeed to hit 9. Usually the speed
increases by two, so if it starts out at an odd
number, and especially if it starts out high, like 5
or 7, your chances of hitting 9 are higher. If it's at
8, it can only go to 7 or 6, and if it goes to 7,
there's the chance it'll become 9. This might be a
little confusing, but when you're playing, just keep
in mind that your magic number in this game is NINE.

~*~

Tip #2: Whack Kass at the Oppurtune Moment.
Through experience, I've found that hitting the Kass when
it's at your Blumaroo's ears is about the
perfect height. Not only does your bat connect
wonderfully with the poor puppet, the higher elevation
also gives you more air time, allowing the Kass to
travel further. This, however, is easier said than
done. It does take some practice and concentration,
but you should get the hang of it in no time. Besides,
another try is just a click away!




~*~

Tip #3: All Hail the Spacebar/Left Click!
Excuse that incredibly lame previous sentence. But it does
get the message through, because lucky tip number
three is going to be your best friend at passing
levels and whacking the Kass out of this world
(Literally. Well..not quite.) Alright, enough blabbing on
and on. Here's the deal:

Immediately after whacking Kass, either press down the
spacebar or re-click and hold down the left click
mouse button. Both have the same result, so just do
whatever you feel more comfortable with. The effect?
Your airborn Kass will keep his wings tucked in during
flight, so that all his silly flapping won't interfere
with your flight on the way up.

Keep your spacebar/mouse pressed down until the Kass
reaches his peak. Then, LET GO once he starts to
descend, allowing him to flap away! This strategy will guarantee your Kass to fly
much, much further.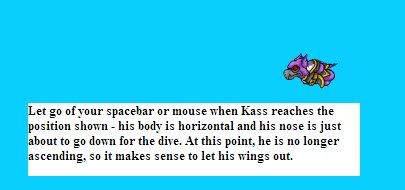 ~*~

Tip #3.5: You're Not Finished With This Bouncing Thing Yet!

After a satisfyingly loud thwack!, the perfect use of the
spacebar/mouse technique and a beautiful, long
descent, you'd think your username was up on that high-
score list, right? Well...not exactly. See...the Kass
puppet is like a sort of ugly tennis ball. It's
bouncy. And bouncy mean it'll go back in the air. And
going back in the air means...yup, more holding-
down-the-wings. *insert collective groan here*

This time, though, it's much trickier. Your Kass isn't in
the sky for 4 seconds - it's airborne for much less
time! So here's what to do:

When you see your Kass falling towards the ground from his
long flight, get ready to click/tap the spacebar.
As soon as you hear him bounce, click/tap and hold
down for about a second the first time, or for however
long it takes him to reach his "peak", which is very
small and quick. After this first bounce, he may
bounce even more! So don't relax - instead, use your
good judgement to decide when to click and when to let
go. Usually, the bouncing airtime doesn't even exceed
a few seconds.





Bounces, seemingly innocent and little, actually wind up
helping your Kass go a lot further in the long
run. My record so far is 5 bounces after one hit -
pretty neat, huh?

~*~

Tip #4: Practice = Perfection
Yup, you saw this one coming. Whack-A-Kass, to the normal
person (well, not that we're abnormal or anything),
appears to be very straightforward - you grab a stick
and hit the falling puppet. Nothing could be easier,
right? But after reading this guide, you've probably
come to realize that there are a few skills to master,
a few tricks to keep in mind. But put my tips
and your practice together, and in the end you WILL
pass that tricky second level and eventually get loads
of NPs and a great score from this game! I would
guarantee this but I'd probably get a zillion lawsuits
the next morning. So practice, practice, PRACTICE!


~*~*~*~*~*~*~*~*~*~*~*~*~*~*~

The Winning Factor

So right about now, you must be thinking in your
head, "Well gosh, yes, this guide has been so
unbelievably helpful and shockingly accurate and so
well-written that the authoress should really be
worshipped," (k, sorry, I'm getting carried away) "but
how come even though I've faithfully followed all her
tips, I'm stuck with this *insert your highest score
here* score and she's got that trophy and a score of
1702 to boast of?"

Sadly, the answer to your question is sheer, dumb luck.

You see, on the very rare occasion in this game, the
player is allowed to use the tree as a bat
instead of the usual bread/paddle/spiky bat thing. As
for how to activate this "secret" bat, well, since
it's so rare and random, nobody knows how to. It falls
in with those "why do socks always disappear in the laundry?"
mysteries nobody'll ever solve.

So you can imagine my shock one day when I was very
innocently playing my favorite game on Neopets to
suddenly find that lo! my Blumaroo was holding an
enormous tree. With the 9 windspeed (very important!)
and a ridiculously large amount of luck, I was able to
whack that Kass...well, pretty far. At the time, I
was too dumbstruck (or maybe just dumb) to take a
screenshot. You can imagine how much I regret that now.

UPDATE: Andrew Lui (andrew_lui04) has very
kindly offered his screenshot of the tree! Here it is!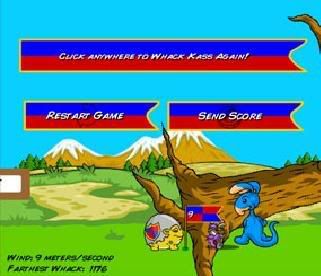 See? I wasn't making it up! Hehe, just kidding.
It's funny looking, isn't it?

But don't, I repeat, DO NOT let this discourage you! Even
without having the highest score, Whack-A-Kass can
bring in loads of NPs quickly..and plus, it's awfully
fun to see that Kass flapping in the air, isn't it?
Keep playing, have fun, enjoy the game...and who
knows, maybe one lucky day you'll wind up whacking
Kass with an enormous oak tree and get yourself a
shining trophy. And then have to write a ridiculously
long guide such as this one to satisfy all the people
who're wondering what in the world got you that high
score.

FIN.

Was this guide helpful to you? Neomail your feedback to
belvedere9!
NEOPETS, characters, logos, names and all related indicia
are trademarks of Neopets, Inc., © 1999-2013.
® denotes Reg. US Pat. & TM Office. All rights reserved.
PRIVACY POLICY | Safety Tips | Contact Us | About Us | Press Kit
Use of this site signifies your acceptance of the Terms and Conditions