This page is dedicated to Petpet Rescue which is one of my few favourite games. This game has a simple concept and easy to understand. Your objective is to get to the petpets and carry them to the escape door.

The guide was created on 11 Nov 2007 and used at least 25 images for reference.
» » » » » » » » » HOW FAR?
There are up to 5 levels for you to explore. Depending on how far and how fast
you go, Petpet Rescue will require 2 to 6 minutes of your time.
You will receive an avatar when you score 250 points and above.
This is equivalent to rescuing 4-5 petpets + gems in Level 3.

» » » » » » » » » CONTROLLER
This game does not require using a mouse. You will control your saviour
Scorchio Samuel solely by using arrow keys on your keyboard. Press ↑ for going up,
← for going left, → for right and ↓ for down. You can move diagonally by using
combination of two arrow keys:
←↓, ↓→, ←↑, ↑→
» » » » » » » » » YOUR NEED
A good computer
Good hand skills and eye focus
Time
» » » » » » » » » OBSTACLES
You are to avoid these obstacles if you want to secure your life.
Boulder

The boulder rolls onto you.

Stalactite

Pretty nasty. Somehow the stalactite has the tendency to fall accurately on you. Most of the time.

Lava

It is hot. Everyone knows that.
When you get hit with an obstacle, you will be (unfortunately) sent back
to the entrance of that level. An obstacle accident costs you a life.
» » » » » » » » » GOOD TO LAND ONTO
You will be more than happy to land on these things.
Gems

=5 point

=10 point

=15 point

=20 point

Mine cart

As a safe pavement for you to cross the lava

Petpets

You need to rescue the desired number of petpets to advance to the next level.

A rescued petpet earns you 10 points.
» » » » » » » » » YOUR MONITOR BAR
There are 3 indicators shown at the bottom bar.

You are given 3 lives to spend at the beginning of the game as depicted by the
3 Scorchio's heads shown on the left side corner...meaning you can die 4 times
in this game. Not bad, huh?
In the middle of the bar, the TIME starts with 99 sec.
On the right side corner, the SCORE will sum all your points
as you rescue the petpets.
» » » » » » » » » AS YOU WALK THROUGH
Level 1

You begin with Level 1. You are required to save 4 petpets. This level should be easy peasy.

Level 1 mainly tests your skill at moving between mine carts. In order for you to get to the petpets, there is no other way but to cross the lava. The stalactites should not be your main problem because they fall very slow. This goes the same with the boulders. Whatever you do, please pick the gems as well.

If you lose a life in Level 1, I suggest you start the game again. Every life is precious and you cannot afford wasting a life.
Screenshots from Level 1: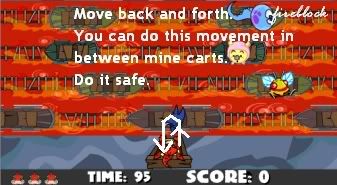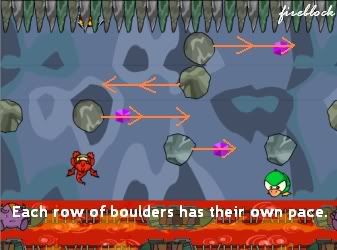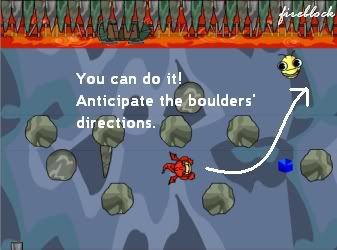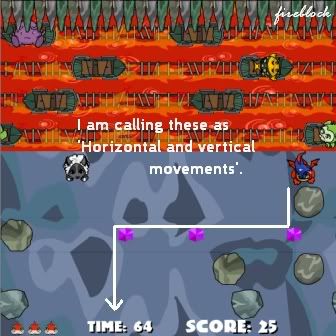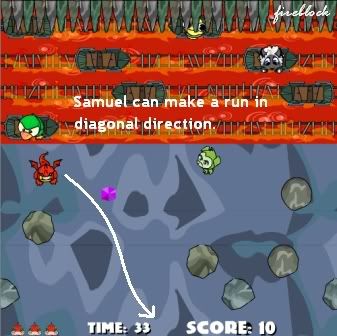 Level 2

You need to go through the boulders and then the lava. Watch out for the stalactites. Make sure you move to the horizontal/opposing side and not downward. You may hit a dead end and there is no way you are gonna avoid the stalactites. Stash all the gems.

If you lose a life in Level 2, I suggest you start the game again if you want to compete for the high score. But if you are aiming for daily 1000 NP (or avatar), you may proceed. You can still go for 1000 NP even if you lost 2 lives.
A screenshot from Level 2: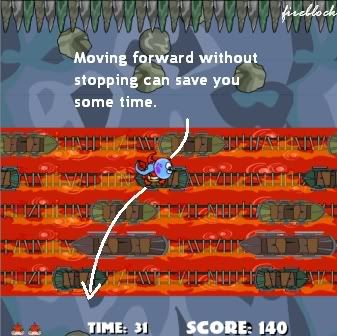 Level 3

Level 3 is the level where it starts to give people headache. The path is much longer that the previous two.

I divide this area into two:
The front area where there are more longer carts, faster carts and easy to make a dash.
The back area where all the carts are so short and slow. Be careful of your step. Making a dash is not advisable unless if you an experienced player.

Most of the case, the petpets are distributed evenly in the area. It will be a hard time if your last 3 petpets are situated at the back area. You will not make it within 99 sec. Majority of players will lose at least one life in Level 3.

Stalactites fall much rapidly. If you see a shaken stalactite, choose a path away from it. Pay attention especially while you are in the mine cart. Jump to other cart and do not let the falling stalactite aligns to you.

If you lose 3 lives here but can proceed to Level 4, I'd say, 'Forget it, just quit and collect your 1000 NP'.

Master's tips:
(1) Make a dash, meaning move forward without stopping. You can try doing this on the mine carts. Very time effective.
(2) Be alert on the shaken stalactites and make sure you move away from them.
Screenshots from Level 3: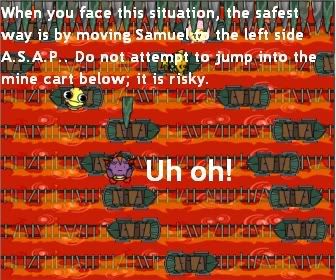 Do you know? Stalactites cannot harm Samuel when he stands at the entrance.
Use this tip when you are rained by stalactites or you have something brief to do.
Level 4

This is like a flip-flop level. You will face with lava, then 3 lines of boulders, then lava, then 3 lines of boulders, then lava, then 3 lines of boulders, then lava...but the scary part is almost ALWAYS the stalactites! This level will definitely give you sweat and you must rush to catch up with time. Stalactites fall much faster, frequent and many.

You will catch a glimpse of Green or Red gems here.

In terms of boulder, I'd say, 'Just follow close behind the boulder'. The boulders are wicked in Level 4 as they are more in number, faster and give you limited space to move.

Most likely players end their game at Level 4.

Master's tip: Jump into the first cart that your pet can reached; do not bother about the petpets at all! Only when you land on the cart that contain a petpet then you can head back to the entrance point. Remember, forward!!!
Screenshots from Level 4: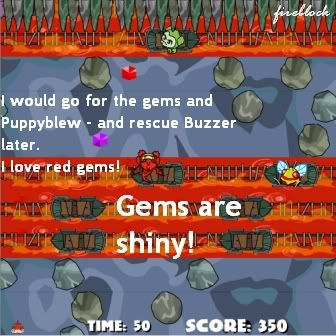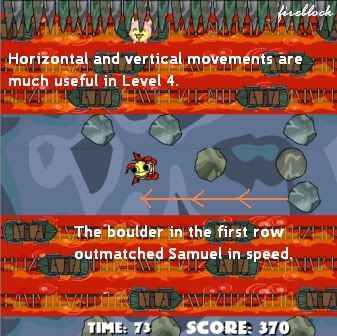 Level 5

Level 5 may be the last level of all. I cannot see the reason why Samuel can go further that this level because by the time you reach Level 5, your Samuel is your one and only life (or maybe two). Moreover, you have to rescue 10 petpets in 99 sec!

Level 5 is almost always resemble to Level 4 in terms of obstacles.

In this very crucial level, I'd say, 'Eye the gems.'

Congratulations upon reaching this far.

If anyone reading this guide happened to go beyond Level 5, do share your story with me. I am curious to know what is the end of the road.
You will earn 25 points upon completing each level.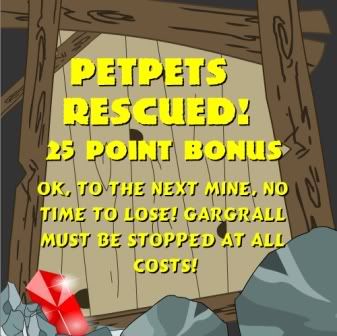 » » » » » » » » » SCORE
Daily NPs: To win 1000 NP for each game, you must score at least 255 points.
This is something interesting. You do realize that when you submit your score,
your mentor will give different comments based on how good your score is?
Let's hear what he has to say.
| | |
| --- | --- |
| When your score is between 0 and 50. | When your score is between 65 and 150. |
Halt! Do you spot any difference between the above and bottom images?
| | |
| --- | --- |
| When your score is between 155 and 295. | When your score is between 300 and 435+. |
Another petpet has disappeared from the vicinity.
Above 500?
Dearest diary, dated 11 Nov 2007: Ah, I scored 515 points today!

What you see on the left is part of the high score board for Petpet Rescue.

A petpet Snorkle standing on a plate forms the trophy for Petpet Rescue.

The players' names on the board are not permanent. On the first day of every month, a new score board is hold up so everyone can compete for the trophy. If you score, let's say, 390 points in the first 3 days of the month, there is a chance that your name will come up for the trophy. It will be impossible to get a trophy at the later days of the month unless your score is remarkably high. By then, 420 points may not guarantee a spot even for the bronze trophy.

The score board on the left was dated Nov 7, 2007.
» » » » » » » » » UH?
Just go and play. You need to spend 3-5 minutes for each game.
» » » » » » » » » MY CONCERN
Petpet Rescue is one of the oldest game in Neopets as long as I can remember.
Since many of other old games have been replace with the new version,
this game may someday changed as well or worse, being demolished.
But I like the game this way, be original.
» » » » » » » » » END NOTE


Thank you Mary for this link button
Feel free to neomail me if you have any doubt or comment.
All contents and images from above game guide are copyrighted.
For other game guides, click the link below.
THANK YOU
Content updated: May 15, 2009