Hello, and welcome to my petpage :) Thanks to SunnyNeo for the coding help ♥
Why hello there! It's always nice to see a new face around these parts. Welcome to my humble abode! My name is Aciid, but please, call me Pippin. What brings you here... oh, guest is it? Well, let's start with a few basics!
As you may already be aware, I'm an island lupe, though it's a little more complicated than it seems. In reality, I'm an 18 year old English girl, and I'm
human
. Ha, it's odd saying that while residing in Halecar. It feels almost as though I'm a traitor! Yes, when I make my regular visits to Neopia, my human form becomes what you see before you. I suppose that being a lupe is the closest I can get to transforming into my fursona, but that's for another time and place. Before I take you on a tour of my virtual world, I'll tell you a bit about myself, if that's okay? Tribbith! I hope so anyway! Please, feel free to stop me if I bore you!

As I said, I'm actually 18 years old. Some people frown when I tell them that, but I honestly just ignore it. In my eyes, I'm barely an adult, so why should I give up all my fun? In the real world (honestly, I sometimes forget which is which!) I'm a second year university student, where I'm taking a degree in English with Creative Writing. I still love at home with my parents and sister since I'm very close to them all, and truth be told, I get homesick when sleeping at a friend's house! Anyway, apart from the obvious perks (like clean clothes and food in my belly), I would miss my dog and rabbit too much if I left.
When I've completed my degree, which seems too far in the future to think about, I don't have any
real
plans about a career. I once dreamt of being a vet, but I woke up one morning and acquired an allergy to all animals, which I suppose would have been a bit of a nuisance if I wanted to work with them ;) Now, I'd love to be a screenwriter. My absolute dream is write for the tv show
Glee
because I'm a huge fan! I also adore writing fanfiction in my spare time along with my own fiction, so hopefully, I can publish my first novel in the future.

Hmmm... Oh yes, how could I forget?! Now you get to learn about all of my current obsessions! I can tell you're excited guest! 8D Well, let's start with my favourite book. Without a shadow of a doubt, my favourite books in the history of the world are the
Harry Potter
series. I read
Harry Potter and the Philosopher's Stone
ten years ago, and now I'm a fully fledged Potter maniac. Did you notice the wizard hat and robe that I sport ever so well? ;) That's due to my love for Harry and the wizarding world. The films aren't as good for many reasons, but yes, I love those too (especially Rupert Grint ♥), and I can't wait till November (P.S, that's when the first part of
Deathly Hallows
is released!).
Films films films... Where do I start? I don't have a favourite per say, but I adore the
Lord of the Rings
trilogy. I also love the
Disney
classics (especially
the Lion King
and
Aladdin
), and anything that makes me feel good after watching it. I'm a huge fan of
Will Ferrell
(of which I own over thirteen of his DVDs), and I also really like
Napoleon Dynamite
(of which one of my fish is named after :D).
Now we get on to TV shows! To cut a long paragraph short, my favourites are (in no particular order)
Glee, Heroes, House, Scrubs and Futurama
. Enough said :) ♥
We're almost done with the offline part I think. I'll quickly run over my musical tastes, because I'm positive that it'll interest you! :3 I don't like one specific genre of music, though I tend to steer away from anything considered 'RnB' or rap. As a few examples, I love
Michael Bublé, The Fray, Green Day, the Glee cast,
and many other people. I actually went to see Michael Bublé perform live in May, and I can say without a shadow of a doubt that it was one of the best experiences of my life :D
So yes, I think that's all you need to know! Well, you don't need to know most of that, but if you're curious, feel free to take a look.

Now onto my life in Neopia! Things are a little different here as you can imagine. Instead of bumping into humans when you're walking down the street, there's a chance you can meet a passing faerie or a particularly grumpy skeith. Still, it can be so much fun roaming the different lands, so much so that I've been a regular visitor for almost three years now. I originally started eight years ago, but I didn't stay for long due to being so young. Now, however, I feel like I'm never going to leave!
I have five accounts on Neo, though if the rules let us have more, I'd have about fifty! xD I have 19 pets that I love and adore, with a space for one extra special pet in the future. Each account has a gallery of some kind, though not all of them have items in them (I'm very disorganised). is my main account. Now the boring part is over, let me introduce you to my Neopets family! I'll tell you a little bit about each pet, and also how they cam to be apart of our group of misfits.
Apparittion
the Ghost Draik
Rio, as he prefers to be called, has been with me for two years now. I traded a grey zafara for him, as I had no ideas for her character, and she was on an old side account. This was the first time I trade a pet, and I'm very glad I did! He's one of the many gods who helped create Halecar, but via an accident, has become trapped in a magic lamp, forced to be a genie to those that find him x3 He's cheeky, funny, and a great friend to others, though he sometimes loses his temper due to his inconvenient situation.
Ivhei
the Brown Draik
Two and a half years ago, I applied for a darigan draik, but was unsuccesful. A few months on, after a lot of saving and donations, my good friends
Pyro
and
Wild
created Ivhei for me, and morphed her into a skunk draik, who was later painted brown. V is the recreation of the draik I applied for. She's the guardian of a large, underground library that she built herself. Due to her heart breaking, V slept for hundreds of years, and found herself covered in plants, and her wings bound up by ivy. She can no longer fly, but has gotten used to her situation.
Rafe_64
the Plushie Cybunny
Ray is an ultimate dream come true. Every since I joined Neopets, I've always wanted to own a plushie bunny, and finally, I do :) Ray lives in Breight's toy shop where she helps with customers, baking the food that Breight sells, whilst also being a detective on the side!
Xhep
the Mutant Draik
Xhep, or 97 as he prefers to be known, was adopted in an application process. I applied for over a year, and finally he come home to live with me :) His story is a very complicated one, so you're best visiting his petpage for more information. However, it's safe to say that 97 is one of the kindest pets you're ever likely to meet.
Aciid
the Island Lupe
Amazing pet alert! ;) Almost three years ago now, I adopted a few pets from the pound with the intention of zapping them. Aciid started off as a male green lupe, and soon became the island pet she is today. She's been through several character transformations, but has now become my Neopet body, giving up her lifestyle to allow me to roam Neopia instead.
Aiffel
the Maraquan Uni
Almost two years ago, Aiffel was advertised for quick adoption. Until she was, I had been zapping unis non stop in the hope that I would get a maraquan colour change (I never did, though I got lots of greys and halloweens XD). Aiffel is an element guardian of Halecar. She's given the job of controlling the sea and waves, while producing sea storms on demand. She's very hot headed and competitive, and wants nothing more than to steal Sonar's powers.
Crimsonia88
the Maraquan Eyrie
Before the pound went down after customisation, I made a short application for Crimsonia88 (or Sonar as she's known). She's also an element guardian, and she's in control of the marine life and water beds of Halecar. While she's a very calm and laid back pet, she hates Aiffel with a passion, as the spiteful uni keeps her trapped in the water with her storm abilities.
Greiye
the Royal Peophin
Created by me and painted by Pyro, Greiye is the Princess of Halecar. She was given the power to control the lands due to her magical heritage, and her ability to rule with a kind yet firm manner. Once a cruel and vicious pet, Greiye has enjoyed being the Princess, and has used her position wisely, allowing her to calm down and be respected for a change.
Breight
the Baby Lupe
Created and painted by me over three years ago. Once an orphan who had nowhere to live, she was taken in by Mr Woole, the owner of 'Breight's Toys & Co', where he named her after the founder. Breight loves to take care of the plushies in the shop along with Rai the kepru and Ruggles the zytch. She adores her role in the plushie shop, and no matter how hards things can be, she always looks on the bright side, and loves the challenge of teaching toys to be good.
Reeid
the Ghost Lupe
Reeid was created and painted by me over three years ago. He started life as a sailor, but was killed during a mutiny, so decided to give that life up. He was then offered the job of soul herder (helping the dead find the way to the next life), but caused too many problems, and was promptly fired. Now, Reeid owns a babaa farm where he raises different coloured sheep. He shears the wool, packs it off, and sells it to many different people. It's not his dream job, but he has fun most of the time! :3
Vandail
the Pirate Lupe
Thanks again to Pyro! Vandail was painted by her a few years back as a birthday surprise :') However, I haven't seen Van in a while... Given the job of distributing small amounts of magic to those who need it, Vandail became obsessed with power, and his task has corrupted him. I do hope he's okay :(
Zulfing
the Darigan Lupe
Zu was a quick adoption before customisation and all that jazz :) As a pup, Zulfing was involved in an explosion that left the right side of his badly scarred, and his right wing limp and unusable. The accident also left Zu with the ability to create and wield fire, so stay on his good side! He now works as Halecar's official tour guide, though he isn't exactly pleased with the job I gave him...
Plainne
the Tyrannian Peophin
Double painted over two years ago, Plia is the younger sister of Greiye. While she's inherited some of her sister's magical abilities, she struggles with even the most basic spells, and her poor gruslen Grass is often the guinea pig. When she's not blowing up her petpet, Plainne runs her own clothes shop, where items are made from the wool that Reeid sells.
Shammyfur
the Robot Ixi
First adopted long before customisation, Shammy is the keeper of Halecar's knowledge. She was almost killed by poachers thousands of years ago, but the gods of Halecar managed to keep her alive by locking her inside a metal case. It isn't ideal, but Shammy is simply happy for a second chance at life.
Zakirrinoa
the Faerie Xweetok
Zaki was given to me by a friend about two years ago now when I happened to stumble on her board. She used to be a singer in a popular band, but after being attacked by a band member, Zaki fled into the forests of Halecar, where she was approached by Rio. It's Zaki's job to distribute petpetpets to others by finding the right bug for the right job. She's sweet, though very timid.
Zovs
the Baby Chomby
When I found a really old account of mine, I discovered an UC mutant meerca that I'd impulse adopted from the pound. With a bit of work, I managed to trade it for my little baby Zovs (though don't tell him I called him that!). Zovs is another of Halecar's gods, though he somehow became stuck in the tiny body of a dragon. Everyone may ridicule him, but he is one of the smartest pets in existence... seriously ;)
Anthrix
the Mutant Lupe
On Leopets, a Neopets fansite, a friend gave me Anthrix when she decided to quit Neo. Dr Anthrix was inflicted with an almost unknown disease that effected his body and appearance heavily. He tests treatments on himself and his numerous naleap petpets, hoping that he can rid himself of his curse. When he's not working, Anthrix enjoys reading Shakespeare, his favourite being Hamlet.
EbilHound
the Halloween Lupe
Ebil has been with me the longest. I adopted him many, many years ago after lupe roleplaying on a board. Ebil is the resident grump of my family x3 He became infected with a disease called Pirratosis (see below) when he was a young adult, and since then, has had to struggle with many different side effects, such as being a werelupe, and being unable to have many friends (due to the danger aspect). When he's well enough to do so, Ebil loves to bake cookies and other treats, while also running a farm filled with abandoned animals. He's normally angry most of the time, but when he's relaxed, he's a lovely pet :3
Pirrato
the Pirate Kougra
Shells
, my best neofriend, traded a RW green uni for Pirrato, but had no idea for her story. I on the otherhand, owned an UC darigan kougra named Gigglezoo, who I also had no motivation for. After lots of discussions, we simply swapped pets, as my idea worked much better with Pirrato :3 She's literally a disease, and takes host in the bodies of others. She's currently living in EbilHound, stopping him from doing things that may endanger her existance. She's not evil exactly, but finds it difficult not to be selfish.

So, what did you think to my family? You can actually visit some of them properly if you'd prefer, though since I can't get their links to work for some reason, I'm afraid you'll have to hunt around for their pages yourself. Sorry about that :(





So, I'm sure you're wondering what I spend my time doing in Neopia? No? Well, you're going to find out anyway! :) When you've got such a huge family to cater for, it can be difficult to get free time for yourself. However, most of my pets are big kids now, so they can look after themselves (most of the time ;D). When I'm not buying them new clothes from the NC, or paying for their Neolodge charges, I like to spend my neopoints on items for my gallery, specifically anything Gallion, Cybunny and Snowbunny related.




See, there are many amazing petpets out there, but really, none of them compare to this magnificent creature :) Gallions are my firm favourites, which can be a bit of a pain, seeing as though they're not the cheapest around. However, I love to collect Gallion related items. I have a small collection in my
gallery
, though sadly, there aren't that many items to collect xD Excluding the actual petpets themselves, there are a total of 20 Gallion items; I own 18 :) My large Neopets goal, apart from completing petpages, getting trophies for all my pets, etc etc, is to own one of each Gallion. Aaaah, someday :)




Another of my hobbies includes collecting Cybunny (and a few Snowbunny) related items. Long before customisation, I owned many cybunnies. Cybunnies were my favourite species, and though my own were poorly named and some unpainted, I loved them to pieces. At the time, I played on two accounts that had names that would be unsuitable under the current rules. Since the rules were different back then, my account was technically safe, though the filters wouldn't allow me to post my username in neomails, petpages, etc. Because I was worried that I'd be frozen for it one day, I decided to start over, unable to pound my pets in case they were adopted first (ah, the horrid days of no transfer system D:). I eventually adopted a faerie cybunny on my new account, and continued playing Neopets, though I still missed my old pets.
Then, dun dun duuuun, horror struck. Pets suddenly looked different, and my extreme love for cybunnies disappeared in an instant.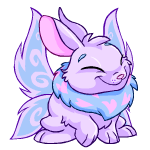 Some people can't see much difference between the two. They look similar, but they don't look the same.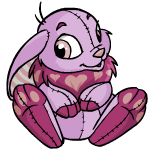 And don't get me started on the more expensive colours D:

Anyway, where is this going? Well, while the old style cybunny used to be my favourite Neopets species, I sitll like collecting the items. Like the plushie above, many of the items retain the same classic cybunny design, so that means they're allowed in my gallery :) While I can't have an old style cybunny as a pet, I can keep these little connections to the past, which help remind me of all the brilliant times I had with my old pets.




Bugs; you either love them or hate them. I happen to adore bugs of any kind :) When I'm in the human world and there's a spider stuck in the bath, my family come to me for aid. I've always had an interest in bugs, so it was only natural for me to take an interest in petpetpets too. Some Neopets don't like them, but really, how is that even possible? :O Not only are the majority of them exceptionally adorable, Zaki has found that many varieties of petpetpets have special talents, which if you're interested in, you can learn all about
here
. That's why, when not updating my gallery, I always buy petpetpets for my family. They offer additional companionship for themselves and their petpets, while also helping in any way they can.
On a completely random note, this is Gigglezoo, also known as
Shells
. Like me, she's actually a human when not in Neopia, but transforms into a kougra when here. We've known each other for just over a year, but I feel as if I've known her for much longer. Apart from the fact that I'm a dog and she's a cat, we get along amazingly well. On some subjects, the two of us think exactly the same, yet we often completely disagree too. We're such good friends because while our opinions can differ, we respect each other too much to fall out because of it :) In Shells I've found an amazing friend who I can share everything with (and someone who I can give my rubbish lab results to ;D). One day, when she's partying with GaGa and she's a famous actress, I hope this little kitty still remembers me :)



I'm not sure if you're aware how Halecar came about, or if you even know what Halecar is! If you're feeling a little clueless, I suggest visiting the
Royal Archives,
where you'll be sure to find out all the information you need and more. Now, assuming you know enough about the land right now, I'll tell you how I came about creating it.
For most of my life, I've enjoyed writing fiction, though up until around three years ago, I'd never committed to one particular character or storyline. When I began to plot out Ivhei the brown draik's story, I didn't focus on her surroundings particularly, instead assuming she could fit in anyway. Soon, after developing her character, I realised that she needed a secure and reliable land to live in, and Halecar emerged, slowly but surely. My other characters were eager to get involved, and I suddenly found myself accommodating to all of their wants and needs in the form of Halecar. Its origins and history were, and still are, in the 'work in progress' stage, but it has most elements sorted... to an extent :) Don't tell Rio, but Halecar wasn't just his idea!
Having your own fantasy land is rather cool I must admit. If you want a place where unicorns roam the fields as phoenix fly overhead, then all you have to do is close your eyes, scrunch them together tightly, and think of that image exactly. Oh, no, I don't actually have any phoenix characters at present, but I may have to look into that at some point :)
Wow, is that the time? I'm so sorry for keeping you so long! Honestly, I get carried away sometimes! Thank you so much if you've listened to everything I've had to say. Feel free to come back any day, and don't forget, my pets would love to meet you if you have some time to spare. Have a safe journey home! :) x