Quick Facts
Name:
Absintheur aka Absi
Gender:
Female
Age:
27
Occupation:
Librarian
Family:
787 - Spouse, Ilharess - Sister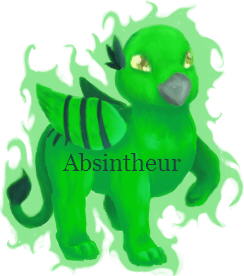 With her head bent over a book, Absi enjoyed the warmth of the early summer sun. The smell of fresh flowers floated through the air as a breeze rustled through the meadow she sat in. The sky was clear and the sun far past its zenith. Around her flitted the green fairies that followed Absi wherever she went. The sound of jet engines in the distance went unnoticed by all in the vicinity – for it was a normal sound of life. Birds singing in the nearby trees would cause Absi to occasionally stop her reading to listen. This was a rare treat for Absi. It was not often she got to leave the floating castle and enjoy an afternoon on the ground.
One of the fairies landed on Absi's shoulder. A whispering voice told her that the best poem was on page ninety two and so she began to turn to it. Until another fairy scoffed and said that was a poem meant for delusional women who would never marry; Absi should look at page fifty three instead. Suddenly the air was filled with the little fairies arguing about which poem in the book was best. Though they fought, the voices were so soft it sounded to Absi as if it was no more then the wind rushing through the branches of trees.
With a giggle, Absi returned to her page and said she would read all of the poems as she got to them. As the day slipped by the fairies continued their debate, though with less enthusiasm. Occasionally one would stop to resume frolicking in the meadow, looking of Absi's shoulder or finding a place to nap. It was such a peaceful afternoon, Absi thought to herself. It was almost as perfect as a dream...
With that thought Absi awoke. Though she had been dreaming this time, that perfect afternoon had once been a reality. It was when she was only about seven years old when she had gone to the surface and read poems with those fairies whose existence she now questioned. A child seeing imagined fairies is of no concern, but the fact that at twenty-seven Absi still saw these fairies... She often wondered if she was insane, but they never seemed an issue so she continued to pretend they didn't exist when around others. Shoving thoughts of fairies to the back of her mind, Absi stepped out of bed to get ready for the day.
Brushing her thick, black hair behind her ears Absi took a moment to look at herself in the mirror. While she wasn't unhappy with her body, she didn't see it as the most beautiful around. Absi lacked the hourglass shape that was so favored by the court ladies and her cheeks seemed to puff out too much. The shape was not at all to her preference, but there wasn't much she could do about it.
As Absi stared at her body she unconsciously began gnawing on her knuckles. It was a habit she fell into when uncomfortable and unfortunately left small cuts all over the back of her fingers. That was one thing Absi did not like about her beak: it broke the skin a bit too easily when she wasn't paying attention to her gnawing. Luckily, this time she noticed it before drawing blood.
Returning her attention to her hair, Absi pinned it behind her ear. Her ear was covered in small vibrant green feathers – much like the rest of her body. This coloring was Absi's favorite thing about her appearance. The vivid feathering was broken only by three black stripes on her wings and faded to a black on her legs and tail.
Dropping her hands to her sides Absi took one last look into her round eyes. Though they were nearly as black as a moonless night they were filled with intelligence and imagination. A smile touched those eyes as she turned her back towards her reflection.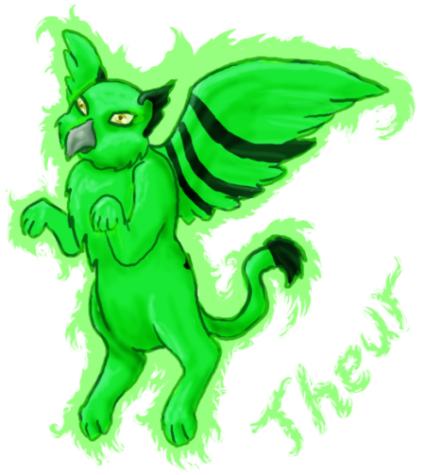 Words rising from the pages
Images filling the mind
A world so new and fresh
Yet ancient and forgotten
A world the page holds within
It is there I spend my day
A green fairy flits around
Toying with my thoughts and mind
Talking of things she knows not
Claiming to be an ancient
I wonder if she exists
But she's a part of my day
Entering the castle gate
The lord is there to greet me
He calls my name aloud
An ancient hand held out
Few know him as I do
Our chattering fills my day My daughter's name comes up
She is the chosen heiress
Her training is underway
As ancient custom declares
Soon she will take the throne
Thoughts of her fill my heart A plane's engine roars above
The pilot I know very well
For our lives are intertwined
Love as ancient as can be
I shall always remain his
He'll forever be in my heart Vibrant green feathers galore
From head to toe they cover
Too gorgeous for my body
An ancient line is absent
I lack the figure and magic
A benign blood fuels my heart