** DON'T steal the music that's playing, I hosted it myself**

Page under major construction~





Pardon Kerii's poorly made cushion. e.e;
Vote for me? ;o;

The waves, that had once been a gentle sea earlier in the day and a sudden storm hitting that evening without much warning, tosses you like a rag doll about as you hold on to the tiller of you small boat. ' Why'd I have to go sailing today?' you ponder to yourself, regretting ever leaving the safe harbors of Mystery Island.
Squinting against the pelting rain you take notice of a group of Isles on the horizon and turn you sail boat towards them, hoping to reach their safe harbors, standing tall against the huge, rolling waves.

As you draw closer to one of the smaller isles with a hopeful glint in your to to make it there safely, you just barely notice a looming dark jagged shape, sticking out of the water. To your horror you try to turn you boat, but it's too late, you crash right into, sending you flying a few feet into the water. Quickly you surface and cough out the salty sea water from your mouth and try to swim to a life ring that had once commandeered your ship. Gratefully and exhausted from the swim to it, you cling to the circle for dear life as you drift closer and closer to the dark, moonlit shore.

Slowly your eyes droop as you struggle to keep conscious as your feet barely touch the sand under the waves that crash on the black sanded shore.
Your body aches from the collision and scarlet droplets speckle the sand as you haul yourself up further onto the shore from where the waves slammed you and collapse under a rather large palm tree as a shadowy figure darts toward you.

Several hours passed as you awaken, groggy and with a foul taste in your mouth. "Wha-what happened?"You stammer as a dark feline-like figure comes toward you, carrying a pot of something in it's jaw and as you take in your surroundings, which was a large cave with a patch of large leaves that surved as a bed for you and the creature. Instantly you notice the white patches of the creature's fur and the chocolate spots on its four legs that gave way to white paws as it set down the pot. "Oh, good you're awake. I was worried about you when I found you."It said, sounding like a young male and went back to fetch a cup and saucer, setting it next to you. "You were in bad shape. Luckily I found you before anything else did. Here. It's tea, it'll help heal you wounds. None are bad, just a few deep scratches, but you'll be fine in a few day's time" He said, smiling as you pour yourself a cup of tea.
Where am I? Who are you?" You ask, looking at the young creature as he blushes abruptly. "Oh, forgive my manners. My name is Ririv, Ri for short. Your on the Isle of Irion. My ancestors lived here after they, too, washed a shore here along with other creatures."He said"Oh. I see" You said, looking out at the clearing noon sky. "Is there anything I can get you or like to know?"Ri said, tilting his head slightly.
Do you have anything to eat and may I know more about you?" You ask. "Certainly. I'll be right back" He said, rising to his paws and darting away, returning shortly with a leaf bundle. "The fruits that are in there are edible and really tasty" He paused "Now, about myself.."He began as you unwrap the package and nibble on some of the fruit.

Full Name~ Ririv
Nickname~ Ri, Riri, Vir
Age~ Around 19 in human years
Gender~ Male.
Species~ Xwee
Paint brush color~ Brown
Fur~ Drak, almost black, brown. Chocolate leg markings with half white ears, tail, chest and feet.
Eye~ Light blue with paler blue rim.
Build~ Lanky, slender, strong.
Tail~ Very long and bushy.
Personality~ Aloof, Sometimes reckless, oblivious to certain things, Kind, Easy to trust, Often fooled, Brave and loyal. Aqua and claustrophobic, meaning a fear of water and tight places. Ri has a tendency to freeze up when presented a tight places and deep waters. Due to a tramatic event in his childhood.
Siblings~ Out there somewhere..
Parents~ Unknown.

-To be here-

Anything else you'd like to know?"He asks as you swallow some tea and glance thoughtfully out at the vast blue sky. 'Certainly is beautiful here...' You thought as you divert your gaze to Ri. "What about what you like and dislike, do you have someone you truly love, stuff like that" You say. "Oh, ok. I forgot about that."He said as he continued.

Likes and dislikes~

~Foresty sounds
~Warmth
~My petpet.
~Being alone
~Vistors



Water~
Art thieves~
The cold~
Annoying sounds~
Being trapped~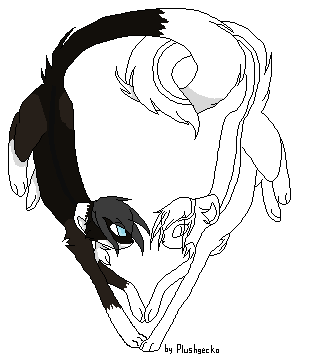 I don't think I'll find the special someone just yet, I mean, who else would get stranded on this isle?" Ri said, looking down at his feet sorrowfuly.
Here is my ref pic;

Ri's adopites~
Rules are going to be typed up later, but see my lookie for their status.
Requests~
None
Trades~
None
Pick ups;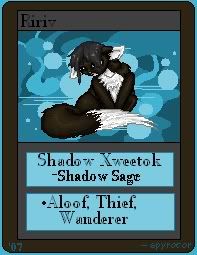 Regular brown Xwees;
Ri looks up. "Hey, I found these things that others had left, thought it was a while ago, but they are lovely to look at"He said admiring the various paintings and trinkets that laid or hung against a wall of the cave. "Wow. They are very pretty."You said, also admiring them as he took you from there and showed you the stunning and breath taking places of his island home.
Art by Kerii~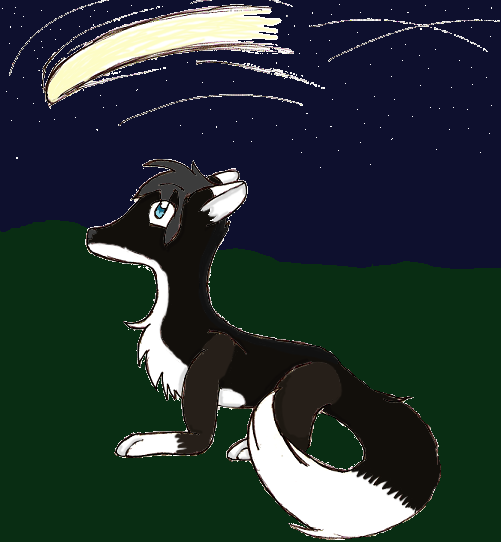 Tracks of others~

Good bye and take care~
As frantic yells come from a distance, Ri perked his ears. "Looks like your friends have come to find you and looks like your wounds are healed. You should get going, before your friends get even more worried than they already are."He says as you look at him sadly. "What about you? Don't you want to come back to the mainland?" You say, as tears began to well up as Ri shakes his head. "Nah. It's tempting, but if someone else winds up here and hurt, who'd be there to protect them from the creatures? Thank you though. It was a really nice thought." He said as you scoop the Xwee's neck and shoulder into a hug as you sob.
In the short time, you and Ri had became good friends. "Here. It's not much, but you can remember me with it."He said, choking back the tears that had also welled in his bright blue eyes and scooted a small trinket to you. "You're always welcome here, my friend. Feel free to visit any time."He said as you reluctantly live the young xwee as he turns and vanishes into the dense undergrowth as you sob more and take a deep breath, knowing you'll see the xwee again someday.