↑Taken↑
!!!
For Good
!!!
---
My name is Jamison and I'm a computer programmer of sorts in college for (surprise!) computer science. I work with java, C++, C, C#, BASIC, DOS, and HTML/CSS (obviously). I don't care if you use my HTML/CSS rules, but please ask before using my images. This includes any non-standard Neopets image on Cynthia and I's pages. I'll probably say yes, it's more of a bandwidth thing than anything.
---
When I'm not in school, doing homework, or sleeping, I can surely be found spending time with my Silly Goose, Cynthia (AKA my world) on Neopets.
---
I don't mind meeting new people, but I'd prefer if you'd send me a message with a small message of any type before adding me to your neofriends list. I'm not interested in being part of your record-breakingly long friends list, flirting attempts, or guilds. If that's what you're after there's millions of others to bother. If not, then drop me a message and I'm sure we'll get along.


---
Daddy's Little Angel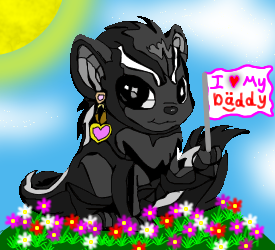 ---
Cynthiison
Female Xweetok
Age: Too young for you!
Level: 10

We do not quit playing because we grow old; we grow old because we quit playing" - Oliver Wendell Holmes