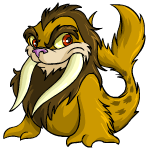 How To Love the Neopet You Hate

by stoneman3x

--------

NEOPIAN POUND - I'm sure it's happened to all of us at least once in our Neopian lives. You pop into the Neopian Pound out of boredom and you see it-- a Neopet with a name that totally cracks you up, like Iatemysocks. In a moment of weakness, brought on from being doubled over in laughter no doubt, you click on the "adopt" button. Then you realize something you forgot to take into account before you made that pet your own-- you hate Tuskaninnies. Or Chias, or whatever species it happens to be. So now you are stuck with a pet you hate that has a name you love.

Been there. Done that.

The temptation to abandon that Neopet and learn from your mistake is very strong. I fell into that trap myself. But I have learned some things since I was a newbie. I have learned that it's possible to learn to love a Neopet you hate. So that Tuskaninny can stay right where he is on your Quick Reference page because I'm now going to tell you what you can do to make him the perfect pet you have always dreamed of.

Zap the heck out of him.

Yeah, I know that buying up all nine pieces of the Secret Laboratory Map to gain access to the Lab Ray is an expensive proposition. It could cost you up to 540,000 Neopoints. Ouch. Maybe you don't like the name Iatemysocks THAT much. But consider this: some paint brushes are selling for over 200,000 Neopoints and you can only use them ONCE. If you want a Darigan Paint Brush, it will cost you a heart-stopping 1,400,000 Neopoints from the Hidden Tower. The Lab Ray, on the other hand, offers you unlimited once-a-day use. Most pets zapped by the Lab Ray change color and species A LOT. And some unique colors, like robot and sponge, are ONLY available through the Lab Ray. So if you keep zapping good old Iatemysocks, he's bound to eventually turn into a color and species that you love. In the meantime, his stats will improve and you could wind up with a fairly strong Neopet as a bonus. The Lab Ray is looking more attractive now, isn't it?

Let's say you want to change that Tuskaninny into something else-- but you already know what species you want him to be and don't want to beat around the Lab Ray bush. The other pet-altering option is to buy a morphing potion or transmogrification potion for him in the species flavor you like. One quick swig of a morphing potion could turn that Tuskaninny into a Krawk or a Draik, for example. And most morphing potions won't cost you more than a fancy paint brush would. Or more than the full set of the Secret Laboratory Map, anyway.

But what do you do while you are raising the Neopoints to change Iatemysocks into some else and you can't bear to look at him every day? What if there's a chance that you will never be able to afford to change him into something else? What do you do with this annoying pet besides tossing him into the Neopian Pound garbage can?

Give him a personality.

I know what you're thinking. "I hate this thing and you want me to give it a personality? Get real, Stoneman." Hmmm... I guess this is a good time to tell you one of my irritating personal experience stories. When I first created him, I completely disliked my Meerca, Reallyconfused. Whoa! You hated your Meerca? The same Meerca that is the star of eighty "Really Confused" comics? THAT Meerca? Why the heck did you create him in the first place then? Geez, if you stop interrupting me, I'll tell you. Sheesh. Anyway, it was like this:

Several months before the FIRST Meridell War, when everyone KNEW a war was coming, several people convinced me to use the Lab Ray to build up my pet stats quickly. But I couldn't bear the thought of my Lupe or my Krawk accidentally being changed into something else-- or painted something stupid-- so I created a pet just to be my "lab rat". I thought a Meerca looked like a rat and was perfect for the job. I expected him to undergo some species and color changes, so I named him "Reallyconfused". I didn't even know if I wanted to keep him. I was just curious to see what the Lab Ray would do to him.

The day I got this Meerca, my sister asked me the most fateful question anyone has ever asked me in my entire Neopian life. She said, "So how does Stonewolf3x feel about this Meerca?" I replied, "It's a good thing that my Krawk is between the Lupe and the Meerca on my Quick Reference page because Wolf would probably eat him if they were next to each other." We both laughed about it. In fact, we spent about an hour joking about all of the horrible things my Lupe would do to the Meerca if he got the chance. I imagined how hysterically funny it would be if the Meerca was so ditzy that he didn't even realize that my Lupe despised him. I liked the notion of an annoyingly perky, dim-witted Meerca so much that I actually fed RC several Glamour Neggs to lower his I.Q. points. That's how my "Really Confused" comic was born.

So what's the moral of this story, Stoneman? The point is, two things happened that changed my Meerca from a Neopet I hated into a Neopet I loved. (1) I gave him a personality and (2) I made that personality come alive. What do you mean you "made that personality come alive"? What kind of double-talk is that?

Oh good, I'm glad you asked. Giving your Neopet a personality is a start, but it's not enough to keep that poor Tuskaninny of yours from buying a round-trip ticket back to the pound. You have to find ways of expressing that personality of his. I made a comic about my Meerca. But another way of making your Neopet come alive is to write stories about him. I did that too. I wrote a story series about Reallyconfused called "Never Play Meerca Chase With a Lupe". When you write a story about your pet, you can submit it to the Neopian Times or put it on his pet page. In fact, working your Neopet's pet page in general will help give you a closer connection to him. The concept is called "actually doing something with your Neopet".

What if you aren't really much of a writer? What if you have no sense of humor so you can't do a comic? Well, you still have several more options. You can write poems about him and submit them to the Poetry Contest. If you are even remotely artistic, you could draw pictures of him for the art gallery or beauty contest as well. It's hard to chuck a pet that's won you a trophy or two. Even if you aren't that creative, you can simply write an interesting pet description paragraph for him on his pet look-up page. Anything you do to express your Neopet's personality will make that pet seem more REAL to you. And the more real a pet seems, the more likely it is that you will start bonding with your pet.

And there's one more thing you can do to ensure that Iatemysocks is here to stay:

Blow your Neopoints on him.

Buy him a petpet. While you are at it, buy a petpetpet for his petpet too. Read as many books to him as you can. Or feed him as many gourmet foods as you can find. The more Neopoints you invest in your Neopet, the dumber it seems to get rid of him.

The idea here is that if you make you pet look special to everyone else, he'll start to look special to you too. And the moment good old Iatemysocks becomes special to you, you wouldn't dream of ever parting with him. I should know-- I have a dim-witted Meerca that's almost 700 days old to prove it. In fact, I am willing to bet that five minutes after this article hits the Neopian Times, someone will actually create a Tuskaninny named Iatemysocks. Why? Because I have just immortalized that name by devoting an entire article to it. Iatemysocks will be a special pet that anyone would be proud to own... even if you hate Tuskaninnies. Just promise me you'll paint him Tyrannian, okay? Tyrannian Tuskaninnies are awesome.