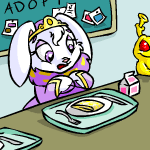 A Walk in Anothers Paws: Part One

by gracalyn

--------

Bright, warm sunlight streamed happily down on the pleasant Neopian afternoon. Owners and their pets walked leisurely about, talking and laughing with one another as they browsed the shops of Neopia Central or took a walk to the Wishing Well. The crystalline azure sky overhead was cloudless, the fiery sun sending its fingers of light down to the busy streets of Neopia Central, and the sweet scent of early summer wafting along, carried on the shoulders of the cool breeze.

"No, no, no! I wanted a Mega Blueberry Tomato Smoothie, not a Large Blueberry Tomato Smoothie! Do I have to spell it out for you?!" A loud shriek of complaint pierced the cheery midday while a disgruntled red Tuskaninny tried to reason with a squat, plump Cybunny. The Tuskaninny was wearing a bright green tee shirt with the words "Power Shake!" written on it. He was holding a Large Blueberry Tomato Smoothie in one hand and was pleading to the young Cybunny to be patient with him.

"Please, miss, I didn't know you said Mega. I thought you said Large. If you'd just give me a moment to go and find the correct smoothie--"

"No! I'm not going to give you a moment! I don't have a moment!" the Cybunny interrupted angrily. "So if you'd excuse me, I think I'll go find my smoothie somewhere else! Somewhere where they actually have decent service!" And with that, she stormed furiously out of the small Smoothie Store and slammed the door behind her, leaving the Tuskaninny shopkeeper standing behind in a state of confusion.

"Honestly, it's impossible to find decent stores these days," the Cybunny complained loudly to her owner, who was waiting just outside the shop. "Oh, my poor baby," gushed her owner, a 15 year old girl with long dark hair and gleaming emerald eyes. She wore a long silken dress, high heels, and tons of bangles on her wrist and dangly earrings. She was clutching a large, clinking sack of Neopoints in one perfectly manicured hand as she listened to her beloved pet rant on about how Neopia was going to the dumps.

The Cybunny was painted Royal, and her name was Cassandra. Princess Cassandra, if she could actually convince people she was a real princess. And with her luxurious mansion, bags of Neopoints, and priceless jewelry, it wasn't too hard to believe. She had wavy blonde hair, shining glossily in the overhead sunlight, and large liquid blue eyes. She was very pretty, but the vain, snooty look upon her face discredited her beauty.

"So, I was thinking we should go to the Grooming Parlour to stock up on more lipstick, since mine is running low. Then you can take me to Uni's Clothing, and we can pick out some new hair ribbons and a new pair of shoes. Then I guess I could let you take me to the Toy Shop, and I can get some new plushies for my room. Sound good?" Cassandra asked her owner in a high-pitched, snooty voice, flipping her shining golden locks over one shoulder with the air of a princess.

"Of course, sweetie," her owner replied, smirking at the passers by as she showed off her elegantly painted pet. "Where would you like to eat lunch?"

"Hmm.. The most expensive restaurant you can possibly find, mommy," Cassandra insisted haughtily.

~~

Later that day, the pair returned home to their mansion of a Neohome. Cassandra flounced happily up to her bedroom. The walls were painted pink, a Pink Vanity Desk sat in one corner, a huge Heart Shaped Bed was in the center of the room, a Pretty Covered Table off to the side, and shelves and shelves of plushies covered the walls, along with posters of Faeries and Yes Boy Ice Cream.

Cassandra set her shopping bags down on her bed and immediately pulled out her Cybunny Diary from the drawer of her Vanity Desk and lay back on her Pretty Pink Pillows. She took an Air Faerie Pen and began to write in a clean page of her Diary:

Dear Diary,

Today was wonderful, as usual. Everyone was staring at me and mom as we walked by. And no wonder! We are so much more elegant and classier than all those lowlife unpainted pets and wishy-washy owners who go to the Soup Kitchen! Ha! I would never set foot in there if you paid me. Not that I even need to be paid. I'm already filthy rich!

The only bad thing that happened today was this dumb Shopkeeper at the Slushie Shop. He completely screwed up my order! Why, he should be thanking me on bended knee for even coming into his measly pathetic shop, not messing up my order! It's so disgusting.

Well, I will write more tomorrow. Good bye, dearest diary!

Signed,

~The Lovely Princess Cassandra~

She closed the notebook softly and put it back in her desk with a satisfied smile. Yes, there was no question about it, her life was definitely perfect. She wasn't like other pets; she was better. She didn't have to go to the Soup Kitchen to stay alive, or have to lounge around the Money Tree to make a living. As for those poor pets who did, that was none of her concern.

And so, with a final wide yawn, Cassandra slipped off her Fluffy Cybunny Slippers and crawled under the covers of her bed, closing her eyes and falling fast asleep in her large pink room.

~~

I was awoken the next morning by two things.

a) My pet Pink Faellie, Percilla, tugged at my arm for me to wake up, and

b) The smell of Cloud Muffins and Eggy Weggs was so good, I just had to open my eyes.

So I started down the stairs and into the kitchen, where Mommy greeted me happily. She was wearing a violet skirt today with a silk white blouse and large hoop earrings. She looked almost as good as I did. Almost.

"Mommy, I'm huuungry," I wailed, plopping down at a seat at our polished Ultranova Table and waiting to be served hot Cloud Muffins and fresh Eggy Weggs.

"Here you go, sweetie," Mom smiled, placing my breakfast in front of me. I immediately attacked it with spoon and fork in hand.

"So, Mommy, what are you taking me to do today?" I asked through a mouthful of muffin. My owner walked over to the table holding a Thornberry Java With Cream in one hand. "Shopping, riding on the Roo Island Merry-Go-Round, watching Faerie Cloud Racers..?"

"Well, hun, I was actually thinking of.. Going over to the Create-A-Pet Center today," Mom begin. Her voice sounded sort of weird, sort of nervous but happy at the same time. I looked up from my bowl of Eggy Weggs. "Why in Princess Fernypoo's name would we want to go over there?" I asked disdainfully. Wouldn't it be a much better use of my valuable time if we went shopping or something? But I was sure Mom had her reasons.

"Oh, well, dear. I was thinking the other day... you know we are filthy rich, right?"

I snorted. "Duh, Mother."

"Well," my owner continued in a weedy voice, "I thought, since it's always been just the two of us, I think I have more than enough Neopoints to support another pet."

I nearly choked on my Kau Kau Farm Milk. "What?!" Did I hear my owner correctly or were all those eggs getting to my head? "What did you say?"

"Another pet, sweetie. I want to get another pet. Won't it be great? You'll have someone to play with and go shopping with! And you can help me pick out what type of pet to get and what to paint it and everything..." She trailed off, staring nervously at the twisted look on my face.

"Why do we need another pet? I'm good enough, aren't I?!" I banged a manicured paw on the table, blue eyes blazing.

"Honey-" Mom began, but she didn't have time to finish. I was shaking with anger. How dare she! How could she even think of getting another pet? I was worth 100 pets! And so, I slammed my fork down on the table and ran out of the room.

But I didn't stop there. I tore down two flights of stairs and finally burst out the door of our Neohome and into the late morning day. The weather wasn't as glorious as the day before. The air was thick and humid, and the sky was gray and troubled, with mountainous piles of stormy clouds floating monotonously overhead, blocking out the sun. But none of that mattered to me.

My breath was coming in short, quick gasps. I began to walk quickly down the street, my royal dress rubbing against my furry legs. Tears burned at the back of my eyes, filling them up and threatening to spill over. But I blinked them back, giving a loud reproachful sniff. Princess Cassandra doesn't cry. Never. No matter what.

But honestly, the nerve of that girl! I kicked at a clump of Rowzez angrily, letting off steam. Why would she want to get another pet? Was I not good enough for her or something? Did she just want a new baby to coo over and I was suddenly old news, just like that? Well... maybe it wouldn't be that bad. After all, maybe she was right. A younger sister would be OK. I could teach her all my killer style tricks and all the best stores to shop at. And I mean, there's no way she could ever take over the family. I will always be my owner's favorite pet. There's just no way I couldn't be. I'm me.

I was finally calming down a bit, so I decided to stop and go get a Milkshake. Or two. I was walking on my way to the Food Shop when a loud boom rang out overhead in the stormy grey skies. Shortly afterward, a jagged fork of bright lightning flashed across the sky, illuminating the streets below. Then large, fat raindrops began to fall. Oh, great! This was going to ruin my hair! And get my dress wet! I began hopping as fast as I could to the nearest shop I could find.

But I was hopping so fast, I wasn't watching where I was walking, and I tripped over a large stick laying innocently on the ground, and fell right into... a huge puddle of water and mud. I raised my head up from the mud, spitting the dirty rainwater out of my mouth with a disgusted look on my face. I reached a paw up to wipe all the grime off my face and got slowly up. And worse- my dress, my expensive, beautiful dress, was ripped! I gave a loud shriek of anger and tears, once again, filled my eyes.

I rubbed my knee, which had been scraped when I fell. I bit my lip, trying not to cry out in pain. I limped crookedly into a dimly lit shop, now thoroughly soaked from the rain.

But I was sure the owner of the shop would dry me off and clean me up, and tend to my scrape. Before long, I'd be looking picture perfect again. I opened the door of the shop, which was empty, and was amazed to see who was standing behind the counter. It was a cherry red creature with a lime green tee reading "Power Shake!" on the front in big, bold letters.

"Ah, nice to see you again, miss," the Smoothie Shop Tuskaninny greeted me carefully, avoiding my eye. Well, even though I was muddy and wet and my knee was scraped up, I was obviously still pretty stylish, since the shopkeeper recognized me from yesterday and all. But there was no way I was going to ask any help from him. It would be totally humiliating, and I doubted he would even want to help after permanently embarrassing himself by messing up my order yesterday.

He moved out from behind the counter. "Are you all right? Here, let me help clean you up. You should stay here until the rain dies down. I can get you a Mega Blueberry Tomato Smoothie..." he grinned at me. I cocked my head to the side. Why was he being so nice to me?

I snorted. "Whatever," I replied. "Like I need any help from you. I'm fine by myself, thank you very much. I have to get going anyway," and with that, I walked haughtily out of his shop, head held high and chin pointed up.

The rain was hammering down even harder now. I blinked huge water droplets out of my eyes, and tried in vain to cover up my already dripping golden hair. More crashing thunder and wicked lightning filled the air, and I began hopping in the direction of home. I darted around puddles, splashing through the empty darkened streets while holding up the hem of my soaked dress. My tears spilled forth uncontrollably, blending in with the raindrops clinging to my face. I blinked furiously, my nose running and I was hiccupping randomly.

Finally, about 30 minutes later, I had reached the front porch of my door. I had completely forgotten about the little incident with my owner, figuring that she would've thought over getting another pet and finally realized I was the only pet for her. She would welcome me with opened arms, and fill the Fancy Bath Tub with warm water and clean my dress and blow dry my hair with her Basic Dryer.

I opened up the door and sloshed inside, going upstairs to find my owner. "Mommy!" I called, my voice echoing off the walls. "I'm home! Where are you?" I wandered into the kitchen, only to find my owner, standing over the stove as she warmed a Baby Shoyru Baby Bottle for a tiny Faerie Uni sitting in a high chair beside her. My mouth dropped.

My owner turned around with a warm smile, which immediately faltered as she saw my sorry condition. "What in Neopia happened to you, Cassy?!" she exclaimed in scandalized tones, handing the bottle to the young Faerie Uni. I only stared straight ahead.

"Oh, nothing," I replied hurriedly, my voice slightly clogged from crying so much. "Why are you babysitting someone's pet?"

Mom gave a sort of giggle. "No, silly. It's not just 'someone's pet', it's our new pet! Cassandra, I'd like you to meet your new baby sister: Jillian. Isn't she gorgeous? I painted her Faerie the moment I got her!"

I stared incredulously at my new baby sister. I had to admit, she was pretty. She was tiny, with huge shining chestnut eyes and a glossy powder blue coat. Her silky mane and tail were creamy white, with streaks of light blue in them. A huge pair of sparkling pastel pink wings stretched skyward, and she gurgled happily upon seeing me.

"You- you went and got a new pet? Without me?" I couldn't hide the hurt in my cracked voice. I blinked at my owner. Jillian just sucked on her bottle, happily watching the two of us.

"Well, darling, I didn't know where you had gone off to. I'm sorry..." I shook my head.

"No, mom! Take her back! I don't want a new sister! I want you to be only MY mom! No one else's! Please, mommy, please take her back!" I couldn't help it, the tears just started flowing all over again. For a girl who had never cried all her life, I was sure doing a pretty good job of making up for the past.

"Why, I am most certainly not getting rid of her! How could you possibly suggest such a thing? You are really surprising me lately, Cassy!" Mommy frowned at me, hands on hips. I was trembling with hurt and anger.

"Well," I began in a shaking voice that was far from the usual cool, confident voice of my own, "Then if it's not her, it's me."

My owner stared at me with a slight frown. "What?"

"If you can't get rid of Jillian, then you'll have to get rid of me." Ha! This was a brilliant plan. She couldn't worm her way around this. There was no way she could ever, possibly pick Jillian over me...

"Fine," Mom replied simply. I blinked. "W-what?" I asked her, confused. Mom sighed. "Fine, Cassandra. I will not get rid of Jillian; I'm sorry. And if you can't accept that, then I don't think you should be a part of this family anymore."

I simply stood there, numb. My owner's last words raced around and around in my head, blurring together and sinking into me. I stared up at her, tears shining in my eyes.

~~

I walked miserably behind my ex-owner as we approached the Adoption Agency desk. We hadn't said one word to each other all morning, and had been avoiding each other's eyes. She approached the desk, looking up at an old, grizzled yellow Techo with wiry white hair sprouting uncontrollably from his head. He leered down at me before asking Mommy- I mean my ex-owner-, "What do you need?"

My ex-owner stuck her chin up, and looked down at me. I sure wasn't a very pretty sight. My hair was mussed and tangled, still dirty from falling in the mud the day before. My eyes were red and puffy; I had stayed up almost all night, mostly crying. My dress was stained and torn, and it no longer looked valuable or pretty; it just looked like a rejected child's Halloween costume. I sniffed, wilting under my ex-owner's piercing gaze.

"I'd like to abandon my pet," she answered the Techo, her voice never faltering. Was this actually happening to me? To me? This had to be a bad dream; a nightmare I would wake up from in a matter of minutes. I pinched myself, hard, to remind myself I was merely asleep. But it hurt. Ouch.

"Ah, okay... well, that'll be 250 Neopoints then..." the Techo mumbled to my ex-owner, who handed him a handful of Neopoints, then he stared down at me again. I seemed to shrink in his imposing shadow. "If you'd follow me, Cassandra..." I stumbled along in his wake with trembling paws, keeping my eyes glued to his back.

He led me through a gray door with the paint peeling back in little curls. I now found myself in what looked like a sort of jail cell: the walls and floor were gray cement, and there were metal cage-like cubicles running the length of the room on both sides. I now saw each cubicle held host to a number of scrawny unpainted pets. I tried not to wrinkle my nose in distaste. They all stared out at me through their cages. I noticed they all looked bony and underfed, their eyes sort of sunken into their gaunt skulls and their lips closed tightly together. They all smiled kindly at me, some waving. I shuddered.

The Techo, called Dr. Death, showed me into an empty cubicle. "Here you are," he growled, beginning to walk away.

"Wait!" I called after him. He turned around. "You forgot to tell me when they'll be coming to get me to move me into my real room," I reminded him impatiently, hands on hips.

My gave a dry, wheezy laugh and just turned back around and walked down the hall. I frowned after him. I was getting my own furnished suite, right? I better be!

"Hi there, my name is Peya," a small voice greeted me from my right. "And this is Ernie." I turned around, only to come face to face with a yellow Moehog and a red Kyrii. The Moehog continued in her small, soft voice. "We've been in here for about 2 months. It's not so bad, you'll make lots of friends," she smiled at me. She was so ugly! And so was Ernie, the red Kyrii. They must be miserable.

"That's nice," I replied flatly. "When are we eating, anyway?"

The Moehog looked slightly taken aback at my response. "Oh- uh, well I'm not sure. We just had breakfast, so..."

"What's your name, anyway?" the Kyrii demanded quickly.

Peya shoved him in the ribs, whispering, "Ernie! Don't be so rude!"

I only held my head higher. "My name is Princess Cassandra," I answered importantly, voice high-pitched and snooty. I smoothed my dress fashionably and stared back at the two pets. I did not like them one bit. I shouldn't have to talk to this kind of pound riffraff, I'm much more important than that!

The Moehog raised her eyebrows. "Really? A real princess?" she asked excitedly. "Then... why are you here?"

"I- uh.." my voice faltered, and I tried to regain my composure. "I... just thought I'd stay here for a bit to uh... check things out... and... um..."

"Oh, please, you were obviously abandoned," Ernie cut in skeptically. He earned

another glare from Peya.

"Well..." my voice trailed off. The nerve of that Kyrii! I was just about to say that no one would ever even think of abandoning me (though of course my owner certainly had) and that they should keep their noses out of other people's business, when a soft, gentle voice came from the front door of my cubicle. "Cassandra?" it called.

I turned to see a very pretty looking Uni smiling down at me. She was bright pink with a long pale pink mane and tail, and soft periwinkle eyes. "Yes?" I asked, puzzled. Maybe she was looking for a pet! "Are you here to adopt me?" I couldn't keep the eagerness out of my voice. Ernie snorted. "I thought you said you weren't even abandoned?" he reminded me sarcastically. I ignored him.

The Uni gave me a motherly smile. "No, no. I am Miss Rose. I work here." I felt my cheeks burning.

"Uh, yeah, I knew that," I replied airily.

"I just came by to offer you some breakfast, since you cam a bit late and by the time you got in here the food was being cleared away. But I managed to save you something good... it's still hot..."

At the mention of food, my ears perked up. "Oh, yes! Food! What do you have? Fluffy Faerie Pancakes? Scrambled Rainbow Negg? A Cinnamon Swirl?" I asked eagerly.

Ernie burst out laughing. "What are you, some high maintenance millionaire?" he exclaimed through fits of laughter. "Ernie!" Both Rose and Peya scolded at the same time. I frowned, then looked back up at Rose expectantly. "Well?"

Rose looked sadly at me, then picked up the omelette and walked away. Peya looked at me with tearful eyes. "You... you think I am a lowlife pet?" she asked, voice trembling. Ernie was glaring stonily at me from the far corner of his cubicle.

"Nice one," he said coldly to me.

"Well... you are," I explained to Peya, unable to understand why this fact would so upset her when she had known about it her whole entire life.

Peya bit her trembling lower lip and turned away. I shrugged and curled up in one corner of my cubicle, extremely tired. But for some strange reason I couldn't get to sleep. The past day's events kept swirling around in my head, troubling me.

"Well, sorry, honey, but the Pound is on a budget. This is all we have." And she took out my breakfast from behind her back... a Plain Omelette.

I stared incredulously at the omelette. "You have to be joking!" I exclaimed. "There is no way, no way at all, I am eating that filth! I demand you bring me something finer!"

Rose shook her head sadly. "I'm sorry, Cassandra, this is all we have. Please eat it," she shoved the plate with the omelette on it further towards me, but I took a step backwards in protest. "Nuh-uh," I insisted stubbornly. "I deserve much better than this! It's okay for all you unpainted low-life pets to eat this mess of a breakfast, but not for Princess Cassandra! If I am going to stay here, you're going to have to learn the right way to treat me."

I hate that blasted Jillian, I thought bitterly. If it wasn't for her, I would be at home right now just finishing my huge gourmet breakfast and preparing to go shopping. She stole my plushies, my food, my bedroom, my petpet, and even... my owner. This whole thing is entirely her fault.

But my owner will soon realize the error of her ways. She'll be here either today or tomorrow, begging to take me back. And of course, I will accept. As long as someone else doesn't adopt me first. I mean, I am a Limited Edition pet. And I am painted Royal, even though you can't really tell at the moment... but as soon as the Pound lets me go take a bath in their Jacuzzi tub, I'm sure I'll be adopted just like that!

But the hurt tone of Peya's voice kept echoing in my head. "You think I'm just a lowlife pet?" I rolled over on the cold, hard ground uncomfortably. They better hurry up and move me into my own personalized and furnished suite...

To be continued...