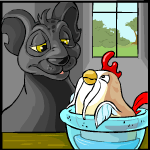 The Peadackle's Call

by charmedhorses

--------



NEOPIA - As is any place, Neopia is full of noise. The moo of a Kau, the bark of a Gelert, the whinny of a Uni; everywhere there is a pleasant reminder that you are not alone. True, this can be a bit much at times, such as when your head is throbbing or you're about ready to collapse, but most of the time it's a nice nuisance.

Likewise, everyone has a favorite sound. Whether it is that of their Neopet or the rippling of waves on the beach of Mystery Island, there's always something that brings the tug of a smile to a Neopian's face. I happen to live out in the country with my Uni, Indipsi, and a favorite sound of mine is the daily call of our Peadackle. It seems to feel that it's duty is to wake us up at the crack of dawn each morning. I have no problem with this, seeing as I simply roll over and fall back asleep, but over time I have learnt that its call means much more than "Wake up!"

The Peadackle Itself

Before we get too far into the cry of the Peadackle I would like to introduce you to the petpet itself. When officially looked up the Peadackle is defined as such: "This little chap will make sure your Neopet gets up bright and early with its morning cry of Pea-da-doodle-do!" This said, perhaps you would like to get one for your Neopet. After all, a Peadackle could serve as a wonderful alarm clock. (One that can't be turned off with the press of a button.)

Getting on with it, the Peadackle is a strange petpet that appears to be a cross between a Pfish and some sort of winged petpet. Oddly enough, the Peadackle's feet double as flippers, enabling it to both swim in water and walk on land. Thus it is able to wake up islander as well as the usual inlanders. However, if I were you I wouldn't let their strange appearance get to me. The Peadackle has an ever positive attitude that is evident in its crow.

Recognizing the Call

Once you know what you're listening for, it's quite easy to recognize the Peadackle's call. After all, not many petpets go "Pead-da-doodle-do!" I have found, however, that each Peadackle has a certain way of personalizing their call. For instance, ours has a slight accent and its crow sounds different as a result of this. We wake up every morning to the sound of "Pied-da-diddle-doodle-do!" The Peadackle next door cries, "Pead-da-daddle-di!" Every one seems to put its own spin on the usual call.

You're probably wondering why it matters that you be able to distinguish your Peadackle from the neighbor's. After all, so long as you're woken up does it really matter whose petpet is responsible? Well yes, I believe it does; for a couple of reasons.

To begin with, Peadackles stay very true to their schedules. Indi's and mine wakes us up each morning at six o'clock sharp. If it skipped a day I would be worried that it was ill. Little else could keep it from crowing. Another reason the Peadackle's unique call is important is that when asked politely they will sometimes wake you up at a certain time-sort of like an alarm clock. There's no point in asking them to wake you up at eight instead of sic, but if you're really tired one afternoon and decide to take a nap your Peadackle will wake you up so that you're not late for other engagements.

The History of the Call

Though the Peadackle's call has evolved over the years it still remains very true to its history. In years gone by , before they were tamed as petpets, Peadackles used their voices to communicate with one another. (Not as wake-up calls.)

When the Peadackle population was smaller their call was quieter, most likely because it was easier for them to hear each other. It was also more of a cluck than a crow. The story behind this is very interesting.

Way back when Peadackles loved to chitchat. All day long they would talk and talk with one another, in a language that only they could understand, of course. However, eventually their population grew and it became harder and harder for them to hear each other clucking. Tempers began to come out and frustration grew. Finally it got so bad that one lone Peadackle raised its voice above all the others and crowed. This caused a great hush to fall over the clan, but it didn't last long. After no more than a minute the whole bunch were crowing their beaks off.

Today the traditional clucking is a lost language and Peadackles have adopted crowing as a first tongue. My guess is that some people would have preferred clucking, but such is the way evolution goes.

Imitating the Call

Recently a lot of interest has been put on the Peadackle's crow. Perhaps this is because of its unique tone and shrill persistence. One of the more comical events I have been introduced to is an actual Peadackle's crow competition, where Neopets try to imitate their petpet. This is absolutely hilarious to watch and I can't keep myself from bursting out in laughter whenever I attend one.

How exactly does one imitate their Peadackle? Well, it takes a lot of time and intent observation, let me tell you that. I have never participated in a crowing competition before, but I have gone through intensive training. (I failed miserably.)

Anyway, first thing's first. You should have your own Peadackle. (Major duh, right?) For the next step, watch your Peadackle for long lengths of time. Watch how it sleeps, watch how it eats, but most importantly watch and listen to how it crows. Become one with your Peadackle. I would also recommend taking notes so you have a written copy of what you've observed. Then it's time to try crowing yourself. I'll warn you, it's not as easy as it looks. Take your time and practice a lot. For some crowing will come easily and for others it will be the hardest thing they've ever tried to do. The only thing left to do from there would be enter a competition and see how you do! Unless, of course, you're no good at it, like I was. You know, I really think they should consider starting a crowing competition for people who can't crow…

Peadackles are wonderful petpets that never fail to wake you up in the morning. Personally I think that their call, a proud crow, has been written out to be more of an annoyance than the unique language that it actually is. Perhaps now more people will appreciate having a Peadackle rather than an alarm clock.

Author's Note: This is another one of my petpet articles. I had fun writing it, and it's a very light-hearted article, so don't take it too seriously. Feel free to Neomail me! I'd love to hear from you!