Your questions answered!


Read the answers to the most commonly asked Neopets questions this week in the Editorial section. Each week the most popular questions will be answered by one of the creators of Neopets, so keep checking back to stay updated.


---
Quote of the Week
Inspiration had deserted me completely. I was supposed to be writing, but for the last five minutes I had just been absent-mindedly tapping on my desk with a pencil, staring at a blank page. This story for the 850th issue of the Neopian Times wasn't going to write itself, but at this rate, it seemed that I wasn't going to write it, either.
---
| | |
| --- | --- |
| Hello everyone! It's been a while, huh? How have you been? Good? Great! Just in case we might not have a chance to talk later, I would like to take the time now to thank you for coming to the Neopian Times' 850th Edition Party hosted by yours truly. I am extremely happy to see you here! Grab a drink and make your way around the garden. There's a lot of food for you to get your hands (or fins, or paws, or … you get the picture) on. --- Now I would like to speak to you, the readers, of this wonderful, established newspaper. I would like to share some ideas for those who were unable to come to the party. You should celebrate this auspicious occasion wherever you are! I assure you it's worth the time and preparation to see the smile on your precious Neopet's face. Whether you like a certain complexity of creating a dish or simply like to buy something straight from the store, this article will have at least one item that will cause your mouth to salivate. With that being said, grab a napkin, a paper and a pen and get jotting as I share with you the ten must-have Rarity 85 food items for a Neopian Times' 850th Edition Party! Let's face it; what's a party without food, huh? | There are many things that we love about the Neopian Times! The very fact that it has continue to 850 issues shows just that! But to celebrate, I have compiled a list of 85 things that we love about the Neopian Times! 1. The wonderful creative community of Neopia, 2. And the chance that the Neopian Times gives us to express that creativity. 3. The white Weewoos. Where there's a Weewoo, there's a way. 4. The awesome interactions with the TNT editorial staff. 5. Cookies and various foodstuff all 'round! 6. The laughs that we get at the comics. 7. The Quote of The Week. 8. The fact that it comes out on a Friday, right when we need to kick back, relax and enjoy. 9. Shifting through the archives to find a piece on your favourite Neopian. 10. The themes that are such a great way to celebrate Neopian holidays. 11. Waiting for the next episode of your favourite continued series. 12. Having a place to have questions answered in the Editorial. 13. Scrolling through the New Series section to find something new to read. 14. The excitement when there is enough in the New Series section to scroll through! 15. When you start a new series and are already looking forward to the next instalment. |
Getting into a special edition of NT? How?




Being part of a special edition is a dream of lots of Neopians. Some try every time, but not everyone is selected. Whether it is the Halloween special, the Birthday special or the 50 editions special, what is the secret to having your text published? Your specialty First of all, what do you do the most? Are you an avatar collector? A stamp collector? A trophy collector? A gallery collector? A restocker? Someone who customizes your pets at least once a month?
---
Other Stories
"The Weewoo Keeper and the Sea" by miraday
'Tis the last Weewoo tonight flying high alone. All his soft-feathered friends are nestled back home. No other White Weewoos grace Shenkuu's evening sky. He glides through darkening clouds, shining like starlight. I shall not retire with you still on your journey. I keep the coop hatch ajar and bide my worries. It is my vow to oversee our homeland's Weewoos: Those who fly between our peaks and afar like you. Soon, the moon rises as pale as your eggshell down. I wait with patience, knowing you will come around. Even when the winds are bad and weather stormy, The day will only end once you fly home to me. The sunset was exceptional that evening: from the peaks of Shenkuu, the amethyst sky yielded to the calm navy of the horizon, the clouds blushing a fuchsia hue as if they were complimented by the rising moon. The nightly mists rolled in and the stars peeked out like little White Weewoos twirling far, far away.
"850 Years Frozen In Ice" by pixeldream
Deep in Terror Mountains there lay hundreds of beasts, some friendly and some foes. It is a place long-forgotten by explorers, and home to potentially undiscovered Neopet and Petpet species. A lot of people, for a long time, thought that all there was to discover has long been known, but the somewhat recent emergence of the Vandagyre and a few other Petpet species has shown that there is a lot of Neopia we have yet to see. Terror Mountain has a certain scariness to it, it holds in some fearsome secrets and a lot may remain unknown for eternity. Even Dr. Sloth hasn't been able to break through some of the deepest parts. But there was one fabled explorer, a Purple Kougra named Phlonema, who made it her life mission to discover something new... 850 years ago... "Gather the supplies for me, I'm leaving in the morning." The young Phlonema was packing a bag and going over her checklist, speaking with an assistant of hers, a Red Meerca.
"A Queen's Ascension - War" by dudeiloled
Queen Sankara stood on the balcony of her room, feeling the cool breeze whip itself around her, causing her dark hair to dance wildly. It was another beautiful day in Sakhmet. But the days were always beautiful now that she was Sakhmet's queen. She had not bothered with a fancy coronation – such frivolous activities were not her style. Instead, there had been an announcement of her brother's death from a previously secret long-term illness, and her immediate succession. She had been crowned privately by one of the senators in the throne room, with only a few witnesses. The whole process had only taken a couple of days, and now her brother was sleeping eternally in the royal tomb, only one room away from Amira. Ironic, really. She remembered the day like it was yesterday – it was hard to believe she had actually been queen for three months now. She had left her brother's royal apartments (the ones she now slept in) the night before his death, having had a celebratory feast and drink with him.
---
Search the Neopian Times


---
Great stories!
---------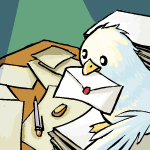 Finding Home: A Collection of Letters
It was just after sunrise when Veronique the Island Xweetok finally landed on the beach. The salty ocean breeze was warm and comforting, and the soft sway and rustle of the palm trees reminded her she was home, a notion that was more foreign to her than she expected.

Also written by breakeven and detection.



by tsiegred
---------
---------
---------
---------
---