Your questions answered!


Read the answers to the most commonly asked Neopets questions this week in the Editorial section. Each week the most popular questions will be answered by one of the creators of Neopets, so keep checking back to stay updated.


---
Quote of the Week
You see, I love macaroni and cheese. It's my favorite food and I can eat it every day.
---
| | |
| --- | --- |
| You are in a very scary lab, in a very scary part of the Haunted Woods...and you should really be wearing some safety goggles! We need to set a good example for all those younger pets. Lab safety is not a joke, my friend. At least you're wearing closed-toed shoes. You can't afford to be careless when working with atoms and elements. Some of them are inert and harmless, but others? Not so much, and you don't want to be around if one gets formed. Sounds scary? Oh, don't worry. It's not as difficult as it sounds...if you plan to pay attention to the rules. What's the Matter? Everything but Energy! You didn't come here for a lecture so I'll make this quick and simple. An atom is tiny...too tiny for you and I to see. They're made up of even smaller things called 'neutrons', 'protons' and 'neutrons'. And even those are made up of smaller things, but that's way smaller than we need to go right now. The number of protons an atom has tells us what element it is. Atoms also have a certain number of electrons, some of which they carry around on the outside. They want eight of these, and to get them, atoms have to give away, take or share them with other atoms. This is what makes a molecule, and this is what we're doing here. The Instruction Table(of the Elements) | oo Island is full of fun, happiness and sunshine. The island exudes it! Roo Island is a small island located off the coast of Neopia Central. Once you step foot on the island, you are greeted with the smiling faces of bouncing Blumaroos! Along the boardwalk, you can shop for souvenirs, play games exclusive to Roo Island, and learn how to draw a Blumaroo! There are plenty of things to do to keep yourself busy! Roo Island is home to some iconic landmarks in Neopia. Here you will find the ever-fun, ever-exciting Merry-Go-Round! Neopians of all ages love visiting the island to take a spin on the Merry-Go-Round; it never gets old! Here, you will also be able to play Dice-A-Roo and Blumaroll. Dice-A-Roo is the most popular game played on the island because no two games are the same. These magical dice bring prizes and Neopoints, unless you roll a skull and lose the game. However, if you are so lucky as to win the jackpot, you take home a hefty prize of Neopoints AND an exclusive avatar. The King loved this game so much, and it is the reason why the Blumaroos are always so cheery. Buying exclusive items that exemplify the culture of Roo Island will make your Neohome more welcoming and fun; it will also keep your guests, and you, in a great mood! |
How To Master Hasee Bounce




Hello, fellow Neopians! Today I wanted to talk with you about one of my favorite games: Hasee Bounce. There's just something about those little orange and purple fellows that makes me smile. However, not everyone knows the best way to bounce Hasees for fun and profit. I was shocked to learn that some Neopians haven't tried this game at all – it's definitely something I'd recommend everyone to try! If you want to learn, then read on.
---
Other Stories
"Cheese and Krawkers" by bittersweet52
I have no magic of my own to reward you with, so I'm asking for help from another faerie. Rainbow Fountain Faerie, come and bestow your blessing upon this Neopian! I cannot abide a debt that is not paid. Muzoni grinned in surprise and delight. Imagine the Grey Faerie asking Naia, of all Faeries, to grant his reward for completing her quest! Plenty of other 'pets he knew hoped and wished for a blessing such as this. He felt that a golden shower of warmth and luck was shining down on him. Now to just select the perfect colour.... The Maraquan Krawk looked down at his fins and tail. Even though it was sometimes inconvenient, because his siblings had traditional arms and legs, he loved being Maraquan. The feel of the water as he sliced through it, the gentle undulations of the waves nudging the flexible dorsal fins along his spine, the currents brushing his skin like a cool breeze...he couldn't imagine having to flounder about, pawing and kicking at the water in what the others called "swimming," not being one with the element of his upbringing.
"Fiasco" by yizhegan99
She always have a passion for violin. Music was her source of expression and being a professional violinist was always her dream. The red Pteri would play melodies for hours envisioning herself basking in the limelight on stage. However, in reality, the dream of a professional violinist is too far a fetch. In fact, the red Pteri plays the violin so horribly that the flora surrounding her tilts their bodies away from her. Once, she attempted to play for Neopians in Kiko Lake. The applause to welcome her on stage soon turned to disarray as she played her first note and Neopians screamed in terror, followed by a stampede to escape the concert area. Only one remained. He was JubJub. He consoled and encouraged the depressed Pteri to continue playing and this was the start of their friendship. The next day the duo would meet high up in Terror Mountains, away from the crowd and Neopians, to practice scores of music. That was disastrous at the start for avalanches were triggered from ear piercing frequencies and after many complaints from residents, they moved into a cave.
"King Altador's Substitute:Part Two" by trishabeakens
Early the next morning, King Altador departed for the Lost Desert. Accompanying him were two guards, a Draik and a Skeith. The king didn't seem to worry about leaving his beloved kingdom in the hands of his wife. He trusted that Nera could handle everything on her own. The couple always trusted one another, leaving a lot of worry behind them. Queen Nera and Prince Alarick stood outside the grand Hall of Heroes, waving goodbye as they watched the white Lupe leave. The guards were bickering about something as they walked behind the tall white Lupe. The three Neopians strolled down the pathway, which led out of the city and towards the sandy lands of the Lost Desert. As soon as the king left, Nera felt the weight of the kingdom fall upon her shoulders. A bit of stress also started to linger in her mind. Was she really cut out for this? She never took her husband's place before. The last few times he had to leave, the council would step in and share the king's duties. Nera only had to keep doing her own job, and care for their children.
---
Birthday Shop Is Closing Soon!


This week's issue is brought to you by: Time to Celebrate
Search the Neopian Times


---
Great stories!
---------
---------
---------
---------
---------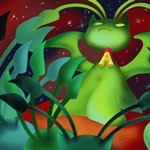 Caring For Your Alien Aisha
Nobody knows exactly where Alien Aishas originate from, but everybody knows that they are amongst the cutest and most adventurous pets in Neopia! However, as they are not originally from Neopia, you may be at a loss as to how to properly look after your pet!

by gurat123
---