Your questions answered!


Read the answers to the most commonly asked Neopets questions this week in the Editorial section. Each week the most popular questions will be answered by one of the creators of Neopets, so keep checking back to stay updated.


---
Quote of the Week
She jumped into the pile of items like it was a bath and swam around in the items she had worked 'so hard' for. But what would she do now? Her cellar was only so big, it could only probably store another 50,000 items which wouldn't even put a dent in her desires.
---
| | |
| --- | --- |
| The snow has melted, the days are getting longer and longer, and the sun is finally out and is shining all around Neopia! As the temperature rises on thermometers everywhere, the prime time for beach adventures is only just around the corner! To prepare you for the sand and the sea, we have put together five fresh and fun beach looks for your Neopet! You can trust that your pet will be the star on the shore with any one of these stunning ensembles. Of courses pieces can be mixed and matched, but we hope that what you will see here will be a proper diving point into some inspired summer looks. | So you want to join a guild or you'd like to make one yourself. After having been in some I can tell you a few things. I'm sure others out in Neopia have pearls of wisdom as well. First thing to ask yourself: Why do you want to join/create a guild? People to chat with when you're bored? People to help encourage you as you seek a trophy, avatar, dream pet? Looking for people with similar goals or opinions? It is very important to figure out why before anything else. If you join a guild randomly just to say you're in one, odds are you won't remain there very long. Do you prefer a private or a public guild, all ages or adults only? Are graphics important to you? Are you ashamed of pre-mades? Look over potential guilds carefully. |
A Fyora Day Edition: Top 10 Fyora Day Party Items!




Fyora Day is one of the most looked forward to Neopian holidays, and falls within the Month of Relaxing, but don't be fooled - one can't relax if they intend to prepare to celebrate Fyora Day in style. How does one celebrate Fyora Day in a fashion that will make their Neofriends green with envy, and want to join in with the fun? Fyora Day is a day to eat lots of yummy food, make new friends, and to just have a blast - it's simply be there or be square. So if you wish to join in with the fun and host your own Fyora Day party, then carry on reading this Fyora Day special article to celebrate Fyora Day with style with our top 10 Fyora Day celebratory items!
---
Other Stories
"A Haunted Mansion in Neovia" by cardinally
Sometimes, Percy really didn't know how he got into these situations. It had been a nice, slow Tuesday at the office when his boss had stopped by. There he was, two revisions deep in his latest article over the local junior Altador Cup game. The little rascals that called themselves the Neopian Central Rainblugs, which was one of the worst names in the junior division, had just beaten the Maraquan Marafins 12-5. It had been a rather entertaining game, especially when the fight between the coaches broke out. There were rumors that Debbie, the coach of the Rainblugs, had snatched a member of the Marafins right from under their nose - wait did Maraquan's even have noses? Percy paused in his writing to ponder the question. Nostril slits perhaps? Regardless, it took three parents to pull Finny off of her. All and all, an event that caused the game to be on hold for twenty minutes and would only get a brief mention at the end of this week's article, artfully disguised and fluffed as a simple disagreement. Percy was still deep in thought when Jess, his boss stopped by. She was perfect - her hair was perfectly coiffed and piled on top of her head, her outfit an immaculately pressed and fitted cream blouse and purple skirt, her eyes accentuated by a little wing, in a nice, contrasting brown to her pink fur. She was effortlessly trendy and chic - as Milly, the Quiggle in charge of the style articles swooned about.
"Memoir of a Sorceress: Heroes Unite" by lovely413
The times were dark, little light was to be found throughout Neopia. My teacher, Seradar, and I began to grow worried about the purple clouds surrounding Meridell. Our efforts to make any contact with King Skral had failed, so we decided to take our concerns to Faerieland. Usually, I enjoyed my stays in Faerieland. The foliage always seemed greener, the faces were friendlier, and the air smelled vaguely of freshly baked flower crackers. This time, however, was different. There was a sense of panic in the air, a feeling of hopelessness that was almost contagious. It was a difficult feeling to shake off, but looking back I somehow managed. We had a meeting with Fyora around lunch to discuss the darkness that consumed Meridell, I had to collect myself. The meeting was not as helpful as I had hoped. Reflecting on the experience, it was just a group of empathetic people bonding over their shared confusions and frustrations. Our only hope was Illusen, but her and her glade seemed to succumb to the darkness as well. Unsure what to do, the meeting dismissed and I headed towards the library to do some additional research. Along the way I ran into a kind, old Aisha who had a peculiar familiarity to her. She had beautiful silver hair that flowed elegantly down her arms.
"Hope For New" by hazelsmartotop
I'm just a yellow Kougra; nothing special. If you want to read my story, go ahead. My story has a happily-ever-after, yes, but it's not like that. My story is much more complicated. It's hard for me to even tell it nowadays. So if you really, truly want to read it, go ahead. Go on, read it, but this is a warning. *** I felt something tickle my nose, and I scrunched it up. "Soooooo cute!!" A voice. A girl. "I'll call you Marty!" This girl spoke in exclamation points. "Come on, Toto!" I saw a green Xweetok flick his tail and follow the girl after she handed a bag of Neopoints to a pink Uni behind the desk. "Thanks so much! He's soooo cute!!!" She said again as she opened the jingling door and we hopped outside. She put me down and got out a blue collar with a jingly bell on it. "For you!" She popped it around my neck and snapped a leash onto it. Toto, the Xweetok, already had a leash on. He swayed towards me and whispered, "I'll explain it when we get to Melissa's Neohome. Trust me, though...It's not a home." I blinked. What was going on? "We're going to the Pizzaroo to CELEBRATE!!!!!" She said this like it was the most exciting day of her life. Heck, maybe it was, I had no idea. We walked for a while, and soon my pads began to hurt from the steaming sidewalk. "Can we take an Eyrie?" I asked a little quieter than I would have liked. "Oh, sure, Mart Mart! But you're going to have to talk a teensy bit louder with Toto and I, OKAY?!"
---
Search the Neopian Times


---
Great stories!
---------
---------
---------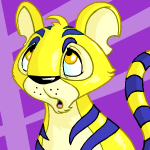 Hope For New
I'm just a yellow Kougra; nothing special. If you want to read my story, go ahead. My story has a happily-ever-after, yes, but it's not like that. My story is much more complicated. It's hard for me to even tell it nowadays. So if you really, truly want to read it, go ahead. Go on, read it, but this is a warning.

by hazelsmartotop
---------
---------
---