Your questions answered!


Read the answers to the most commonly asked Neopets questions this week in the Editorial section. Each week the most popular questions will be answered by one of the creators of Neopets, so keep checking back to stay updated.


---
Quote of the Week
Then he turned his head and looked at the Spyder, and he saw how soft and furry it was, how round and intelligent and gentle its eyes were, how its body had a warm little heat and a beating heart, and how it trembled when the thunder rumbled. All his horror was swept away with the tide, and when the tide came back it brought a tender pity.
---
| | |
| --- | --- |
| April showers bring May flowers! We have already suffered through last month's rain (although if you ask any Koi, they'll say it was quite pleasant, actually), and now is the time to reap the beautiful rewards. Spring rain helps rejuvenate and loosen the soil that had to hibernate during the winter, so now is the prime time to work on your NeoGarden, with the moderate sun and light rain. Before you start, however, you should get acquainted with the different types of flowers. There are so many options in Neopia you can choose from, and not every plant requires the same care. If your garden is a good size, you'll be able to plant many varieties of flowers and this guide can help you choose! | Another round of Daily Dare has come and gone in the blink of an eye, and it's time to reflect on the good, the bad, and the…Zurroball? I personally ended up with a silver trophy this year, and would like to state that was because I genuinely felt too lazy to try and beat some of the scores needed for AAA. However, there's probably a couple of games I wouldn't have been able to beat AAA's score in anyways. Though it was interesting note that I had a couple of instances where I selected Abigail to beat, and then ended up scoring higher than AAA's score. –Cue grumbling and arguing with myself- One feature I quite enjoyed this year was how in the prize selection, you could choose a stat increase for your pet. |
Seven Easy Ways to Reach All-Star in the Altador Cup




I've had seasons where I struggled to reach level 2 and seasons where I reached All-Star and after having played for twelve seasons I've learned a few things and wrote down a few must-dos to help me reach it again this year. One: Mix it up! There's nothing wrong with being a loyal fan of a certain team but you can switch teams without being a traitor. I've played for a different team each year and it definitely keeps the monotony at bay.
---
Other Stories
"Rasputin's Revenge:Part Four" by trishabeakens
"Please.. for the sake of Fyora, stop playing that harmonica." Nera, who was sitting on the floor with her hands over her ears, begged the shadow draik who she learned was named Dave Dave had played the instrument for what felt like hours. The more he played, the worse he seemed to get. Nera tried ignoring it, but after so long it had become annoying. Being rude to the guy was something Nera didn't want to do, but again, the sound was incredibly annoying. She could only take so much at the moment. The Draik stopped, and smiled. "I'm only trying to make light of a dark situation." He laughed, slapping his knee at his small joke. Nera groaned, putting her arms over her knees and resting her head down. On top of being tortured by that awful noise, Nera still hadn't found a way out of the dark and dusty dungeon. She never came down here so she didn't know the room's layout all that well. And..Rasputin most likely has taken over the kingdom by now. Nera worried for the kind residents of Altador, and for all of Neopia. The mutant ixi may just decide to conquer the entire world. And it was all her fault.
"The Shadow of Takeryuu:Part Five" by cosmicfire918
Wai Ren was obviously not supposed to be anywhere but the fortress, but thankfully the relic Kougra's own colouring provided a convenient solution. He created an animated clay replica of himself and ordered it to pretend to be ill. With this effigy of himself huddled under several blankets, by the time the servants discovered the real Wai Ren was gone, he would be too far away. Having done that, the general hid his ornate armour under a travelling cloak and donned a wide bamboo hat, and then he and his three companions stole away to a side gate to watch the wagons leave. "You couldn't have just changed armour?" Ganzorig asked as they leaned against the cool earthen walls. "This armour is expertly made and enchanted with several protective spells," Wai Ren said. "I would not exchange it for a lesser set. I am sure Miss Min understands well what the value of proper armour is to one who wields a blade."Min flinched, fidgeting with the strap that kept her pudao fastened to her back. "S-sure," she said. "Oh, there are the wagons," Eunji said, pointing to the distance.
"The Found CIty:Part Three " by unfogging
This was a disaster. "I thought you said you knew about the tomb!" Eliss shouted breathlessly. They were running along a wall, dodging poison-tipped darts that kept whizzing in their direction. One of them had accidentally stepped on the wrong stair, triggering the trap. "I swear it was that step ten years ago! It's been a while, ok?" Jake added defensively. Finally, the darts stopped. Eliss collapsed onto the floor, panting. "This. Is. Terrible," she said between gasps. "Nothing is the same as you remember! I thought you would know where you were going!" "Look, yelling at me isn't going to fix the problem," Jake said, removing a dart that had stuck to his backpack. "Clearly, things have changed a bit in the last decade. But it's nothing we can't handle." Eliss shook her head, staring at the ground. All of a sudden, she wanted nothing more than her brother to be here. She felt terrible about how they had ended things. What if they didn't get to see each other again? Jake seemed to know what was going through her head. He crouched down next to her and gently put his paw on her shoulder.
---
Search the Neopian Times


---
Great stories!
---------
---------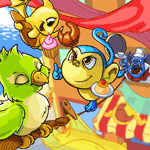 The Definite Ranking of Neopian Food
What's the best food in Neopia? Well, worry no longer. I have very unselfishly travelled the entire Neopian globe for no reason other than to find out that information for you, the reader.

by unfogging
---------
---------
---------
---