Your questions answered!


Read the answers to the most commonly asked Neopets questions this week in the Editorial section. Each week the most popular questions will be answered by one of the creators of Neopets, so keep checking back to stay updated.


---
Quote of the Week
Deep in the old castles of Meridell, Mina and Talzadon stood by the armor-filled well, despondent. Mina had stopped breathing fire while they contemplated their options in the darkness. "I've got an idea," she said almost solemnly, "but it's up to you to make it work."
---
| | |
| --- | --- |
| There are many books around Neopia that can be read to your Neopets (as long as they don't find them boring!) to increase their intelligence. If your pet reads enough books, they can reach the top level of intelligence, ultimate genius! Additionally, extremely well-read Neopets can be considered for the Neopian Book Award and the Booktastic Book Award. There are eight Neopian shops that carry books, and they all differ from one another. Some are themed according to their location, others have different mediums for carrying the text, and no two bookstores offer any of the same books. Here is a list of all bookshops in Neopia, their locations, and a little bit about them. Magical Bookshop: The main and original bookstore is located in Neopia Central. This bookstore is known for carrying the largest selection of books! They sell almost two thousand unique books of every genre, topic, you name it! Faerieland Bookshop: Located in Faerie City, the Faerieland Bookshop carries faerie themed books. Naturally. | INTRODUCTION Hi there, my Neopian friend on the other side of the screen. I've received a few petitions asking me to write a guide for a game that might be of interest to people into avatar collecting. This game as you have already read in the title of this article is Snow Wars II; an improved, more exciting and harder version of an old non-flash game. I'm pretty sure most of us own the trophy awarded for beating Snow Wars, but maybe it's not enough for you and that's perfectly fine! Always aim for the stars and to be better. So this time around I'm going to listen to some of you, i'll give you all tips and advices for this game. You should able to get the avatar by the time you finish reading this guide and even a shiny trophy, because why not? THE BASICS Most of this information is kind of obvious and if you have history trying to get the avatar for this game, you already know the basics; I'll mention all of this as a reminder anyway. |
Confessions of a Hissiholic




September-Y13 Deals have been made. The one thing I want more than anything else in Neopia at that moment is a Desert Hissi, and these deals have been created with a Neofriend and set in stone, so that soon, I will obtain a Desert Hissi, the very pet I want. A few hours later, the transfer comes in. Kasandaria the Desert Hissi has now been placed firmly on alli_draggy, where she will stay for all eternity. I got my dream pet! End of story, end of the Hissi saga? Right? Wrong.
---
Other Stories
"Battle at Sea" by dragonshadez
The dainty paws' of the infamous pirate captain Rowan pats against the deck of the faded walnut color of the wooden deck, as she peeks through the clear crystal telescope that fits in her paw perfectly. In the distance a battleship that is much more advanced than her own is speeding towards them at an alarming rate. This situation brings even more misfortune that they have already had. Not even twenty four hours has past since they were last attacked. Therefore the other ship could easily tell that they were in no condition to fight. Freshly patched holes have were just a patch job till the deckhands had the time to fix them properly, because they were already repairing more pressing matters late into the night. With a soft hum, Rowan tilts her head side to side as she formulates a battle plan. It had to be a perfect plan as to not have anyone injured, and with a slight smirk upon her lips she turns towards the chief navigator, "Haylen! Hard right rudder! Full Speed!" Her voice held strength and is steady. No need to worry the crew more than they probably were. There was no reason for them to anyway. Rowan would bring them out of this alive. A few feet behind the bunny stood a dragon like creature, better known as a Shoyru, who responses in a squeak, "Right! Hard right rudder! Full Speed!" His claws spins the wheel all the way to the right. His facial features shows distress as sweat covers his scales. The rest of the neopets on the bridge could tell that he was afraid, he wasn't one to hide his emotion. Better yet, someone who couldn't hide his emotion. He dislike the side of himself that is a scaredy cat, but at a time like this he knew that he could not let this fear overcome him. Therefore instead of hiding like he wanted, he shook the bad thoughts out of his head to focus at the task at claw. All he need was to put his faith in his captain.
"Intergalactic Message " by hatsuomi
This story began when all planets appeared in Neopia, yes, that day when the galaxy showed a signal of life. There was this little grundo, called Niorelia leader of a small community of Grundos after Sloth took virtupets, she had a "civilization" and she was going to be the queen of that place, that community didn't have a name, they just called it "Home" Niorelia's parents wanted a good lifestyle for her, so that's why they decided to move with all grundos they can reunite, they built a place to live, even though, their everyday's routine consisted in camouflage, training and risks because Sloth wanted to control everything. Niorelia's parents after years of fighting and defending their ideals, they were old, both painted elderly and Niorelia knew that some day they will turn into stars (That's what the myth says) one regular day she woke up feeling something different, the guards went for her to tell bad news about her parents…. Yes, they weren't in his room, but the weird thing is that their clothes were in the bed… Niorelia shed a tear and knew their parents were stars now… She already know what she was going to deal, leading a whole community, saving them, training them sounds like… A difficult assignment to do, eh? Time gone by and Niorelia grew up as someone fierce with a great attitude of leadership, but someone who loves to express her feelings… It was one regular night when something happened, she was looking at the stars, as she always did, but then some stars shined… It wasn't anything normal, it was like a type of communication… She didn't pay too much attention, but that became a pattern, every night she walk through the night watching the sky, like reading a Message… She thought her parents were trying to say something about the community or Sloth, or just a signal of "We're here" but it was something else… Something powerfull leading Niorelia into a great power…
"Change Needs Growth:Part Two" by jehtredmonkey
"It's been a while, right, Patrick?" Nash, the red Psimouse, spat out the words. "What do you want, Nash?" Patrick, the Psimouse with a green sparkling hat, tensed up. "You have been running from me for too long. I knew you were hiding in Unishire, but I also knew that you would come out to play again, just like how we would play when we were little." Nash snickered. Patrick grew uncomfortable. "What do you want, Nash?" The red Psimouse merely broadened his smile and walked closer to Patrick. Patrick took a few steps back, but allowed Nash to come up to him. "Isn't it funny that Shane had you go instead of Mordecai?" Patrick was appalled by Nash's knowledge. "They wanted you to leave because they wanted to get rid of you. Mordecai the hero is now on his way to do everything himself." "No. Mordecai believes in me." Patrick reassured himself. "No, Mordecai believes in Mordecai. Do you think he could tolerate saving the world while you were running wild? He devised a master plan to get you out of Unishire and think you were saving your home, when really he gathered enough data to go and fix everything himself. You are being used." Nash strolled around Patrick casually as he filled Patrick's ears with venomous ideas. "Mordecai… believes in me." Patrick persisted. "Fine. Believe what you want. I am not going to chase you this time. I want you to see it for yourself. You have been lied to again. No one trusts you and that is because of what you are." Patrick was enraged. He clenched two fire motes and hurled one after another as Nash bounded off to a great distance. "See you sooner than you would wish for." Nash's grin crawled up to a creepy smirk. He summoned a smoke mote and launched it onto the ground. Patrick hurled more fire motes into the smoke hoping one would land on the red Psimouse. The smoke dissipated and Nash was gone, evidence of missed fire motes trailed behind the spot where Nash once stood.
---
Search the Neopian Times


---
Great stories!
---------
---------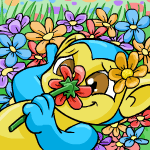 Flowers and Plants you can Grow to Welcome Spring.
Spring is here and what better way to welcome it than to start planting beautiful and fragrant foliage. It is the season where nature reawakens after a long icy cold winter. Let's leave our cups of borovan behind and get out to enjoy the sunny and warm weather.

by prada_prince
---------
---------
---------
---